Mehndi is originated, from India. It is used, as temporary skin decoration also known as a henna tattoo. Nowadays, mehndi designs enhanced as a fashionable idea in the West. There are many varieties and patterns in mehndi designs. Women usually apply mehndi designs to their hands and feet. Mehndi in Indian tradition is typically applied, during Hindu weddings and Hindu festivals. In this article, we have brought to you the top Pakistani mehndi design which is one of the choicest & most beautiful designs ever found.
How To Apply Mehndi?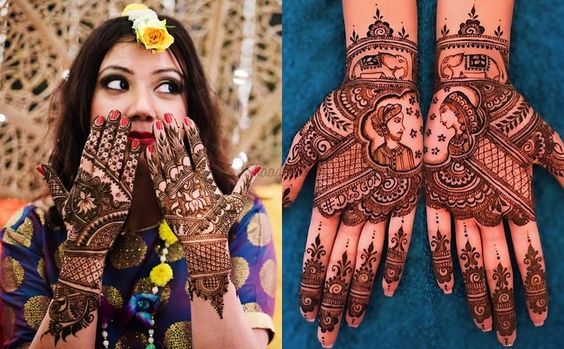 Before we talk about Easy Mehndi Designs. Here well you will learn and know how to apply Mehndi in the right way. Before applying Mehndi, pay attention to these steps:
Mix 1 to 3 ml of henna oil in 10 grams of henna powder. Do not use more oil than this quantity. Now your mehndi oil is ready.
Wash hands at least half an hour before applying mehndi. First, wipe your hands with a towel. Then wait until the hands dry entirely.
Do not apply any oil or cream on the palms and feet before applying mehndi after drying your hands. Therefore, before applying mehndi, your hands and feet should be dry so that the colour of your mehndi remains thick & long-lasting.
Applying essential oil(mehndi oil) before applying henna, as it deepens & long lasts the colour of your mehndi.
If you wish to have a beautiful & dark then you will have to give it a little time. One reason for mehndi not being perfectly long-lasting is that we do not give it the right time. It is essential to be patient while applying mehndi so that the design comes out is classic & perfect.
Choose the best mehndi designs and apply it accordingly or you can take the help of somebody who is a pro.
Mix lemon and sugar, make a syrup & apply it on your dried mehndi. It will help to deepen the colour of mehndi. Remember to apply a thick layer of this mixture of lemon and sugar on the dried mehndi and this will make the colour of the mehndi dark brown. (For more tips to dark your mehndi click here)
Now its time to give yourself a patience call & leave the mehndi for 8-9 hours. Try to apply mehndi at night.
Tip: After the henna dries up, wrap the foil in your hands. Foil paper not only makes the colour of mehndi darker & think but also it prevents dried mehndi from falling & creating a mess in your room.
The Adorable & Traditional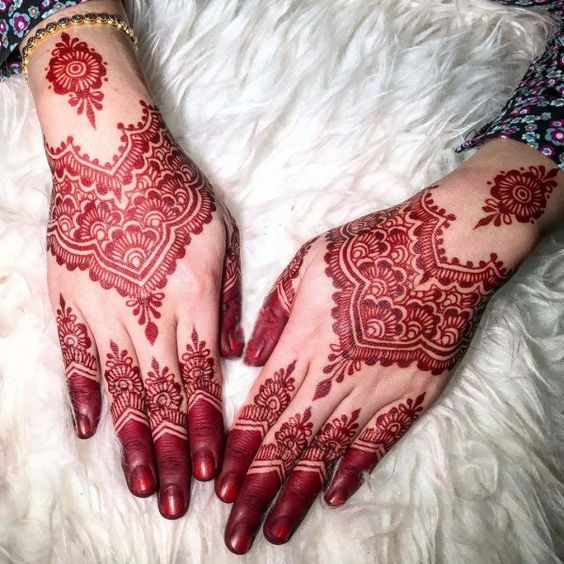 These are filled with tangled patterns and designs. That is giving it a royal look. The entire design looks quite adorable and praiseworthy. Looks great for a wedding function or engagement party.
Traditional Pakistani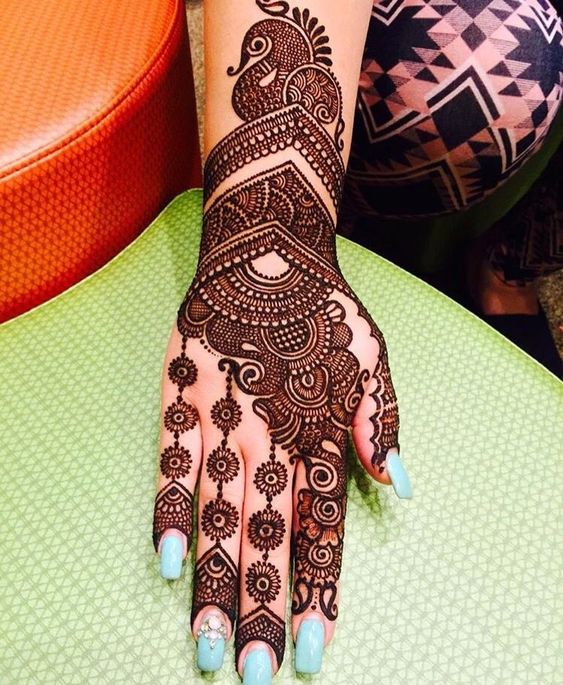 This design is a Mythical Pakistani art. Made, with small sunflowers and variant curves & designs. Pop it up with a blue glitter nail paint.
Read Also: Finger Mehndi Designs | Full Hand Mehndi Design
The Wavy Pattern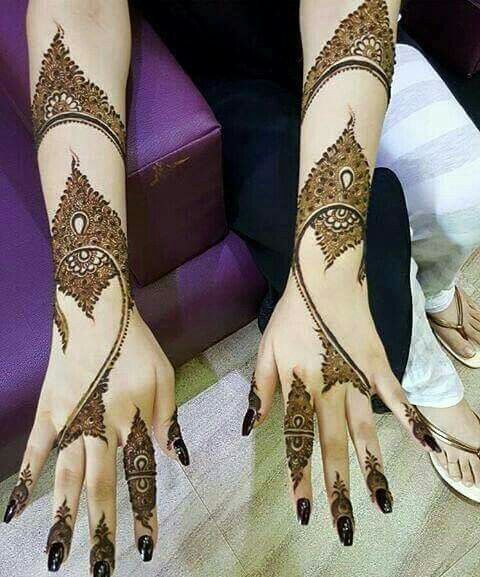 It is made by drawing a large curve and adorable Pakistani designs on the fingers. The design looks good, for any casual day.
The Classy Look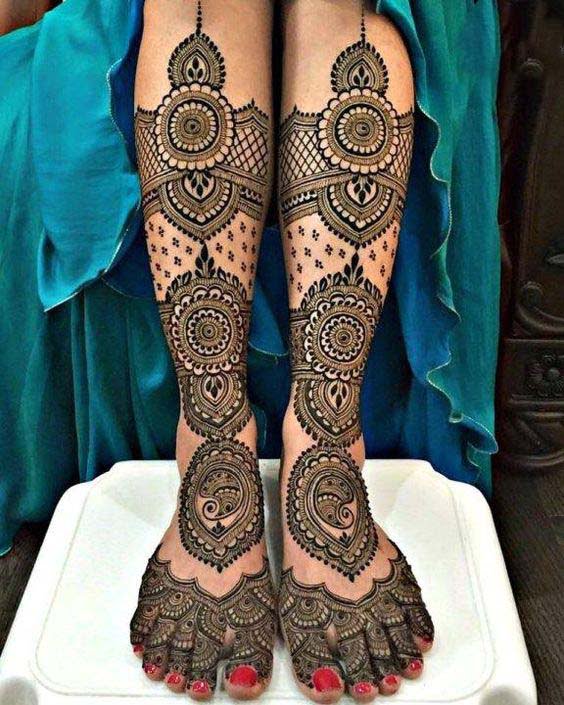 The design on the foot which is made by leaving some space around looks clear and classy. This is the most defined design you can wear on your wedding or engagement.
Floral Pakistani Mehndi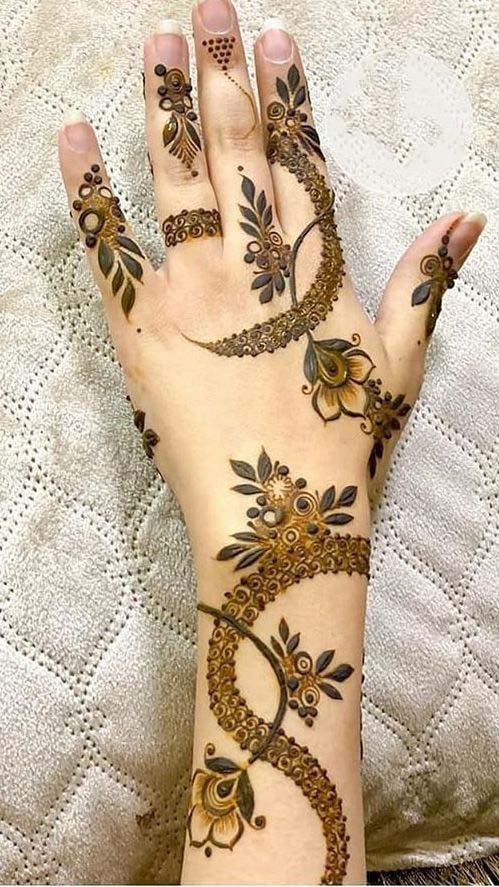 This is a floral Pakistani Mehandi design that has charming designs. You can spread these as well to as much you are comfortable to sport. These designs look good for the engagement party.
The Fancy Circles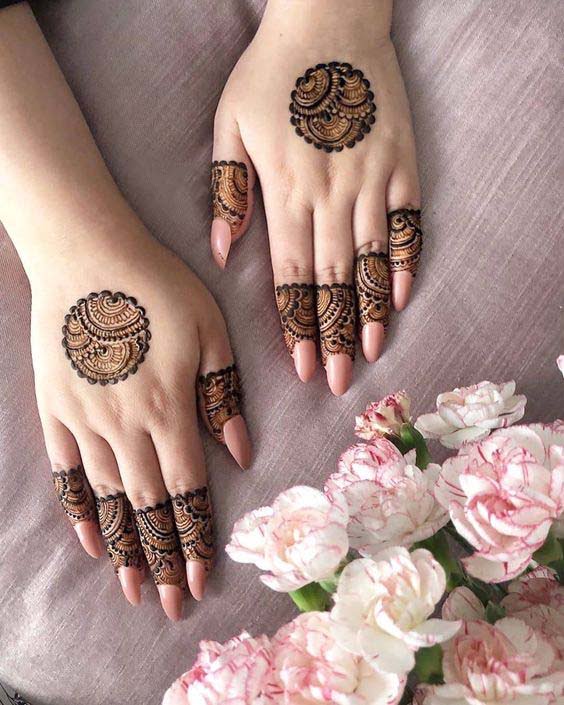 A simple circle with creatives on all the fingers. This a fancy Pakistani mehndi design which you can match with some bangles upon the salwar kameez or long Anarkali suits.
Read Also: 30+ Latest Mehndi Design Bail 2020 | Easy Mehndi Designs
Finest Mehndi Art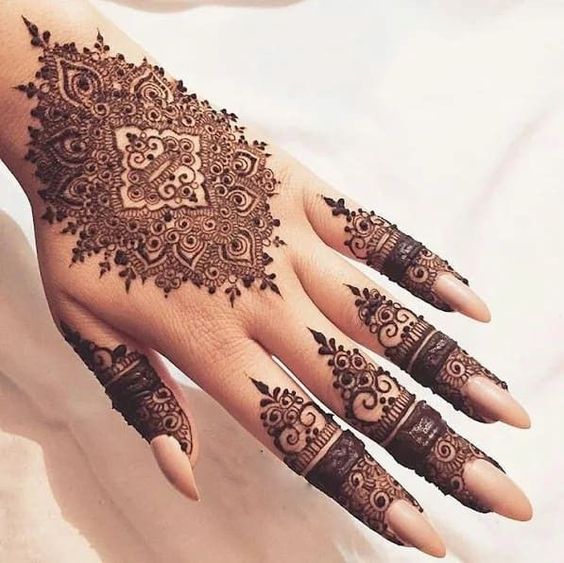 This mehndi art is the finest & well-made mehndi design. These, are very dark coloured complete hand mehndi that is very heavy, and these also have rangoli and other mango motifs.
Detailed Mehndi Pattern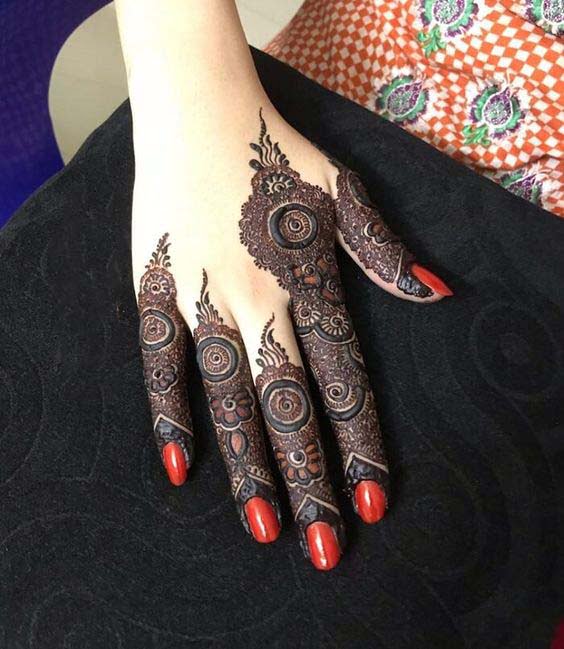 This fashionable dark Pakistani Mehendi design that you can wear for your parties. These can be teamed up with any other zari work sarees or other lehengas. These designs look good and best for all the parties.
Square Flower Blocks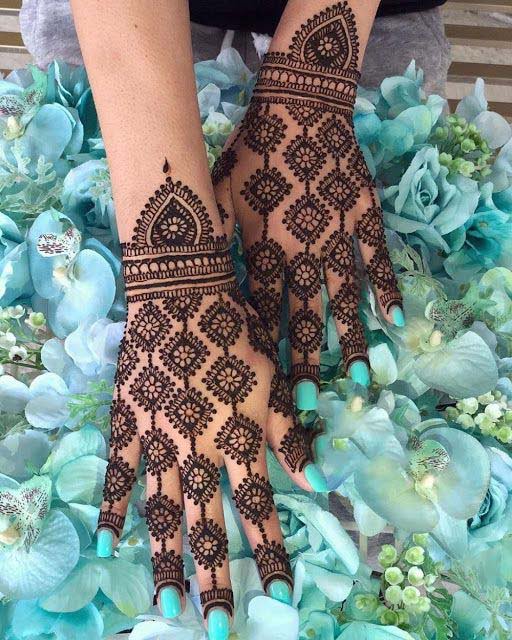 Wear this Mehendi with a heavy worked Lehenga or saree.
Floral Sleek Design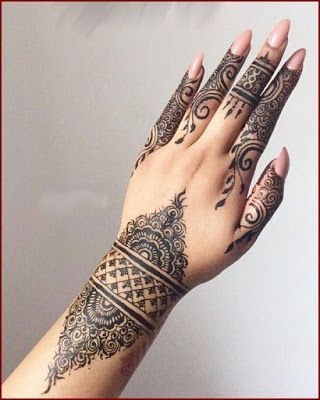 This Mehendi looks completely fashionable. It is a significant theme done to get a stylish outlook on the hand of the girl.
Floran Pretty Design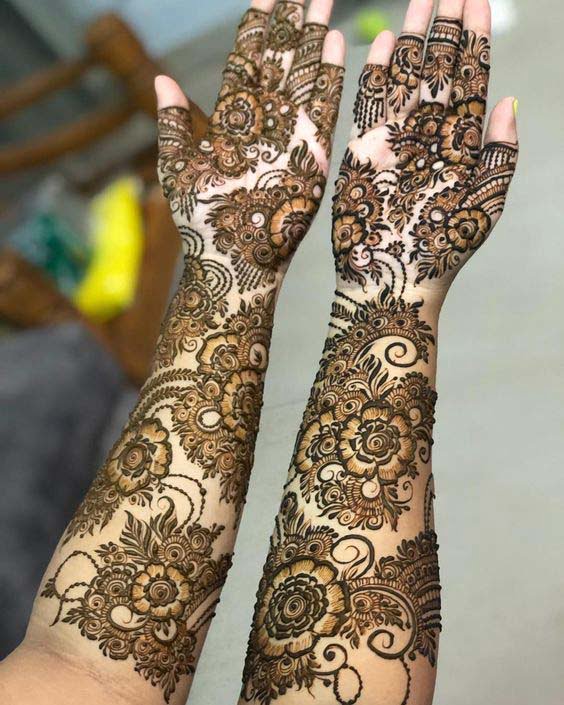 This floral new Pakistani mehndi design looks incredible. It covers the entire length of your hands with pretty & significant designs.
Read Also: Arabic Mehndi Designs For Back Hand | Best Mehndi Designs of 2020
Bridal Pakistani Mehndi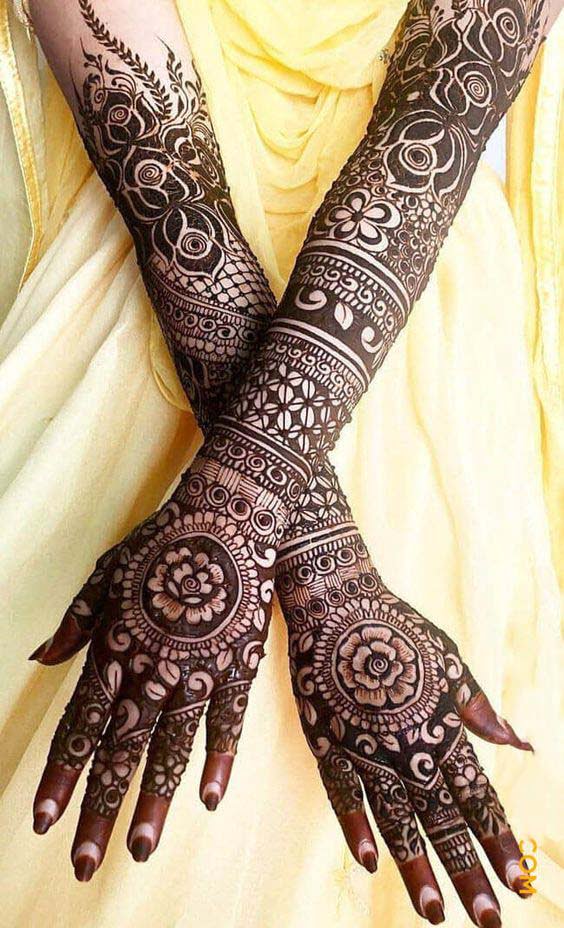 This mehndi art will complement your crisp look with any fashionable attire. These types of Pakistani floral theme works can be chic to sport with your salwar. This is the best design for new brides.
The wedding Pakistani Mehndi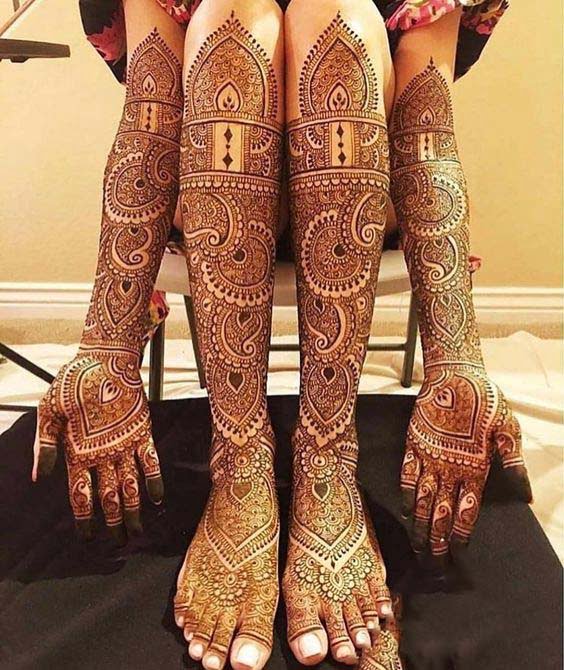 Now this one is made especially for Pakistani Marriage. Perfect for a bride on her wedding day.
Interlaced patterns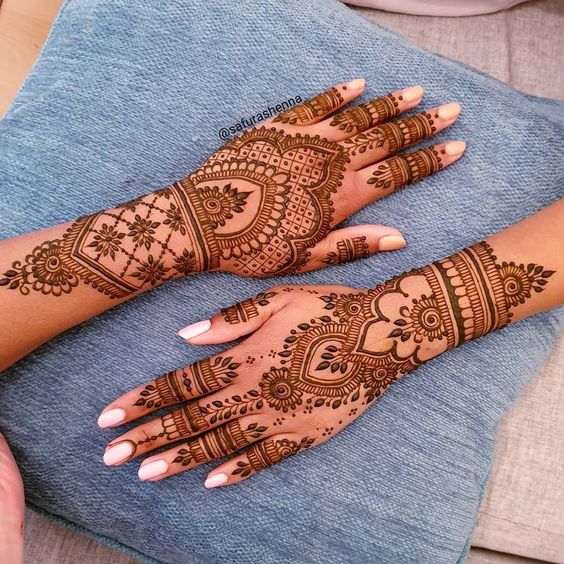 These are interlaced patterns which look amazing, and you can try out these Pakistani patterns for your family occasions.
Black Mehndi Design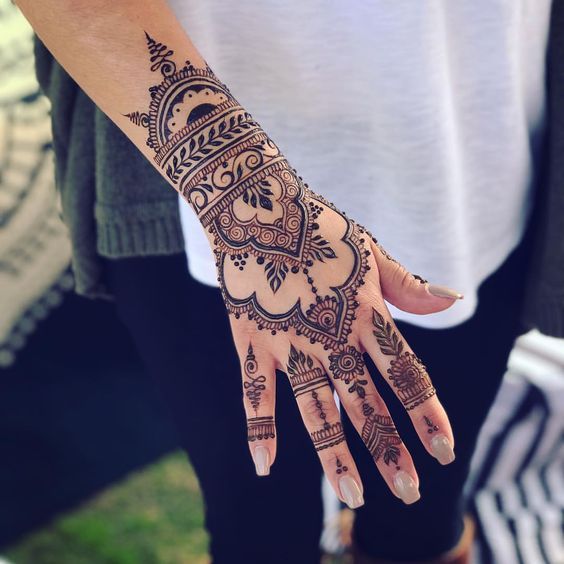 This mehndi is dark in pattern and have a special V-rounded pattern that is given more emphasis and centrality on.
Bride To Be Mehndi Design
Girls who are going to be a bride then these designs are a perfect fit for you. These look great for engagement parties. These look good both for the back and front portion of the hand.
Red Henna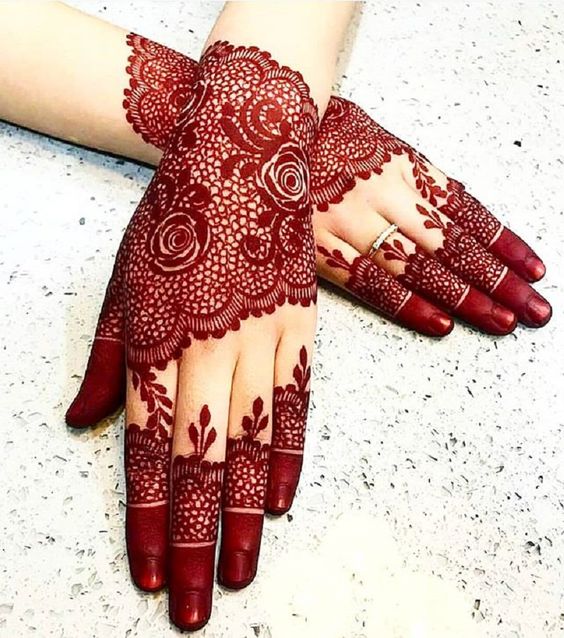 Red henna looks adorable on brides hands. This red mehndi is created with roses and leaves with small nets, which look tremendously charming.
Floral Design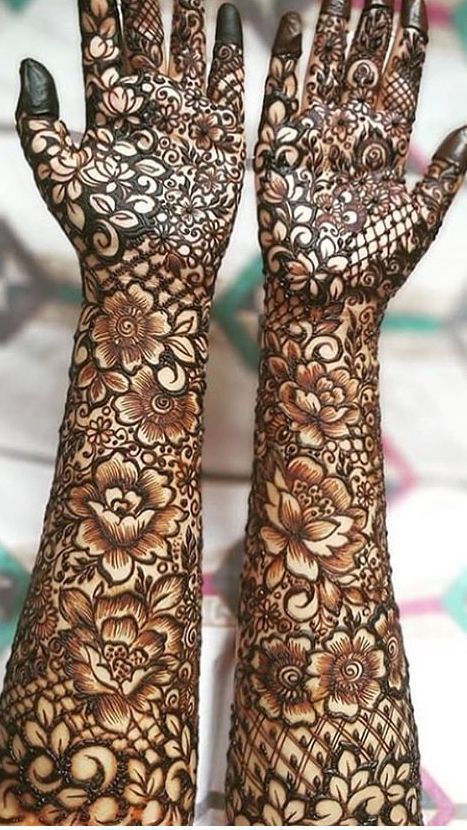 A floral Pakistani, Mehandi design, that has pretty patterns. You can spread these as well to as much you are comfortable to wear. Looks pretty with lehnga.
Pakistani Engagement Perfect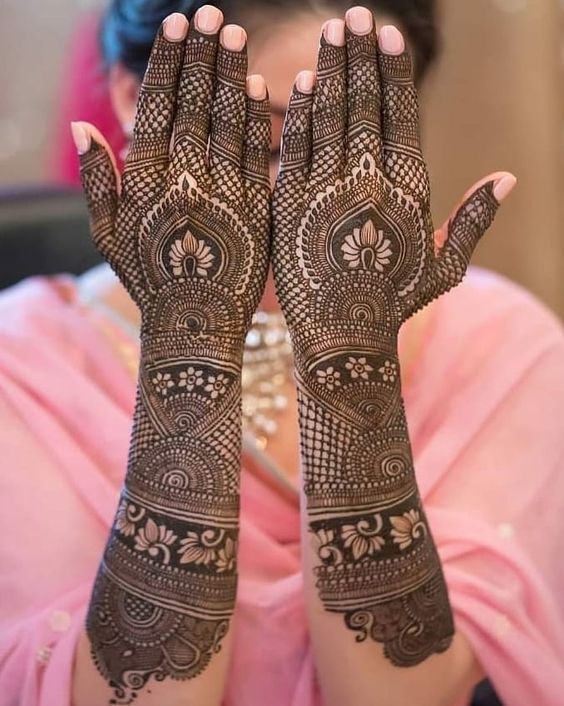 This design is made especially for Pakistani Roka or engagement. Wear some bangles upon the salwar kameez or long Anarkali suits on your engagement.
Old Pakistani Style Mehndi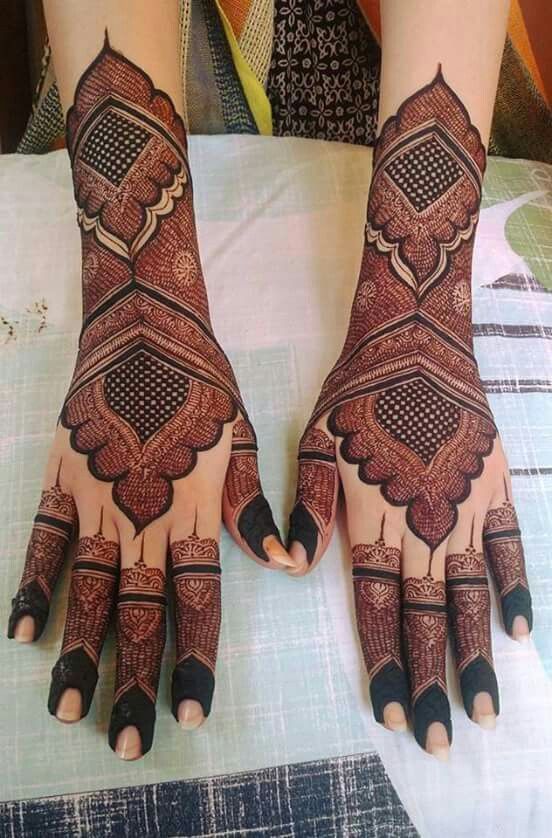 As said, old is always a gold'. This will work over every outfit you will wear. These can also be extended, for pretty patterns till elbows.
Eid Special Mehndi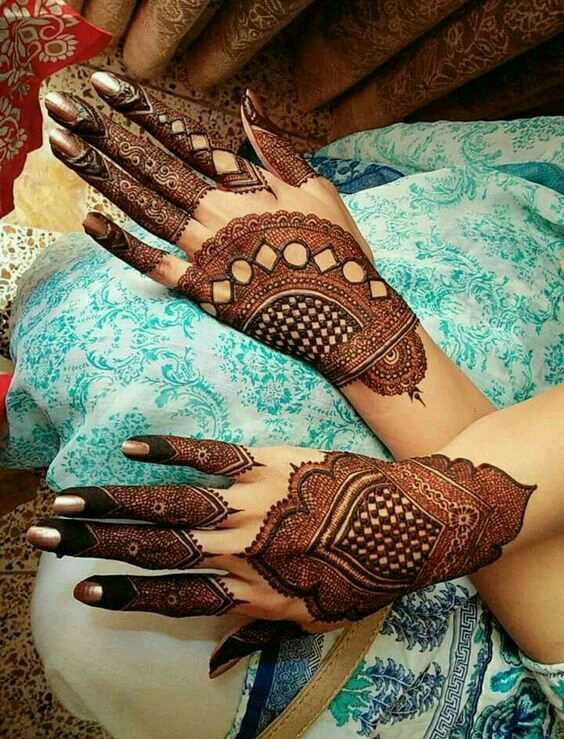 You can try these chic designs at home as an endeavour for Pakistani mehndi designs for Eid. Do compliment your fresh look with any fashionable attire.
The Chained Pakistani Mehndi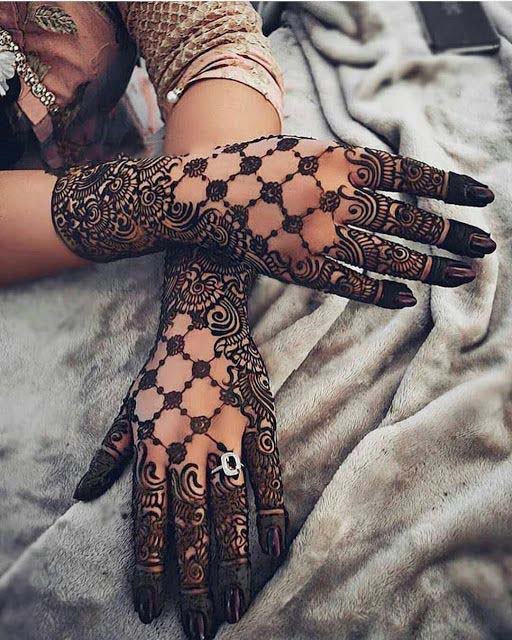 The nail tips are covered completely, with Henna. While the centre is made of flower and chains. This design looks good, for occasions such as a wedding party.
Shaded Contrast Mehndi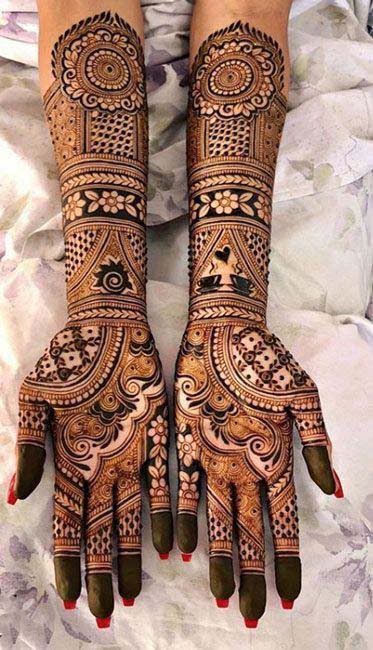 This Mehendi work is cool to go even with your casual look and your casual dress. The way this design has been, created with shades looks amazing. It gives a great contrast look.
Bride & Groom Name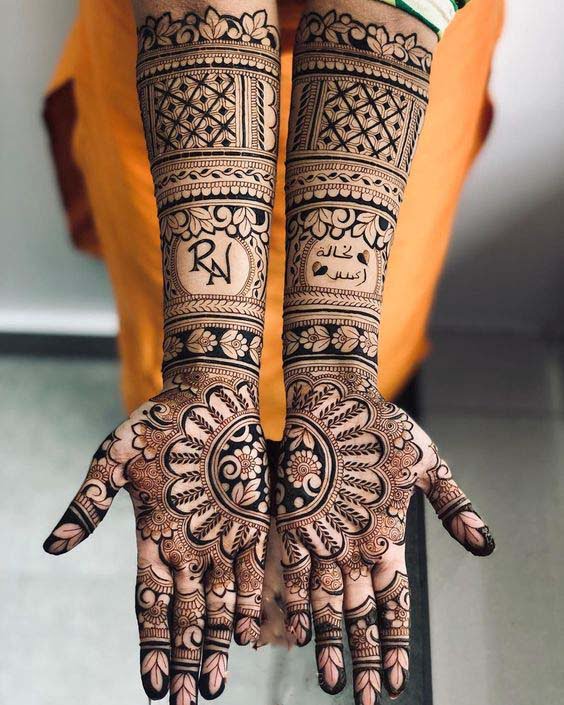 The centre of this Pakistani Mehndi design is made with beautiful patterns of leaves and flowers with shaded henna from light to dark.
Pakistani Red & Black Mehndi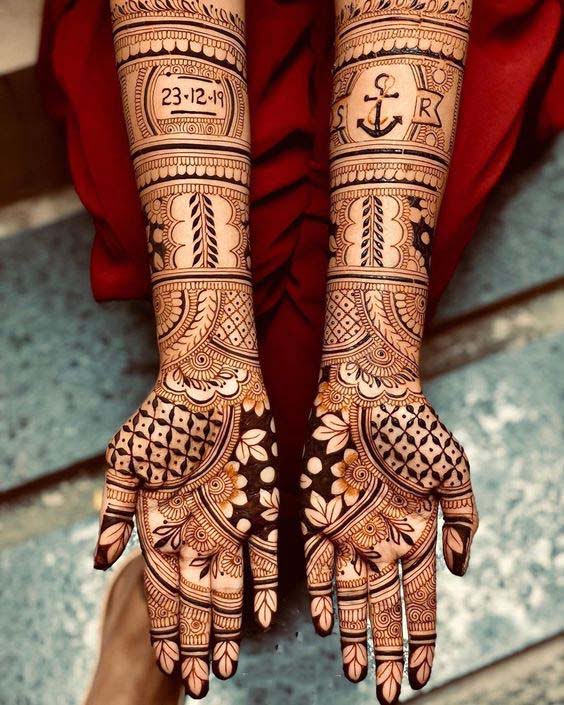 The inverse light-dark colour of the red and black mehndi looks eye-catching. The leafy patterns or flowers on the hands highlight with the black frame looks adorable.
Elegant Pattern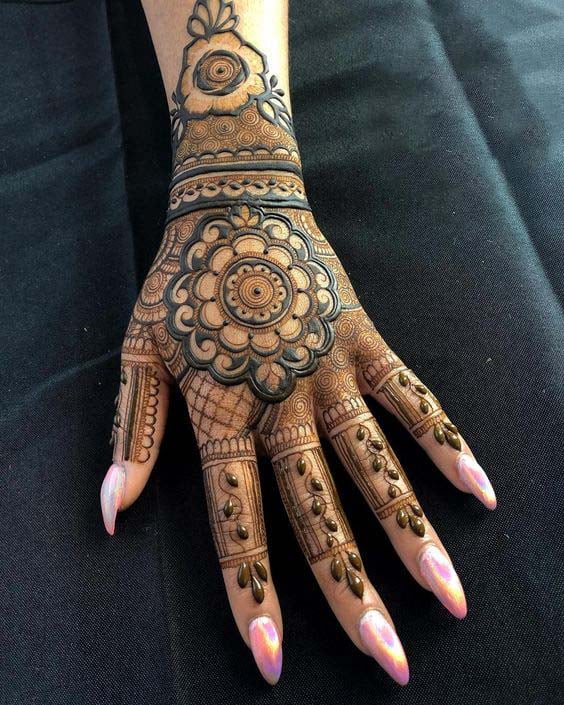 An elegant pattern, which is best for the bridal look. Prep it with shiny pink or blue nail paint to complete the look with suits & Kurtis.
Sharp Flowers & Leaves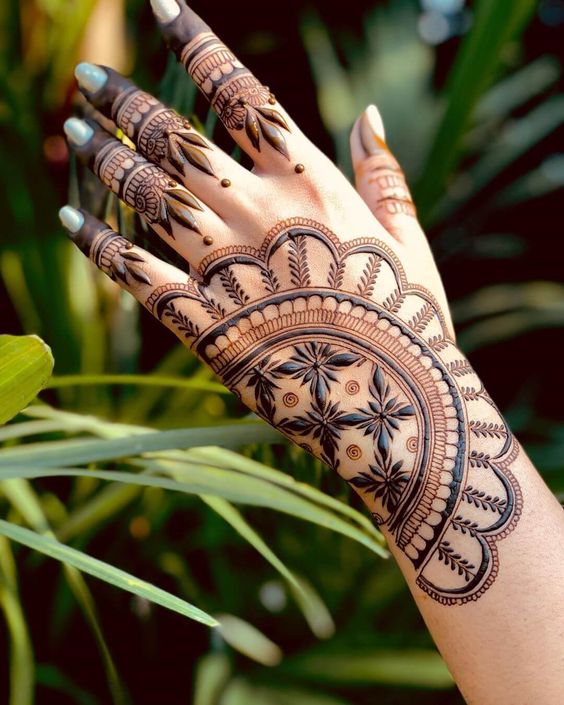 Beautiful & clear half flower design engraved with pointed flowers. You should wear the correct match coloured Lehenga with some lovely jewellery.
Simple & Sleek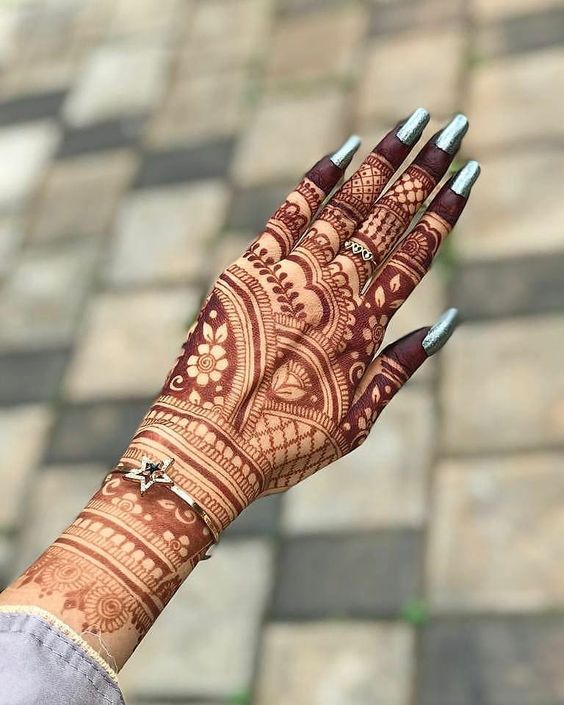 Now, this is a modern & sleek mehndi design. Which goes best on modern suits & salwar. These look glammed up when done on the back portion of the hand.
Hopefully, the article Pakistani Mehndi Design listed above will make your experience easier. For any query simply comment on the comment box.