30+ Latest Mehndi Design Bail 2020
Mehndi has been a special part of women's grooming on special occasions like marriage, engagements and others. It is also popular in the country, India. Mehndi design can be created, with many patterns like peacock, conch, flower, vine and leaves & more. Today, in this article, we are going to tell you about all the best mehndi design bail.
How To Apply Mehndi?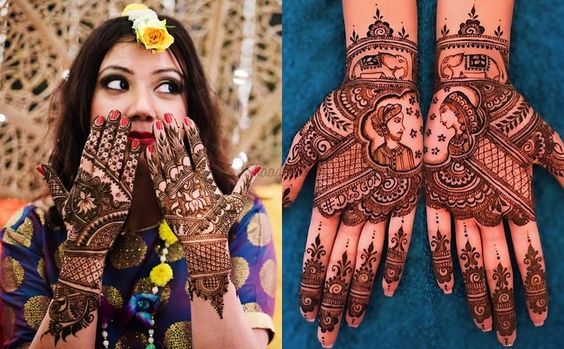 Before we talk about Arabic Mehndi Designs For Back hand. Here well you will learn and know how to apply Mehndi in the right way. Before applying Mehndi, pay attention to these steps:
Mix 1 to 3 ml of henna oil in 10 grams of henna powder. Do not use more oil than this quantity. Now your mehndi oil is ready.
Wash hands at least half an hour before applying mehndi. First, wipe your hands with a towel. Then wait until the hands dry entirely.
Do not apply any oil or cream on the palms and feet before applying mehndi after drying your hands. Therefore, before applying mehndi, your hands and feet should be dry so that the colour of your mehndi remains thick & long-lasting.
Applying essential oil(mehndi oil) before applying henna, as it deepens & long lasts the colour of your mehndi.
If you wish to have a beautiful & dark then you will have to give it a little time. One reason for mehndi not being perfectly long-lasting is that we do not give it the right time. It is essential to be patient while applying mehndi so that the design comes out is classic & perfect.
Choose the best mehndi designs and apply it accordingly or you can take the help of somebody who is a pro.
Mix lemon and sugar, make a syrup & apply it on your dried mehndi. It will help to deepen the colour of mehndi. Remember to apply a thick layer of this mixture of lemon and sugar on the dried mehndi and this will make the colour of the mehndi dark brown. (For more tips to dark your mehndi click here)
Now its time to give yourself a patience call & leave the mehndi for 8-9 hours. Try to apply mehndi at night.
Tip: After the henna dries up, wrap the foil in your hands. Foil paper not only makes the colour of mehndi darker & think but also it prevents dried mehndi from falling & creating a mess in your room.
The Leafy Bail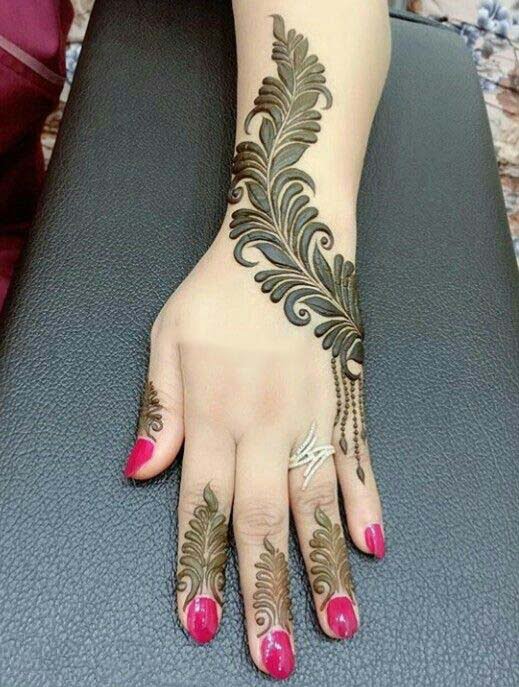 A very simple but seems, always the best bail design. The design would go for any special occasion. It is short & easy to apply. You can also give it contrast with the help of nail paint.
The Bail Bangle Design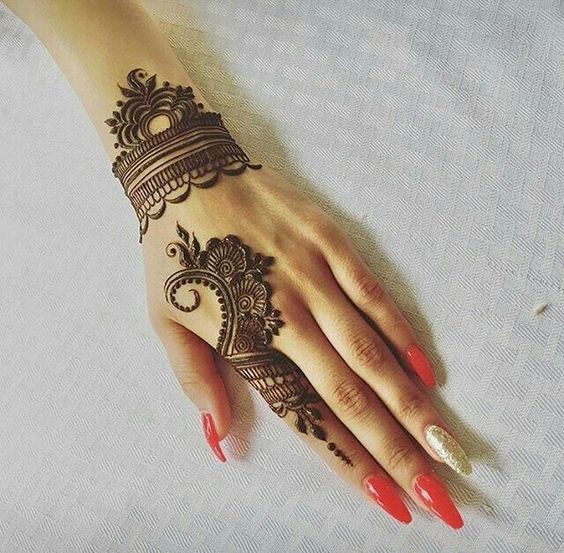 This design is created, by designing a bail only on one single finger but on the backside of the hand. The bangle design on the wrist completes the look which is created, with ovals and small dotted leaves.
Half Bail Jewellery Combo
We name it 'Half bail jewellery design'. As you can see in the above picture, this mehndi design is a combination of a bail, jewellery and wrist bangle. The art symbolises the beauty of married women. That is why this bail mehndi will suits best for the women who have recently got married.
Diagonal Bail Design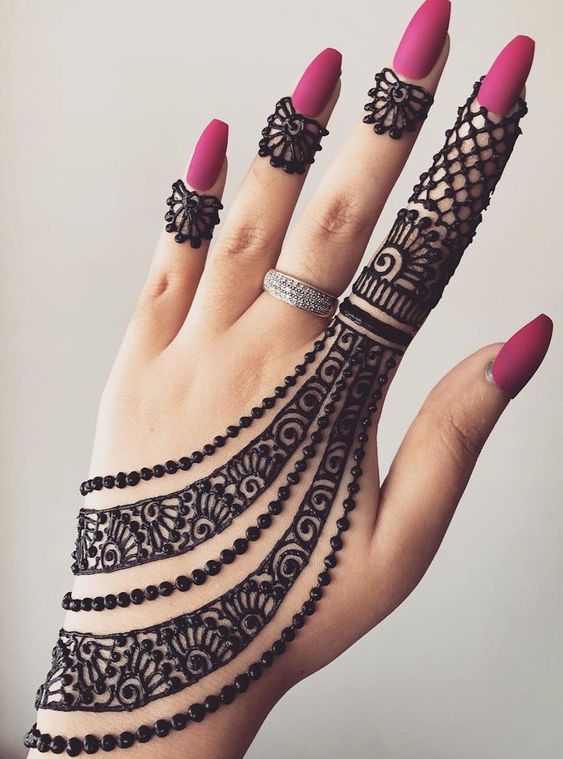 This bail design is a blend of circles, dots and the midi rings made on the fingers look so pretty! What caught our attention was the diagonal design. Somehow when the designs, are not in your everyday shape, they attract the human eye.
Dots & Shades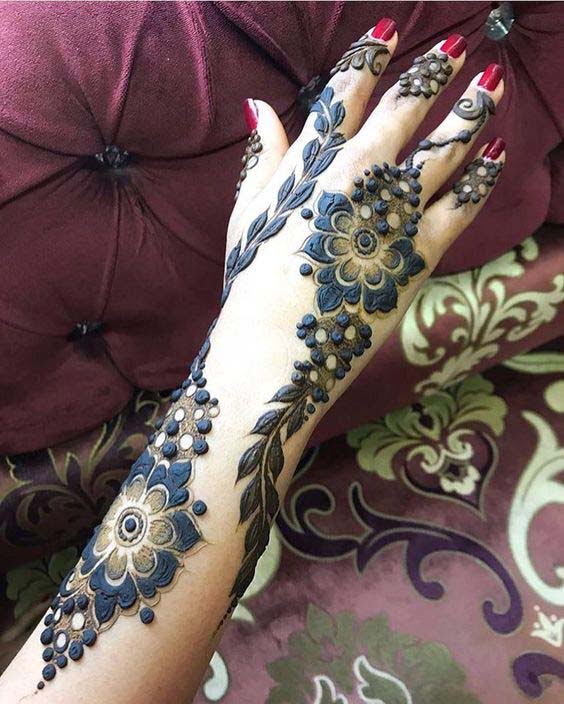 The speciality of this bail design is that a lot of dark shades & light shade mehndi has been used in it, as you can see in the picture. There can be no better design than this beautiful dotted art. This mehndi design will work to boost your confidence.
Dark Shaded Bud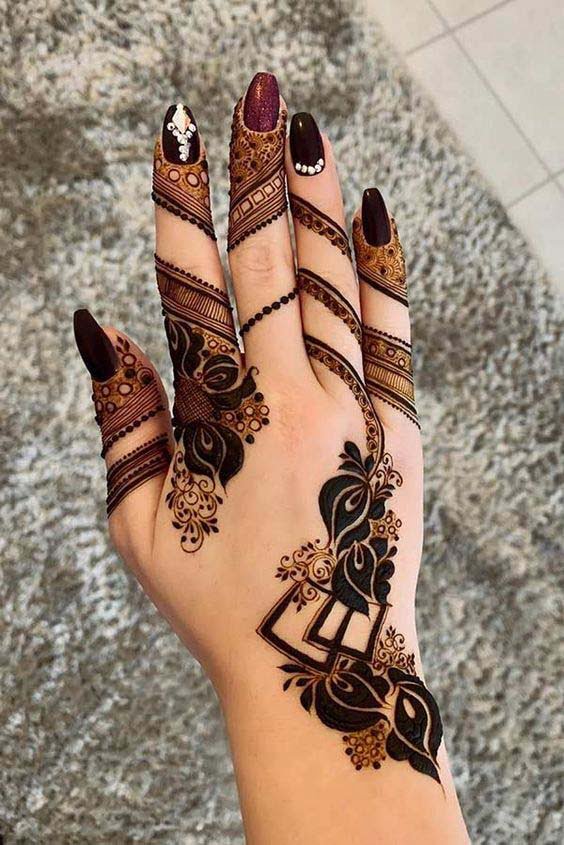 This Mehndi design looks a slight creative and extremely elegant, which is best for any occasion. This mehndi art is created, with dark shaded bud flowers surrounded by small & sleek leaves.
Lily Shaped Bail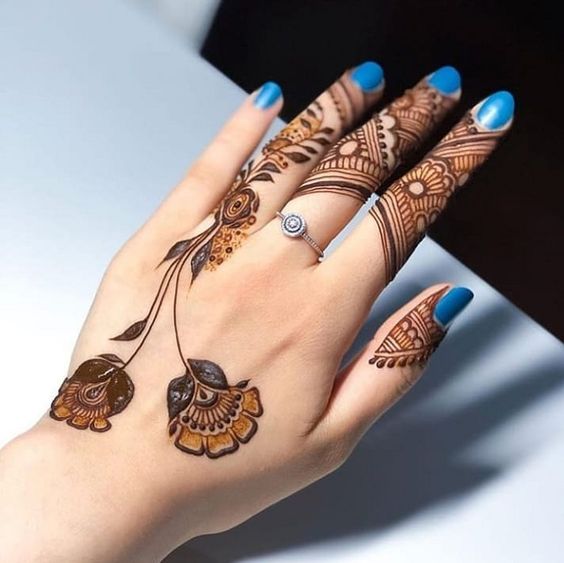 A bail started with small leaves which end to the back of the palm creating a lily-shaped flower. It is a pretty looking device.
Traditional Touch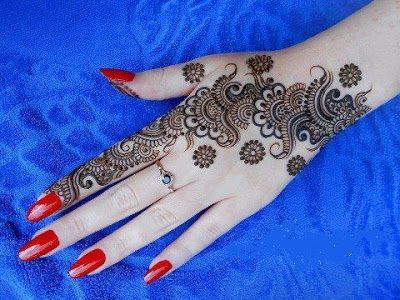 This is an excellent traditional bail design with different types of curvy lines, circles and combinations of flowers. This is a perfect fit for some traditional occasion.
Bail Foot Design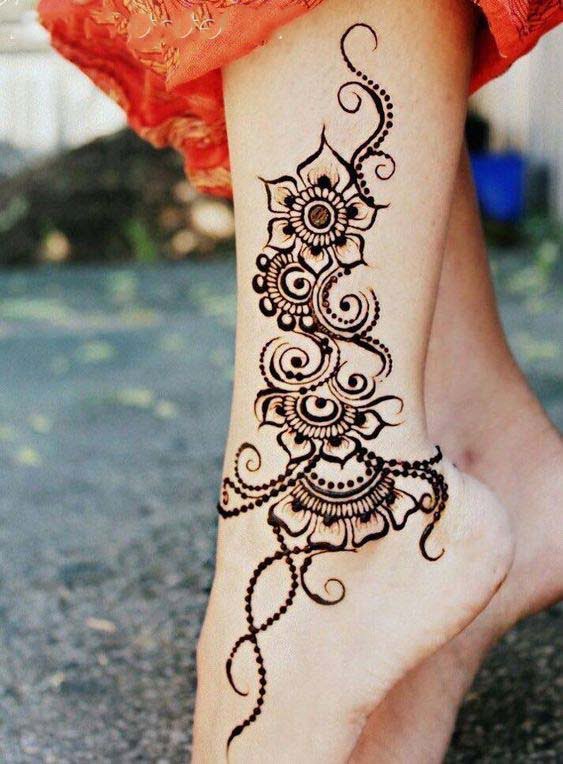 A bail mehndi which is specially, designed for a bridal foot. The flowery design is created according to a half part of a hibiscus flower. The flower joins with dotted bails makes it look more elegant and special.
Finger Bail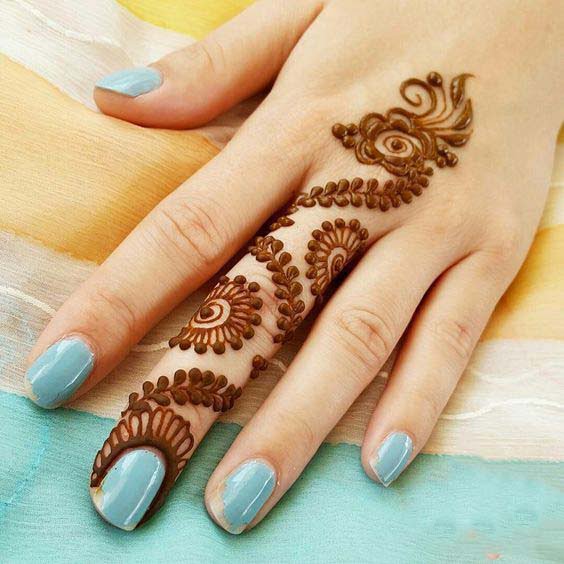 As you can see in the above picture, this mehndi design is created, with a wavy bail and small round flowers in between. Make sure, you prep it with cute nail paint. This design is especially for those who wants to get a short but cute finger mehndi design.
The Combination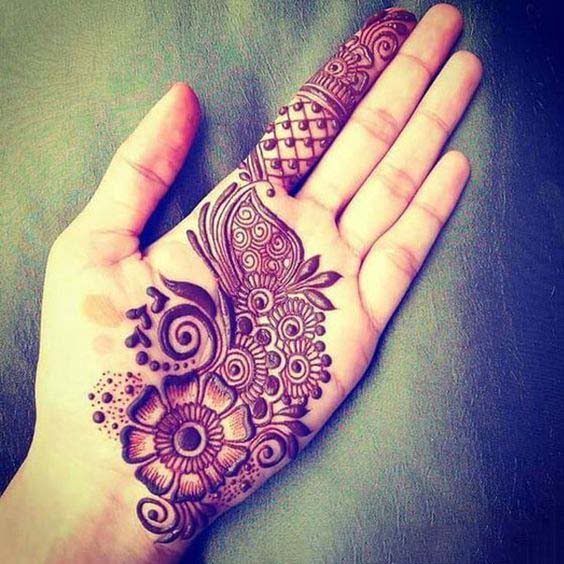 A bail which is created with the combinations of flowers, net, dots and leaves. This bail Mehndi art is created with flowery shades and leaves covered by dots. This design goes best for bride's little sisters.
Simple & Clear Bail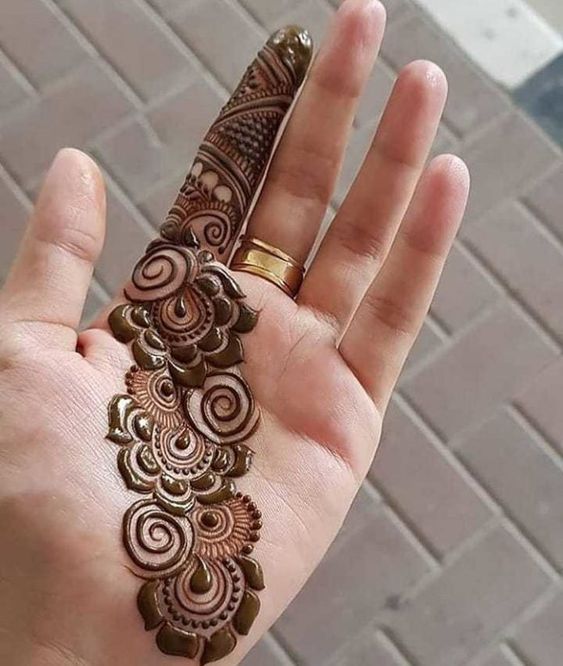 Three beautiful flowers starting below palm and reaching towards the finger. This is a very simple & clear bail which is best for those who doesn't want to spend hours sitting for a full hand mehndi. This design is for those who want a crisp & quick bail mehndi design.
The Morden Bail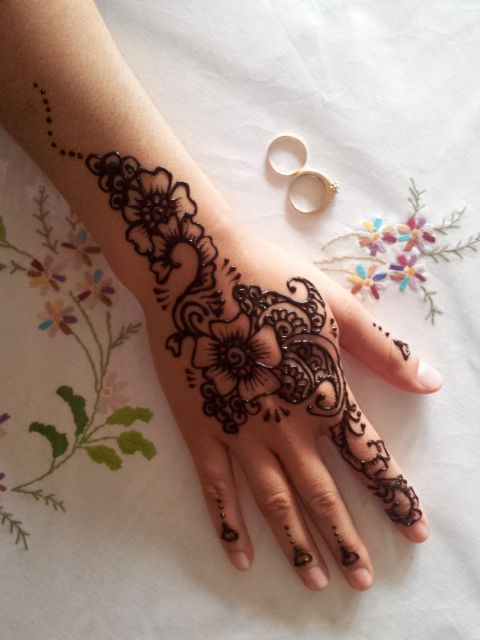 Here the bail mehndi design is implemented solely on the bottom of the arm reaching up to the tip of the thumb and the index finger. This one especially loved by modern girls.
Dotted Rings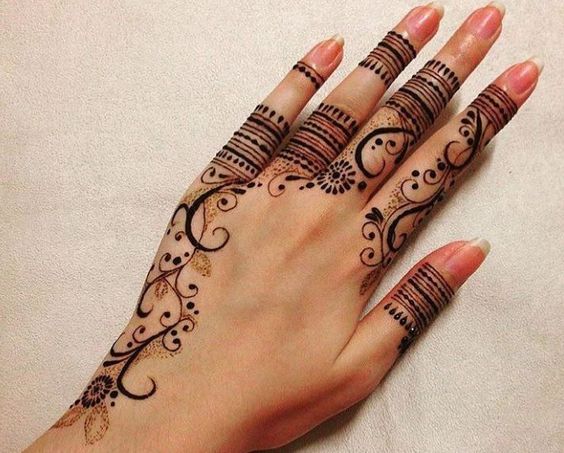 This design joins the fingers and the rings worn too. This design is a beautiful art created with ring circles, dots, and lightened small leaves which can be seen, in the above picture.
Dark Hena Art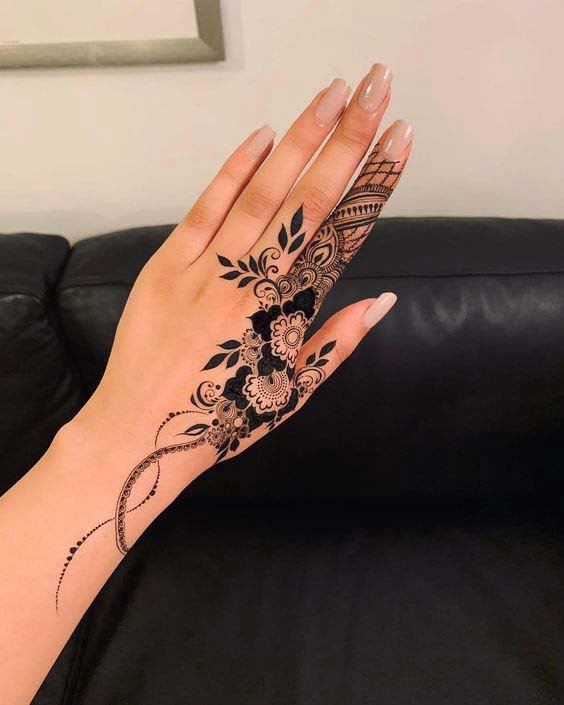 A modern & sleek bail design which looks like a tattoo. Thought it is a bail mehndi design which is graceful, created on the hands.
A Feather Bail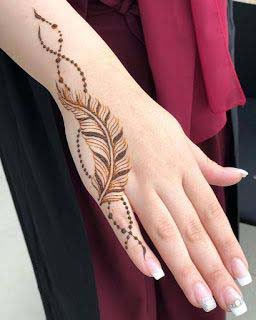 The design is created, in accordance with a bird feather. It looks beautiful on the hands with a touch of a glitter nail paint.
The Square Roses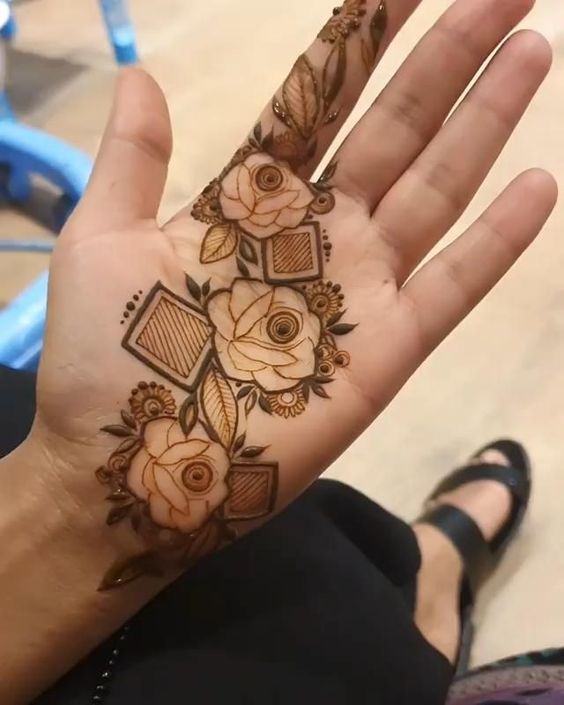 This design is created, by combining beautiful roses and squares which are filled, with straight lines inside.
The Pinky Finger Bail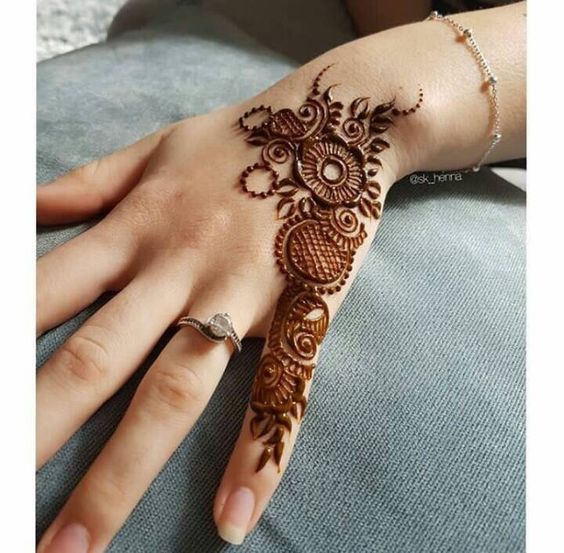 A bail design which is created for the tiniest finger. This is a perfect bail art which fits for ceremonies of neighbours and friends.
Two Finger Bails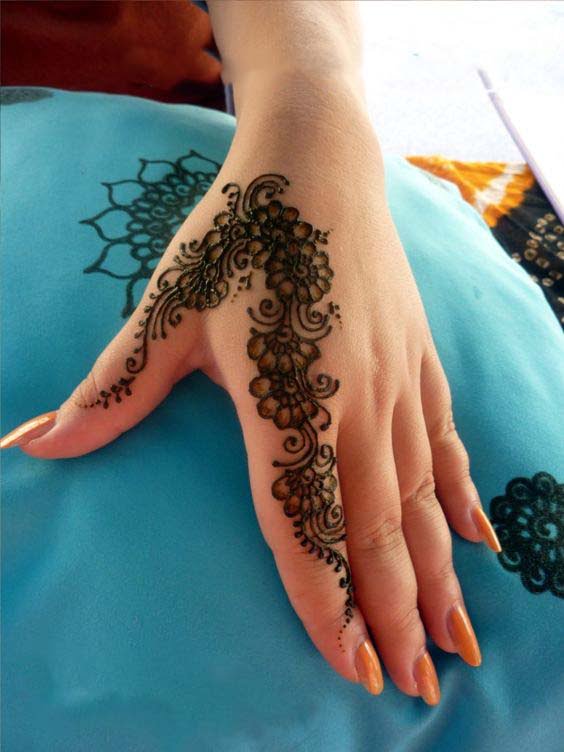 The two-finger bails are designed, on the thumb and the starting finger. Try this Easy mehndi design and prep it with your cute favourite nail paint.
Fingers Full of Bails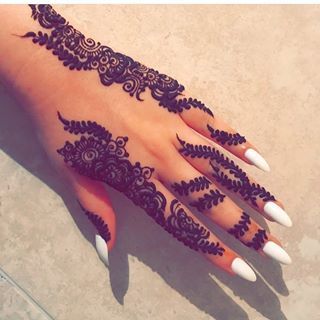 Bails are designed, on each of the fingers of the hand. Some bails are made, with flowers while some are in the shape of small plant shapes. Do not forget to coat your nails with white pop colour.
Small Roses with leaves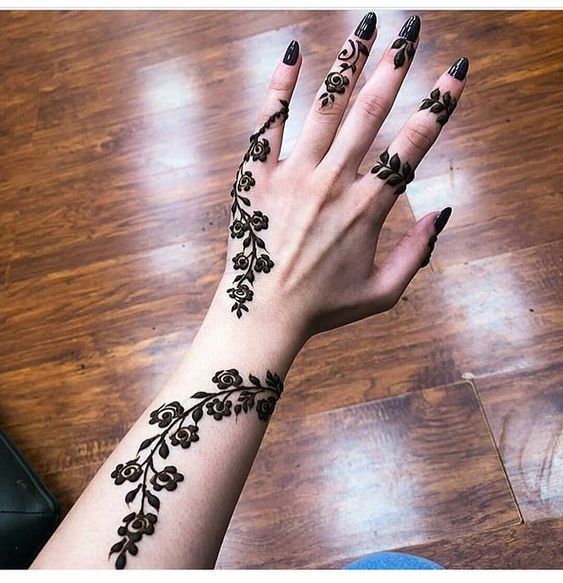 Try out this lovely, magical rose bail made with tiny, sleek leaves. Best for romantic occasions, like roses, connects love & romance.
Little Flowers Bail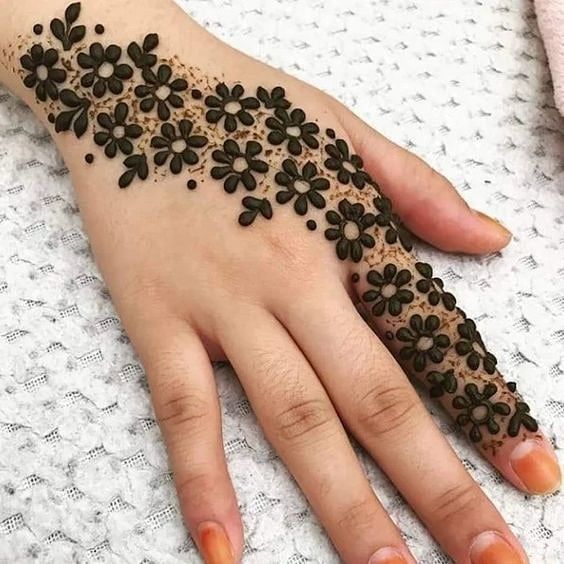 These little flowers are small but much attractive. These are tiny flowers with a whole in between that is giving them a charming look.
Longest Bail Design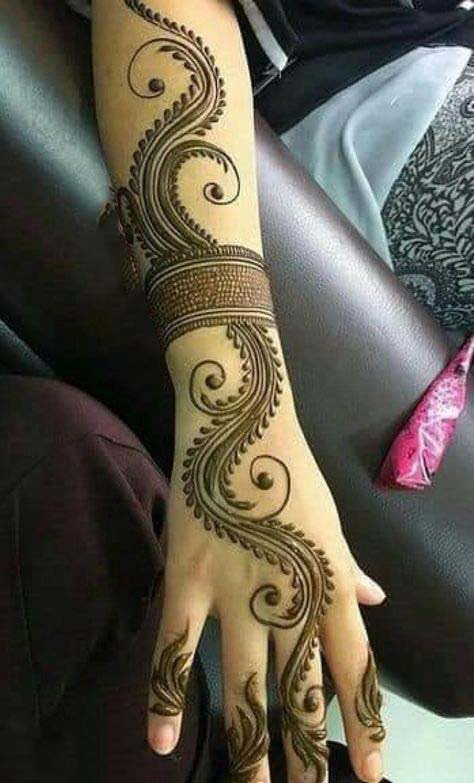 This is one of the longest bail design, which is started from the upper hand and finishes to the tip of the nails. The design looks unique and cool.
Simple Round Bail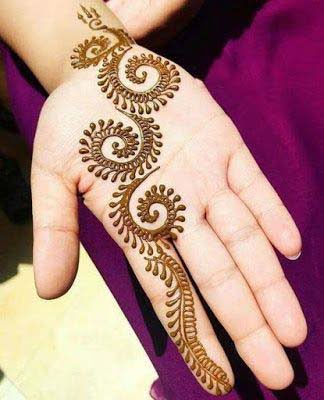 Draw a bail starting from the fingertip and take it downwards. Then make three inverted circles and add some dots on the outside and ya, you are, done.
Dotter Bail with a Leaf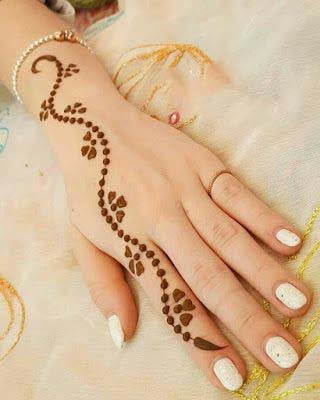 It is a proper ready to go party bail. A wavy bail with some leaves and dots in it and you are ready to go. This one is simplest, of all the bails.
The Arabic Touch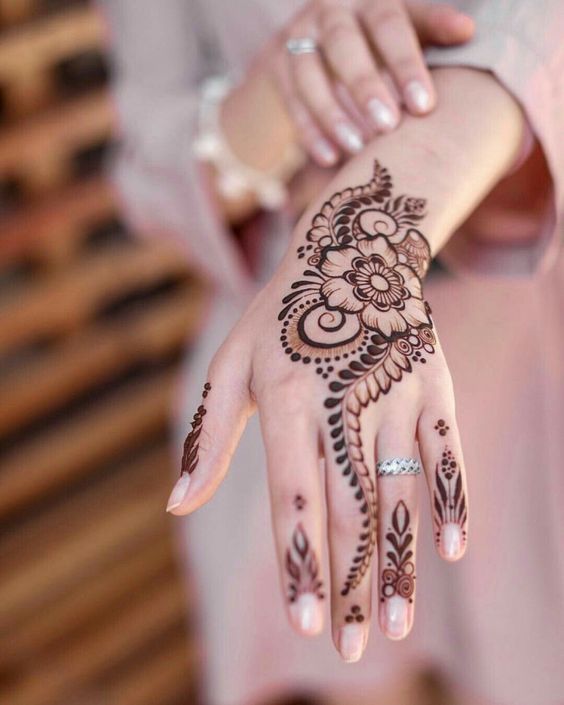 Another cool and easy, mehndi bail design hands can be done, are the Arabic style. The bail is made, with party covered and half bare leaves. While all the fingers are covered with small bails. Looks pretty good.
Giant Leaves
This bail mehndi design is the perfect fit for girls and women as well. It is made of creating giant leaves on below and Square joining boxes on the ring finger. It has, also, designs of leaves on the fingers.
The Peacock Feather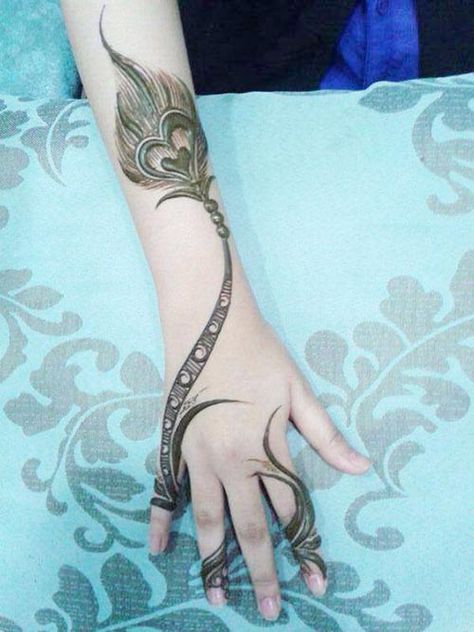 The peacock design is widely used in India as it is a symbol of pride and love. In this design, the Peacock feather is closely and designed well. This is a full packed design you must try.
V-Shaped Finger Bails
V-shaped finger bails look elegant and pretty. Every nail is designed with small bails while three of them are joined together at the end creating, a beautiful pattern.
Hopefully, the article Mehndi Design Bail' listed above will make your experience easier. For any query simply comment on the comment box.