People of all religions and cultures of the world use mehndi adversely. Mehndi stood a symbol of joy, happiness, beauty and positive energy. Since very ancient times and its beauty still stands in a lot of trends. Indian tradition is considered auspicious to apply Mehandi on the occasion of marriage & engagement functions. Apart from marriage, women like to apply mehndi for special occasions. Today we have brought you some fabulous full hand mehndi design which has been designed by some special, designers. We hope you like it.
How To Apply Mehndi?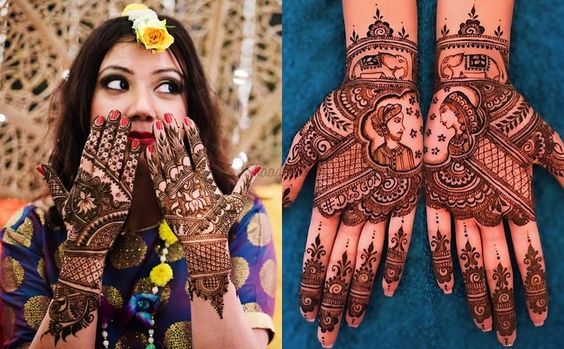 Before we talk about Arabic Mehndi Designs For Back hand. Here well you will learn and know how to apply Mehndi in the right way. Before applying Mehndi, pay attention to these steps:
Mix 1 to 3 ml of henna oil in 10 grams of henna powder. Do not use more oil than this quantity. Now your mehndi oil is ready.
Wash hands at least half an hour before applying mehndi. First, wipe your hands with a towel. Then wait until the hands dry entirely.
Do not apply any oil or cream on the palms and feet before applying mehndi after drying your hands. Therefore, before applying mehndi, your hands and feet should be dry so that the colour of your mehndi remains thick & long-lasting.
Applying essential oil(mehndi oil) before applying henna, as it deepens & long lasts the colour of your mehndi.
If you wish to have a beautiful & dark then you will have to give it a little time. One reason for mehndi not being perfectly long-lasting is that we do not give it the right time. It is essential to be patient while applying mehndi so that the design comes out is classic & perfect.
Choose the best mehndi designs and apply it accordingly or you can take the help of somebody who is a pro.
Mix lemon and sugar, make a syrup & apply it on your dried mehndi. It will help to deepen the colour of mehndi. Remember to apply a thick layer of this mixture of lemon and sugar on the dried mehndi and this will make the colour of the mehndi dark brown. (For more tips to dark your mehndi click here)
Now its time to give yourself a patience call & leave the mehndi for 8-9 hours. Try to apply mehndi at night.
Tip:After the henna dries up, wrap the foil in your hands. Foil paper not only makes the colour of mehndi darker & think but also it prevents dried mehndi from falling & creating a mess in your room.
Tips To Remove Henna from Your Skin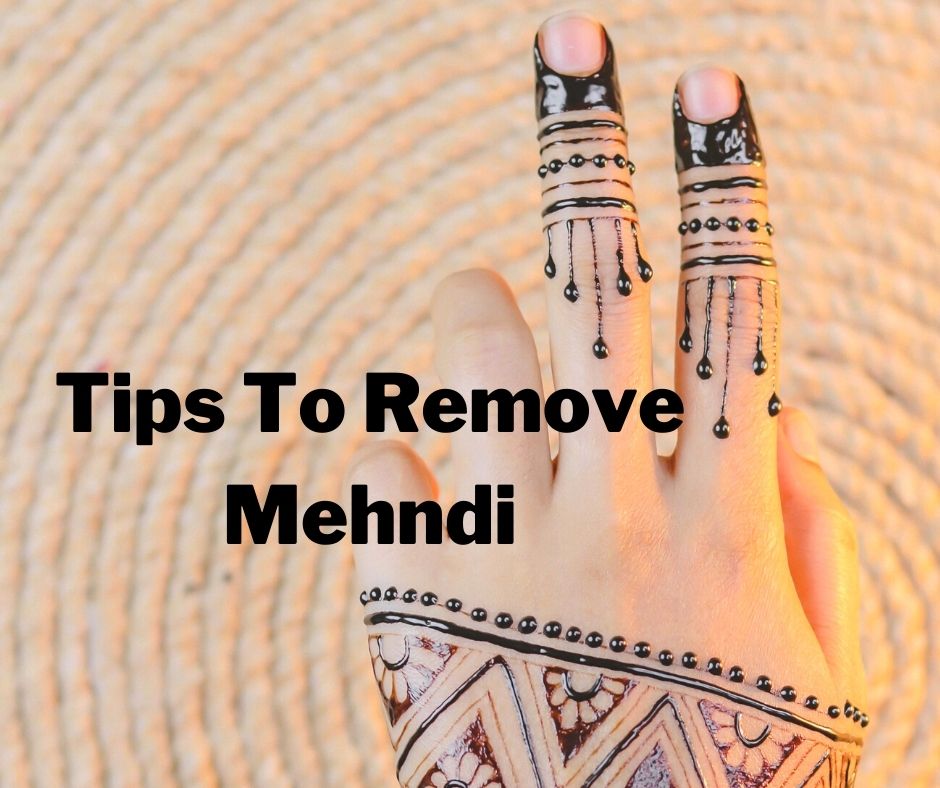 Saltwater soak
Salt is a very good cleanser. Put water in a bowl and dissolve a few spoons of salt in it. Now put your henna hands in this saltwater for 15-20 minutes. After that wash hands well.
Lemon
Lemon has bleaching properties. This is why lemon is a safe and suitable way of removing mehndi. Take a piece of lemon and rub it on your hands. By doing this daily, the mehndi will be removed from the hands in a few days.
Baking soda
Baking soda also has bleaching properties. Add a few drops of lemon juice to a spoonful of baking soda and mix well. After applying it for some time, leave it for 15 minutes and then wash hands with lukewarm water.
Raja-Rani Full Hand Mehndi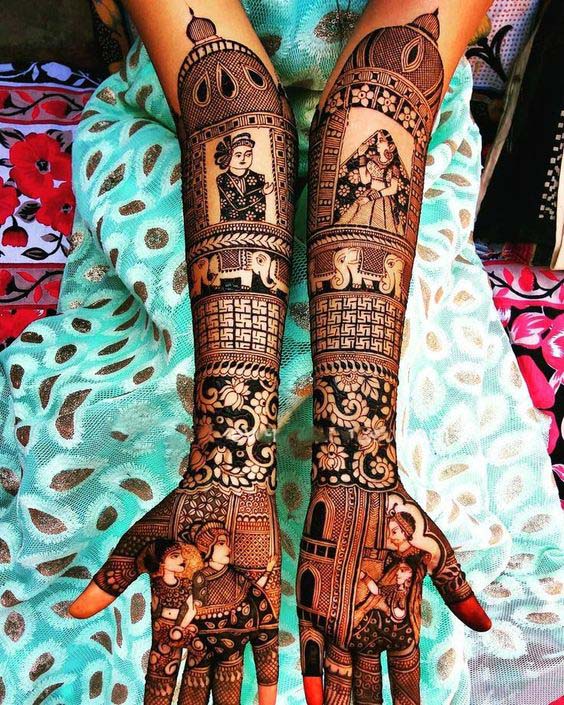 You are portraying yourself as this Raja-Rani mehndi beautiful and drool-worthy design. It is a modern full hand mehndi pattern & this mehndi design under the palm line gets intricate.
Beautiful peacock mehndi design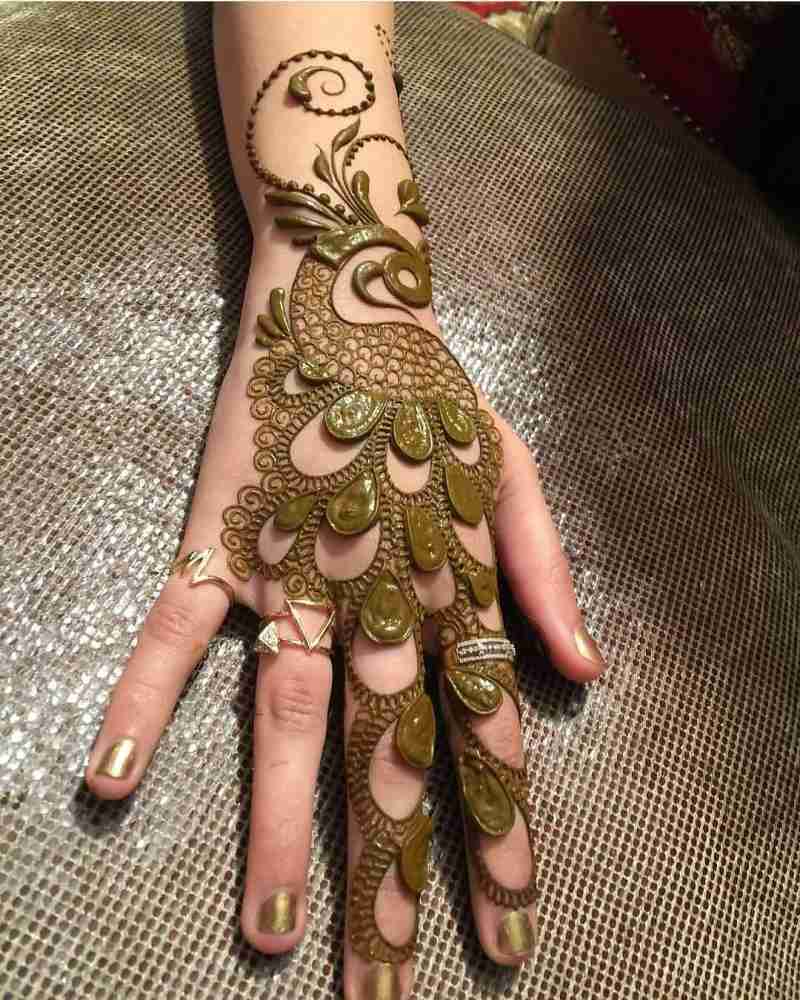 This beautiful peacock mehndi design has shed its shine on almost half the hand. The peacock feather design and the teddy ridge line and dots design make it the most attractive. This mehndi looks even more beautiful with the design of this peacock feather made deep and properly. This peacock feather designed mehndi will attract everyone if you apply it in a festival.
Intricate Geometric Full Hand Mehndi
Among the enormous selection ofmehndi designs, it is the bridal full hand mehndi design that is most liked by the brides. There is no shortage of classic and timeless mehndi designs. These intricate patterns, leaves, flowers of the intricate geometric structure add to the grandeur of the bridal mehndi design manifold.
Royal Mughal Designs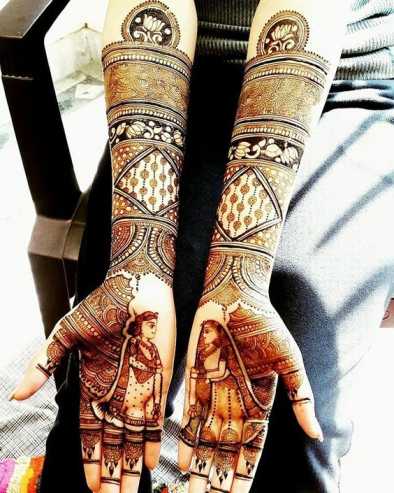 This mehndi design is reminiscent of the elaborate architectural design that we will find in an ancient Mughal palace. The domes and floral designs resemble designs carved into the cemented pillars of a royal residence. The major focus of these bridal mehndi designs is the checkered and split pattern which is very similar to a tapestry.
Fabulous Peacock Mehndi Design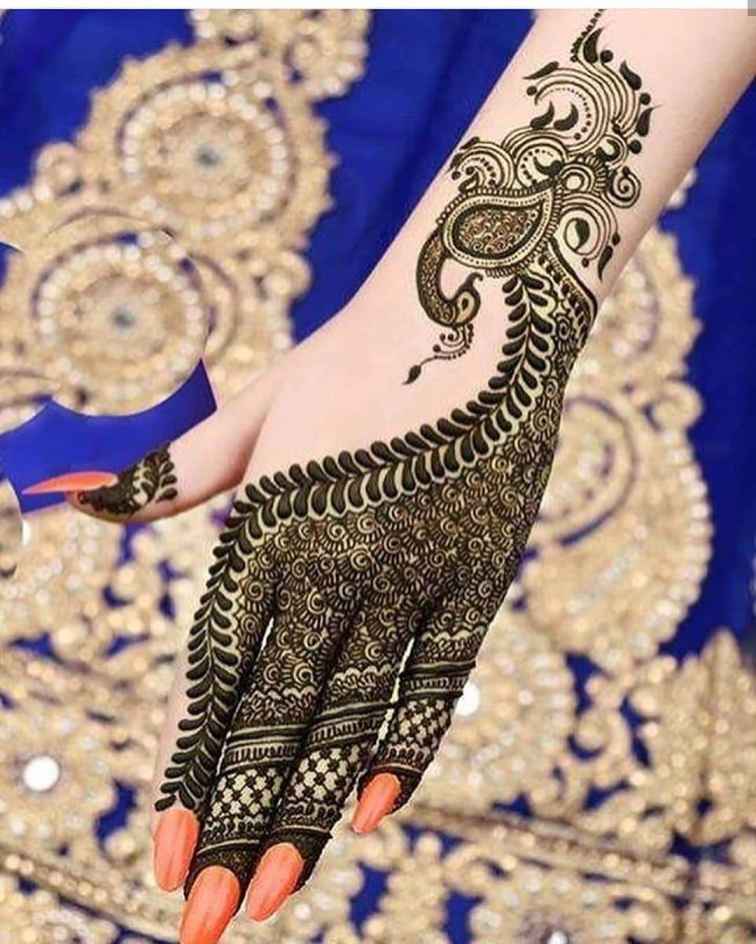 This peacock feather designed mehndi looks very beautiful and the curved design near its feather makes it even more beautiful. The design of small leaves adds to the beauty of its edges and makes it look even more attractive. This finest peacock mehndi design is appealing to the hearts of all girls.
King and Queen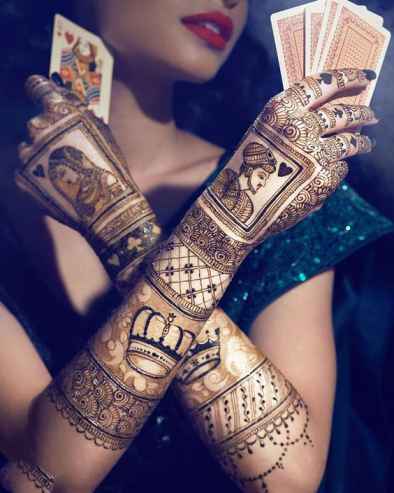 The Raja and Rani theme is common in bridal mehndi designs. This beautiful Royal design will give you a Royal look. This design displays artwork from the Mughal era of a king and queen.
The Lotus Effect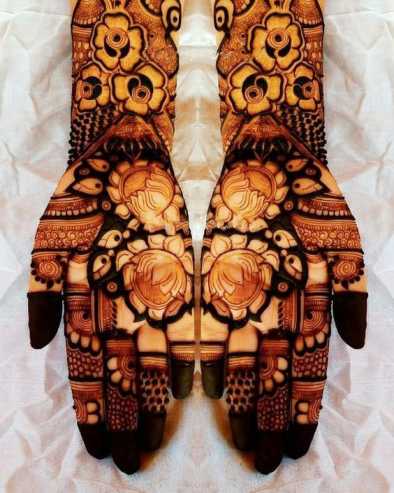 The Lotus flower in Hinduism and Buddhism, is considered to be the most sacred flower. Indian people often associate this flower with Gods and Goddesses. This Mehndi design with lotus effect will give you a very traditional & beautiful Indian Look.
Neat & Sleek Traditional Art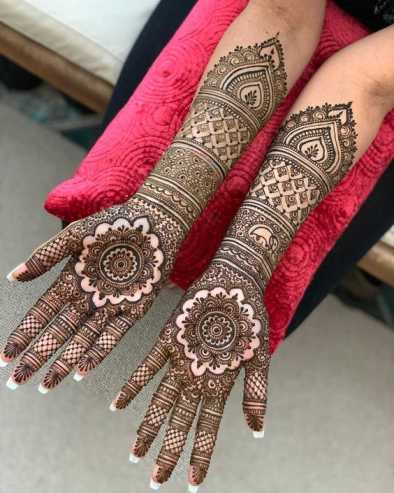 The oldest and traditional form of Mehndi. In this design, a small part of the palm is kept blank, while the rest of the palm is made of a small and delicate design, mostly flowers & leaves. The design is made in considerable detail above the fingers.
Real Shade Art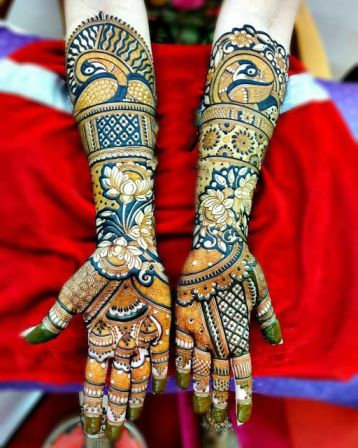 This full hand design looks elegant because it has too many details. This mehndi design looks more beautiful and is designed, in deep colours with flower themes, curls, nets and dotted patterns. This mythical full-handed mehndi pattern looks classy and pretty which every bride wants. One of the best because of its unique look.
Dotted Leaves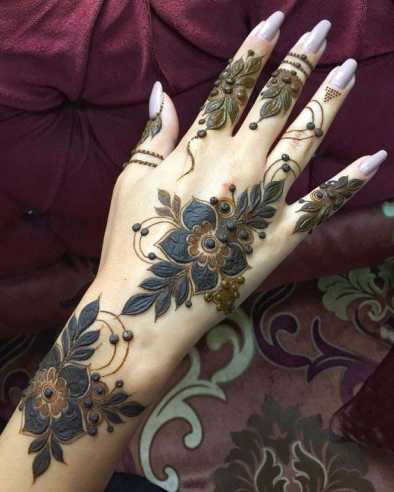 This flower styled mehndi design looks beautiful and the dots design adds to its beauty. The speciality of this design is that a lot of dark shades & light shade mehndi has been used in it, as you can see in the picture. There can be no better design than this beautiful dotted art. This mehndi design will work to boost your confidence.
Arabic mehndi designs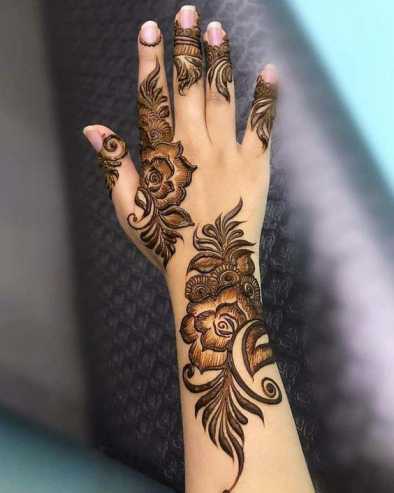 This style design takes much less time to make than Indian mehndi design. This is the reverse of Indian mehndi design. The Arabic style design consists mostly of decorative outlines, flowers, leaves and curved lines. Women who do not have much time to apply mehndi, prefer to apply it because it takes less time to apply mehndi in this style.
Hopefully, the article Full Hand Mehndi Design listed above will make your experience easier. For any query simply comment on the comment box.