Easy Mehndi Designs: Easy, Unique & More!!
When the month of Savan begins, there is a stream of festivals. There are many religious occasions during the month of Sawan, of which it is the custom to use mehndi. Women also have another craze to use mehndi in Sawan month. If someone likes hands full of mehndi, someone only likes to use mehndi only in half hands.
Women love to beautify themselves with unique and easy mehndi designs before any celebrations and occasions. And every time you do not look for a mehndi artist. But some of you may not know how to apply mehndi properly so, we have brought some pretty, simple & easy mehndi patterns only for you! They are simple & easy to draw and apply on your hands & feet. And if you are also among the women who like light mehndi designs in hands, we will show you a glimpse of some easy mehndi designs today.
How To Apply Mehndi?
Before we talk about Easy Mehndi Designs. Here well you will learn and know how to apply Mehndi in the right way. Before applying Mehndi, pay attention to these steps:
Mix 1 to 3 ml of henna oil in 10 grams of henna powder. Do not use more oil than this quantity. Now your mehndi oil is ready.
Wash hands at least half an hour before applying mehndi. First, wipe your hands with a towel. Then wait until the hands dry entirely.
Do not apply any oil or cream on the palms and feet before applying mehndi after drying your hands. Therefore, before applying mehndi, your hands and feet should be dry so that the colour of your mehndi remains thick & long-lasting.
Applying essential oil(mehndi oil) before applying henna, as it deepens & long lasts the colour of your mehndi.
If you wish to have a beautiful & dark then you will have to give it a little time. One reason for mehndi not being perfectly long-lasting is that we do not give it the right time. It is essential to be patient while applying mehndi so that the design comes out is classic & perfect.
Choose the best mehndi designs and apply it accordingly or you can take the help of somebody who is a pro.
Mix lemon and sugar, make a syrup & apply it on your dried mehndi. It will help to deepen the colour of mehndi. Remember to apply a thick layer of this mixture of lemon and sugar on the dried mehndi and this will make the colour of the mehndi dark brown. (For more tips to dark your mehndi click here)
Now its time to give yourself a patience call & leave the mehndi for 8-9 hours. Try to apply mehndi at night.
Tip: After the henna dries up, wrap the foil in your hands. Foil paper not only makes the colour of mehndi darker & think but also it prevents dried mehndi from falling & creating a mess in your room.
Tips To Remove Henna from Your Skin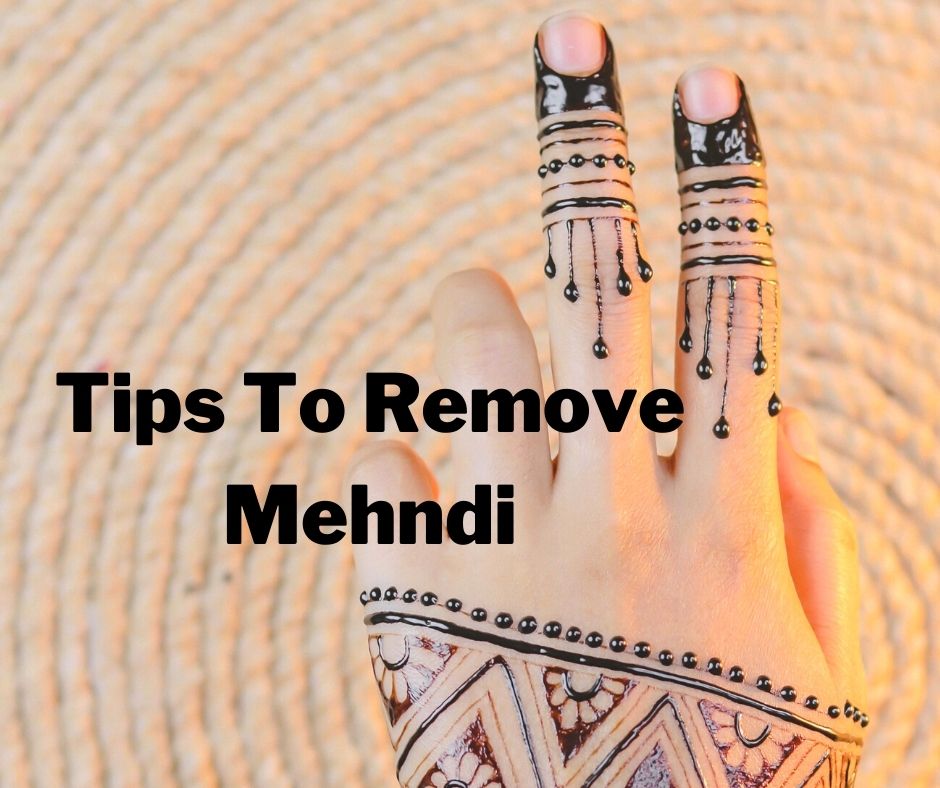 Saltwater soak
Salt is a very good cleanser. Put water in a bowl and dissolve a few spoons of salt in it. Now put your henna hands in this saltwater for 15-20 minutes. After that wash hands well.
lemon
Lemon has bleaching properties. This is why lemon is a safe and suitable way of removing mehndi. Take a piece of lemon and rub it on your hands. By doing this daily, the mehndi will be removed from the hands in a few days.
Toothpaste
Apply toothpaste on your hands, when the paste dried, rub it clean. Believe me, it will make the colour of henna very light!
Baking soda
Baking soda also has bleaching properties. Add a few drops of lemon juice to a spoonful of baking soda and mix well. After applying it for some time, leave it for 15 minutes and then wash hands with lukewarm water.
Easy & Simple Mehndi Designs
We understand the struggle of applying mehndi for beginners, as the mehndi designs require professionalism. Therefore in this article, we have brought to you the easy mehndi designs for Beginners that you can start with.
Simple & Pretty Mandala Design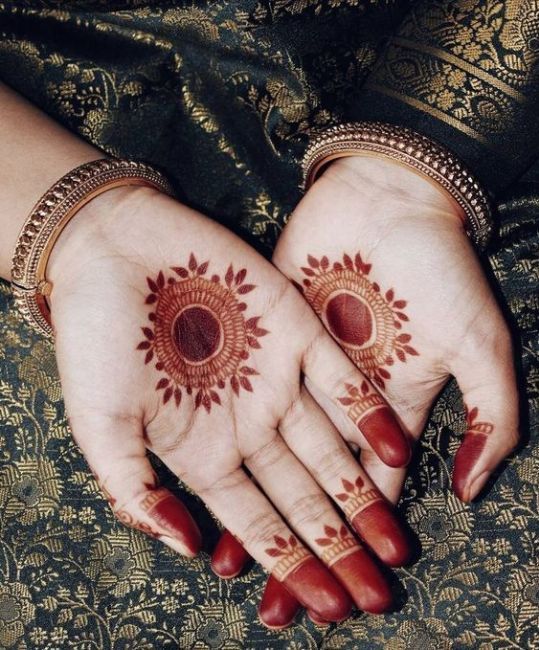 We have picked out a basic mandala design with a flowery pattern that will be absolute for festivals and special occasions. It is easy to wear & looks pretty.
Simple Dark Henna on Finger Tips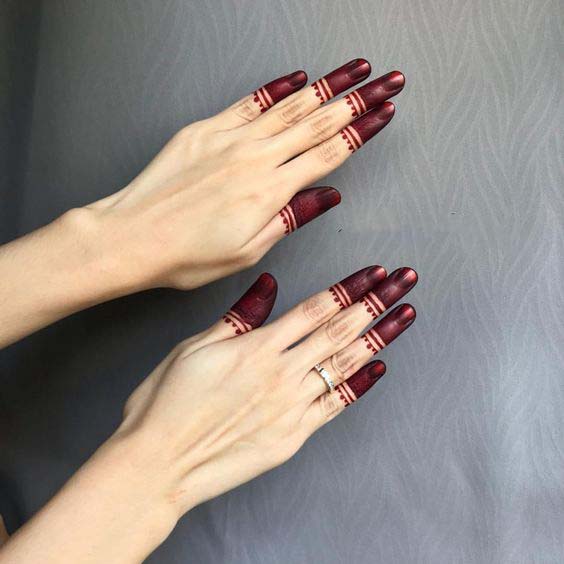 Pick up you keep and spread henna all around your finger tips. Then make a circle or two around the fingers while leaving gap.
The Classy Floral Fun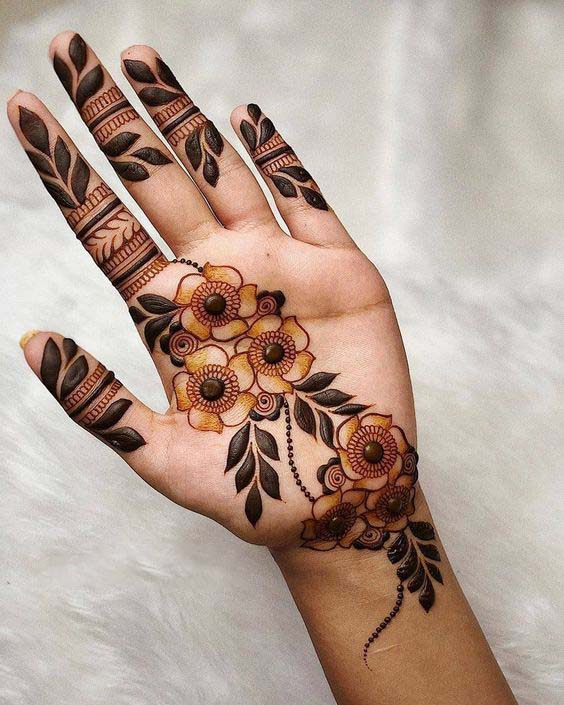 This classic mehndi has all the things in it. While it suits all the attire. It is bold, super floral a wreath-like design is very different and we can imagine a rustic rose nail paint to complete the look.
Finger & a Half Palm Mehndi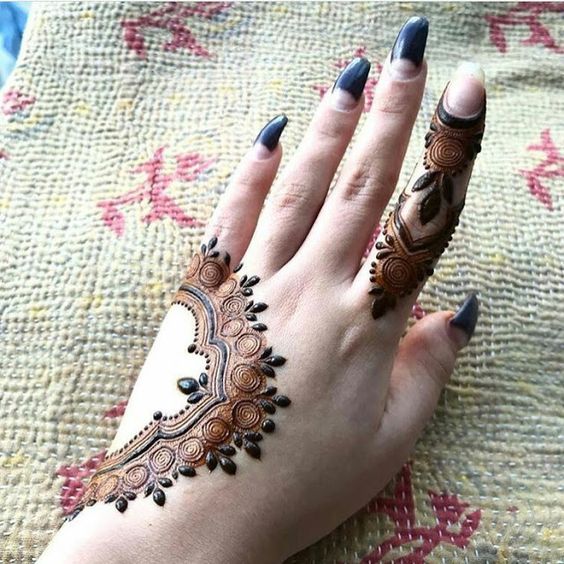 Not only this, to give a distinctive style to mehndi design, you can also apply glitter onto this mehndi design. But applying the same on the wrist and fingers of hands will make your hands look more attractive.
Bell mehndi design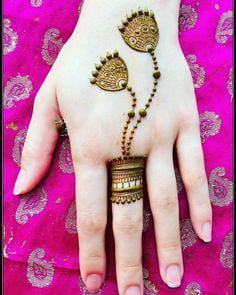 The best part of this design is that only the henna bell design can fill the entire hands. Various designs can be made, in Bell, flower leaf wine, peacock wines, Kerry vine are prominent in mehndi designs. If you want your hands not to be fully covered, with mehndi, you can carry out your hobby of using mehndi by making a single bell of mehndi as well.
Simple & Stylish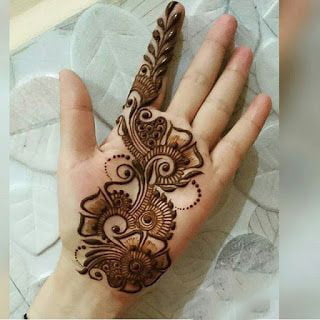 Modern girls like these simple stylish mehndi designs. This floral mehndi design is very easy, to apply along with being beautiful.
Floral Touch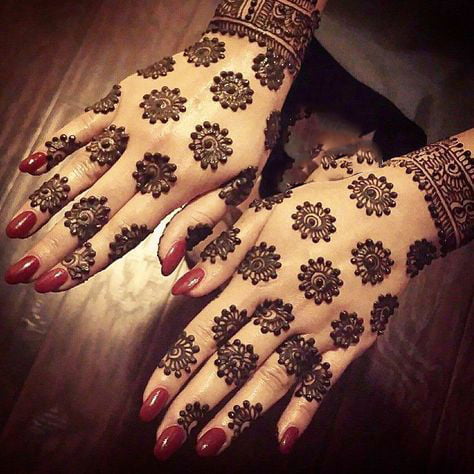 This simple mehndi design looks beautiful and attractive. You can apply it at home very comfortably and easily. The design of dots, lattice and flowers has been more followed to apply it.
Mehndi between the palm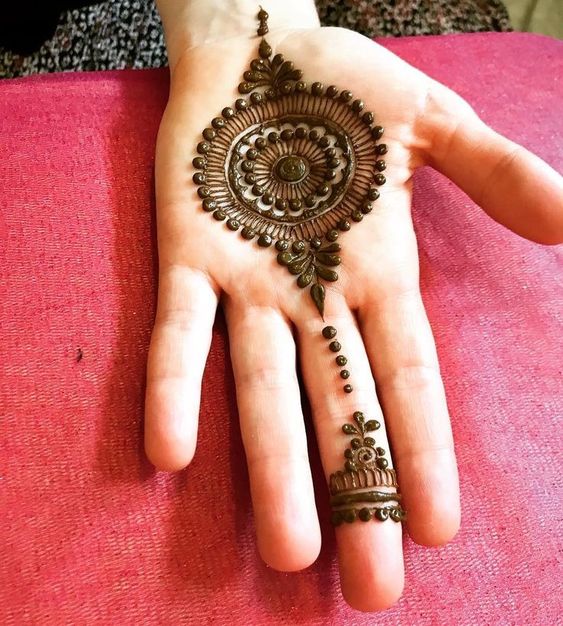 This is a very traditional way of using mehndi. Many people only like mehndi in their hands. If you are also among them, you can have mehndi designs in the form of round, square or triangle between the palm. Not only this, to give a different style to mehndi design, you can also apply light mehndi design on the wrist and fingers of the hands, but this will also make your hands look more beautiful.
Mehndi in half a palm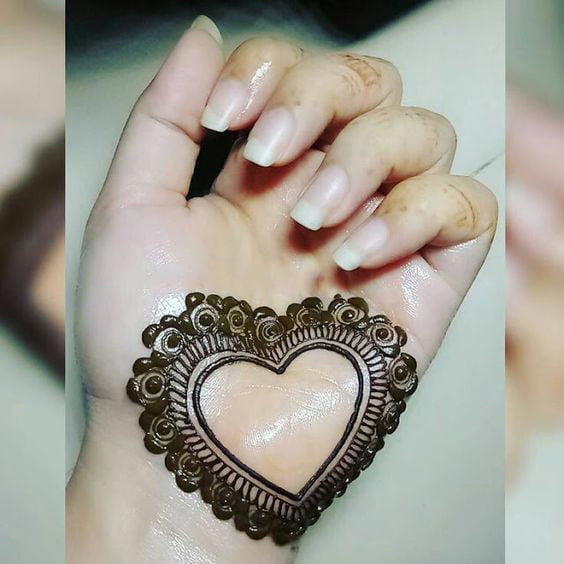 If you do not like hands that are fully covered, with mehndi, you can choose a half palm mehndi design. In today's, fashion with half palm mehndi design is also a very trend. If you choose this type of mehndi design, remember that the henna in the palm always starts from the opposite side of the thumb, ie. the smallest finger side and fill half of the palm with the design.
Czech Mehndi Design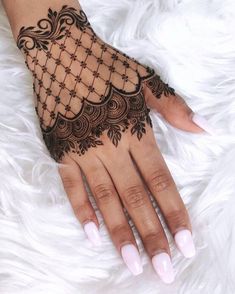 If you want your hands full and it does not have much time to apply mehndi, you can use Mehndi with a check design. It is easy to design. Yes, if you use Czech Mehndi Design, remember to merge the controlled design with the other design of Mehndi in such a way that the flow of Mehndi does not deteriorate. For example, you can take the idea from the mehndi design shown in the picture.
Arabian Mehndi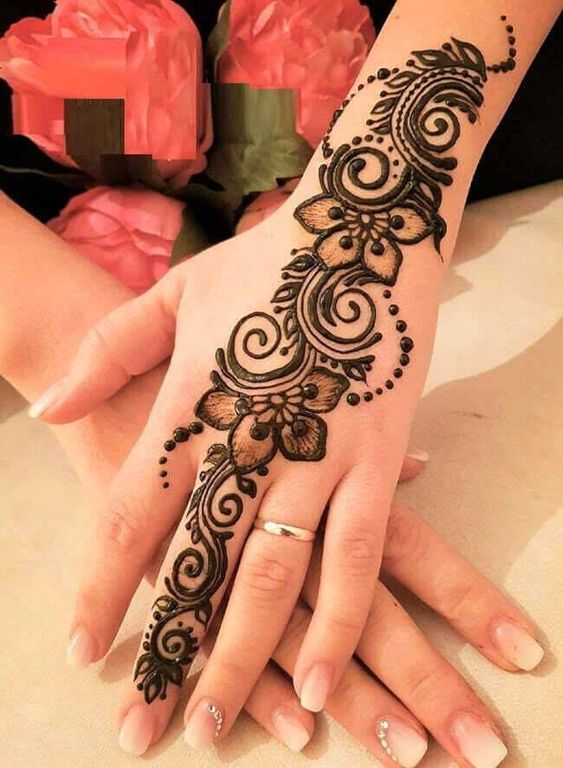 The Arabic mehndi designs for back hand is one of the most favourite mehndi styles of girls which looks beautiful too. It is always in practice. If you want, you should use more shading.
Welt Design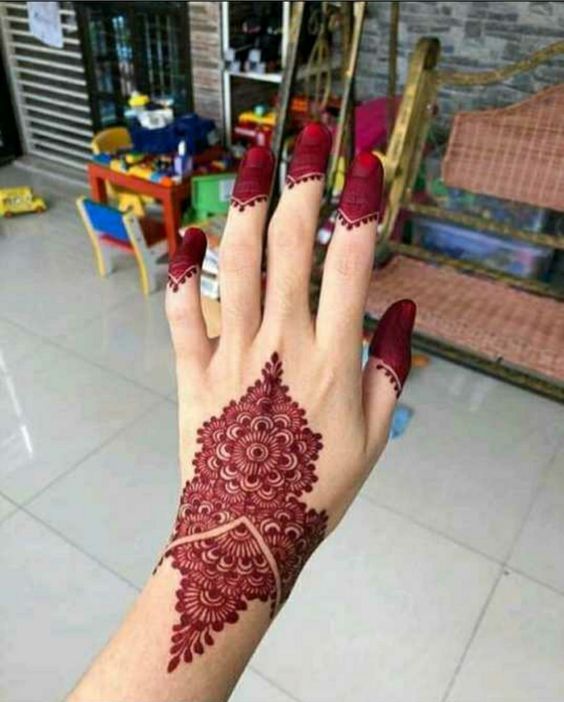 The mehndi with welt design also looks very beautiful. You can try it if you want. It is very, easy to apply and looks beautiful after creating it.
Shaded mehndi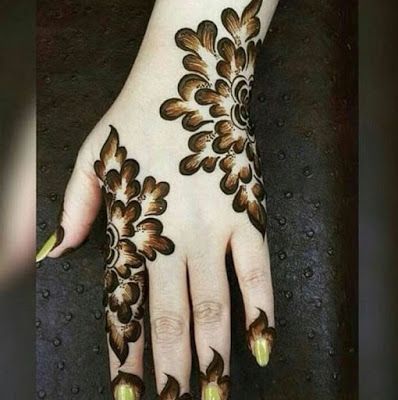 The girls love it because it looks gorgeous after creating it. It is very convenient to apply. By creating an outline outside, you shed it inside. Shading is quite easy as it helps to enhance the look of your mehndi.
Glitter Mehndi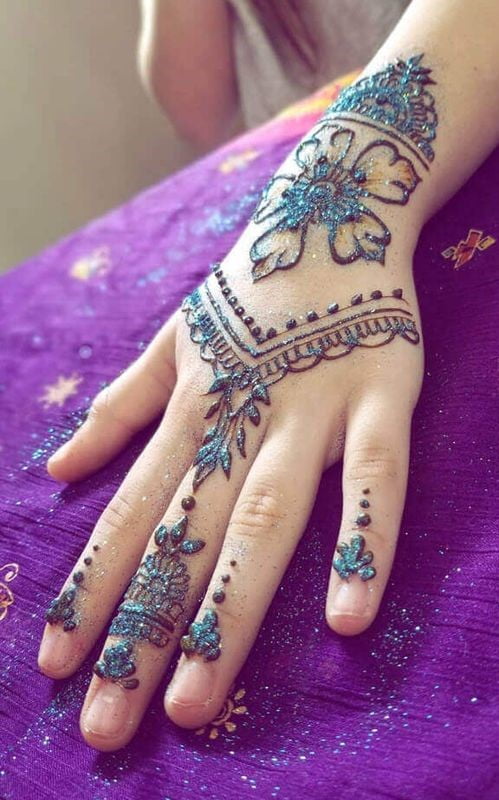 Use glitter on the henna to give it a unique& glittery look. Nowadays, many girls use glitter to decorate their mehndi. In this, you can also use several coloured glitters on your hands at once or you can decorate your mehndi design only from the outer side. Well, the bright, green or silver colours will add glamour to your mehndi design.
Handcuff Art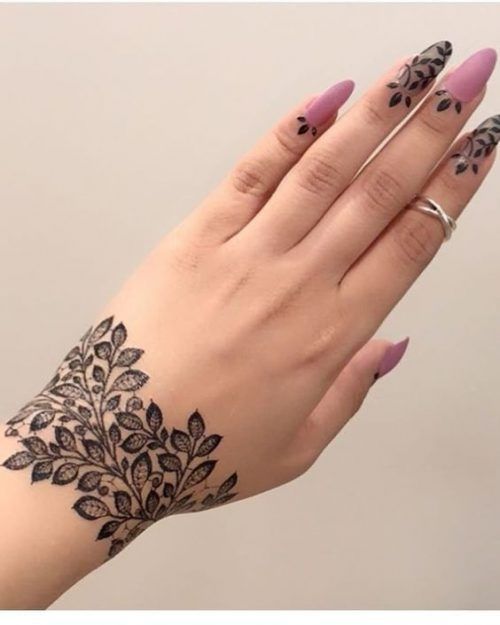 It gives a modern look and looking at its design, it seems that the wrist is covered with bangles. Some similar figure is also carved, on the arms. In this design, the centre of attraction is the thick cuff on the wrist. It is engraved, with the help of the rotation of the hand.
The Circle wreath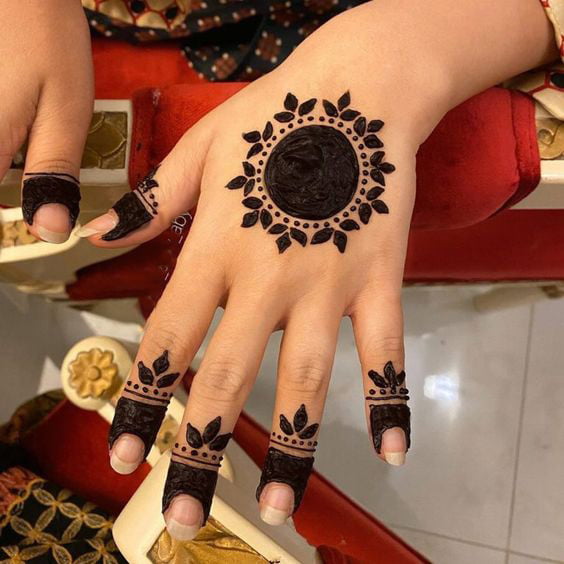 This design is the most simple yet attractive. While it suits all the attire. It is bold, super floral a wreath-like design is very different and we can imagine a rustic rose nail paint to complete the look. It will look super cute when you wear a white tee with denim or a white kurta.
Mango Shaped Simple Motif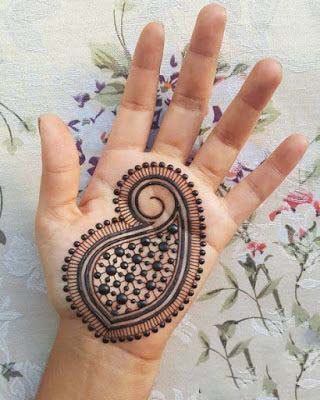 Create a mango shaped motif in the center of your hand, then slowly make straight tiny lines, then add dots connected together to form a beautiful mango-shaped simple mehndi.
FAQ
How do you take the design off?
The stain fades gradually as your skin exfoliates. There isfix we have mentioned above.
Can you add anything to the henna to make it darker?
Yes! We have remedies & hacks to make it darker. Click here
How long does the mehndi colour last on the skin?
The henna stain will last until the skin it dyes exfoliates. Stains can last from 1-4weeks depending on the area it is on, aftercare and how much the skin is exfoliated.

Where is Henna (Mehndi) applied?
Henna is traditionally applied, on the hands, feet & hairs.

How Long Does mehndi color Last?
The designs will last anywhere from 1-6 weeks.

Where Is Mehndi Available?
You can do it yourself or buy online else go to check festivals, fairs, tattoo shops, and salons.

Hopefully, the article Easy Mehndi Designs listed above will make your experience easier. For any query simply comment on the comment box