Mehndi intensifies the charm in the hands of women. For every woman, mehndi is one of the most important things included in their makeup & beauty. As you know, there are huge, varieties of mehndi designs available, whether it is traditional, Arabic, creatives or simple & easy designs. Every year especially in India, many occasions such as weddings, engagements and religious occasions like Teej, Karvachauth, Janmashti and many other festivals are celebrated, in which women love to apply mehndi. A craze is always there among women. In this article, we have brought some latest mehndi designs for mom, especially for moms.
Traditional Jewelry Design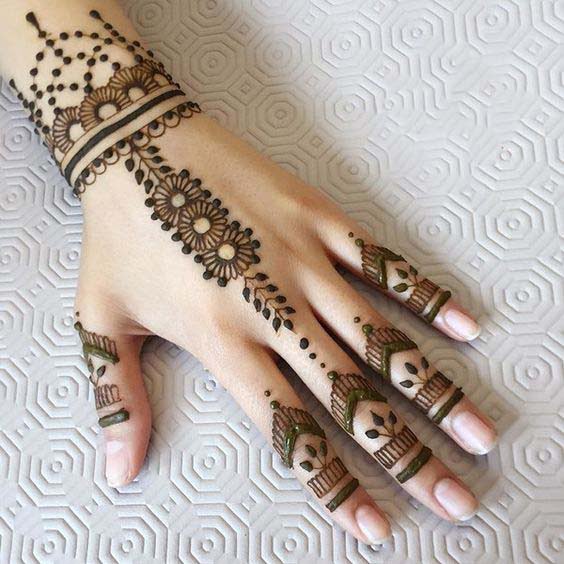 For the mother of the bride, who is a big fan of jewellery, traditional jewellery designs will work out the best.
The Traditional Mommy Design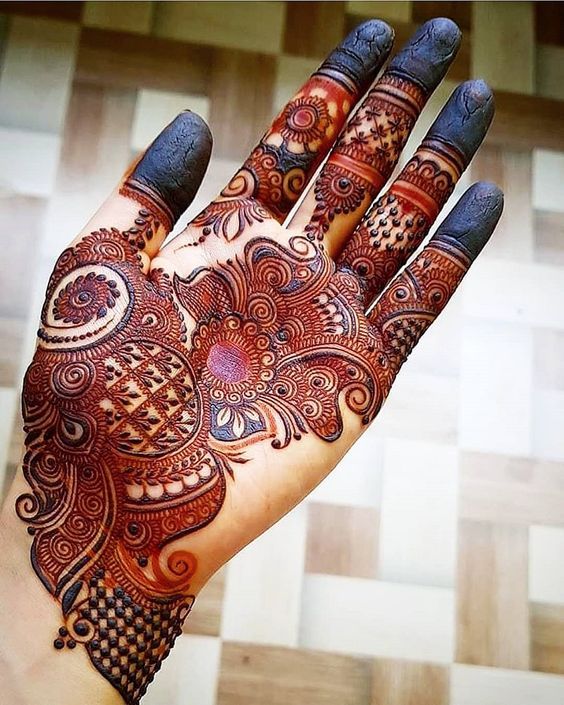 If your mom is a little traditional, then she would love this design. This traditional mehndi designs for mom has patterns which will give you or your mom a traditional look.
Traditional & Stylish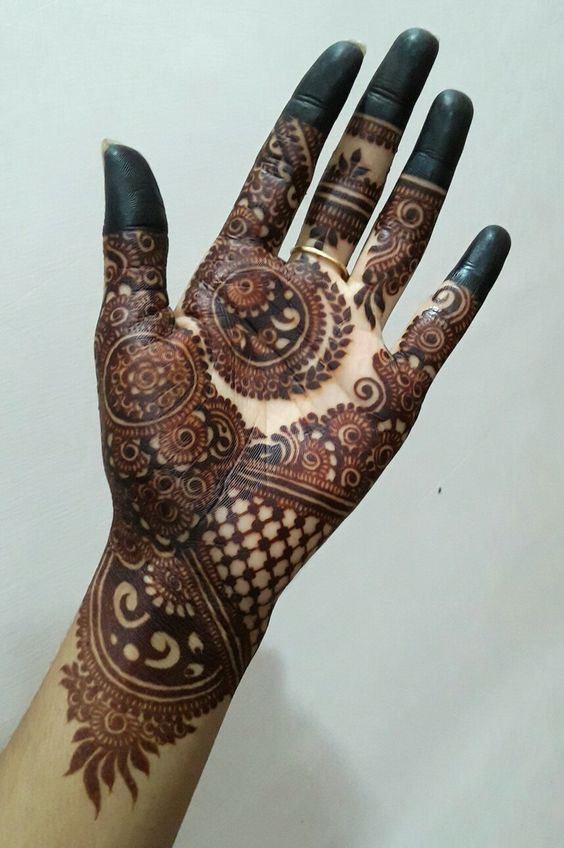 Here's a pretty tricky mehndi design that has our eyes set. Isn't it so soothing? So try this mehndi design on special occasions.
The Combinations of Patterns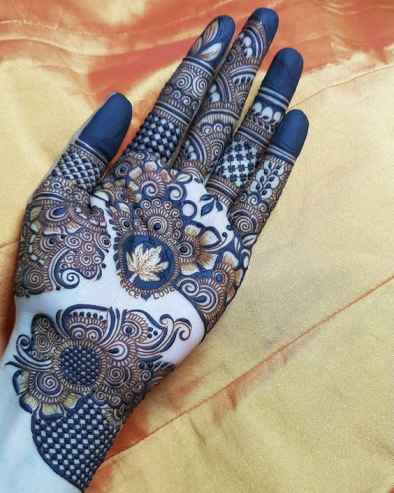 Are you a traditional mother? If yes, then you're watching the perfect design made for you. Because this legendary, mehndi design is so appropriate for you.
Minimalist & Trendy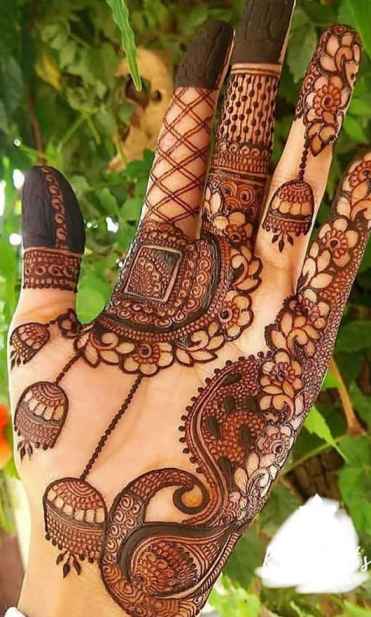 This is one of the gorgeous rakhi mehndi designs for moms. Minimalist and trendy! Try it out now and embellish your hands with glitters.
The Combo Flowers
You will surely love this mehndi design with two flowers together creating a realistic combo mehndi design. Your mom would surely love it.
Easy Yet Stylish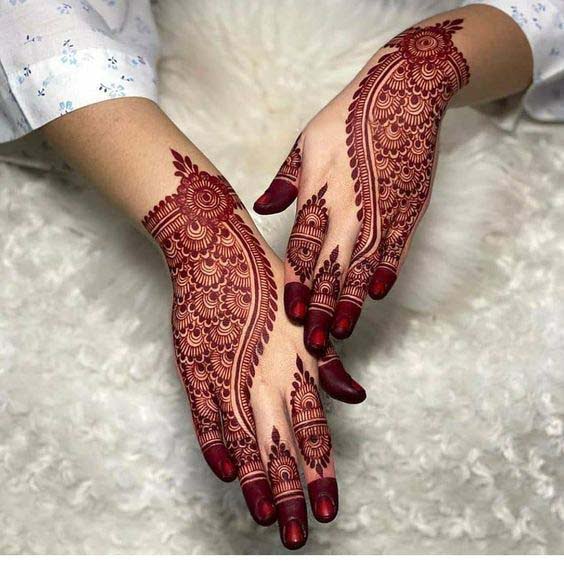 Want to try something easy yet stylish at the same time? Then you must try this mehndi which is more reddish and will give your mom a sleek, fancy look for any occasion.
Eye-pleasing Pattern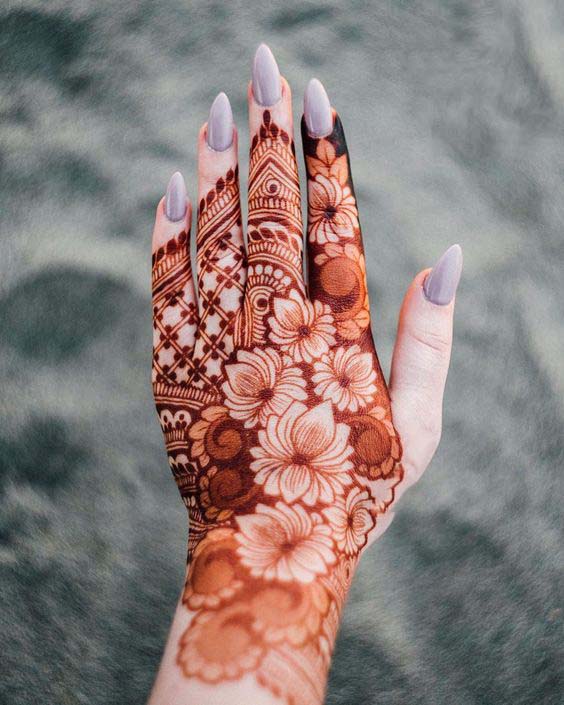 This bold and chic mehndi design embellished with paisleys, florals, shaded lines and a little of circles looks such an eye-pleasing mehndi design.
Floral Blossoms with Beautiful Shades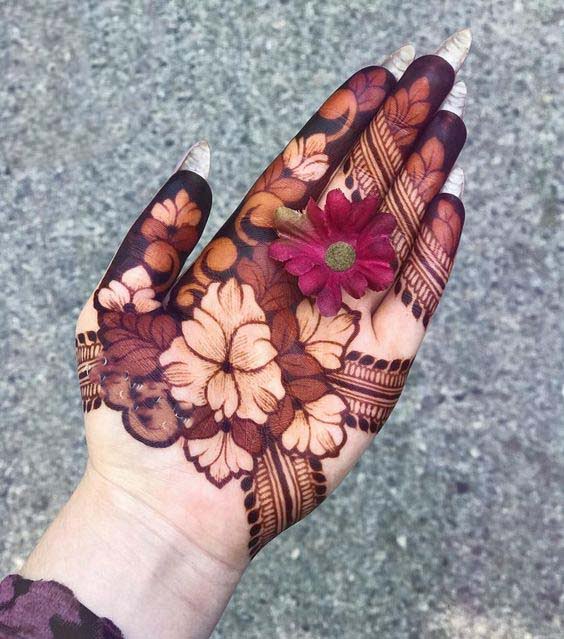 A dazed mehndi design, highlighting enough dose of roses with leafy swirls followed by other shades & strokes. This makes the mehndi look modern & stylish.
The Realistic Shades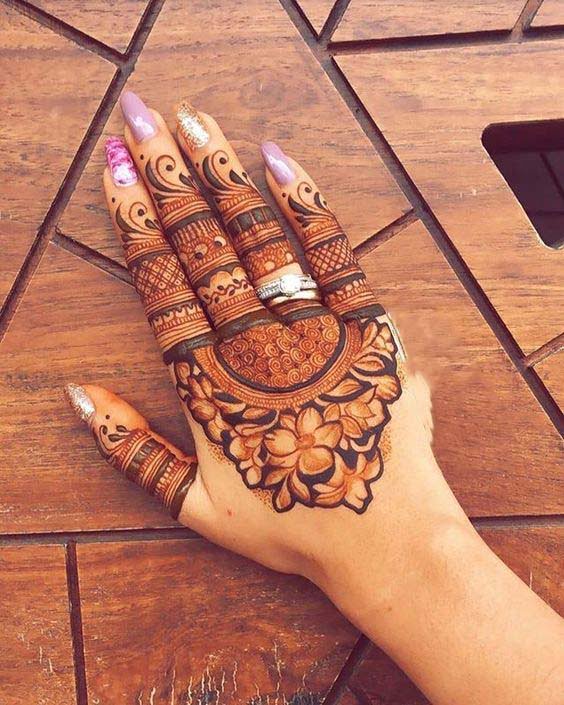 If you are a kind of mom, who loves realistic, shades and creatives designs. Then this design would work the best for you. Because the mehndi design look realistic & modern.
Finely Created Artistic Mehndi Design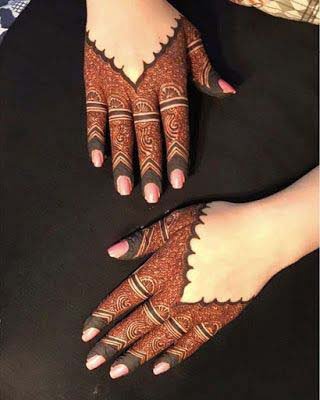 To put this finely designed mehndi you will need a mehndi artist. Look at those little sharp curves & designs which are popping up so refined & dainty created on the hands. Look very beautiful.
The Wrist Mehndi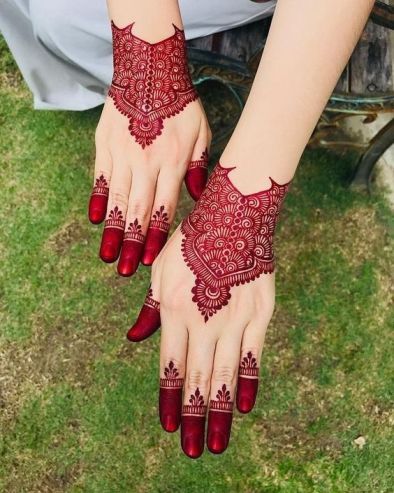 Now, this is a special mehndi design, that is in red whose focus in on the wrist. The wrist is designed so pretty that it will be going to catch everybody's attention.
The Popular Traditional Chain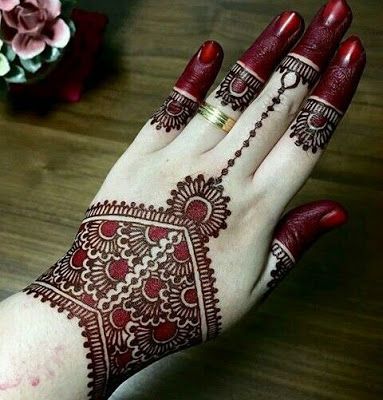 If you are looking for a traditional design, then this mehndi design looks exceptionally, beautiful.
Round & Square Mehndi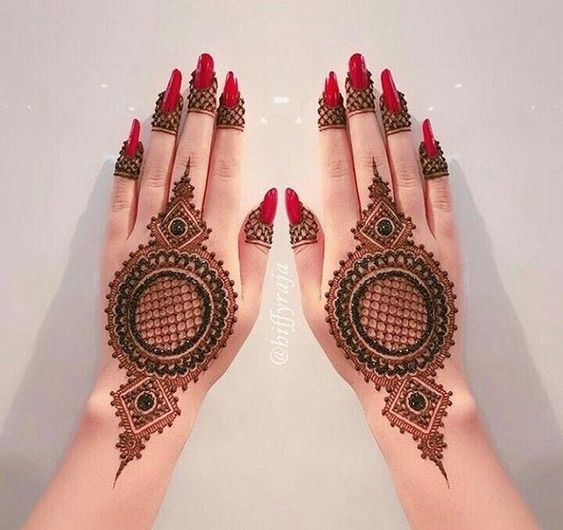 If you want a check-pattern mehndi why not try a square & Circle mehndi design as shown in the above picture.
Green Mehndi Look
Give your self a green mehndi look. Try this beautiful leafy & florals design on Teej or Karvachauth.
Straight Pattern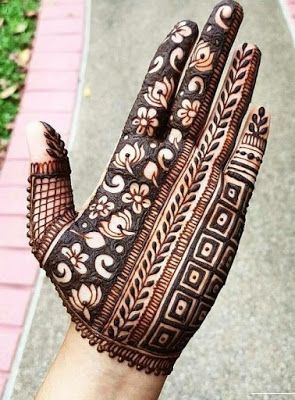 Go for a pretty & classic straight pattern design. You can create this mehndi look on your own its easy, simple & pretty.
Center Square with Rounds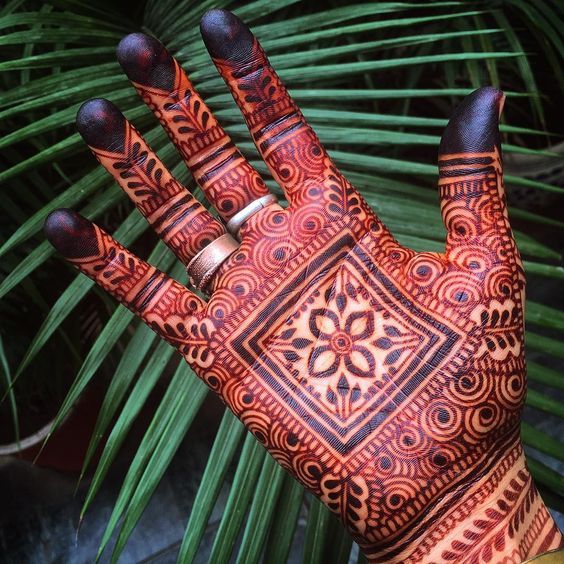 Incase intricate patterns are not of your taste, then the dense and bold Mehandi design will definitely charm you.
Short & Simple Flower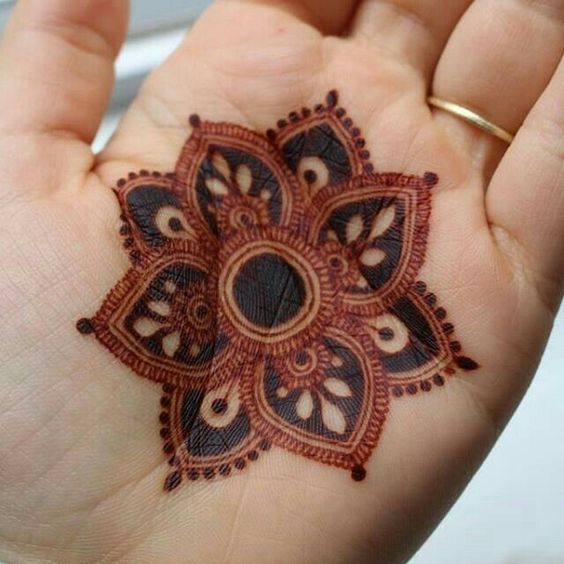 If you are that kind of mommy who doesn't like to sit for hours, then here is the best simple & cute design we have brought for you. Its simple, short but pretty.
Dark Co-loured Mandala Squares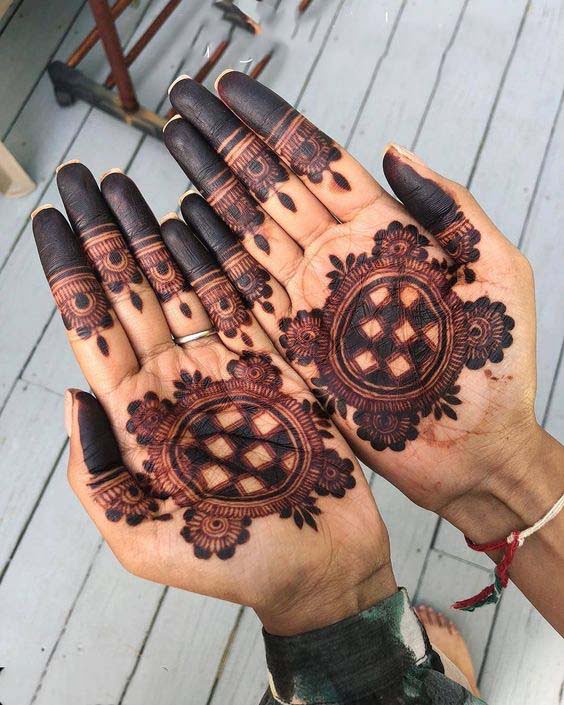 This design is for the mother of the bride who is a big fan of masterworks, then these mandalas are the go-to option!
Special Design For Mom to be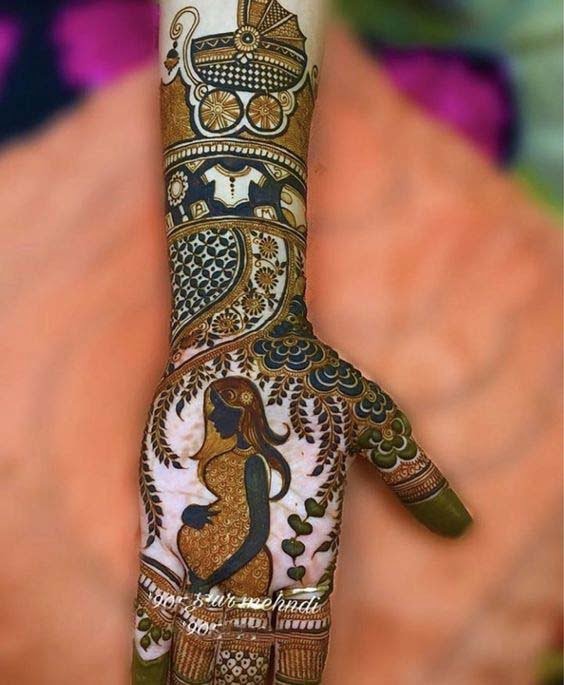 This is a special, mehndi art for those women who are going to be a mom soon. The sign has its own story where a craddle& tiny baby clothes are designed and a pregnant mommy's image is shown.
The Birds Chattering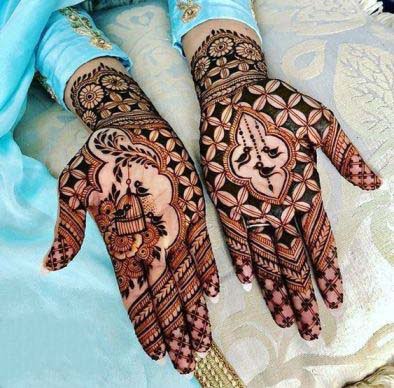 If you are a mom or if your mommy loves nature & birds, then surely she will love this mehndi art. The birds are chattering and are in between full of nature.
Lotus in the Squares & Tombs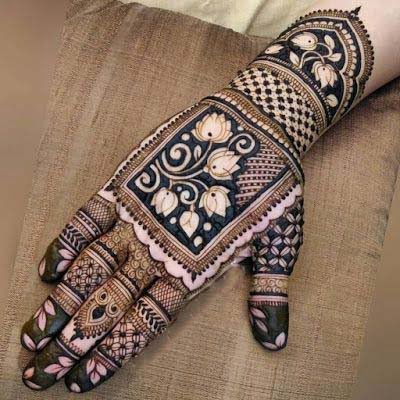 One glimpse at this magnificent entire coverage lotus & tomb mehndi design and you'll immediately settle on it for your daughter's wedding.
Quirky yet Elegant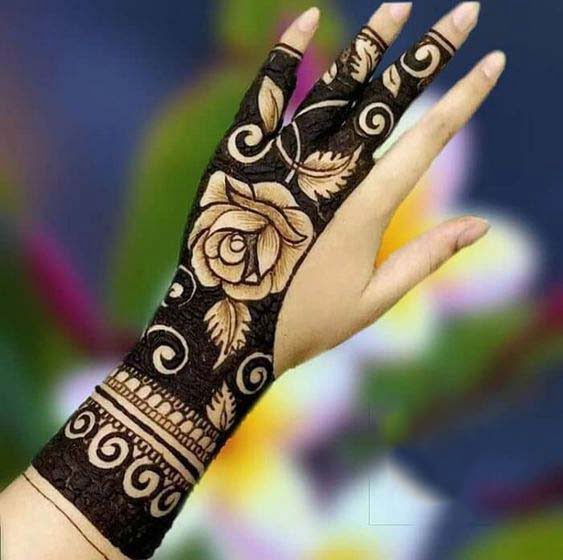 Those lightly shaded roses and leaves are joining lots of grace to this black shaded Mehndi design.
Peacock- Lotus Mehndi Design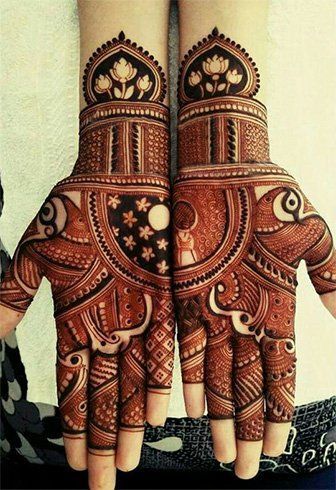 Along with other changes in fashion, henna designs have also changed. Earlier henna was applied, to the entire hand. Now, womrn like to apply henna from the middle of the palm to the finger and on their styles. This is one of the best combinations of peacock & lotus flower.
Net Mehndi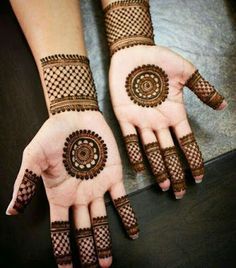 You will surely love this net mehndi embracing of leafy strips, dotted outlining, perfect mandalas and other decorative cuffs.
Beautiful Swan surrounded with Leaves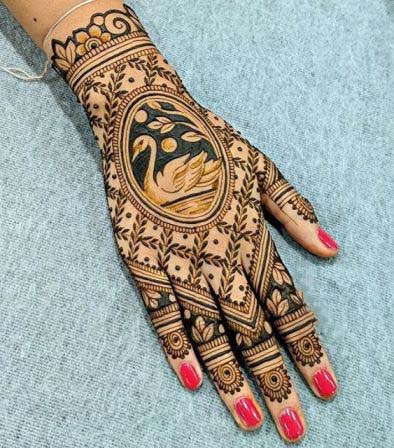 Here's a delicate, intricate mehndi design that is so eye-catchy. This striking mehndi design has a beautiful swan made in between, gives such a mesmerizing & natural look.
Backhand Mehndi Design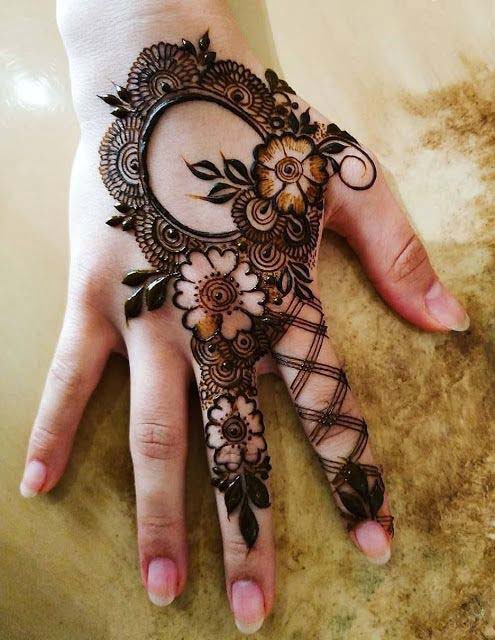 If you are picking half hand mehndi design, then keep in mind that the henna in the palm always start from the reverse side of the thumb i.e. the smallest finger side and fill half the palm with the design.
Women Portrait
Make sure that your mom tries this out! A beautiful portrait of women is in between which shows how beautiful and creative the design is.
Half Hand Mehndi Design
In this design, only the fingers are filled with small leaves & intricate patterns and beautifully traditionally design.
The Flower Fun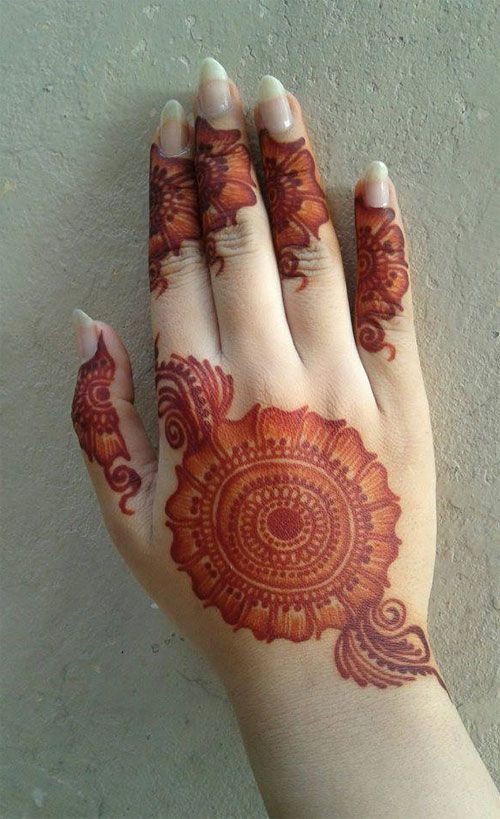 Now it's flower fun. The fingers are filled, with florals including the centre of backhand. There is nothing but the same flower mehndi design which looks prettiest.
Hopefully, the article Mehndi Designs For Mom listed above will make your experience easier. For any query simply comment on the comment box.