Mehndi is the most important, part of an Indian ceremony. On the occasion of the Indian wedding, the bride applies Mehndi to her hands and feet. However, there are a variety of designs you can choose at your wedding but, we are here to show you some latest and trendy mehndi designs for foot, which will surely match up with your outfit and will make your feet look perfect.
L-Shaped Flowery Pattern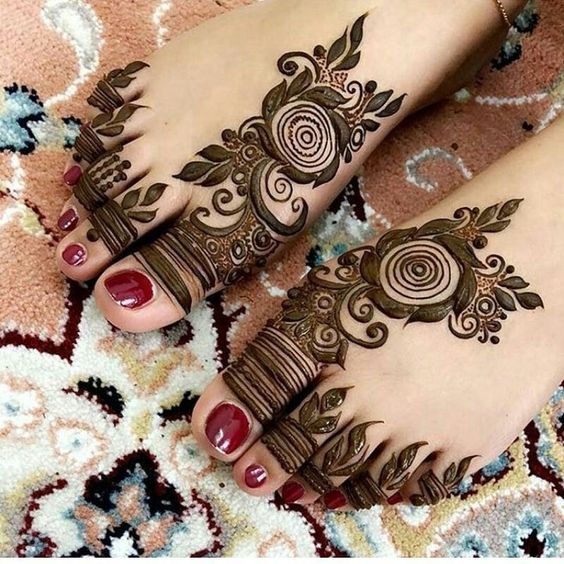 In this beautiful henna design, we see the chain of beautiful design moving from the thumb towards the leg. On the other fingers of the feet, we also get beautiful and simple mehndi designs. The structure of the bellows appears to be attached to the shape of small mangoes.
Center Heart Shaped Net Design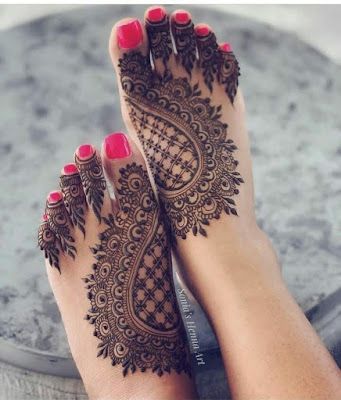 This design has a heart-shaped Mehndi designs for the foot with chained crisscross boxes which look amazing. It's a pretty choice for your engagement.
Criss-Cross Net Mehndi Design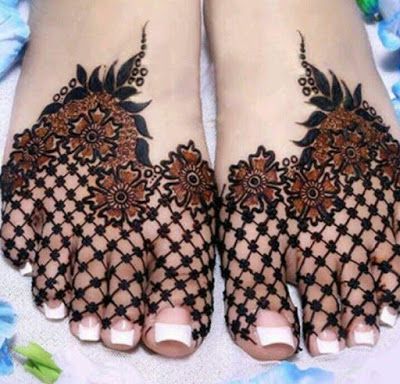 The design is created by small square boxes which are connecting criss-cross lines adjoining the flowers. The leaves around the flowers are creating a charming effect.
Heart Bubble Mehndi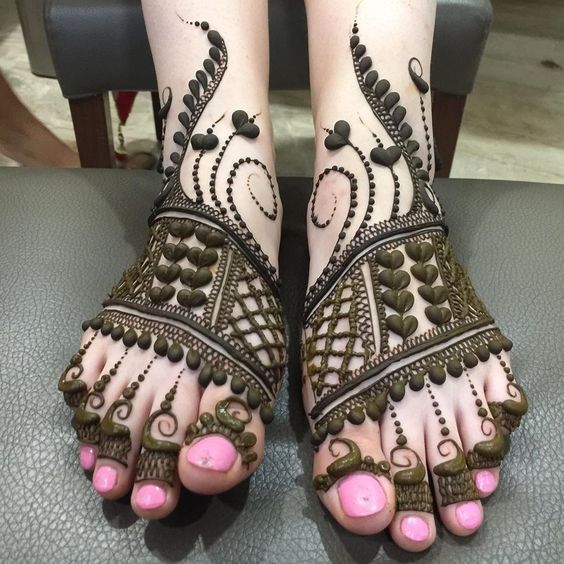 How about giving yourself a trendy Mehndi look? This mehndi designs for the foot is created by tiny bubbly hearts which gives it a warm and bubbly effect.
The Roses With Leaves Pattern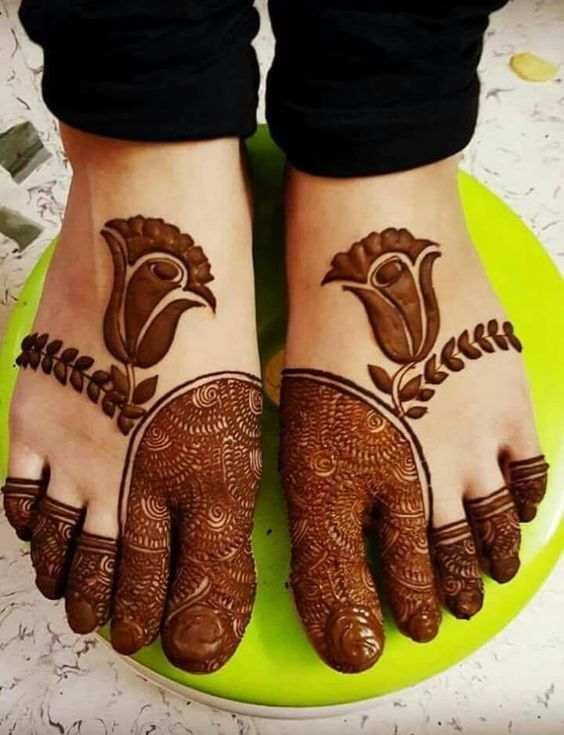 A giant rose with small leaves. In between there is a half round design which add beauty to the whole look.
U-Shaped Mehndi Design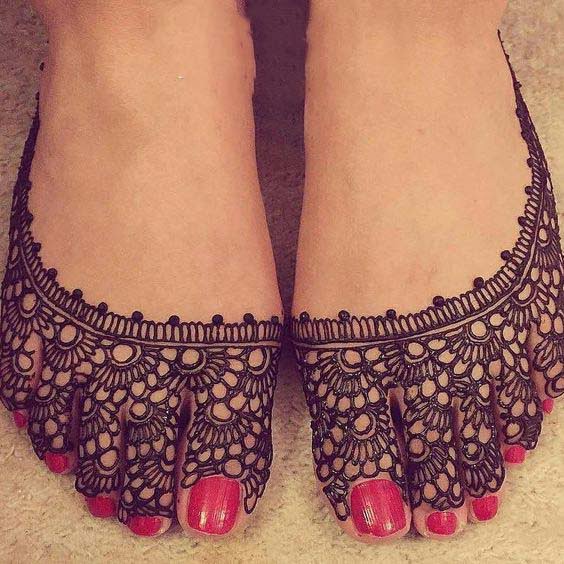 Are you looking for a similar mehndi? So you must see this design once, in which there are half flowers which are together to create a U-shaped form which looks amazing.
Floral and Leafy Pattern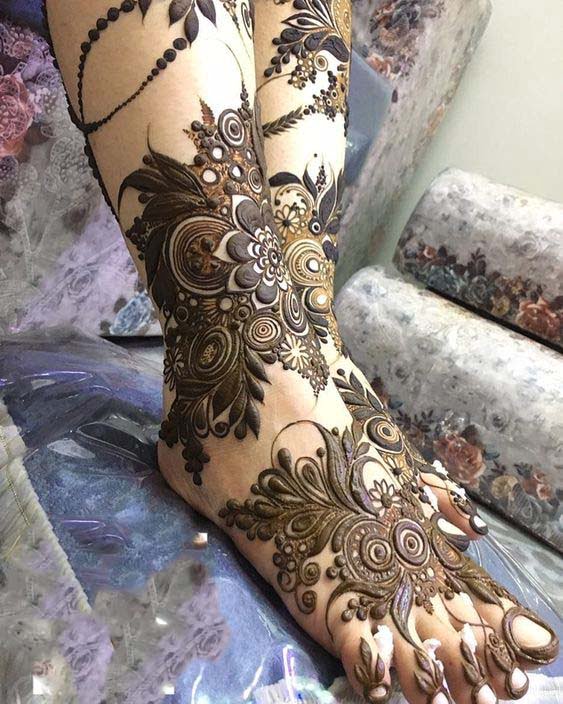 In this beautifully designed mehndi, we see the floral pattern as well as the composition of the leaves climbing upwards, which indicates an entirely new way of thinking. It is gracefully designed and best for wedding day.
Mandala Design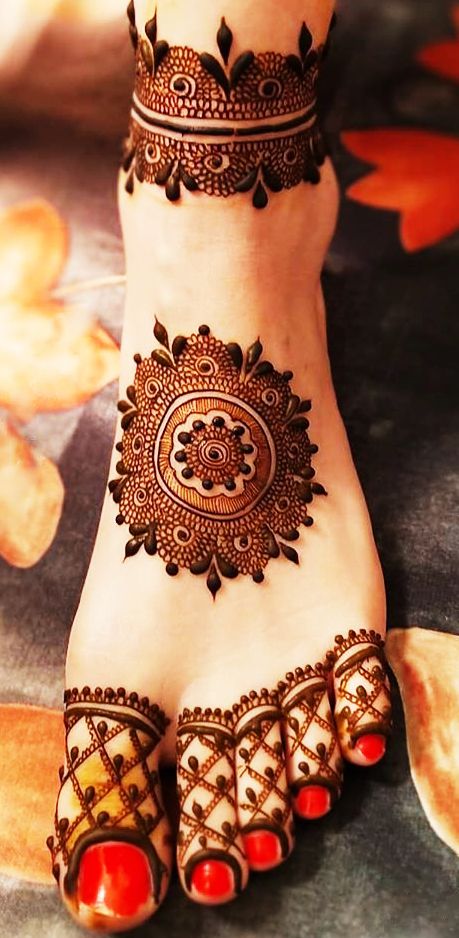 What's the matter, we finally got to see the Mandala design. In this design, we see a large circular design, which is in the centre. The inside of these designs is filled with beautiful patterns. With the hanging design, you can give a great finish to your mehndi.
Modern Black Mehndi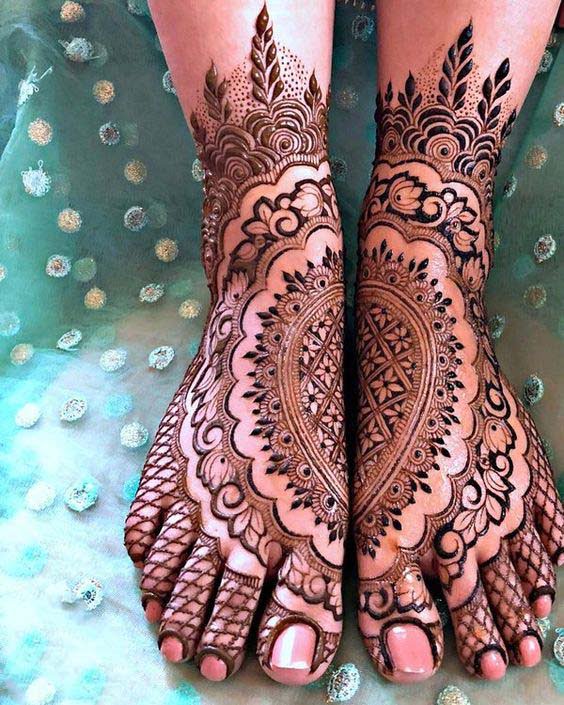 You can now make flowers and leaves designs in this mehndi with your creative arts. You will look beautiful from top to bottom with these modern mehndi designs for foot.
Western Style Bridal Mehndi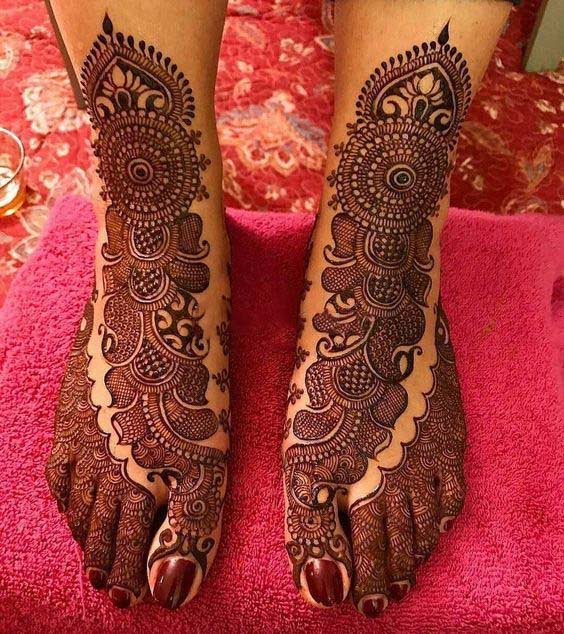 Are you the kind of bride who likes to have a Western-designed mehndi on her feet? So once you look at this design, it is full of colourful flowers and fabulous mango-shaped designs. Dark shades make this design even more attractive. Make your wedding evening even more dazzling with this mehndi design for feet.
Bracelet Mehndi Design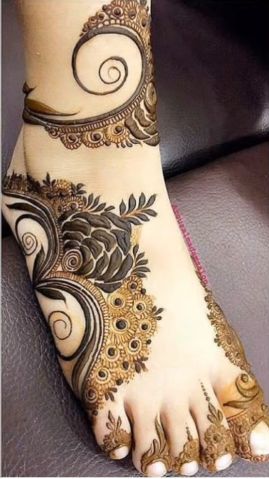 In this, the design of big mangoes is started with little flowers & leaves. The upper part of the ankle we see the beautiful design of the bracelet which is further connected, with the floral design. This way you can give a beautiful, touch with the hanging design in this mehndi.
The Jooti Mehndi Pattern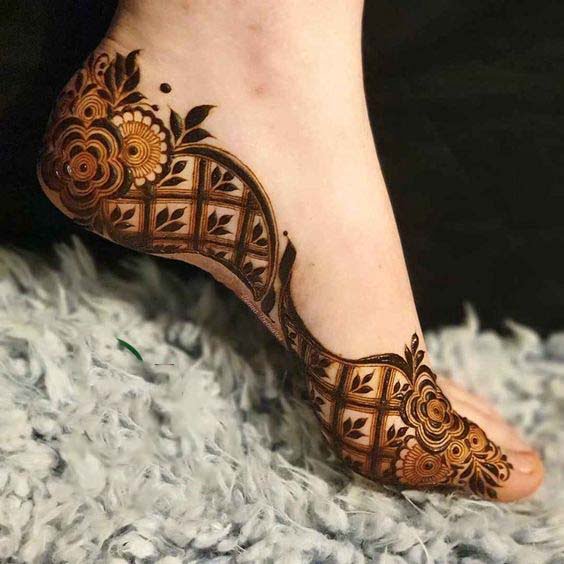 Jooti is footwear which is a tradition in India. So why not try this charming traditional Jooti design on your engagement.
Ropes Flowers Pattern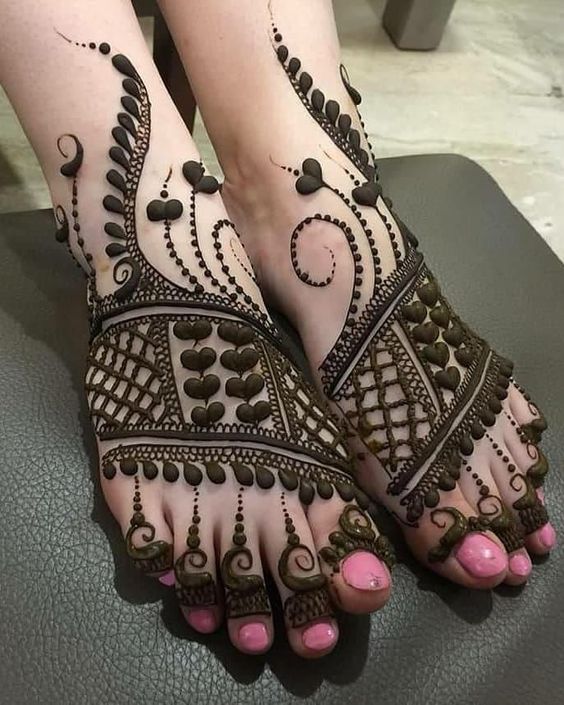 This design with a beautiful composition of wildflowers looks very dramatic. We also see the pattern of ropes with flowers. The decoration of the leaves adds to the design. Its rings are decorated, in a very nice way as we see this design from the thumbs to the middle legs.
The Traditional Lotus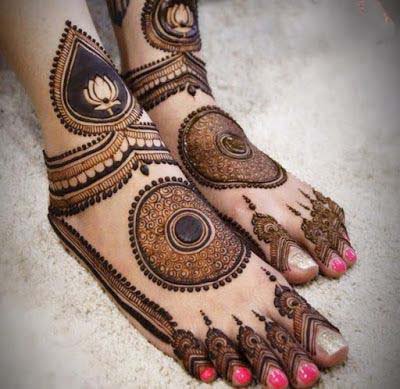 The Lotus gives a royal look to the circle in between. While the patterns on the foot fingers are traditional & charming.
The Round Chakra
A simple round chakra gives a sleek & simple look. Its a time saving mehndi design you must try.
The Side Foot Modern Look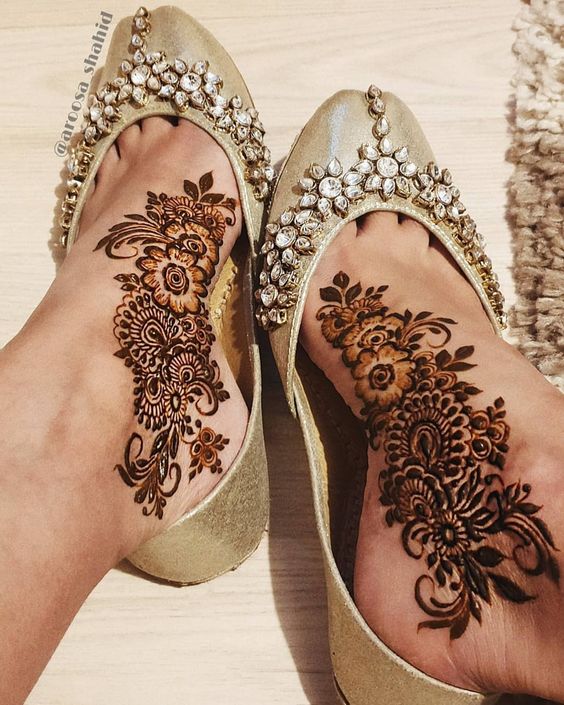 A modern mehndi pattern made from leaves & flowers. Looks perfect with Indian Jooti's.
Made For Ankles
This design is specially made for you ankles. A very creative way of defining mehndi patterns is what this design has.
Arabic Bridal Mehndi
This is an Arabic mehndi design which is beautifully created for your foot. Different designs of flowers and leaves are the speciality of this beautiful mehndi art. So I suggest to all of you ladies that you can choose this design for your wedding.
Lotus & Roses
Are you interested in this fashionable design? We can see the design of beautiful sunflower among mango leaves. This Arabic mehndi with lotus & roses. Curved design works well to provide a traditional look.
The Jhunki Design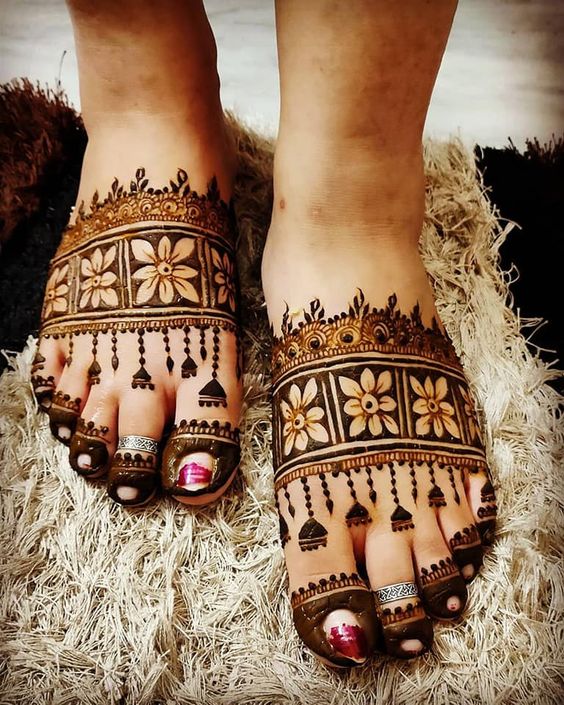 Very creative mehndi design made in accordance with jhunkies.
Light & Dark Combo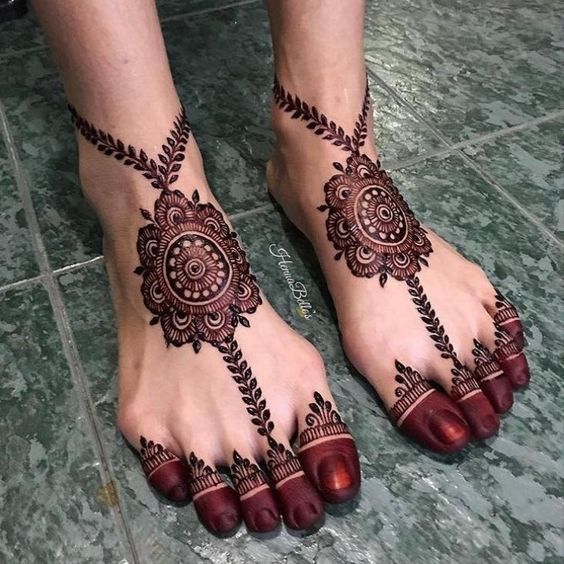 The design is created in the central part, which is gorgeously decorated by blossom design, traditionally blended with modern flowers. The combination of light and dark shadow gives this mehndi an artistic look. Further beauty is added to this pattern with the merging of leafy chains.
The Black Motif and Mandala Pattern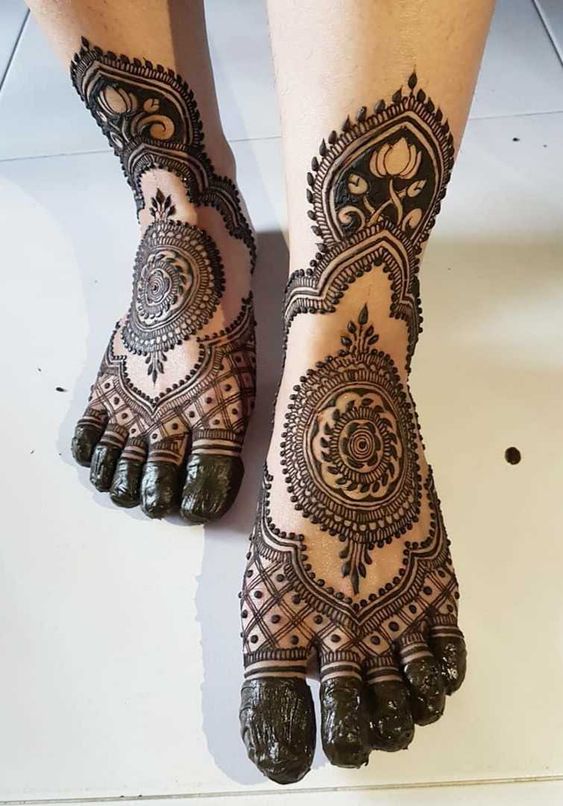 This one is the combination of black motif and mandala pattern which look brilliant on foot.
The Pakistani Mughal look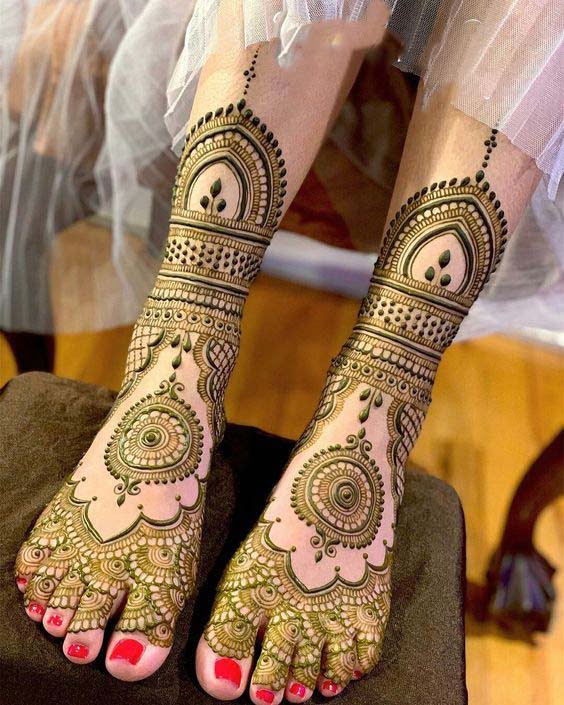 These are filled with tangled patterns and designs. That is giving it a royal look. The entire design looks quite adorable and praiseworthy. Looks great for a wedding function or engagement party. As said, old is always a gold. This will work over every outfit you will wear. These can also be extended, for pretty patterns till elbows.
The Flowery Dots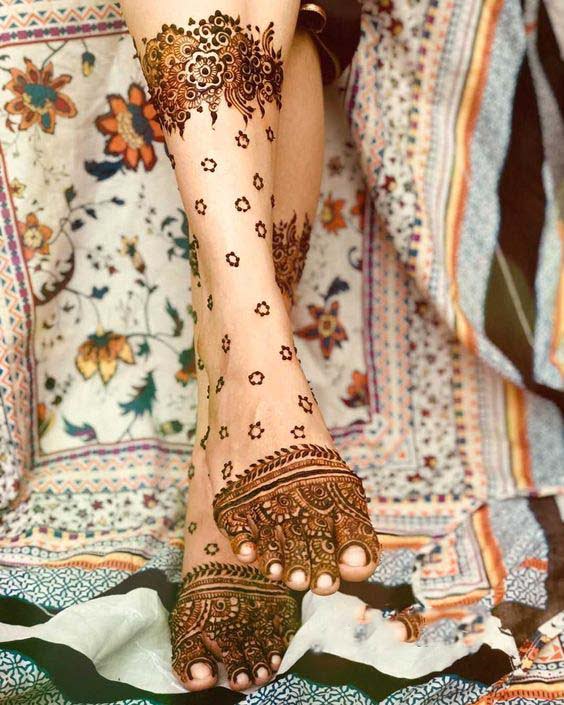 Simple and pretty. This is such a pretty and charming design. Which has tiny flowers in between makes it more trendy and fashionable.
Center Lotus Design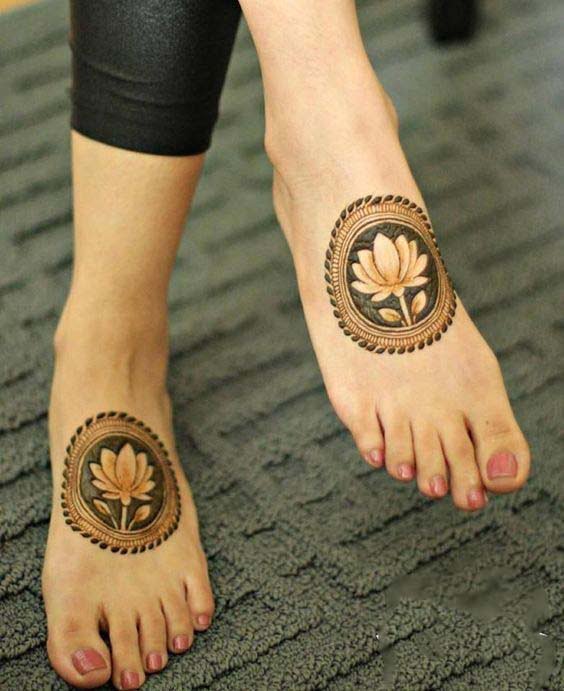 The Lotus in the center has beautifully shaded with blank lotus in between.The lotus is a very relegious flower in Hindu Tradional which will give it a traditional yet sleek look.
The Side Leg Pattern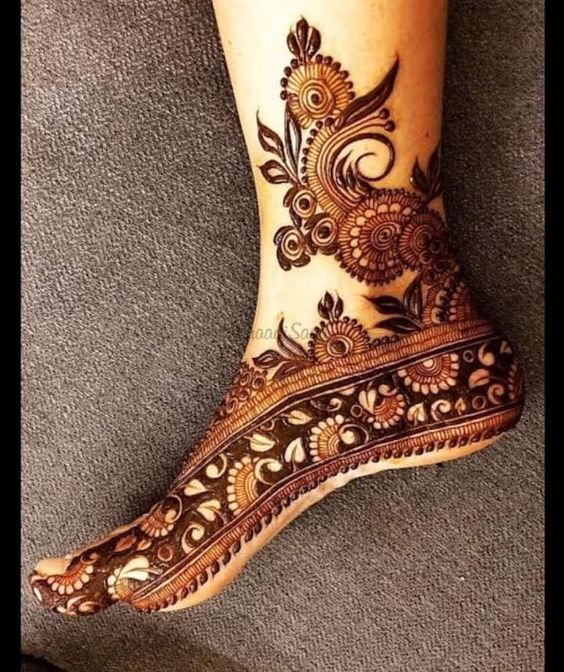 This side foot design is made with combining flowers, leaves small circles and shades. A good combination of all.
Modern Yet Traditional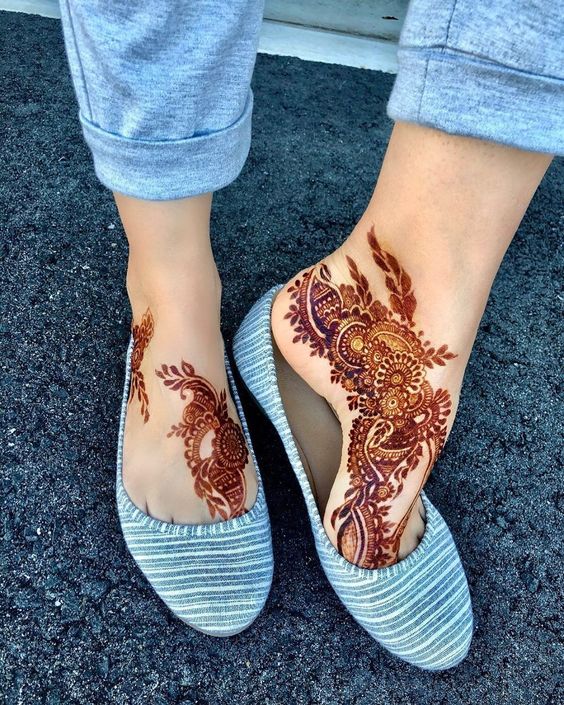 This style is modern as the design starts from the toes to the side leg. It gives a clicky look to your foot which is modern yet traditional.
The Ankle Mehndi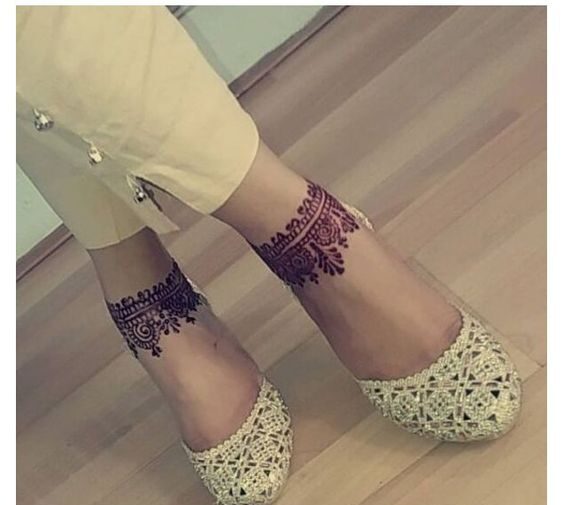 If you want something quick and beautiful. Then this Mehndi pattern with beautiful flower design and traditional design will surely work. This is the most profound mehndi design for ankles.
Feathery Stars Pattern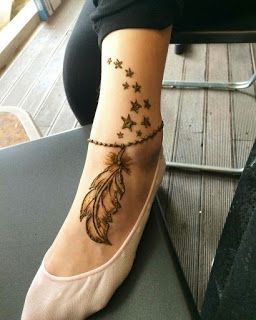 A very modern way of mehndi design it is. Looks cute with bellies and sandals. A perfect fit for western outfits.
Hopefully, the article mehndi designs for foot listed above will make your experience easier. For any query simply comment on the comment box.