Bridal Mehndi Quotes: Idea, Designs & Much More!!
Mehndi is not about designs & patterns its about theme & quotes. Quotes are trending & running on the track nowadays. So why not add a charm to the mehndi in your Wedding. Mehndi cherishes the charm of every women's hand. Women apply mehndi, especially on occasions such as weddings, engagement parties and on some religious occasions. Mehndi is considered a prominent old tradition of Indian wedding culture. Not just traditional, Arabic, creatives or simple & easy designs are enough but, the bridal mehndi quotes designs, are, on the track & much trending. We have brought the most trending & best bridal mehndi quotes to make your wedding more special and memorable.
How To Apply Mehndi?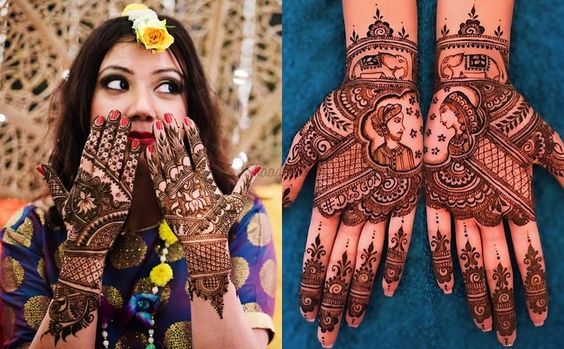 Before we talk about Easy Mehndi Designs. Here well you will learn and know how to apply Mehndi in the right way. Before applying Mehndi, pay attention to these steps:
Mix 1 to 3 ml of henna oil in 10 grams of henna powder. Do not use more oil than this quantity. Now your mehndi oil is ready.
Wash hands at least half an hour before applying mehndi. First, wipe your hands with a towel. Then wait until the hands dry entirely.
Do not apply any oil or cream on the palms and feet before applying mehndi after drying your hands. Therefore, before applying mehndi, your hands and feet should be dry so that the colour of your mehndi remains thick & long-lasting.
Applying essential oil(mehndi oil) before applying henna, as it deepens & long lasts the colour of your mehndi.
If you wish to have a beautiful & dark then you will have to give it a little time. One reason for mehndi not being perfectly long-lasting is that we do not give it the right time. It is essential to be patient while applying mehndi so that the design comes out is classic & perfect.
Choose the best mehndi designs and apply it accordingly or you can take the help of somebody who is a pro.
Mix lemon and sugar, make a syrup & apply it on your dried mehndi. It will help to deepen the colour of mehndi. Remember to apply a thick layer of this mixture of lemon and sugar on the dried mehndi and this will make the colour of the mehndi dark brown. (For more tips to dark your mehndi click here)
Now its time to give yourself a patience call & leave the mehndi for 8-9 hours. Try to apply mehndi at night.
Tip:After the henna dries up, wrap the foil in your hands. Foil paper not only makes the colour of mehndi darker & think but also it prevents dried mehndi from falling & creating a mess in your room.
Tips To Remove Henna from Your Skin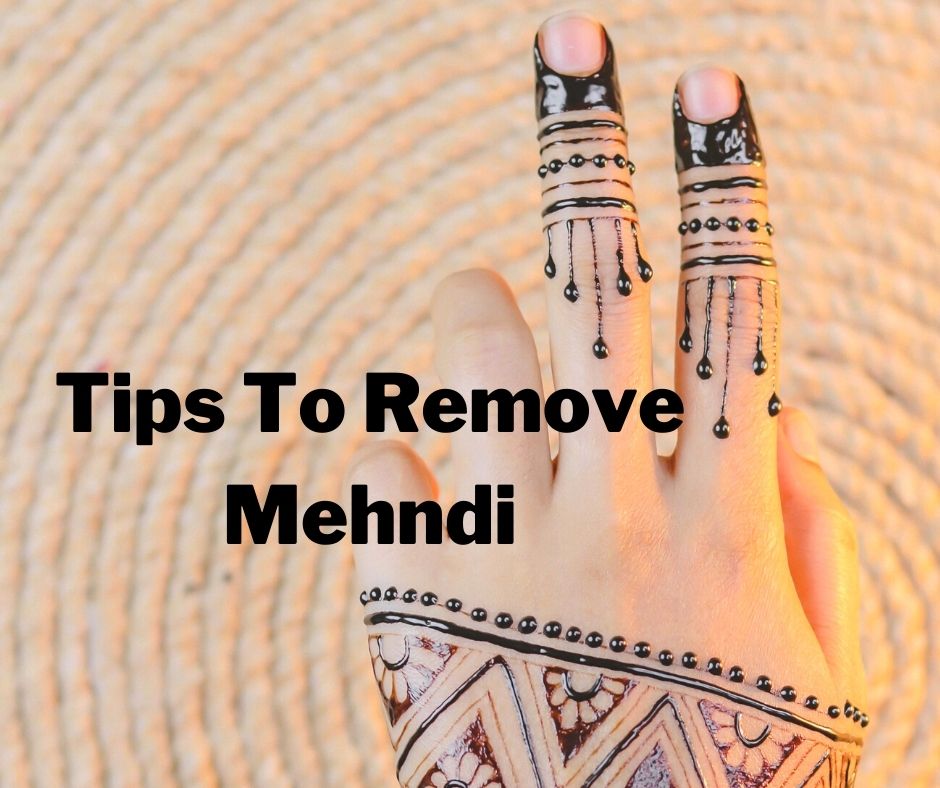 Saltwater soak
Salt is a very good cleanser. Put water in a bowl and dissolve a few spoons of salt in it. Now put your henna hands in this saltwater for 15-20 minutes. After that wash hands well.
lemon
Lemon has bleaching properties. This is why lemon is a safe and suitable way of removing mehndi. Take a piece of lemon and rub it on your hands. By doing this daily, the mehndi will be removed from the hands in a few days.
Toothpaste
Apply toothpaste on your hands, when the paste dried, rub it clean. Believe me, it will make the colour of henna very light!
Baking soda
Baking soda also has bleaching properties. Add a few drops of lemon juice to a spoonful of baking soda and mix well. After applying it for some time, leave it for 15 minutes and then wash hands with lukewarm water.
Romantic Wedding Date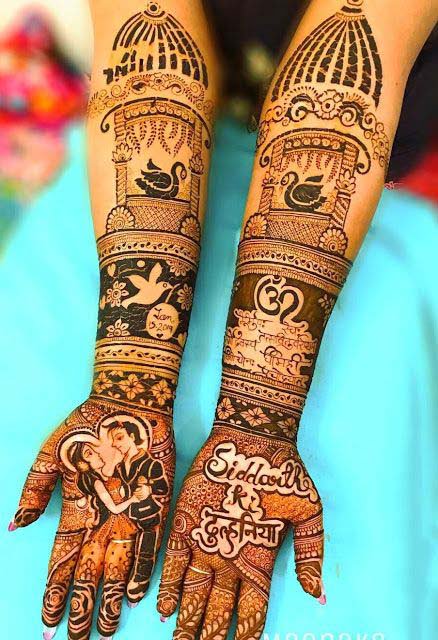 The mehndi has beautiful patterns with a portrait of couples & the date of the wedding is also there above the wrist you can see. There are also beautiful bridal mehndi quotes engraved with 'OM' religious words which will give you a religious traditional look.
The most artistic thing about this design is that you can write your name with your soulmate in a very artistic style such as "Siddharth ki Dulhan". The style, of writing it in a combination of Hindi & English makes the entire design looks quirky.
Blessed Couple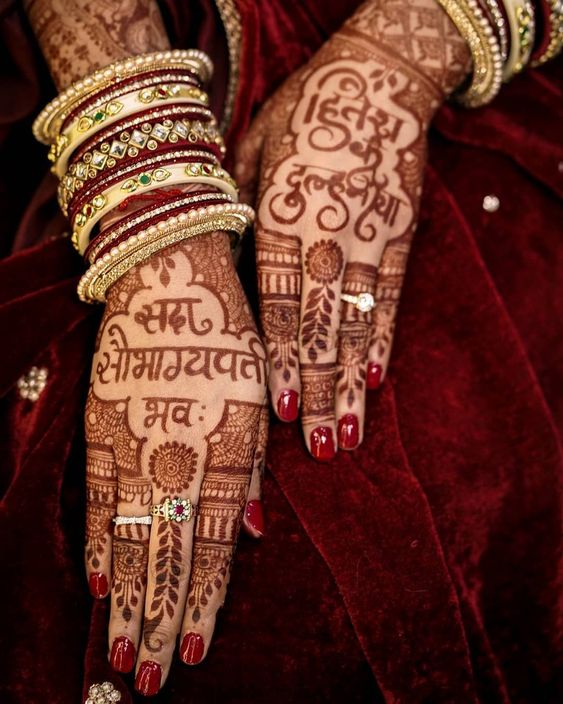 This mehndi has pretty traditional patterns which look damn good. The quote here is a 'Shlok' written in 'Sanskrit'.The essence of this quote is a star of destiny which says"the new couple is blessed to be always happy, healthy and full of wealth."
So why not go for this beautiful Shlok from Sanskrit(Indian Language) and combine it with a quirky style of writing about the bride & groom.
The Love Story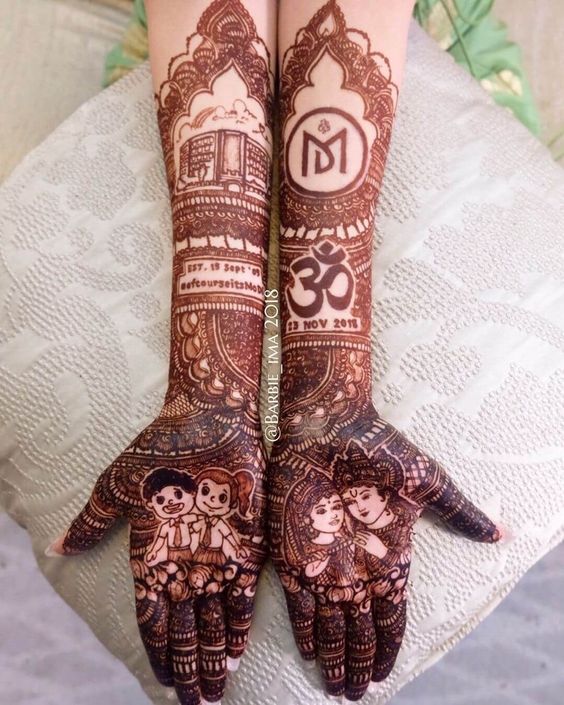 Both the hands are covered with creative designs. One hand has a beautiful portrait of Radha Krishna and the other hand has little school-going boy & girl which depicts the love story of the wedding couple. The "OM' or Aum is a sacred sound and a spiritual symbol in Indian religions.
Don't Give Up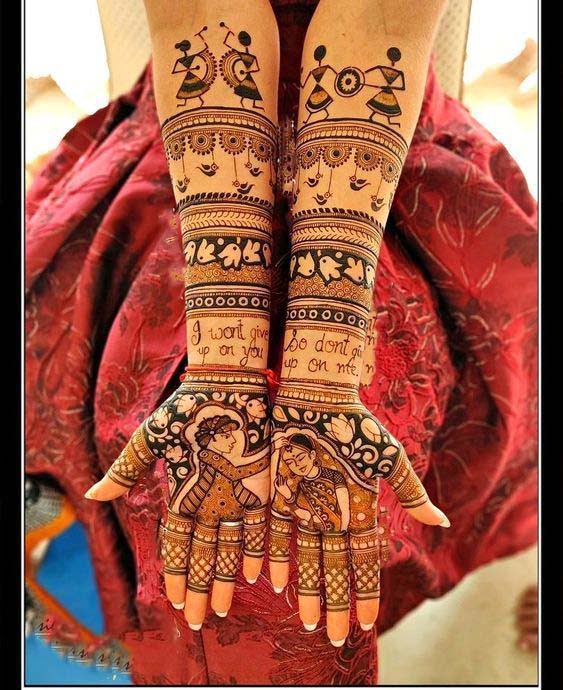 There are so many reasons to be happy and one of them is henna leaving a beautiful dark stain. Why not try this beautiful black mehndi on your wedding.
As you can see, the mehndi is quoted, with an elegant message which conveys the strong love bonding between the couples.
So make sure to get this quote on your bridal Mehendi:
" I won't give up on you"
"So don't give up on me".
Good Vibes Only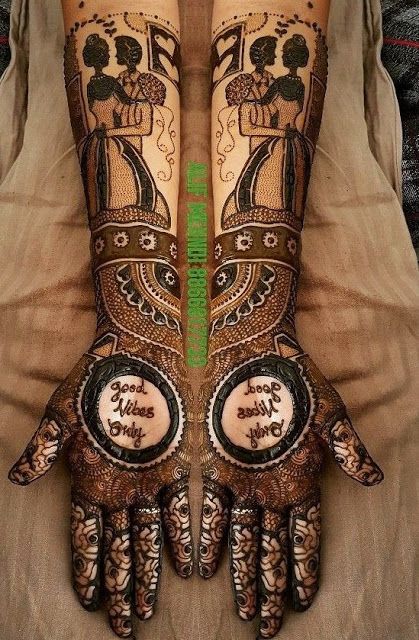 The good vibes convey a message that the future vibes in their coming life of both the couples should be happy & prosperous. This quote is one kind of good luck that blesses the wedding couple to live their life the fullest.
"Good Vibes Only"
Save The Date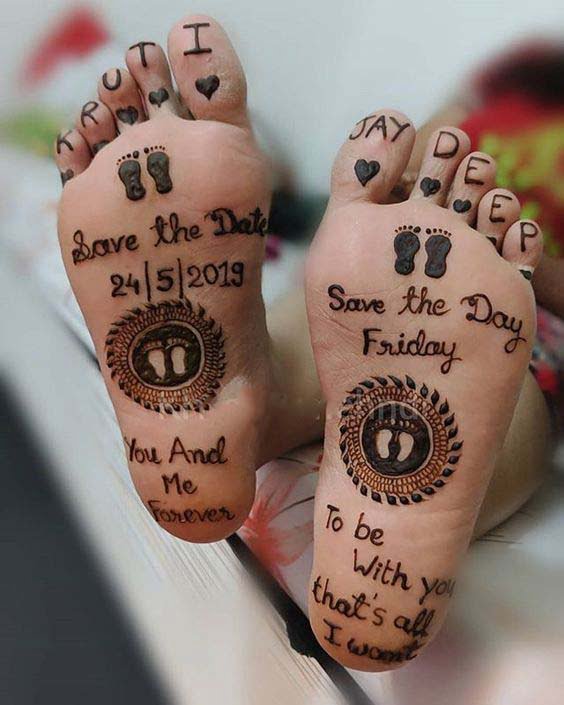 The quote here says" You and me forever" & "To be with you that's all I want.
Now, this mehndi design is pretty different from others because this mehndi quote design is specially created for your foot.
See how creatively date of the wedding is written and some cute little hearts are inscribed which looks so cute & lovely. Must try this design and don't forget to write the quote:
" You and me forever" & "To be with you that's all I want."
The Adventure Begins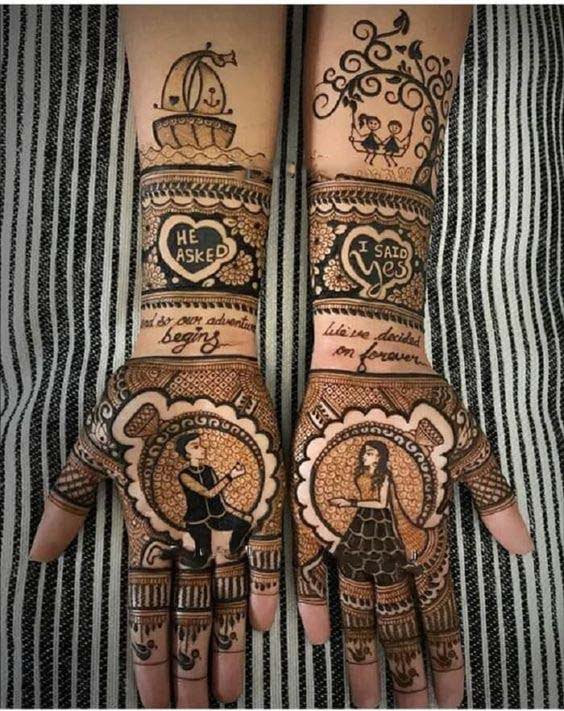 So our adventure begins', the life we decided on forever'
This quote is all about the love & adventure the couple wished to have forever is going to fulfil now. It is a short story that explains the romance & love between couples. If you ever had this kind of thing? Then you must surely put on this mehndi design.
But what makes it more impressive is the design of a boat and two children, the boy & a girl is so creatively picturised looks amazing. And how their love story started is also explained through a beautiful design of a boy proposing the girl.
Cafe Coffee Day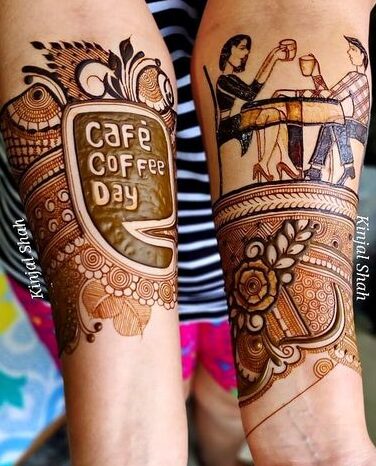 This mehndi is for the couples who have met each other on their first date in 'Cafe Coffee Day' or maybe they were very used to going out for a coffee. See how brilliantly the picture of a boy & a girl sitting on the coffee table is designed, by mehndi. And the patterns around them are amazing.
You Are Exactly What I Wished For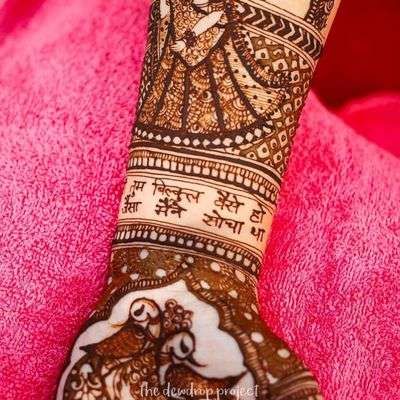 "You are exactly what I thought" is written in Hindi "Tum bilkul vaise ho jaisa maine socha tha". It is a beautiful line taken from a Bollywood song 'Chaand si mehbooba' which says that the bride is lucky & finds herself happy to have the groom as a life partner. The mehndi is also covered, with beautiful peacock designs and the bride wearing lengha which make completes the whole mehndi look.
Hindu Traditional Look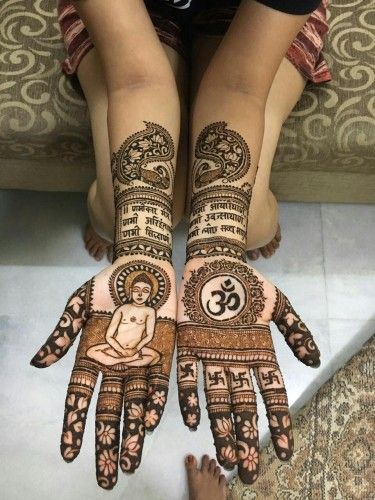 Hindi ceremony begins with paying respects, therefore in this mehndi design there is 'OM" and "Buddha Ji".
These two signs are conveying respects & religious ceremonies in Hindu mythology. So, if you want to go for a Hindu traditional look then this design is only made for you.
Good Vibes Only With Couple Portrait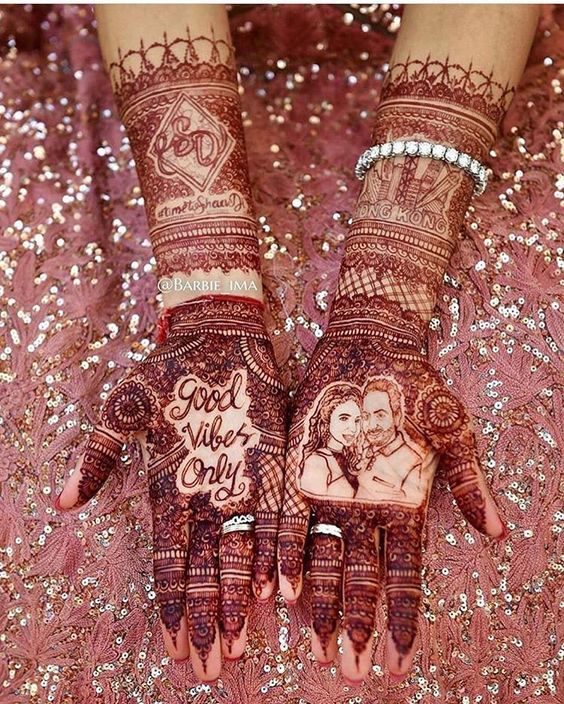 This is another design which says "Good vibes only" but is modified from the above. This Mehndi design has a quote with a real portrait of the wedding couple and their name etched in a very creative manner. The whole design is covered, with stunning patterns which makes it more quickly.
He Asked & I Said Yes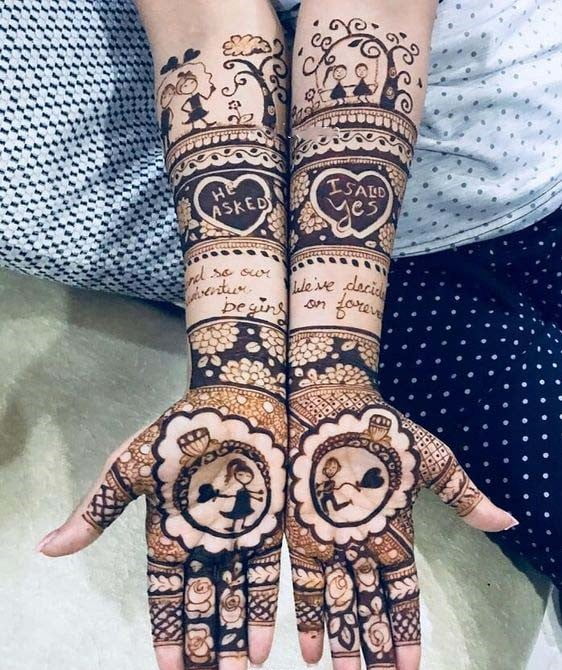 This mehendi quote represents the same emotions as it says, he asked and I said yes"
In the middle see how beautifully two little couples are drawn in the engagement ring. See how lovely the whole design looks.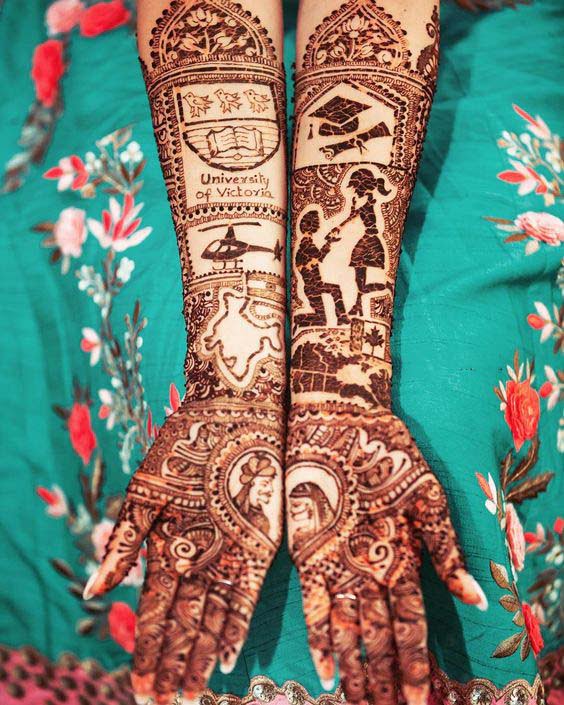 Being deeply loved by someone gives you strength while loving someone deeply gives you courage. Look at this design, the whole story of the couple can be easily predicted, from this mehndi design. One can predict, that their story started from the Victoria University, which they took forwards to a proposal. The India map signifies that they decide to get married in India. While the helicopter says about their adventurous life.
Save The Date - Portrait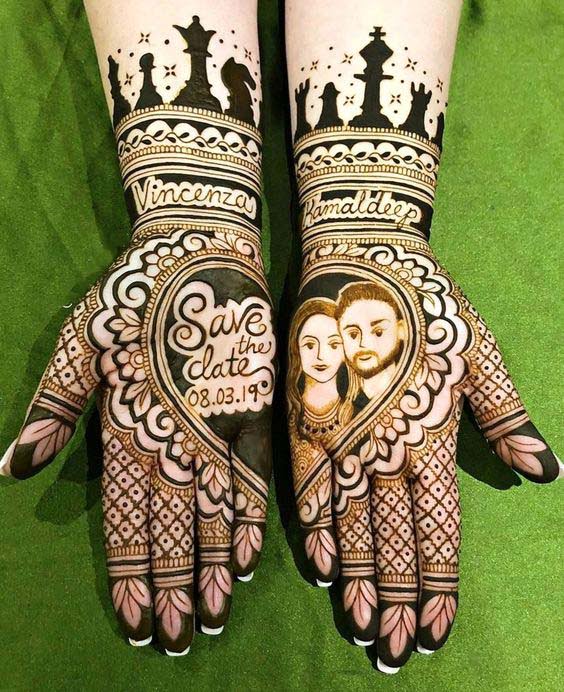 A heart-warming design which says to save the wedding date and the couples names are engraved beautifully. The whole mehndi design looks so charming. This is a must-try mehndi design on your wedding.
The True Love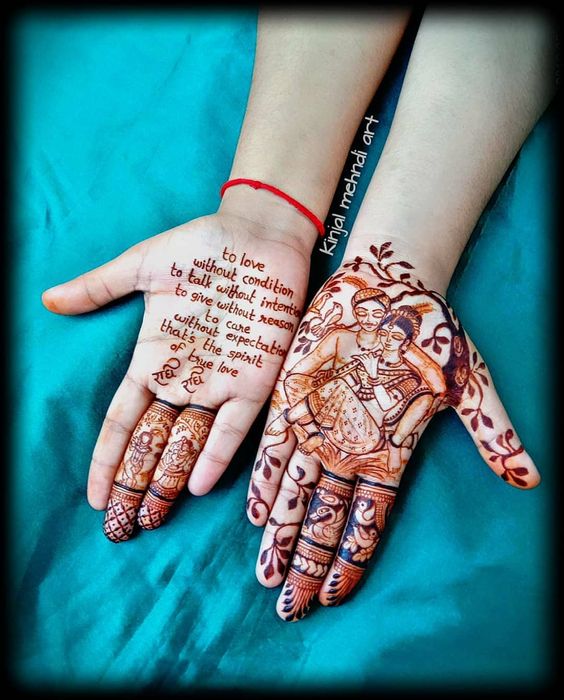 "To love without condition To talk without intention, To give without reason, to care without expectation, that's the spirit of true love"
"Radhe - Radhe" - It truly says about true love.
Bollywood Style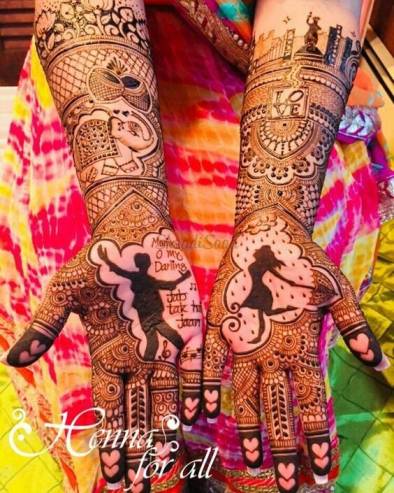 This one is from the Bollywood masala. This design is full of craziness, adventure and love. Do not miss this chance of using it. The quote says :
"Oh my darling" & "Jab Tak Hai Jaan"
FAQ
How do you take the design off?
The stain fades gradually as your skin exfoliates. There isfix we have mentioned above.

Can you add anything to the henna to make it darker?
Yes! We have remedies & hacks to make it darker.Click here

How long does the mehndi colour last on the skin?
The henna stain will last until the skin it dyes exfoliates. Stains can last from 1-4weeks depending on the area it is on, aftercare and how much the skin is exfoliated.


Where is Henna (Mehndi) applied?
Henna is traditionally applied, on the hands, feet & hairs.


How Long Does mehndi color Last?
The designs will last anywhere from 1-6 weeks.


Where Is Mehndi Available?
You can do it yourself or buy online else go to check festivals, fairs, tattoo shops, and salons.


Hopefully, the article Bridal Mehndi Quotes listed above will make your experience easier. For any query simply comment on the comment box.