Best 2023 Bridal Mehndi Design's
Best 2023 Bridal Mehndi Design's
Best Mehndi Design For Brides 2023
We all know that the wedding season is knocking at the door. While it seems faded without any glitter and glamour in an Indian wedding. Indian wedding is incomplete without mehndi. Without Best Mehndi Design For Bride, Mehndi Ceremony is incomplete. Mehndi Ceremony is the best part of any wedding ceremony. It is Because mehndi is considered a prominent old tradition of Indian wedding culture.
Mehndi in the hands of the bride is considered a sign of the omen. But in the changing times, applying mehndi has not only become an omen for the bride but has also become a fashion trend. This is the reason why the bride likes to have designer mehndi at her wedding which is beautiful as well as trendy. Mehndi represents a sign of matrimony and a good fortune. A nice mehndi pattern is applied, to the bride's arms and legs.
In the last few years, Mehndi designs are becoming more traditional and craze. Mehndi designs have become more beautiful than before. There are a lot of mehndi designs for the wedding season that adds beauty to the bride's hands. It is, said that the colour of the mehndi shows how much the groom loves the bride. In this article, we are going to tell you about all the best mehndi designs for the bride.
How To Apply Mehndi?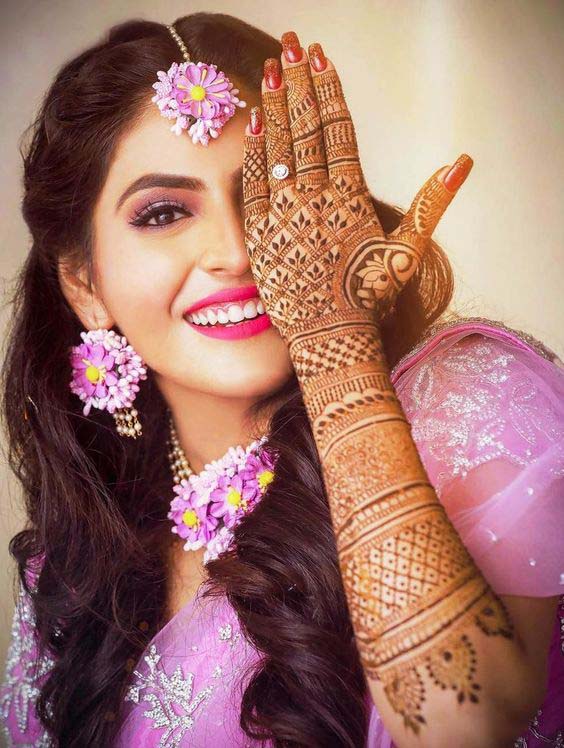 How To Apply Mehndi
Before we talk about Best Mehndi Design For Bride. Here weall you will learn and know how to apply Mehndi in the right way. Before applying Mehndi, pay attention to these steps:
Mix 1 to 3 ml of henna oil in 10 grams of henna powder. Do not use more oil than this quantity. Now your mehndi oil is ready.
Wash hands at least half an hour before applying mehndi. First, wipe your hands with a towel. Then wait until the hands dry entirely.
Do not apply any oil or cream on the palms and feet before applying mehndi after drying your hands. Therefore, before applying mehndi, your hands and feet should be dry so that the colour of your mehndi remains thick & long-lasting.
Applying essential oil (mehndi oil) before applying henna, as it deepens & long lasts the colour of your mehndi.
If you wish to have a beautiful & dark then you will have to give it a little time. One reason for mehndi not being perfectly long-lasting is that we do not give it the right time. It is essential to be patient while applying mehndi so that the design comes out is classic & perfect.
Choose the best mehndi designs and apply it accordingly or you can take the help of somebody who is a pro.
Mix lemon and sugar, make a syrup & apply it on your dried mehndi. It will help to deepen the colour of mehndi. Remember to apply a thick layer of this mixture of lemon and sugar on the dried mehndi and this will make the colour of the mehndi dark brown. (For more tips to dark your mehndi click here)
Now its time to give yourself a patience call & leave the mehndi for 8-9 hours. Try to apply mehndi at night.
Tip: After the henna dries up, wrap the foil in your hands. Foil paper not only makes the color of mehndi darker & think but also it prevents dried mehndi from falling & creating a mess in your room.
Tips To Remove Henna from Your Skin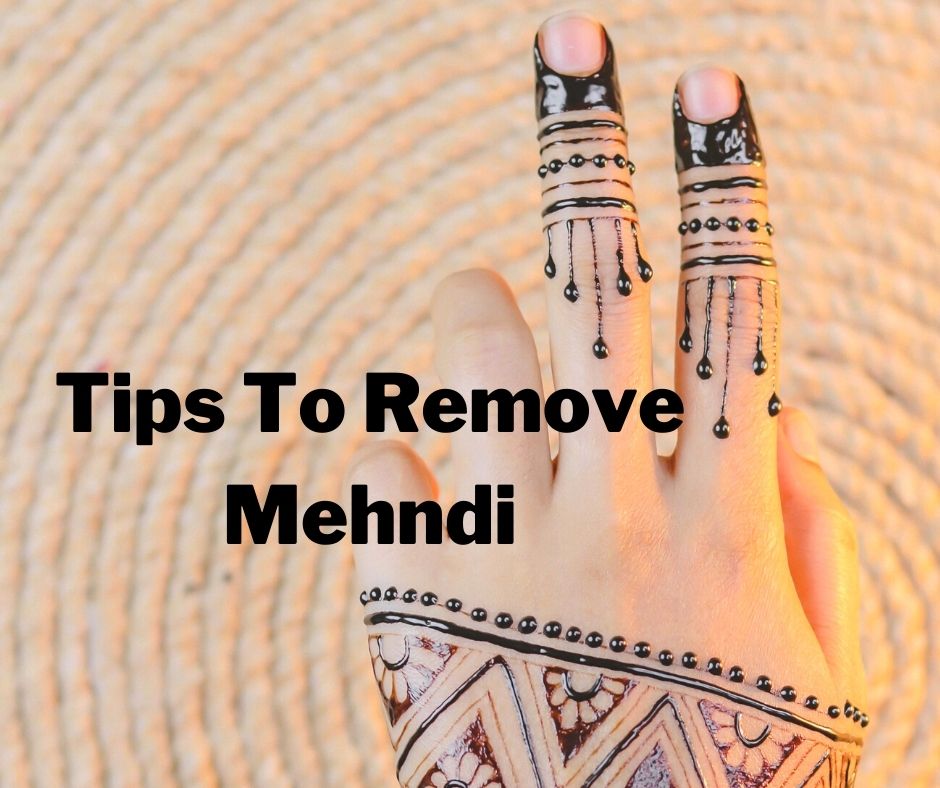 Salt is a very good cleanser. Put water in a bowl and dissolve a few spoons of salt in it. Now put your henna hands in this saltwater for 15-20 minutes. After that wash hands well
Lemon has bleaching properties. This is why lemon is a safe and suitable way of removing mehndi. Take a piece of lemon and rub it on your hands. By doing this daily, the mehndi will be removed from the hands in a few days.
Apply toothpaste on your hands, when the paste dried, rub it clean. Believe me, it will make the colour of henna very light!
Dulha-Dulhan Bridal Mehndi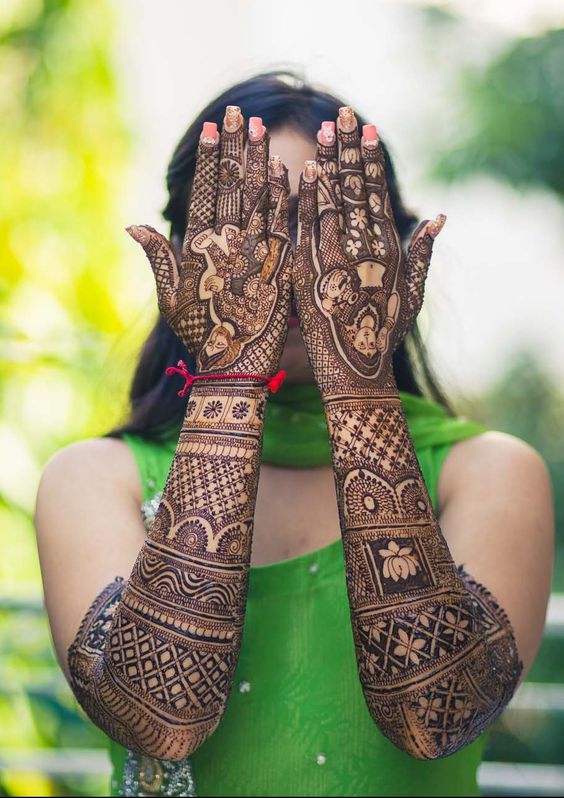 This is a beautiful mehndi merged with a dulha-dulhan (Bride & Groom) portrait which looks elegant. There is no shortage of classic and timeless mehndi designs. These intricate patterns, leaves, flowers of the intricate geometric structure add to the grandeur of the bridal mehndi design manifold.
Shaded Floral Bridal Mehndi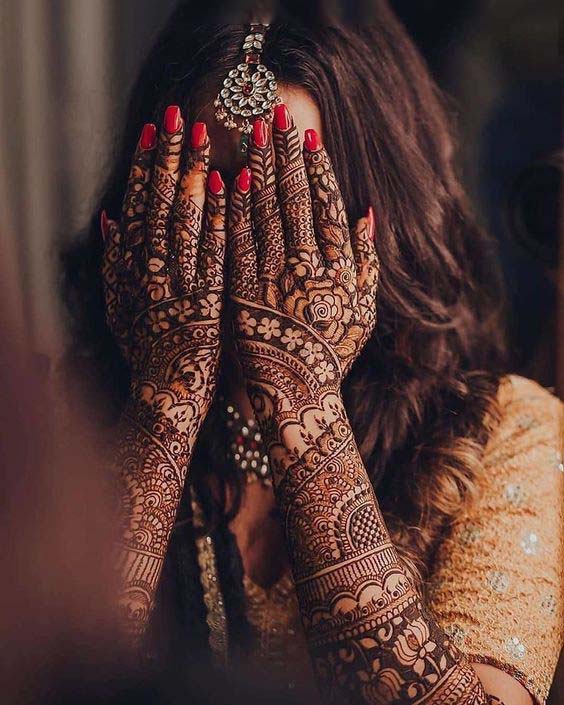 This elaborate mehndi design is designed, with deep, detailing and a clean finish. It sets it apart from the rest. We can see smirking flowers, dainty leafy trails, beautiful leaves and checker and encompassing designs in the check design mehndi.
The Royal Mehndi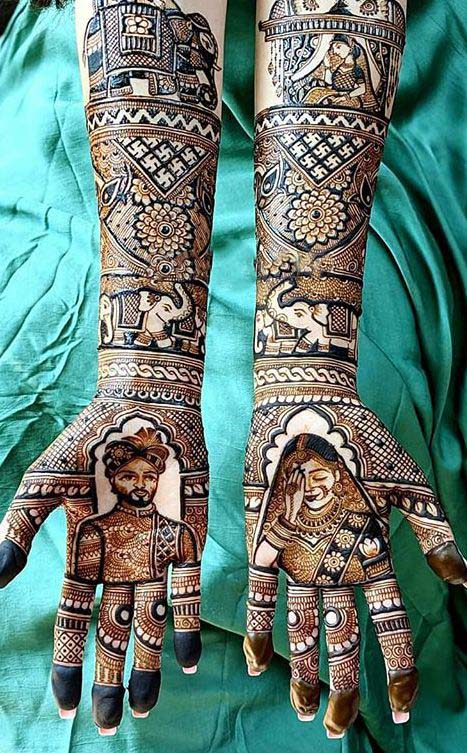 You are portraying yourself as this Raja-Rani mehndi beautiful and drool-worthy design. It is a modern full hand mehndi pattern & this mehndi design under the palm line gets intricate.
Lotus & Elephant Mehndi Motif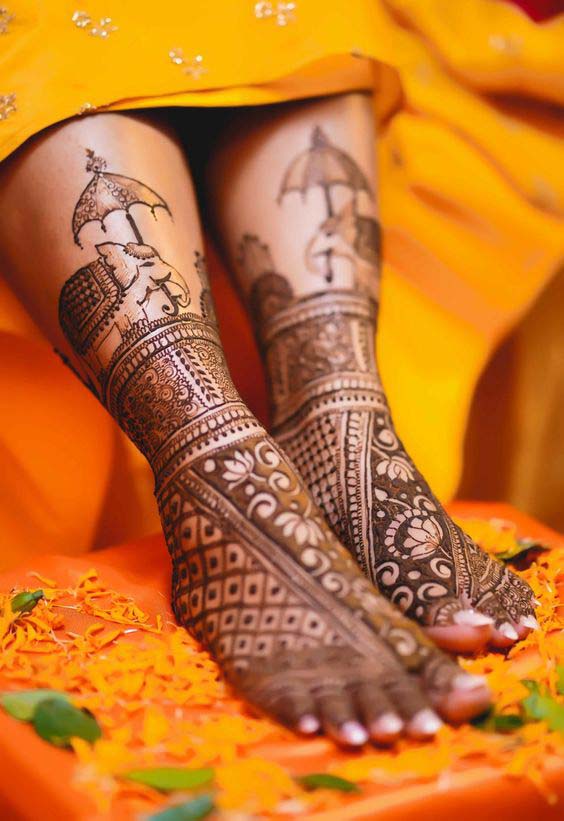 Lotus petals on the legs are something we have never seen before. Center is covered, with check design mehndi, where we see a jagged pattern, elephant motifs above and so many traditional elements neatly studded together.
Criss-Cross Creative Mehndi Pattern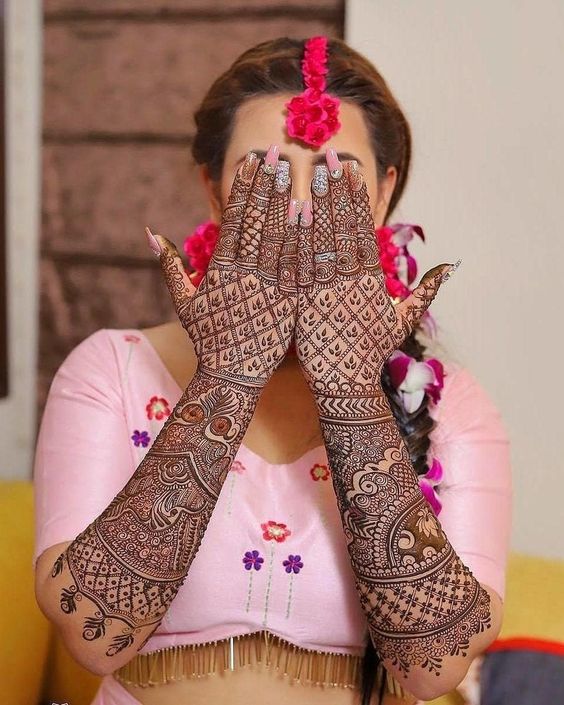 This design is beautifully applied in the fingers of the braid. While leaving space in the fingers and the left part of the palm. The design looks very classy with the dots & the page pattern.
Floral Design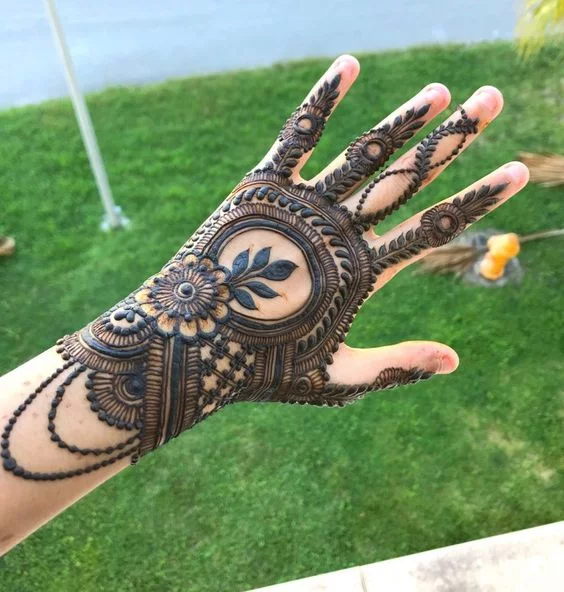 This design is the best because it matches the bridal dress perfectly. In this pattern, the flowers beauty increases further with smaller leaves. This whole pattern is attached to the flower, that is made, in the middle of the palm. The bale and leaves, which are made, in different sizes, make the entire design extremely delicate as well as tempting.
Pageli print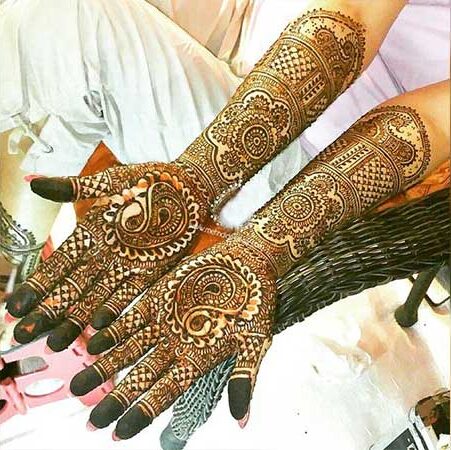 Pages print is the most beautiful mehndi design that most brides love. This design is pretty and classic. It has an intricately carved design in various ways. It is famous in the form of small pageli designs that are made on the fingers while the large paglias design covers the palms. This design is done, by rotating the hand which, is a complex process but, it gives a charming look to the design.
Royal Architecture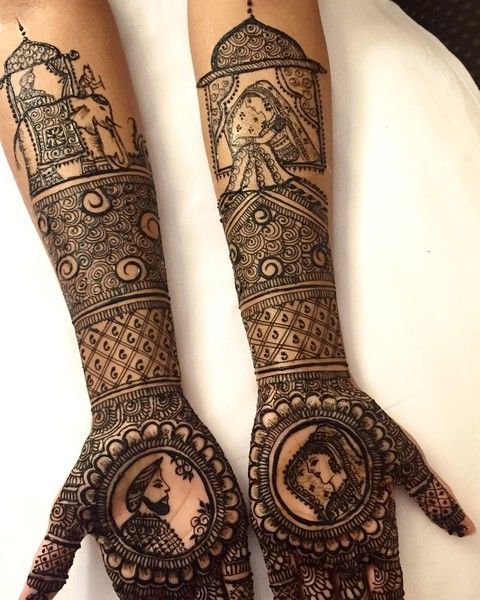 This design of Royal Architecture Mehndi reminds the bride of the beauty and architecture designs of the Mughal places of the country. In which the floral design and dome are similar to the carved pillars of Royal Places. The main focus of this design is the checker pattern. This design matches draperies to a large, extent. This design is charming.
King & Queen Trend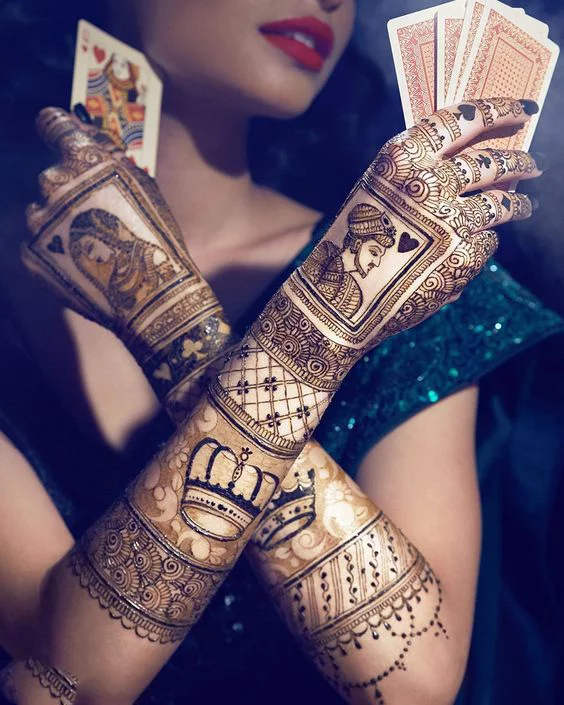 This mehndi design is one of the most common and intricate designs in the hands of the king and queen bride. In which the beautiful artwork of the king-queen from the era of Mughal emperors is carved. Which looks beautiful & best suited for a wedding.
Elephant figure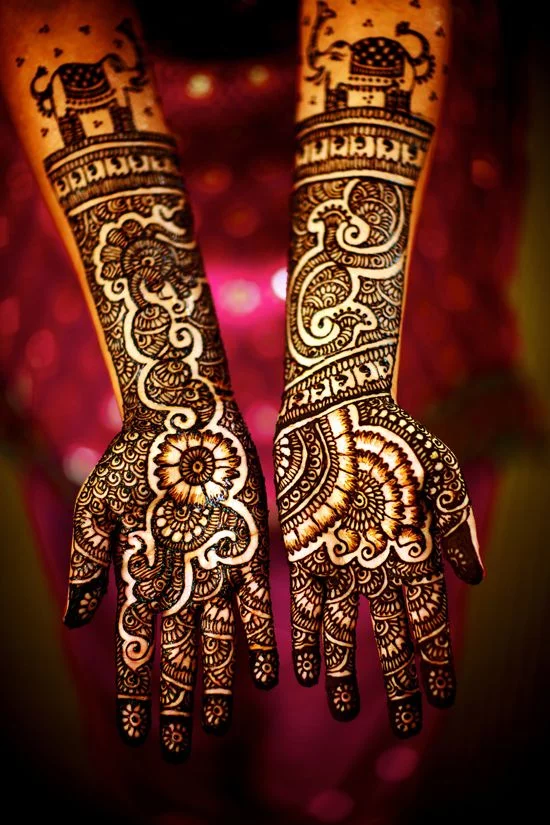 Elephant figure is considered, to be an elephant become one of the best mehndi design for bride. In which the rotations are given to make it more unique. There is no doubt that this design is unique & mesmerising. It is different from other designs depicting the patterns of flowers and peacocks.
Peacock's Mehndi design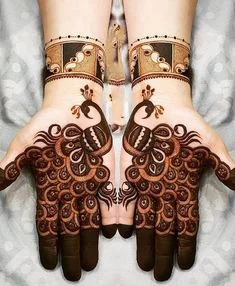 Peacock's design is unique which is also, included in bridal designs. The beauty of peacock feathers is also, fetched in this design. This design can be incorporated into beautiful patterns. The grace in this design is truly remarkable and cannot be compared to any other design.
Swirl Design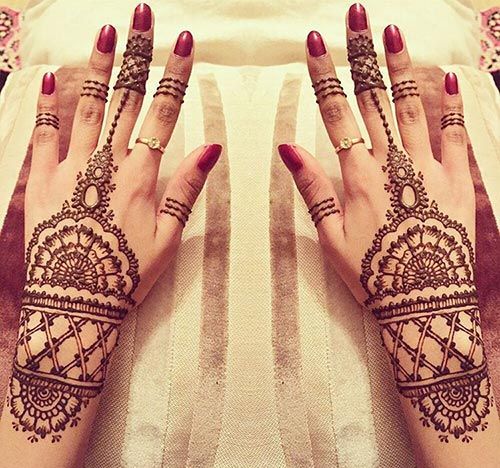 This design is beautifully applied in the fingers of the braid. While leaving space in the fingers and the left part of the palm. The design looks very classy with the dots & the page pattern.
Glitter Mehndi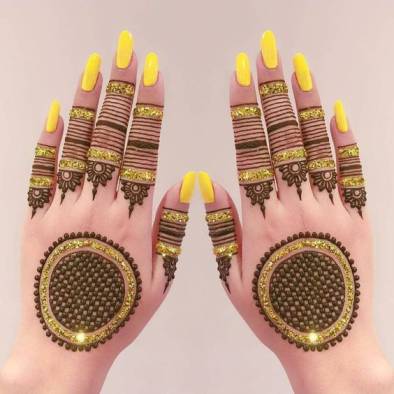 Coloured Sparkle mehndi design helps to highlight the concept of design which makes the design more beautiful. It is not a traditional design, but many women experiment with this design to look unique on their special wedding day.
Traditional Touch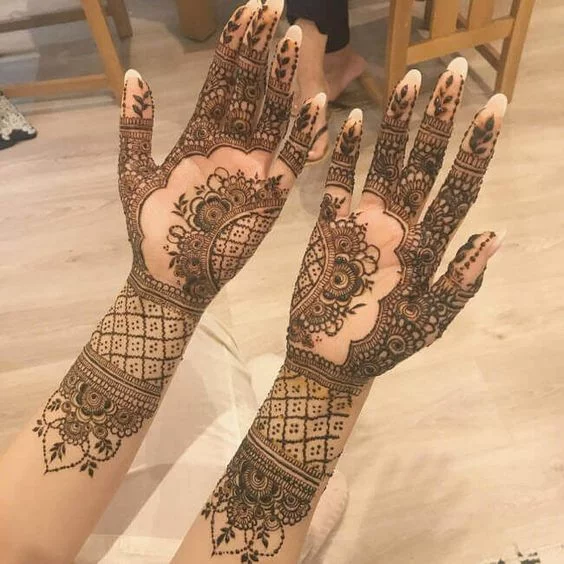 The single mandala design is one of the common designs, which is not only traditional but also beautiful. It consists of a very large circle which helps to form the base with different patterns. In this, the leaves are arranged in a unique way which helps to give a beautiful look. This design reminds people of sun rays.
Cuffed Cuffs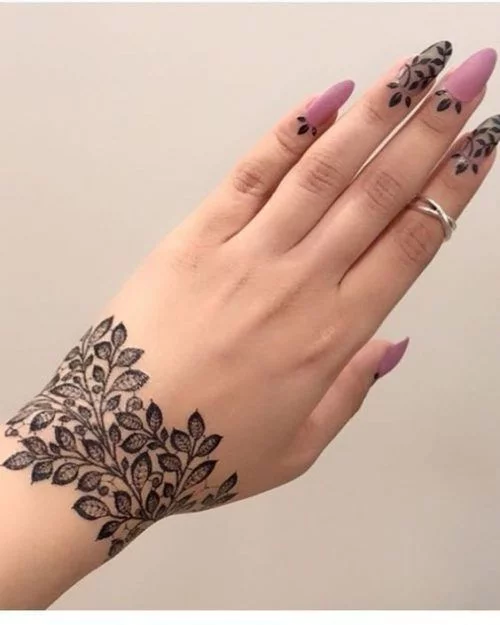 In this design, the centre of attraction is the thick cuff on the wrist, which is engraved with the help of the rotation of the hand. It gives a modern look and looking at its design, it seems that the wrist is covered with bangles. Some similar figure is also carved on the arms.
Tips and Cuffs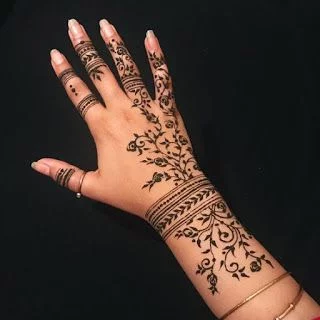 These designs are known to show minimal design near the bride's fingers. Which gives a beautiful look. This pattern is engraved with architecture and floral motifs.
Moroccan Mehndi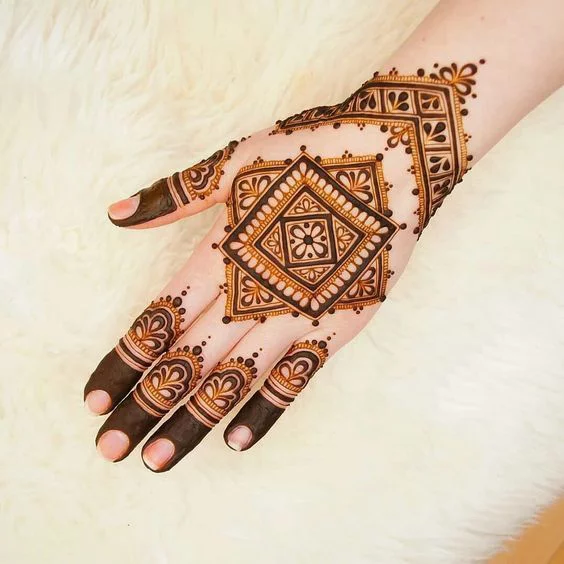 Moroccan Mehndi Design is a beautiful mehndi design from the Middle East. This design is geometric, which is, completely different from traditional bridal design. It is best to enhance the beauty of the bride's hands.
Arabic Style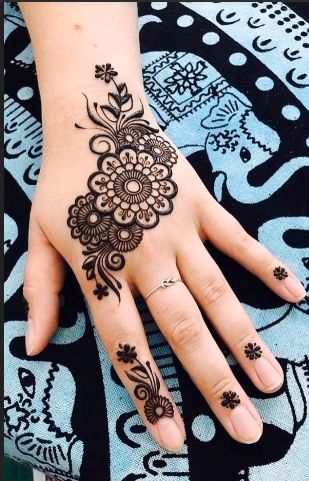 This design is an elegant and classy combination of Indian and Arabic design. This design is floral design, balance design like page pattern. One of the most trending designs until now.
Rajasthani Style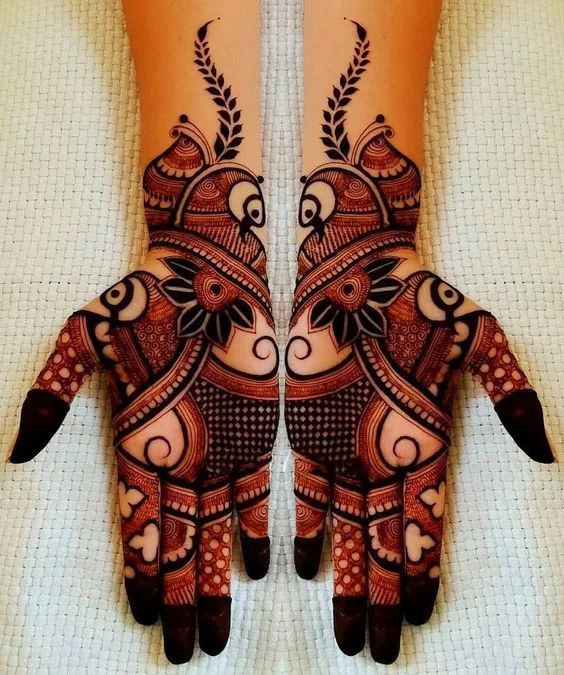 Rajasthani Mehndi design incorporates traditional designs like peacock, beautiful flowers etc. This design is very heavy, which suits perfectly on Indian brides. These designs cover the entire hand, making the brides hands look very beautiful.
Modern Dulhaniya Design
These mehndi design looks very aesthetic on bridal hands and it gives modern era texture. In this era, brides wants to look simple and elegant. So, this one is the best design for them. These designs include features like geometrical shapes and unique pattern which looks amazing with Indian attire.

Rose-Motif Mehndi Design
These days Rose-Motif designs are becoming very popular. This year most women will be choosing this mehndi design for their wedding mehndi. There are many styles available in this category where brides cab choose from.
Two-Tone Mahndi Design
Two-tone Mahendi design is becoming very popular. By applying this kind of mahndi you become a shows stopper. You can change the styles of this design according to your type. You can ask the mehndi designer to design the roses in different styles.

Wedding Hashtag Mehndi Design
As the name suggest, this mehndi is related to your name and your better half name. You can combine your names and make a hashtag which will give aesthetic look in your mehndi. By adding the hashtag, your mehndi will stand out from the other crowd.

FAQ
How long does the mehndi colour last on the skin?
The henna stain will last until the skin it dyes exfoliates. Stains can last from 1-4weeks depending on the area it is on, aftercare and how much the skin is exfoliated.
What is Henna & Mehndi?
Henna is a plant that grows in hot climates and can be found in most Middle Eastern countries such as Iran, Pakistan, Syria, Egypt and India.
Do you make your henna? Is it safe?
Yes and yes! Henna is safe and natural for everyone to use
Where is Henna (Mehndi) applied?
Henna is traditionally applied, on the hands, feet & hairs.
What Colors Are Available?
The natural colour of henna, when applied to the skin, varies from dark brown to deep burnt orange.
Where Is Mehndi Available?
You can do it yourself or buy online else go to check festivals, fairs, tattoo shops, and salons.
Hopefully, the article a Best Mehndi Design For Bridal listed above will make your experience easier. For any query simply comment on the comment box.
SEE ALSO : https://thecrazytales.com/mehndi-designs-for-back-hand/Tags: mehndi design for bride, mehndi dezine, mehndi dgn, simple mehndi design