Arabic Mehndi Designs For Legs
New trends spread extremely fast in India and Arabian countries. The hands are decorated, with the colour of beautiful mehndi. The design of flowers and the beautiful composition of leaves & more motifs are there. As the name itself infers,Arabic Mehndi Designs For Legsoriginally hail from Arabian nations but have now covered their way to Asian countries and attained more demand.
Like the traditional Indian Mehndi designs, the Arabic Mehndi designs contain mostly bails, paisleys, flowery vines and leaves, and often emerging design trails. Arabic Mehndi designs are best known for their beautiful floral and leafy trails that originate from the index finger to the wrist and ahead. You can apply it on both the front and the back sides of each hand and legs aw well. So today we have brought some creative Arabic mehndi designs for legs.
Chain & Bail Arabic Leg Mehndi Design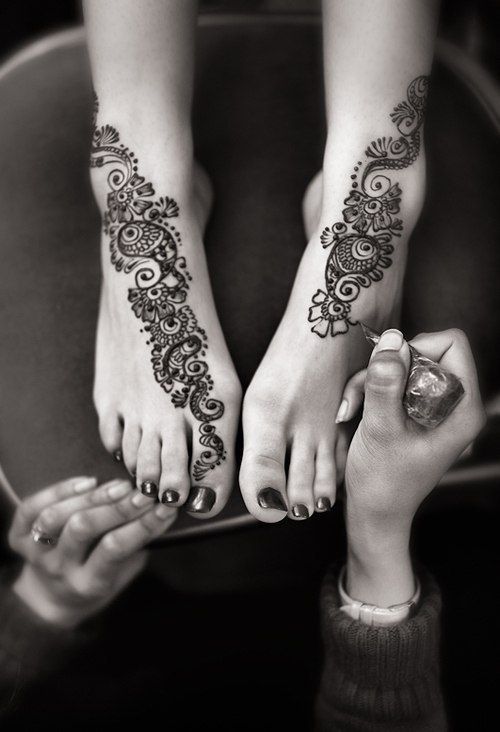 Beautiful design from the thumb to the wrist of the leg & toes, we get such an attractive mehndi motif. The structure of the bellows appears to be attached to the shape of small mangoes structured designs. Small, patterns have been used, to decorate the inside. It will look gorgeous on bridesmaids.
Ropes & Flowers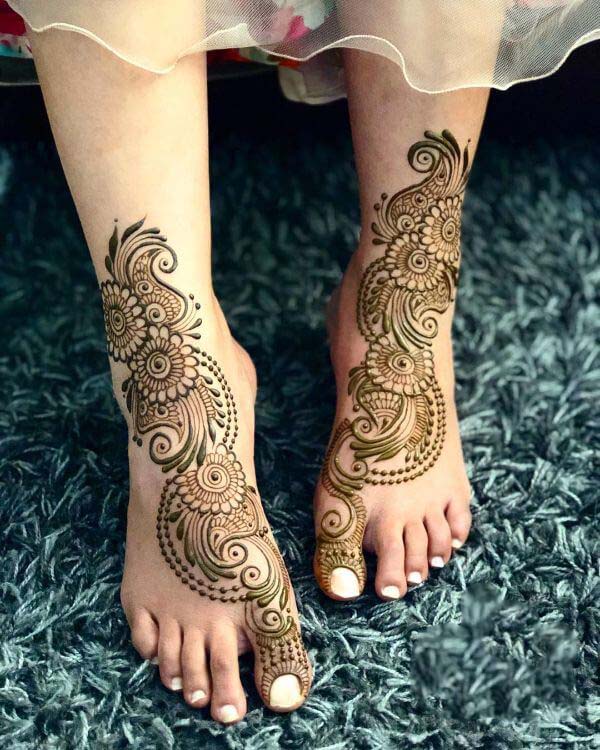 The rings are decorated, with a beautiful composition of wildflowers looks very spectacular. We also see the design of ropes with flowers from the toes to the middle legs. If you want to use something trendy, then this is the best option for you.
The Combo Arabic Mehndi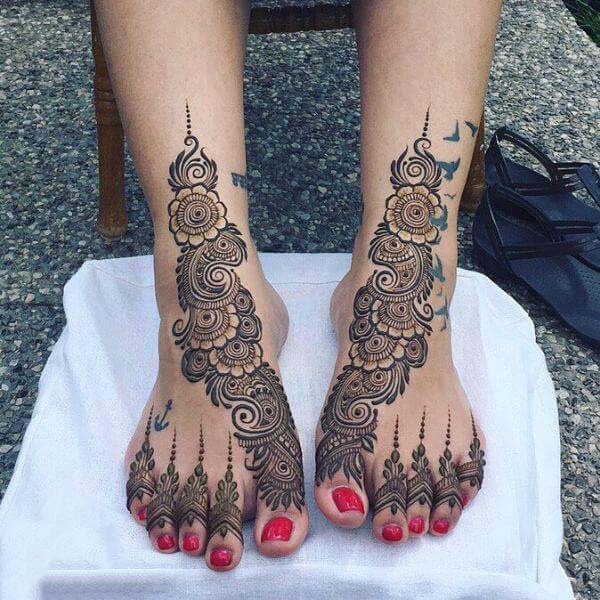 In this beautifully designed mehndi, we see the floral pattern as well as the composition of the leaves climbing upwards which indicates a completely new way of thinking.
Mordern-Traditional Arabic Mehndi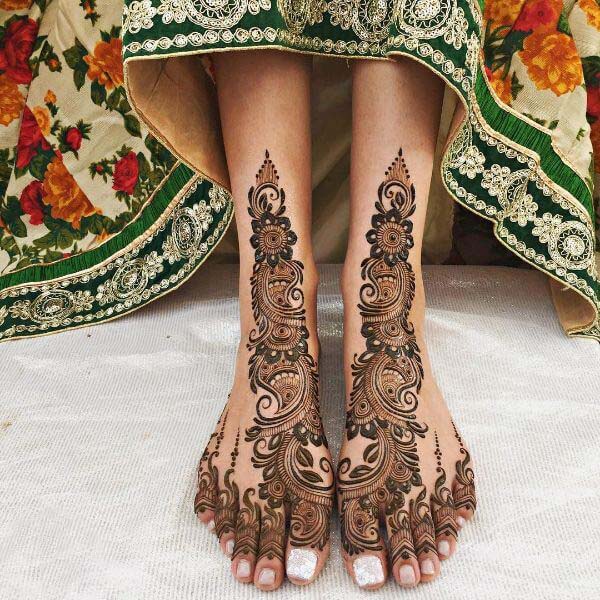 The design is mounted in the middle part, which is gorgeously decorated by mango shaped design, traditionally combined with modern flowers. The combination of light and dark shadow gives this mehndi an artistic look.
Quick & Beautiful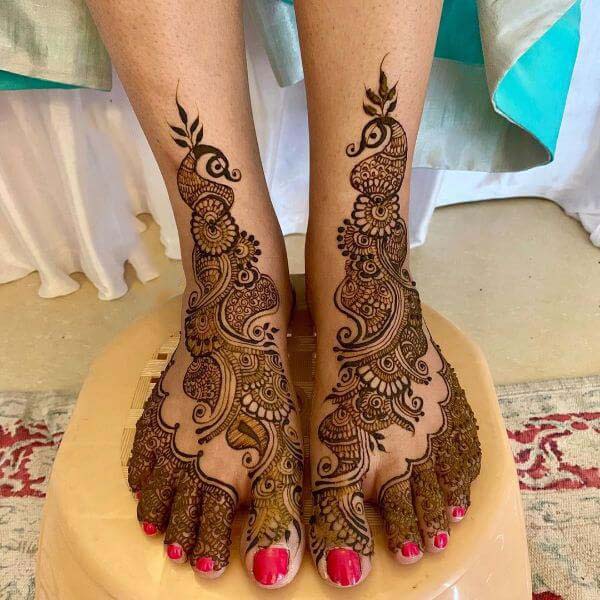 Do you want something quick and beautiful? Mehndi with beautiful floral design and traditional mango design is easy and simple. This is the most brilliant mehndi design going from paro to thumbs.
Peacock Arabic Mehndi Leg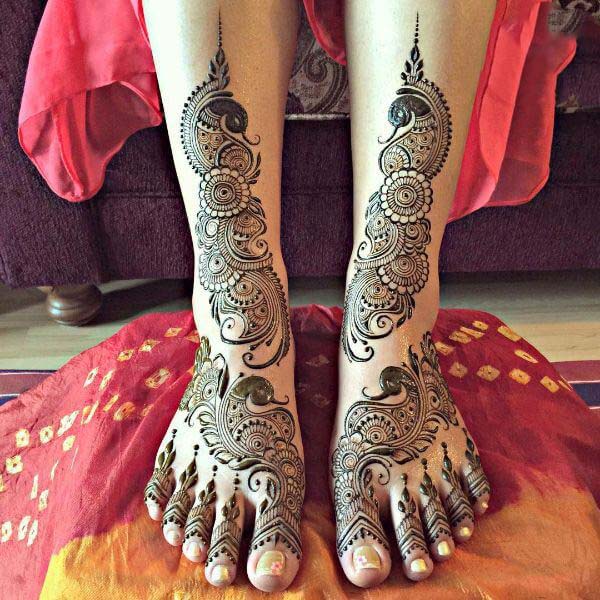 This Arabic mehndi design is beautifully designed, on feet. Various patterns of flowers and leaves are the speciality of this beautiful mehndi art. So I suggest to all of you ladies that you can choose this design according to your occasion without wasting time.
Western Design Arabic mehndi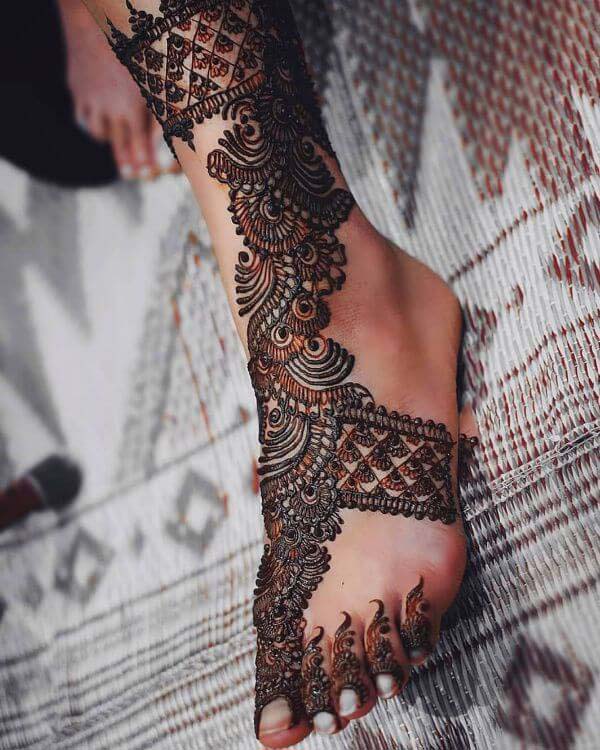 Are you the kind of bride who likes to have a Western design mehndi on her feet? So once you look at this design, it is full of colourful flowers and fabulous mango designs. Dark shades make this design even more attractive. Make your wedding evening even more dazzling with this mehndi design.
Traditional Arabic Style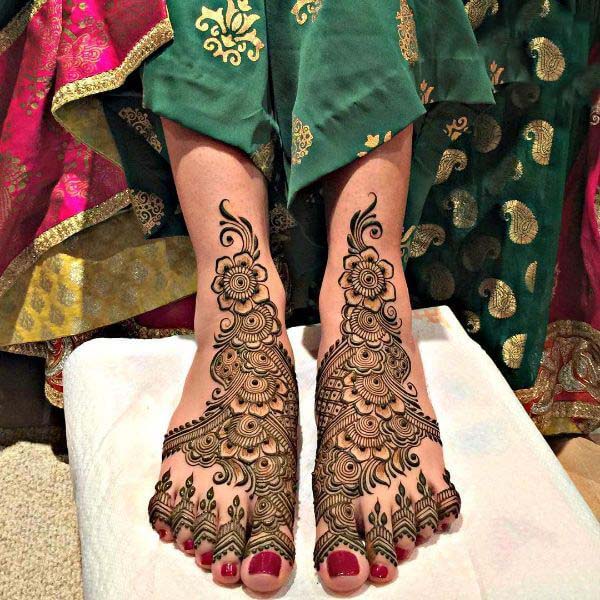 This design is a ready-made design in a few minutes & if we look inside it, we can see beautiful sunflower design among the mango leaves. This Arabic mehndi with finger curved design works to provide a traditional look.
Leafy Wild Flowers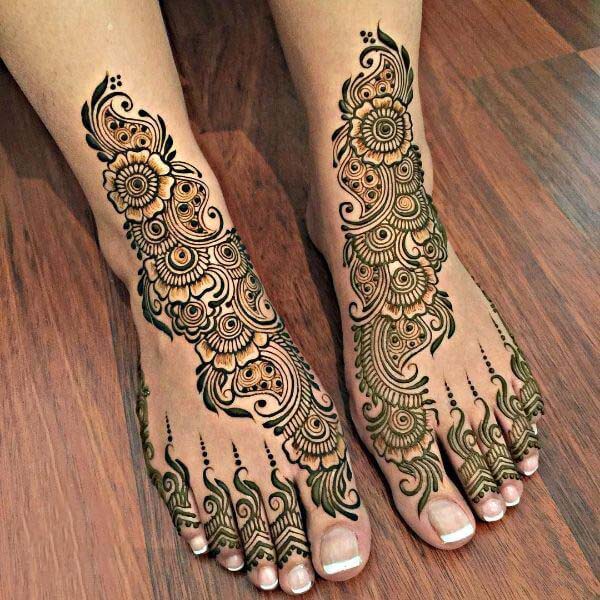 So let's see this fabulous Arabic mehndi design. The leafy design mehndi design looks beautiful & with its wildflowers and patterns. This central design mehndi is seen, moving towards the left side and toes.
Unique Bohemian Design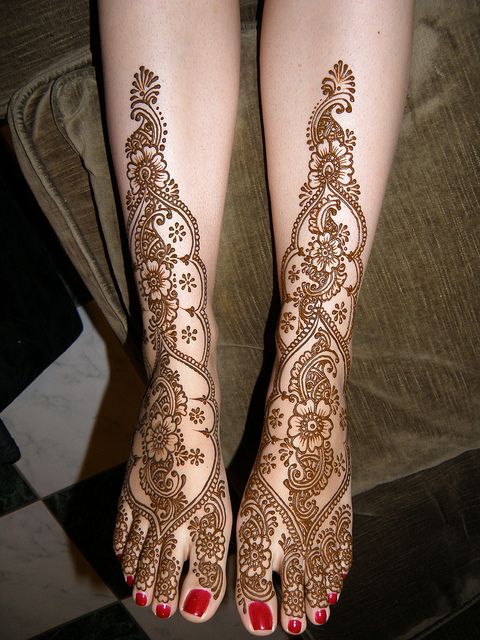 Let's see this unique bohemian design. The design starts with the bracelet and then we get to see the fan floral design with a brilliant mesh inside. The design of the fingers attracts all our eyes. The shades ranging from deep shades to light tones make this mehndi different. If you like mehndi with a full design then you can include this design in your choice.
Sunflower Mango Design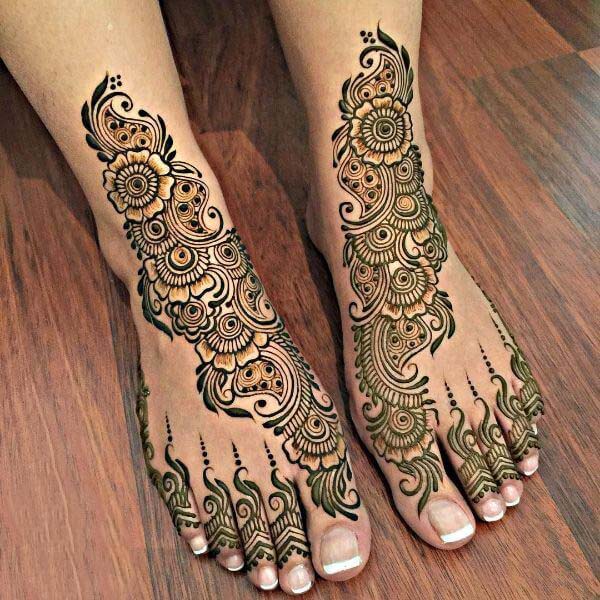 Are you looking for a similar mehndi? This design once in which the design of sunflower, mango design, kite shape and thin leaves are seen. Its design is found through the middle legs to the thumb. In the middle of it, we also see the hanging feather design.
Floral Dark Colours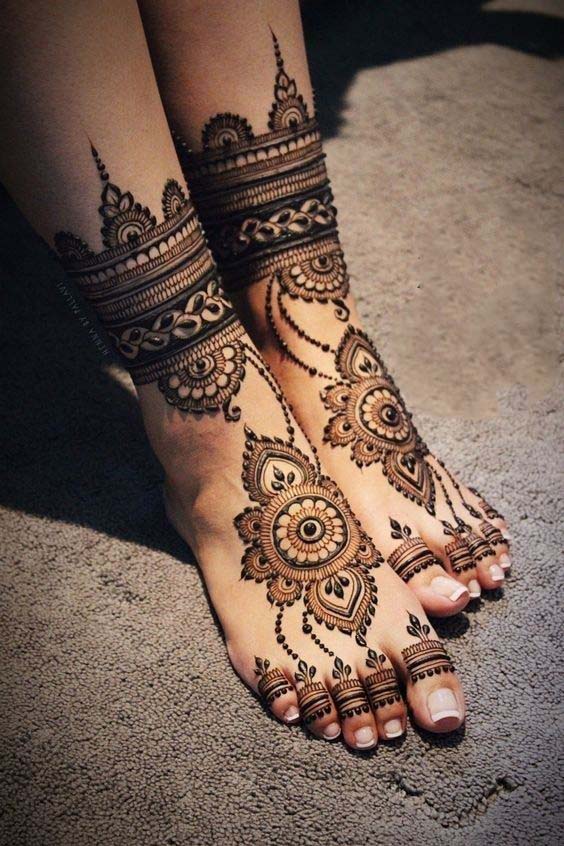 Make your wedding ceremony colourful with more flower designs. This mehndi design adds beauty to your feet. In this mehndi design, we see dark colours in the centre of the leaves and deep outlines around the mehndi which looks very attractive. This design starts from the top of the leg to the ankle and goes up to the thumb. If you like the design of flowers then you can go with this design.
Floral Hanging Points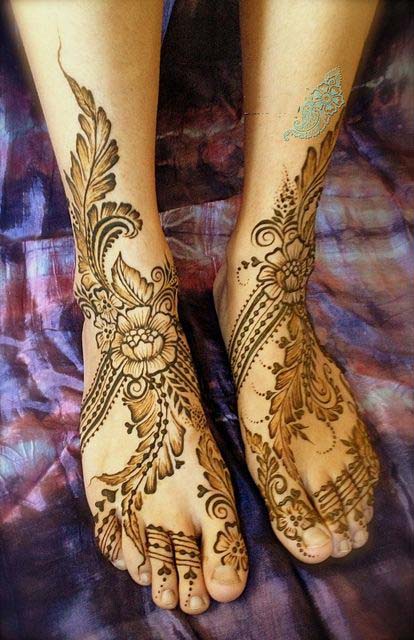 Make your design even more attractive with the structure of hanging points and your design is all set. You can give this design a new face with your methods and thinking. But take care that you cut only a small part of the edge of the cone.
Net Mango Shaped Arabic Mehndi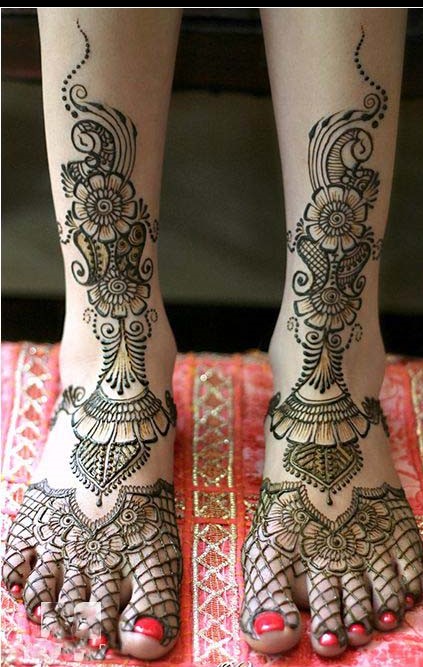 With a thick section of your cone, design a flower on your feet and start drawing the shape of mango as shown in the picture. Design the inside of these flowers with minor nuances. Starting at the top of your design, move it to the last line and make a design that matches this design on your toes.
Pretty Arabic Leg Mehndi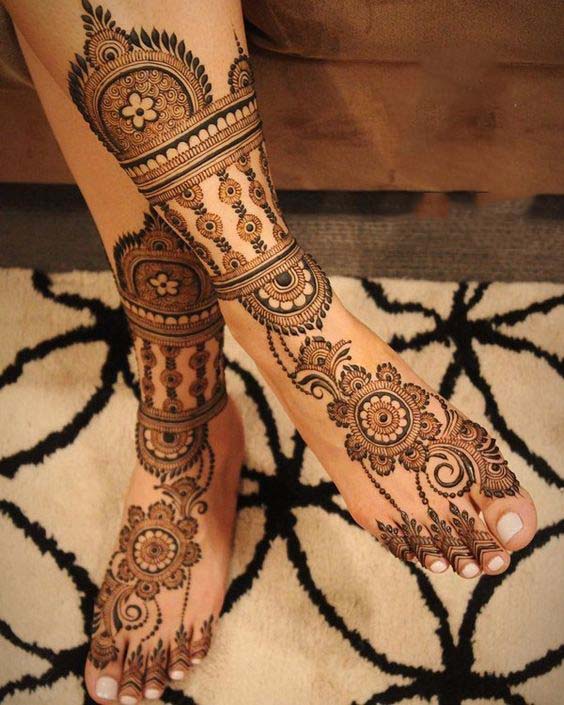 Looking at this design, the only thing that must have come to your mind is that it is fantastic. So get ready with your henna cone quickly and make this simple Arabic mehndi design on your hands. The speciality of this design is its wild leaf design and flowing pattern. You can design this mehndi according to your nature and creative mind.
Arabic Peacock Leg design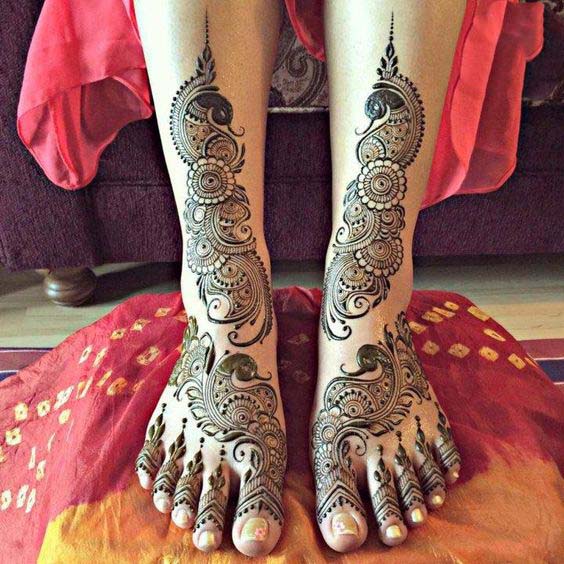 This adorable design is found, with attractive peacock design and beautiful structure of flowers. In this, we see the use of thick Heena in the right amount. And finally, we see deep hanging designs which are also considered as its speciality.
Unique Arabic Leg Mehndi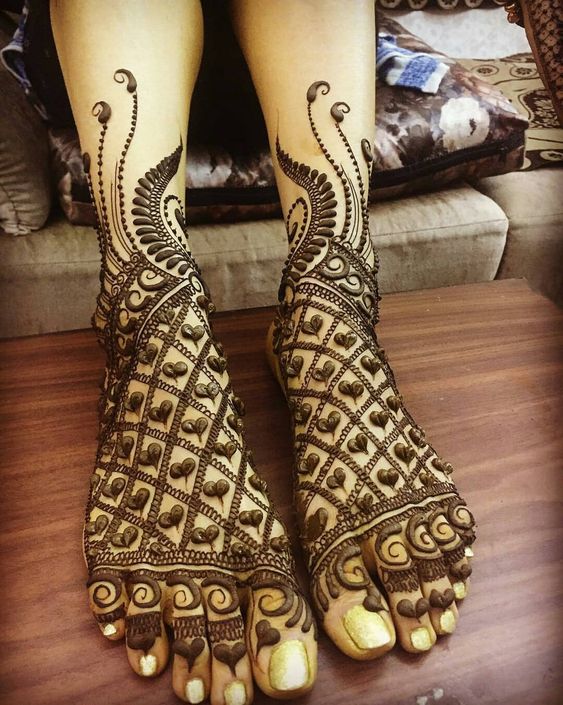 Are you searching for a unique design, then this design is specially made for you. In this design, we see beautiful floral designs from the top of the foot to the toe. On the toes, we see the design of beautiful curves. You can apply this design at any time.
Legs Hands Matching Arabic Mehndi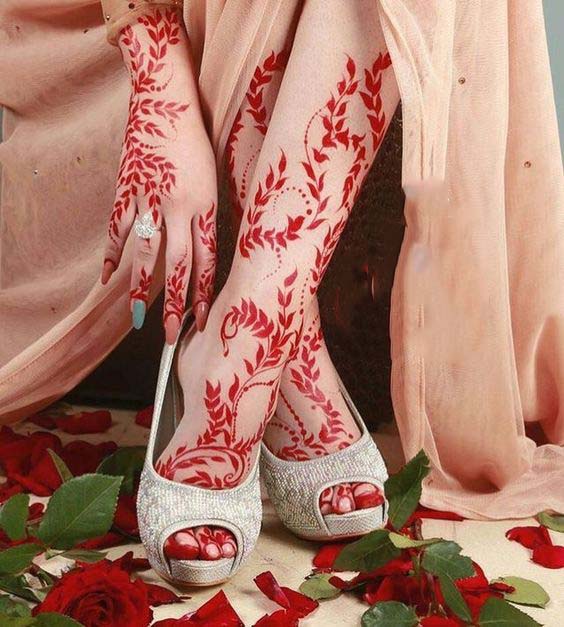 So finally we have found something that matches your hands and feet. Keep the cut on your cone a little. Now make flowers and leaves designs in this mehndi with your creative arts. You will look beautiful from top to bottom with this mehndi design.
Tell us if this article Arabic Mehndi Designs For Legs is helpful or not, you can give suggestions by commenting below. Also, share this share it with your friends on Social media.