Arabic Mehndi Designs For Back Hand in 2023
Arabic Mehndi Designs For Back Hand Arabic Mehndi Designs for back hand is the perfect mehndi…
Arabic Mehndi Designs For Back Hand
Arabic Mehndi Designs for back hand is the perfect mehndi design for any and every occasion. As the name itself infers, Arabic Mehndi Designs originally hail from Arabian nations but have now covered their way to Asian countries and attained more demand. Arabic mehndi design is best known for the beautiful flowery and leafy trails that emerge. Mostly, Arabic style mehndi originate from the index finger to the wrist and ahead.
These designs also include a lot of leafy motifs, architecture-inspired patterns and neat checkered arrangements. besides this, the designs also contain a lot of chequered patterns, meshwork, and dot work, all done diagonally. Mostly, women demand an Arabic style of Mehndi designs. Therefore we are here to tell you the best Arabic Mehndi Designs For Back Hand which are beautiful, latest & traditional.
How To Apply Mehndi?
Before we talk about Arabic Mehndi Designs For Back hand. Here weall you will learn and know how to apply Mehndi in the right way. Before applying Mehndi, pay attention to these steps:
Mix 1 to 3 ml of henna oil in 10 grams of henna powder. Do not use more oil than this quantity. Now your mehndi oil is ready.
Wash hands at least half an hour before applying mehndi. First, wipe your hands with a towel. Then wait until the hands dry entirely.
Do not apply any oil or cream on the palms and feet before applying mehndi after drying your hands. Therefore, before applying mehndi, your hands and feet should be dry so that the colour of your mehndi remains thick & long-lasting.
Applying essential oil(mehndi oil) before applying henna, as it deepens & long lasts the colour of your mehndi.
If you wish to have a beautiful & dark then you will have to give it a little time. One reason for mehndi not being perfectly long-lasting is that we do not give it the right time. It is essential to be patient while applying mehndi so that the design comes out is classic & perfect.
Choose the best mehndi designs and apply it accordingly or you can take the help of somebody who is a pro.
Mix lemon and sugar, make a syrup & apply it on your dried mehndi. It will help to deepen the colour of mehndi. Remember to apply a thick layer of this mixture of lemon and sugar on the dried mehndi and this will make the colour of the mehndi dark brown. (For more tips to dark your mehndi click here)
Now its time to give yourself a patience call & leave the mehndi for 8-9 hours. Try to apply mehndi at night.
Tip: After the henna dries up, wrap the foil in your hands. Foil paper not only makes the colour of mehndi darker & think but also it prevents dried mehndi from falling & creating a mess in your room.
Tips To Remove Henna from Your Skin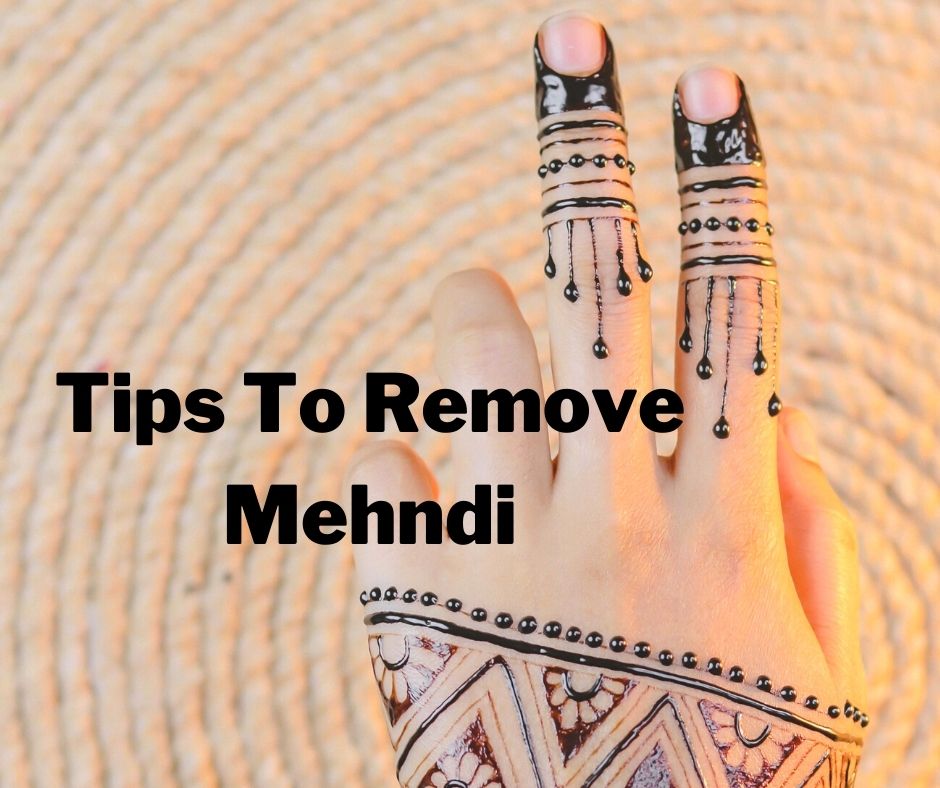 Saltwater soak
lemon
Lemon has bleaching properties. This is why lemon is a safe and suitable way of removing mehndi. Take a piece of lemon and rub it on your hands. By doing this daily, the mehndi will be removed from the hands in a few days.
Baking soda
Baking soda also has bleaching properties. Add a few drops of lemon juice to a spoonful of baking soda and mix well. After applying it for some time, leave it for 15 minutes and then wash hands with lukewarm water.
Special Arabian Mehndi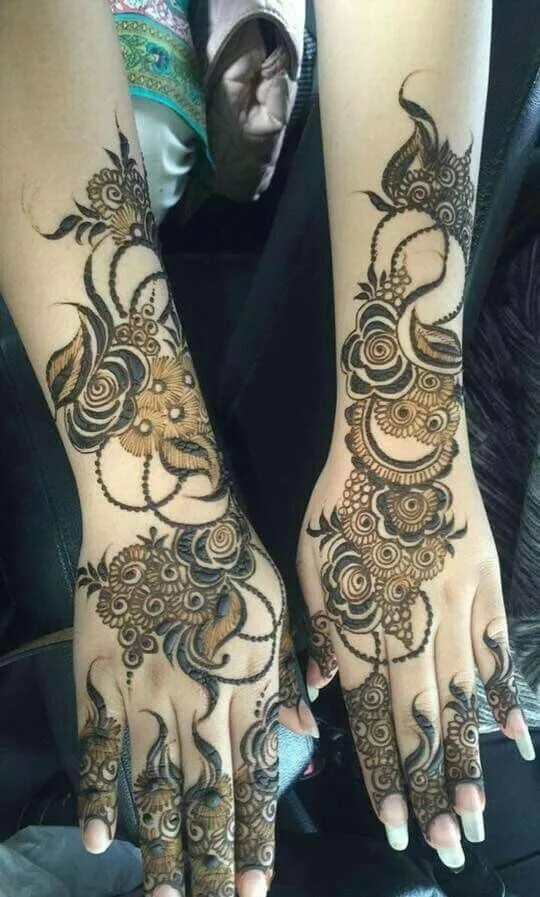 This henna design is especially from Saudi Arabia. Women love to put on their hands in the festive and wedding ceremony. Let us tell you that in these henna designs, lotus flower blooms, leaves are beautifully engraved on the hands. Due to which they look attractive and vibrant, not only this, Arabic mehndi designs are also easy to make with traditional Indian designs.
Tomb Shaped Mehndi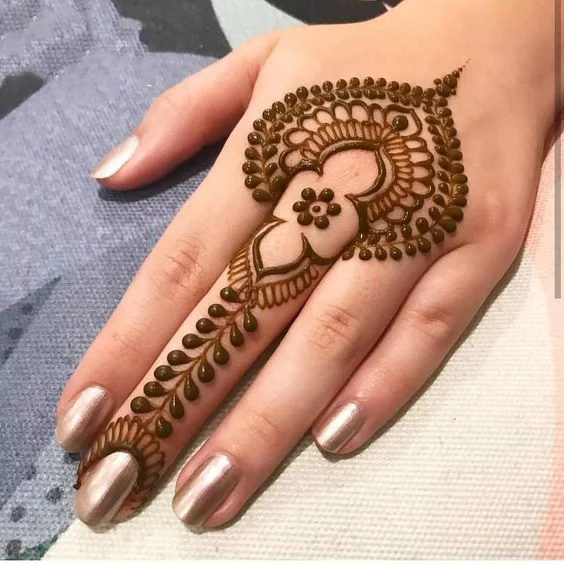 This Mehndi art is the perfect mehndi design for any and every occasion. This design is all about a beautiful presentation of leaves and dots. It is simple, yet traditional & looks super amazing.
Rose Ring Art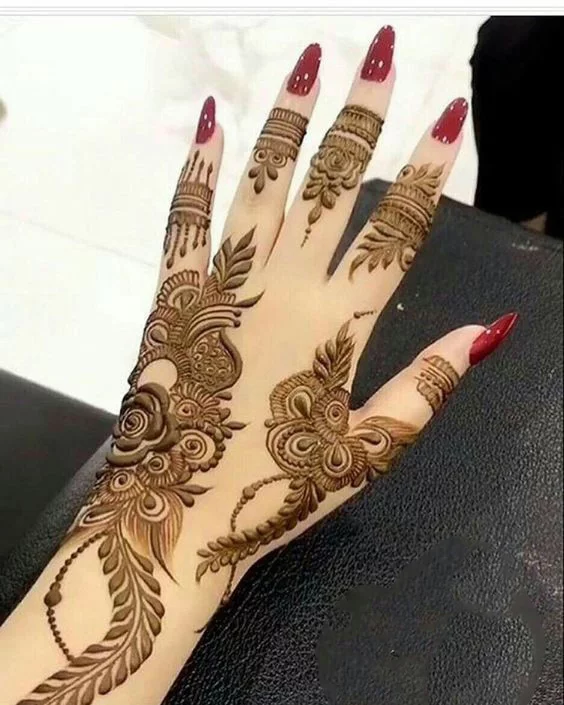 Beautiful leaves merged with roses. The background of the rose theme is formed, by a delicate lace pattern which is then formed by a lighter shade of Mehndi. It is suitable for all sorts of occasions and can be worn, with all outfits.
Read Also: Flower Mehndi Design
Traditional Arabic Art
As said, the old is gold. This design is one of the oldest and common designs of mehndi. This design can never fly away. So why not go for it on your friendas wedding this season. A simple string design filled with box patterns and a common mehndi design.
Classy Leaves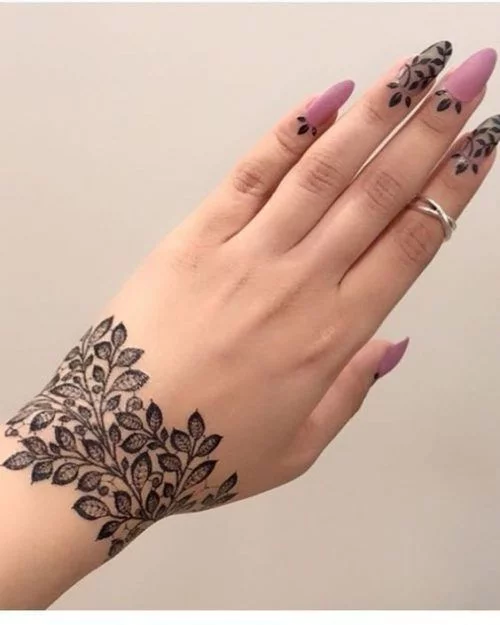 Now, this is one of the prettiest and simple designs of all. This Arabic designed is made by drawing patterns of leaves on the wrist and some shot & small leaves on the top nail area. This Mehndi art looks classy which, can be put on with no special occasion.
The Chained String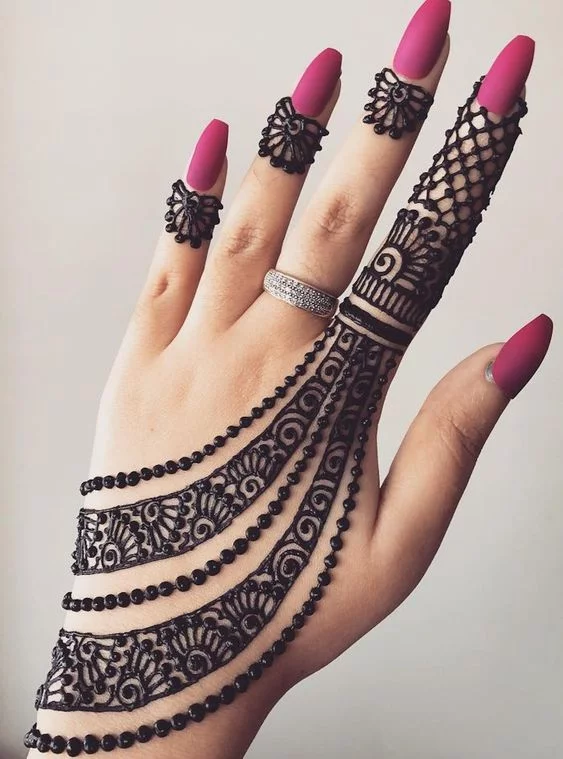 This art is made, up of simple curved lines, dots and flowers. This design will give you a very chic look. Pair with Indo-western or traditional attires or just casual wear. The result is this very creative looking Mehndi design.
Flower pattern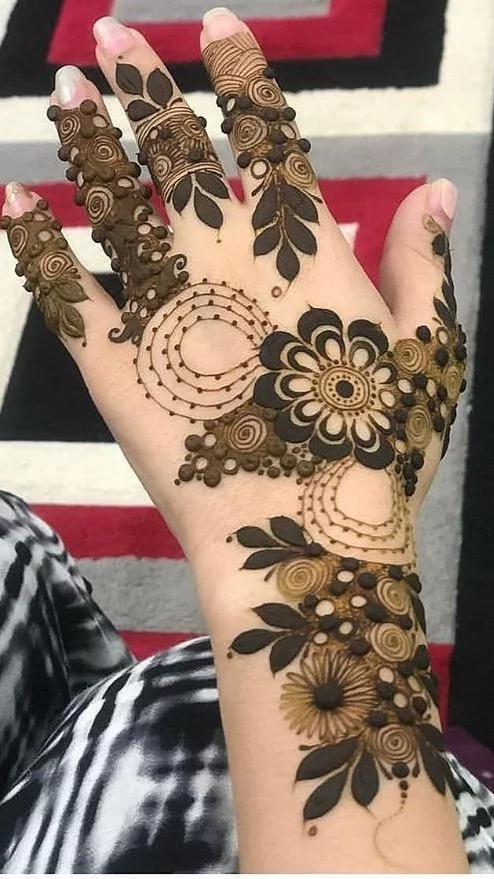 These floral designs are crafted gracefully. The whole design is linked by the balloon shape string like design which is giving it a simpler yet elegant look. With light damped flowers and dark leaves makes it look elegantly beautiful.
Dots and Twirls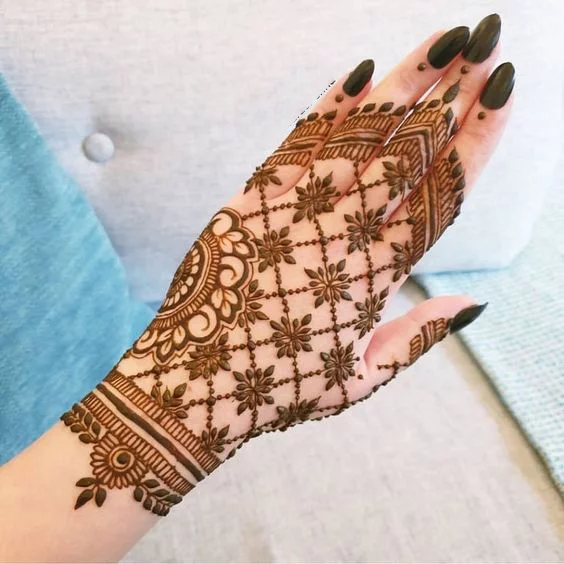 The floral pattern on the hand is full of bold strokes as leaves and intricate coils and twirls. It is very, clear with dots between the gaps. The dark & bold leaves are adding a creative touch to the design. This flower and net mehndi design are best for casual ceremonies.
Wave Pattern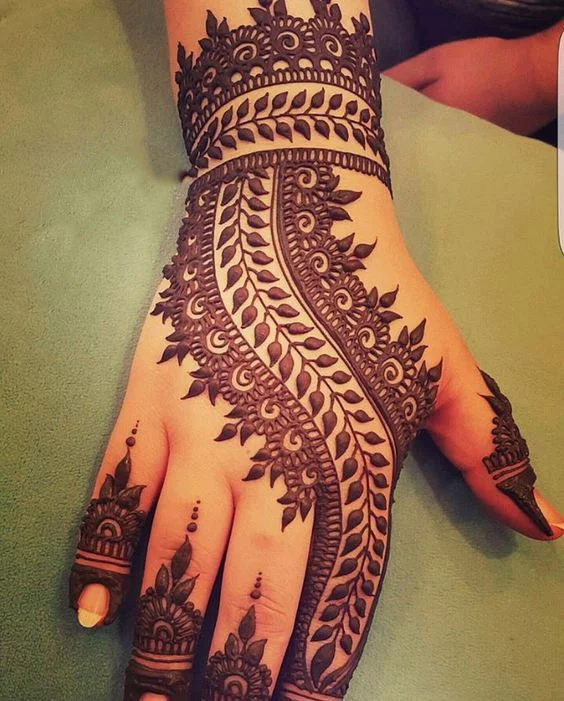 A lot of work goes into the patterns to make it look attractive. Created with the wave pattern starting from the wrist and ending to the fingertips. Where small leafy patterns are originating. You can add shine to the pattern using glitters or stones on the free spaces.
Arabic Moon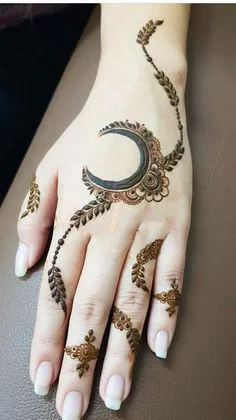 A basic moon-shaped designed in between and beautiful flowers leaves patterns on the fingers. This Mehndi art looks at the real Arabic style Mehndi design. A short simple work done on the hand looks pretty.
Pretty Arabic Backhand mehndi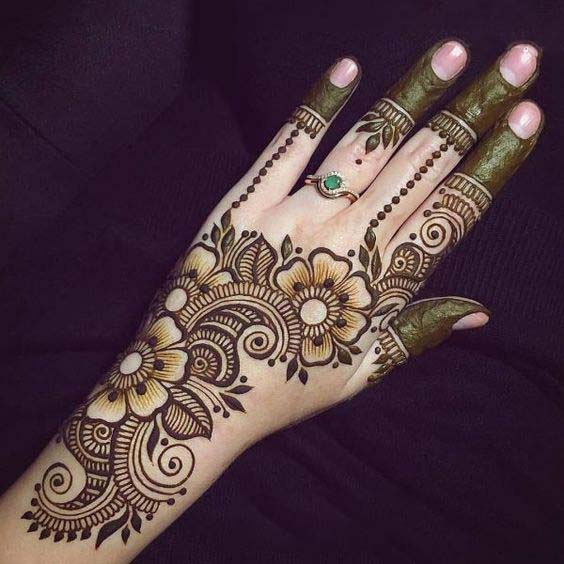 This Mehandi design has a Persian curved pattern that looks awesome. The central part has a cool mesh design with some leaves, and the fingers are beautifully decorated, with swirling patterns. This is a perfect design for a wedding or reception.
Floral Arches on Fingers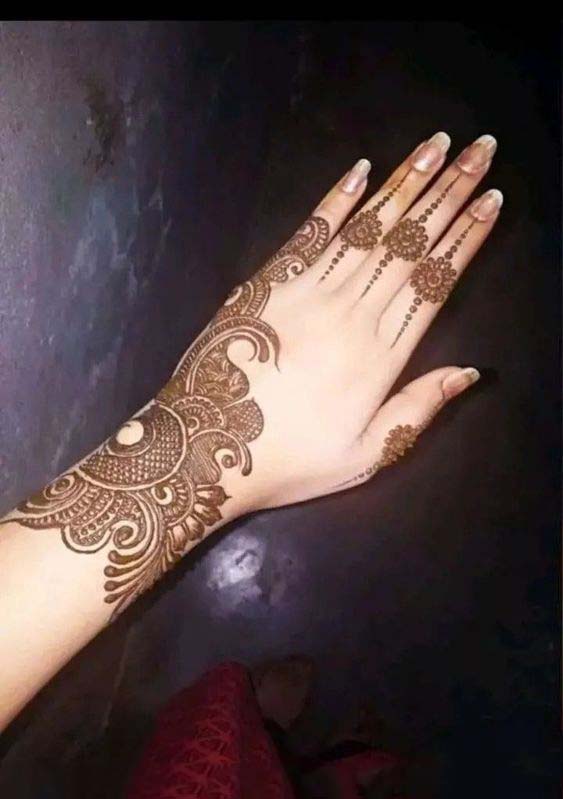 Itas a very frail design with a few bold patterns. The whole hand is made of a beautiful design. The great thing about this design is the fact that it makes all these complications look neat. Many of us will feel we have a Turkish ring.
Half Hand Arabic Backhand Mehndi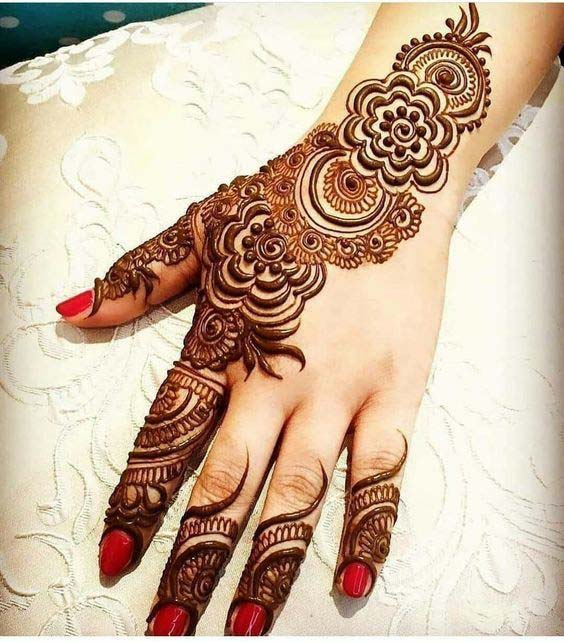 This half hand design is a tag pattern of Arabic Mehndi design. Beautiful, flowery and full of classic patterns. Itas a beautiful, complex and bold combination of strokes.
Flower Red Arabic Mehndi For Backhand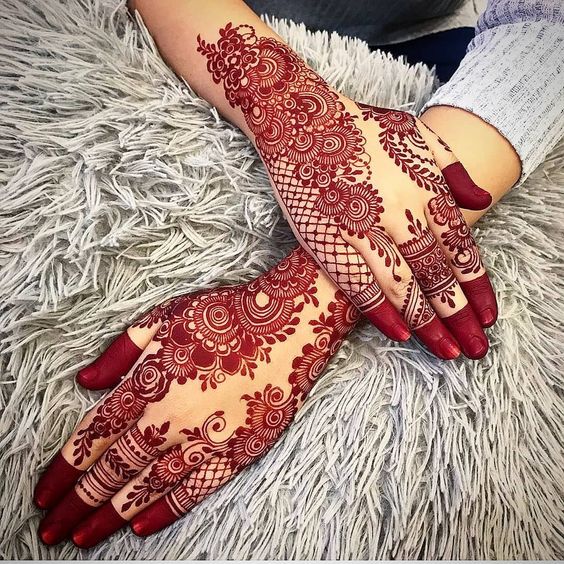 There are various methods you can use to improve your design. This red Arabic Mehandi design has everything that is unique and striking: bold curves, sparkling jewels and beautiful shading effects.
The Arabic Floral Net Mehndi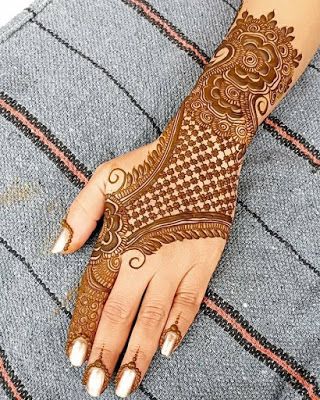 This design is very simple and beautiful in appearance. In this design, the entire hands are not covered by making flowers. This design looks very good on the back of the hands. These designs not only look good on the hands of the bride but also her friends.
Diamond Shaped Mehndi Design
This is the best simple design. The fingers are filled with different designs and a diamond shaped design is made between the hands which looks so elegant. And, the sides besides the diamond remains empty it gives a fuller look.

Pakistani Bloom Mehndi Design

This design cover your fingers with unique and aesthetic designs. Here, the mehndi design gives bracelet look at the back of your hand. This mehndi gives Pakistani look.

Peacock Mehndi Design
In India, Peacock is the national bird and it represents royalty. Combining peacocks designs gives a festive look in the backhand design. One can elaborate many peacock feathers design which can give royal mehndi look

Flowery Art Mehndi Design
Flowery Art is one of the most aesthetic mehndi design. Here, we use lots of flowers to make a mehndi design. And fingers are also covered with lots of baby flowers which look really royal.

Tattoo Mehndi Design
This is one of the perfect mehndi design of all time. This design gives a very subtle look on the hands. Kids who loves tattoos prefers these design which brings them joy of applying mehndi to their hands.

FAQ
What Colors Are Available?
The natural colour of henna, when applied to the skin, varies from dark brown to deep burnt orange.Is Henna Safe?
Yes and yes! Henna is safe and natural for everyone to use
How long does the mehndi colour last on the skin?
The henna stain will last until the skin it dyes exfoliates. Stains can last from 1-4weeks depending on the area it is on, aftercare and how much the skin is exfoliated.
Where is Henna (Mehndi) applied?
Henna is traditionally applied, on the hands, feet & hairs.
How Long Does mehndi color Last?
The designs will last anywhere from 1-6 weeks.
Hopefully, the article aBest Arabic Mehndi Designs For Back handa listed above will make your experience easier. For any query simply comment on the comment box.