Mehndi is not just made for hands but also it is a tradition to have a mehndi for a diverse look on the feet as well. Especially before going on any special occasions such as wedding ceremonies, parties & other religious occasions. Women love every part of the hands must be filled with mehndi design & so for their feet also with various Ankle Mehndi Designs.
There are various designs, such as motifs, flowers, peacock, Arabic & various other patterns. Some of then are trendy tattoo styles, mehndi quotes while some of them are traditional & simple. The speciality of the design is that it has a lot of creativity, which makes it the most unique and different. We have brought you the most trending ankle mehndi designs 2020. See what mehndi designs for legs you can try.
Mehndi Designs with Chains & Rose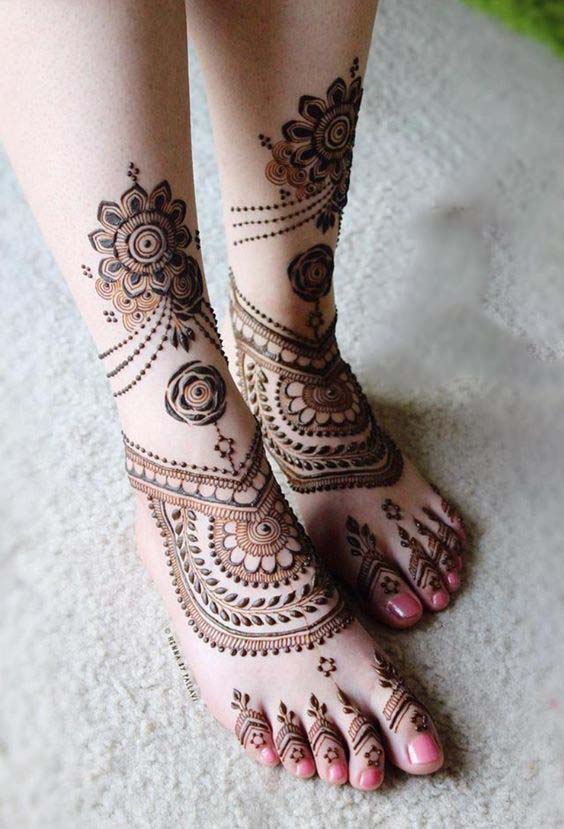 In this beautiful mehndi dgn, we see the chain of beautiful mehndi design from the thumb to the upper portion of the leg. On the other fingers of the feet, we also get pretty and attractive mehndi design. The formation of the pattern appears to be attached to the middle rose. Small motifs have been, used to decorate the inside. It will look beautiful on bridesmaids.
Tarsus Floral Design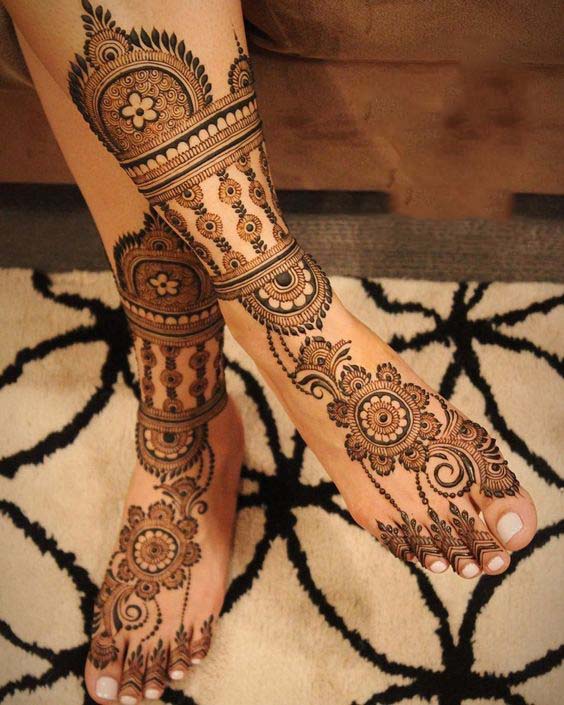 From one of the best design this beautiful ankle mehndi designs, we see the floral pattern as well as the composition of the leaves climbing upwards which symbolises a completely, different style of reflection.
Wildflowers Compositions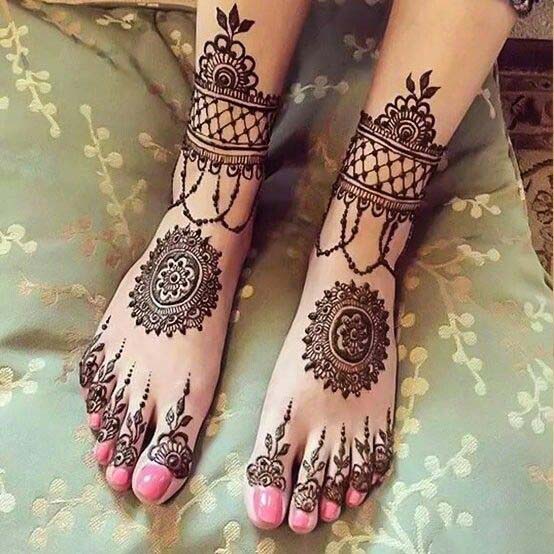 This design with a beautiful composition of wildflowers looks very spectacular. In this, we also see the design of ropes with flowers. The decoration of the leaves adds to the design. Its rings are decorated in a very pretty way & we see this design from the thumb to the middle legs. If you want to use something new then this is a good option for you.
Traditional Lotus- Dotted Pattern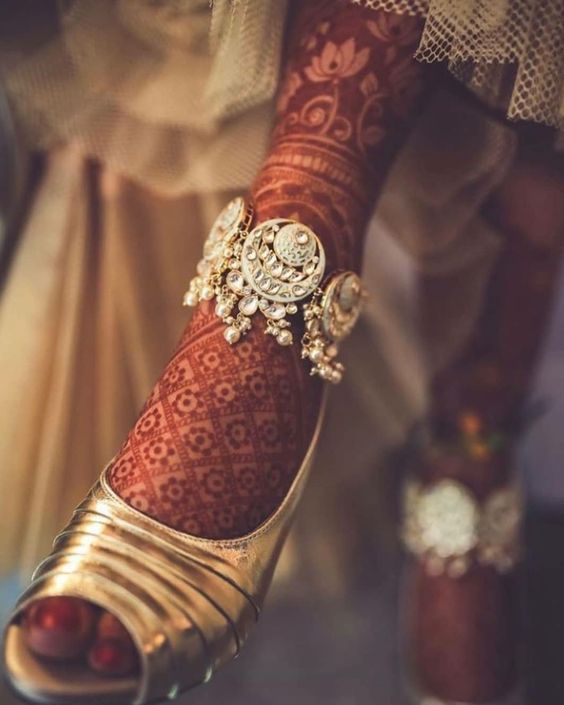 The design is mounted in the central part, which is gorgeously decorated by floral design, traditionally combined with traditional lotus flowers. The combination of light and dark shadow gives this mehndi an artistic look.
Quick & Beautiful Ankle Design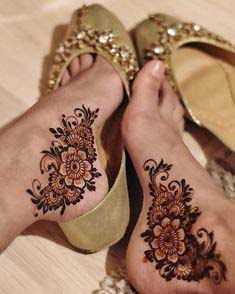 Do you want something that looks quick and beautiful? So you can tell your friends about this design. Mehndi with beautiful floral design and traditional mango design is very easy and simple. This is the most brilliant mehndi design going from Paro to thumbs.
Like A Pro Design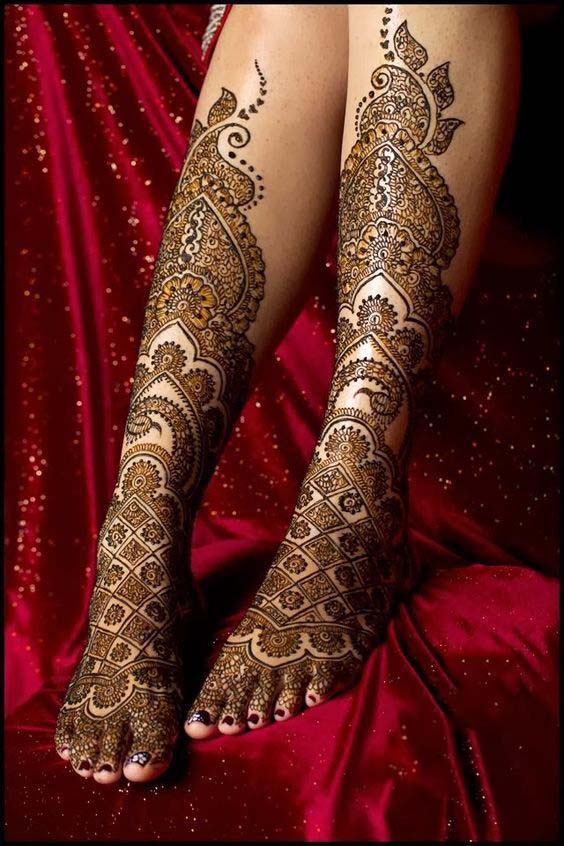 This Arabic mehndi design is beautifully designed, like a pro. Different patterns of flowers and leaves are the speciality of this beautiful mehndi art. So I suggest to all of you ladies that you can choose this design according to your nature without losing time.
Read Also: Arabic Mehndi Design for Back Hand
Fashionable Design- Hands & Legs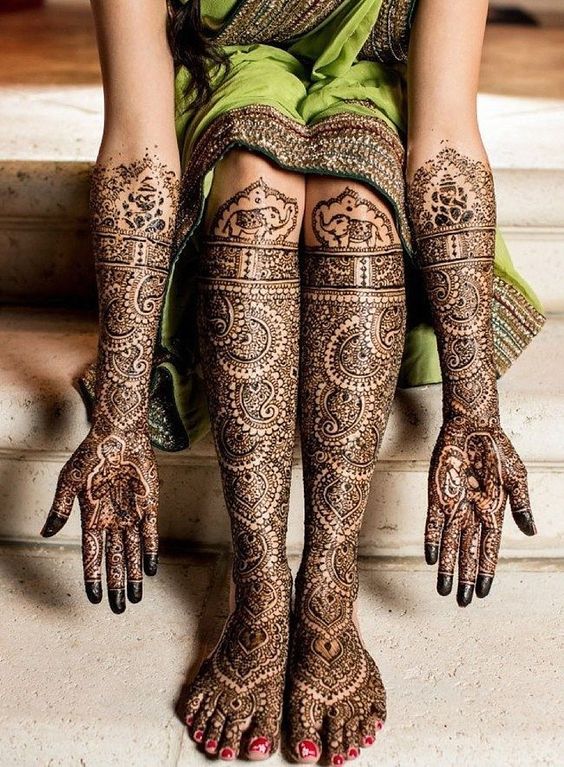 Are you interested in this fashionable design? This design is a ready-made design in a few minutes and if we talk about it, we can see the design of beautiful sunflower among mango leaves. This Arabic mehndi with finger curved design works to provide a traditional look.
Western design mehndi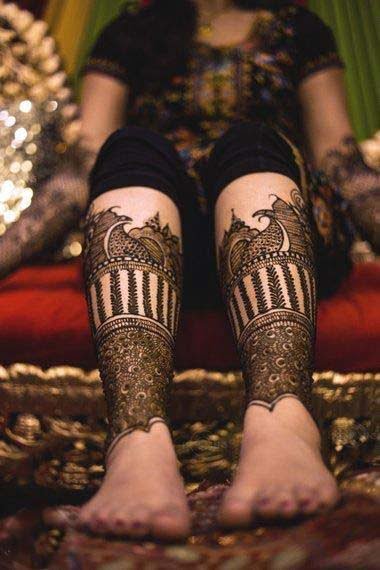 Are you the kind of bride who likes to have a Western design mehndi on her feet? So once you look at this design, it is full of colourful flowers and fabulous designs. Dark shades make this design even more attractive. Make your wedding evening even more dazzling with this mehndi design for bride.
Criss-cross mehndi design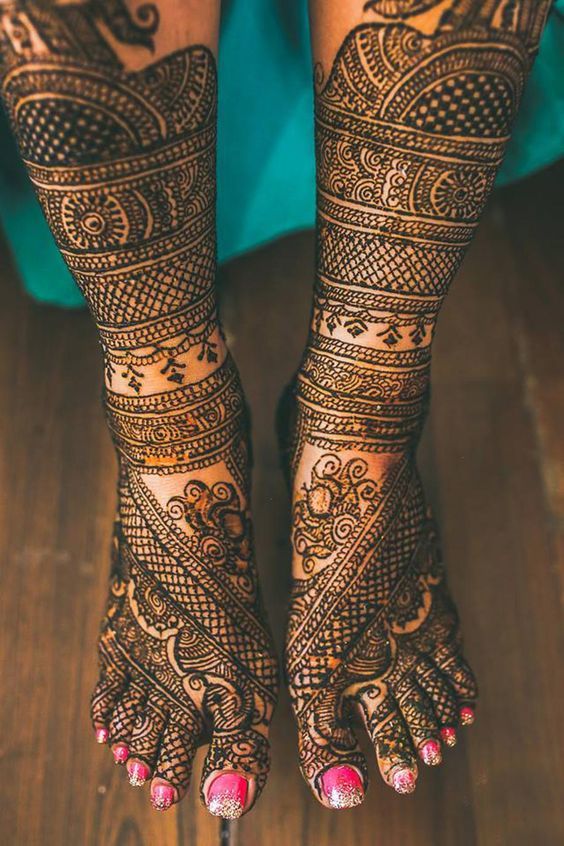 So let's see this fabulous criss-cross mehndi design. The net design mehndi design looks awesome. This central design mehndi is seen moving towards the left and fingers. In this we also see a light hanging design. Did you like it?
Bohemian design
Let's see this one of unique bohemian ankle mehndi designs. The design starts with the bracelet and then we get to see the fan floral design with a brilliant mesh inside. The design of the fingers attracts all our eyes. Its design with shades ranging from dark colours to light shades makes this mehndi different. If you like mehndi with a full design then you can include this design in your choice.
Peacock Mehndi Design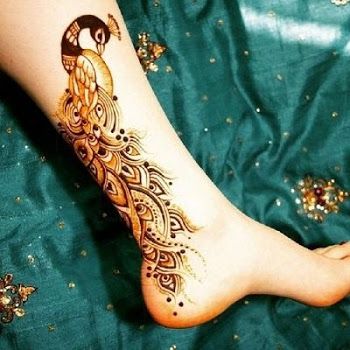 Are you looking for a similar mehndi? So you must see this design once, in which the design of Peacock, dice design, lotus shape and thin leaves are seen. Its design is found from the middle legs to the thumb. In the middle of it, we also see the hanging feather design.
Mandala & Motifs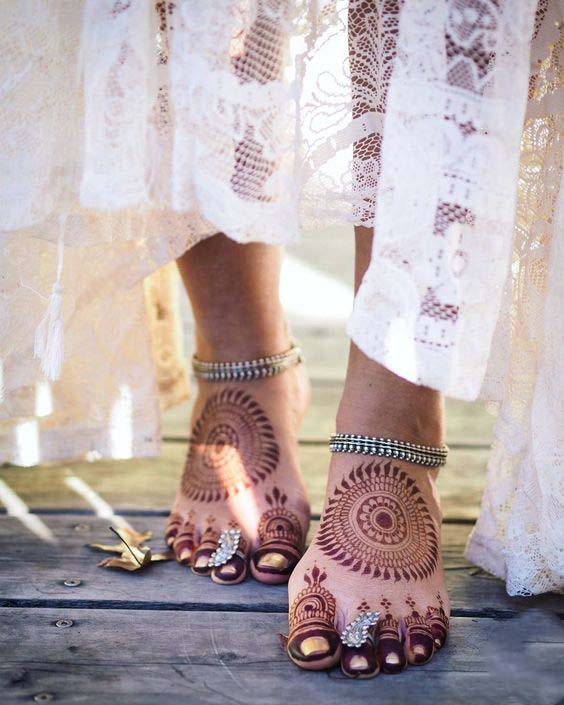 This design takes only 10 minutes to make. If you do not believe, then bet on me, you should get ready with your cone quickly and start with the simple design of flowers and mandalas. Make the small part of the foot a matte dots design that looks gorgeous with your fingers.
Traditional Elephant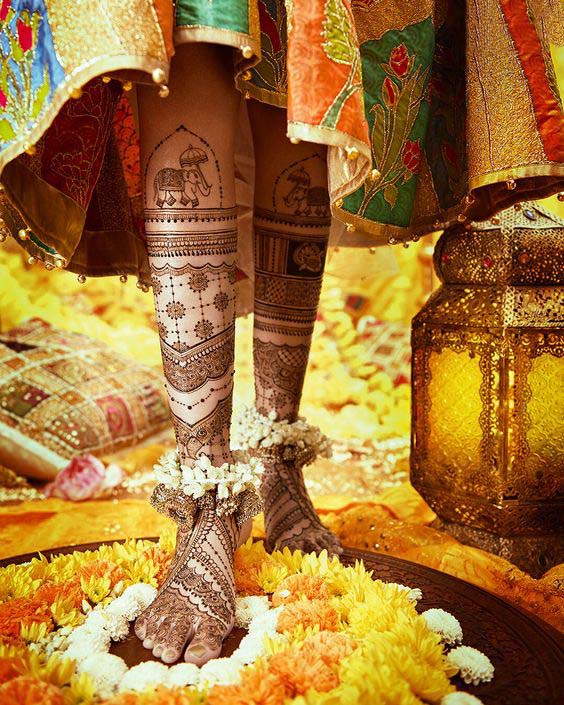 Make your wedding ceremony colourful with more flower designs. This mehndi design adds beauty to your feet. In this mehndi design, we see dark colours in the centre of the leaves and deep outlines around the mehndi which looks very attractive. This design starts from the top of the leg to the ankle and goes up to the thumb. If you like the design of flowers then you can go with this design.
The Arabic Side Ankle Pattern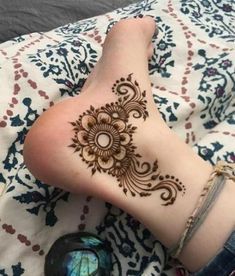 Put your inner artist in the art of your feet. Let me explain, the design of the leaves of flowers and the exterior of the mango is the typical pattern of any Arabic design. Make your design even more attractive with the structure of hanging dots and your design is all set. You can give this design a new face with your methods and thinking. But take care that you cut only a small part of the edge of the cone.
Flowers with minor Refinements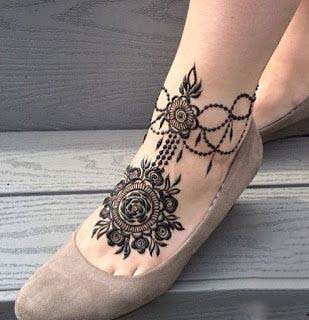 Do you want something that will make your white skin even brighter? So this traditional design is perfect for you. With a thick section of your cone, create a flower on your feet. Then start drawing the shape of roses as shown in the picture. Design the inside of these flowers with minor refinements. Starting from the top of your design, move it to the last line and make the pattern matching your design on your fingertips.
The Parted Flowing Pattern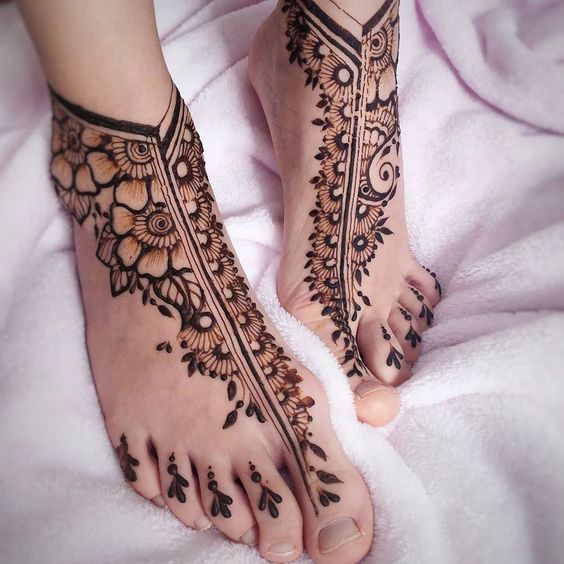 Looking at this design, the only thing that came to your mind is that it is fantastic. So get ready with your henna cone quickly and make this simple Arabic mehndi design on your hands. The speciality of this design is its wild leaf design and flowing pattern. You can design this mehndi according to your nature and creative mind or jus add some bail mehndi design on it.
Enchanting Leafy - Floral design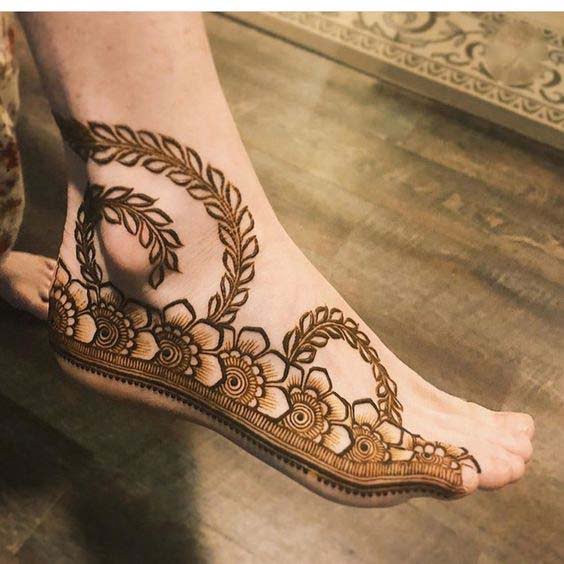 Let us see this wonderful design. This enchanting design is found with attractive leafy design and beautiful structure of flowers. In this, we see the use of thick Hena in the right amount. And finally, we see deep hanging designs which are also considered as its speciality.
Unique Ankle Design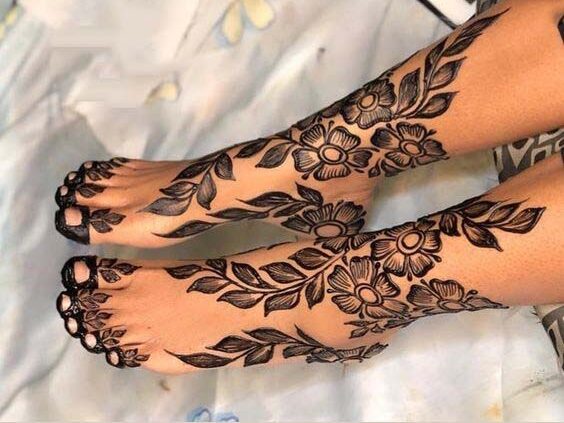 Are you searching for a unique design, then this design is specially made for you. In this design, we see beautiful floral designs from the top of the foot to the toe. Some places have been kept vacant which reflect its beauty. On the fingers, we see the design of beautiful curved design. You can apply this design at any time.
Half mandala shaded design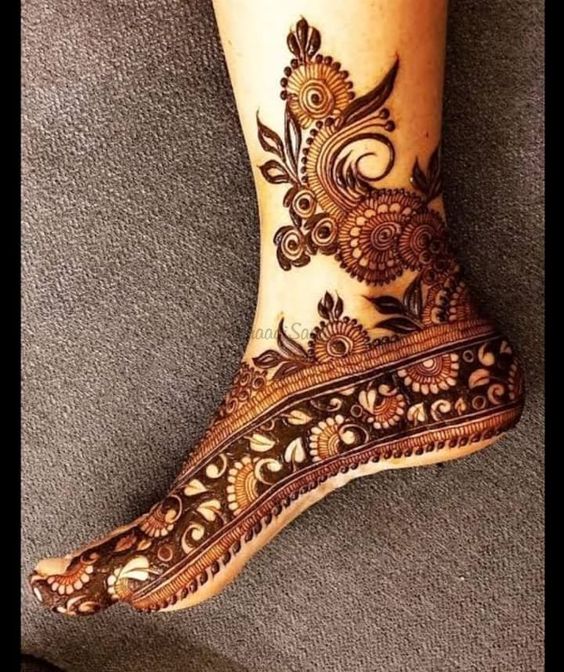 We finally got to see the half mandala shaded design. In this design, we see 3 large circular designs which are attached to the thumb on the side of the thumb. The inside of these designs is filled with beautiful patterns. With the hanging design, you can give a great finish to your mehndi.
The Modern Style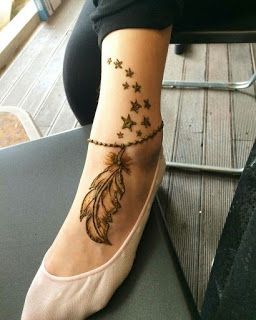 So finally we have found something that matches your western outfits. So let's get ready with our cones and remember to cut a little on the face of your cone so that the mehndi comes out from the cone. Now make stars and feathers designs in this mehndi with your creative arts. You will look beautiful from top to bottom with this mehndi dgn.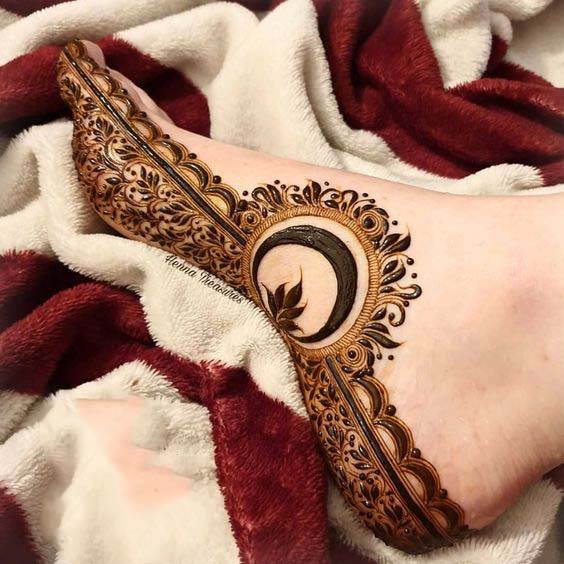 Get ready with your cone and start making some leaves half round & dotted creations. Make this mehndi dezine from on the side of your foot to the thumb. After removing the henna, do not forget to apply coconut oil on it, which will make your mehndi thicker.
Beautiful Malabar Traditional Design
This beautiful Malabar design is a beautiful example of India Traditional mehndi design. In this, the design of shaded lotus flowers big and deep outlines are created gracefully. In the upper part of the wrist, we see the beautiful shades of the lotus bracelet which is further connected with the leafy design. You can give a beautiful touch with the hanging design in this mehndi.
Hopefully, the articleAnkle Mehndi Designslisted above will make your experience easier. For any query simply comment on the comment box.