World Is Watching: IPS Officer Shares Ambulance Receipt for Rs 10,000 for 4km in Delhi
The controversial social media post focuses attention on emergency services in the national capital, where an ambulance service paid Rs 10,000 for a 4km ride to transport vital Covid patients to healthcare facilities.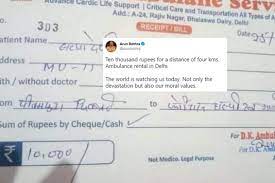 Ambulance facilities and emergency equipment are in short supply amid the growing crisis, contributing to the woes. At a time when the world is seeing an unprecedented number of deaths and people are urgently trying to save their loved ones who have been infected by the epidemic, some people are profiting from the crisis.
Although frontline staff such as physicians and nurses have gone above and beyond to assist the people during these trying times, the pandemic has also seen a number of those take advantage of the situation where emergency centers are overburdened and states are seeing severe shortages of emergency services and medical supplies.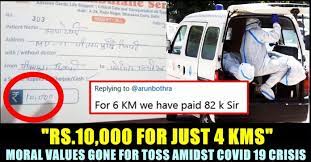 On April 28, IPS officer Arun Bothra posted a receipt from DK Ambulance Service for Rs 10,000 for transferring a patient from Pitampura to Fortis Hospital, a 4km distance. World is watching our moral values he added.
Arun Bothra's tweet has been retweeted over 19,000 times and liked over 61,000 times. On social media, the tweet went viral, and several people agreed with him. Many other reports of medical facility providers reportedly looting people at these research hours were also shared by internet users.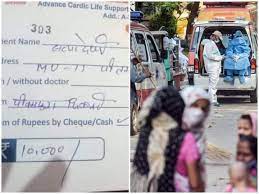 People are now requesting that the Delhi government limit the per-kilometer cost that ambulances will charge, as Rajasthan and Chhattisgarh have done. According to reports, the cost for larger ambulances in Rajasthan has been set at Rs 17.50 per kilometer. Normally, the cost of an ambulance ride in Delhi is Rs 500 for the first 5 kilometers and then Rs 50-60 per km after that.
Moral ideals seem to be dead and buried when people are in pain.