The Story Of A Lady Who Defied The Societal Norms To Follow Her Heart- Supriti Garg
You have to be burning with an idea, or a problem, or a wrong that you want to right. If youre not passionate enough from the start, youll never stick it out. Steve Jobs
With the same thought, we have brought an inspiring story of a passionate, determined and helpful woman, Supriti Garg. She is a woman of creativity and enthusiasm. Supriti Garg is a dedicated, smart & creative person who finds her solace in writing.
Out of the numerous inspiring stories, the crazy tales brings to you an inspirational story of one strong-minded woman, Supriti Garg. Lets see how she is shaping, her dreams and how it can inspire others to follow their heart.
When the crazy tales asked her to give her introduction, she states,I am Supriti, a management graduate from Indian Institute of Foreign Trade, Delhi. Straightalkclub.com is my own personal space where I scribble about parenting, dreams, love, relationships and all the untold emotions that a woman lives through. I have won a few accolades in my blogging journey and 5 years down the line my blog features at Rank 49 in the Top 100 writing blogs in the World. I have also co-authored 3 anthologies and have been creating content for the top brands of India on a regular basis."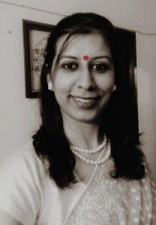 When we questioned her How is she making a change in society?, she said I started my own blog Straight Talk Club; in 2016. I write about the unsaid, unexplored and untold emotions of an Indian woman. I love to drop truth bombs and share unfiltered, unedited versions of a womans life, so that women can cope with the realities of life. At the same time, my writings aim to empower the women to challenge the brutalities and cruelties exhibited towards them which are otherwise normalised by the society since time immemorial. Be it relationship stories, parenting tips, or untold emotions, they all come straight from an Indian mom's heart - my heart and I hope they strike a chord with every woman out there."
During the interview, we questioned her about the support system which made her what she is today? To which she quickly replied, My biggest support system is my family - my parents, husband, in-laws and my sonny boy. I am what I am because of my parents. They gave me the wings to soar high. And the 2 men of my life - my husband and my son are the winds beneath those wings. Their belief in me helps me overcome all the hurdles and the undeterred support encourages me to follow my heart passionately."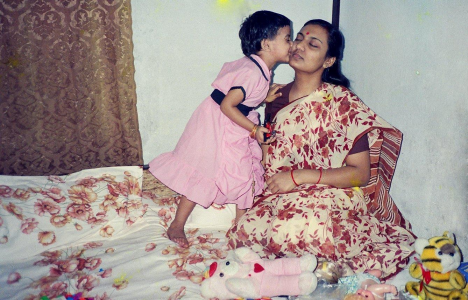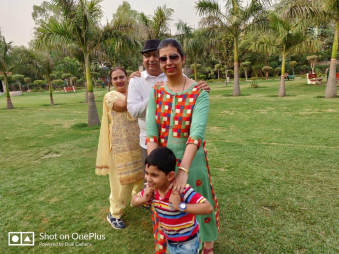 Apart from this, we asked her about her favourite vacation and her favourite food at which her face instatntly beamed.She says, I am always up for a vacation with family. Give me an hours notice and I will pack up my bags and leave. Allmy vacations with family are the best. My family turns any and every place under the sky into a heaven on earth. I love to break off from the shackles of mundane, fast-paced life and escape to far off shores in search of tranquility. A chirpy family in serene surroundings rejuvenates my soul by pumping new energies into me.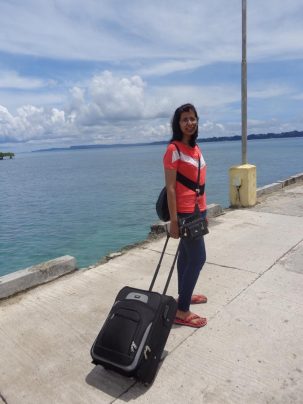 With tongue in her cheek she continues, Well, even food gives me those energies but recently I have adopted a healthy and mindful lifestyle. It has made me realise that we Eat to live and not Live to eat."
We asked her if she had any crazy or influential incident which brought a change in her life & would like to share with The Crazy Tales? She replied, I will just give a backdrop for this. I had always been an academically oriented girl who loved to pen down her feelings in a diary or on the last page of notebooks. Most of them remained buried in some dark corners and some even went away with the rag pickers, because I never found them worthy of sharing with anyone. I did everything the society considered to be successful, B.Tech+MBA and a good 7 digit package. But my life came to a screeching halt when health issues during pregnancy didnt allow me to continue with my job."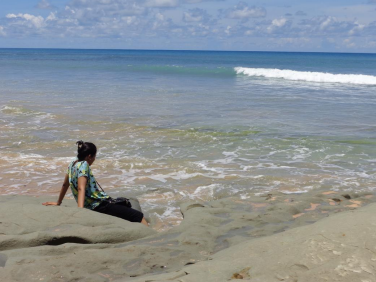 "Postpartum depression hit me real hard. I lost my financial independence. My life was devastated and I felt like a complete failure. But today I thank God for bringing this turning point in my life because it gave me an opportunity, to think and reflect on my own life. It rekindled my long lost passion for writing. For the first time, I listened to my heart, picked up my pen and started sharing my feelings with the world out there. New mommies resonated with my words and it reignited the passion for writing. It not just made me emotionally stronger but also made me realise the power of my words. Since then, I have been writing for a purpose and there has been no looking back. Day after day, year after year I have been writing and creating content and needless to say, I am enjoying every bit of this journey."
How do you like the story of Supriti Garg? Do let us know in the comments below. Give us a review of this story and do subscribe to us for more stories. Also, share this post with your friends on social media.