The best places to visit in Delhi
Are you looking forward to visiting Delhi? This is the ideal mini-guide that has all of the information on the sites that you must see during your vacation. Take a look at these top tourist attractions in Delhi to learn more about them before deciding which ones to visit in the capital city!
Delhi Meri Jaan! This sentence is so much in itself that everyone feels the warmth and familiarity. Delhi can be India's capital by becoming the capital city and home to decades of heritage. Some several sights and locations highlight the long years of reign and what are now significant historic sites. Delhi offers it everything, from tombs to forts to historic cities and markets. We've also included some more details on each item to provide you with more information.
So, instead of deciding where to go, which site to visit, and how to make your dull weekends entertaining, here is a list of locations that you and your friends don't have to plan while waiting at the metro station.
The first spot that springs to mind is India Gate, Delhi Ki Shaan.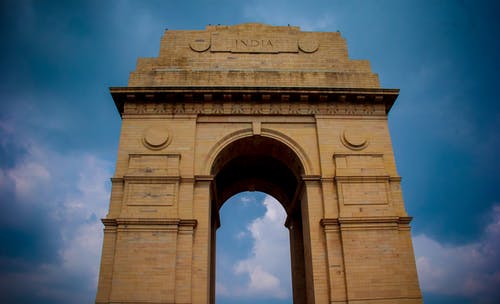 The chilly nights of Delhi and a bunch of companions, ice cream in hand, and long walks are what we yearn for these days.
The India Gate Parade, also known as the Republic Day Parade, is the most serious and important event annually in front of India Gate. India commemorates the day it became a republic every year on January 26th, with the honorable attendance of several national and distinguished visitors. It feels fantastic to be near India Gate, with all the sprint races, filling our mouth with Paan, playing with bubble balloons and taking photographs, and many more activities that will bring back memories of your childhood.
The next location is Hauz Khas, which is everyone's favorite.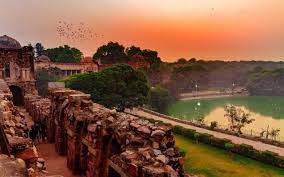 The small rooms in the fort which is surrounded by the big lot park make you wonder about the history of it. The darkness surely resembles that Hauz Khas witnessed diplomatic missions from Albania, Iraq, Guinea, Burundi, Macedonia, and other countries. Hauz Khas is a lovely neighborhood in South Delhi and one of the city's most popular tourist destinations. The historically significant Hauz Khaz Complex is believed to be the beating heart of Hauz Khas. It is also known as mehak ka Chota quila and has a rural and urban feel. Green Park to the west and Gulmohar Park to the north surround the spot.
Now proceed to the tomb of Humayun, the ideal location for taking historical photographs.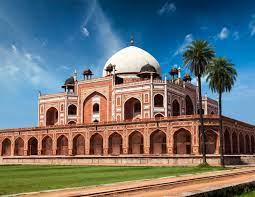 The Humayun's Tomb, also known as Maqbera e Humayun, is a prominent historical landmark in India and one of the top locations to visit in north Delhi. It is Humayun's mausoleum, the famed Mughal emperor of India. It was commissioned in 1569-70 by Humayun's first wife, Empress Bega Begum, who was also the principal consort. The tomb's design was conceived in the mind of Mirak Mirza Ghiyas, a Persian architect who had been summoned by Bega Begum herself. The tomb is recognized as the first garden tomb uncovered on the Indian subcontinent, and it is located near the Dina-Panah citadel in Nizamuddin East, Delhi. It is renowned as one of the nicest locations to visit in Delhi during the summer because it has a walled garden.
Qutub Minar, the earliest historic site that we can all recall, has now been added to the list.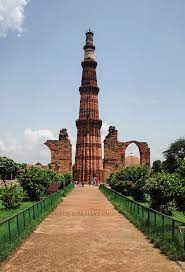 Qutub Minar, Delhi, is a significant, protected monument in India that is regarded to be a highly important historical attraction that exists now in India. It is a part of the Qutub Complex, which is a UNESCO World Heritage Site and one of the most popular tourist attractions in north Delhi. The building is located in Delhi's Mehrauli neighborhood. The quickest way to get to the remarkable architectural brilliance is to take the Qutub Minar Metro Station, which is around 3 kilometers away. You may also purchase a Delhi tour package because the city's great past is still being unearthed.
The Red Fort, which is seen as a memorial to independence warriors, is another addition to the list.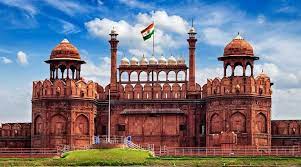 A medieval fort in Delhi, Red Fort, is a spectacular architectural splendor that served as the royal palace of the Mughal rulers for more than 200 years. Until 1857, the Mughal family resided there. The fort is a golden feather in Delhi's crown, and it houses various museums. Though it was the Mughal emperors' residence, it was also the Mughal state's political and cultural Centre, and it was the site of many historic events. It is the ideal spot to visit in Old Delhi since it is seen as a symbol of India's battle for independence.
The Akshardham Temple is regarded as a religious and magnificent work of art.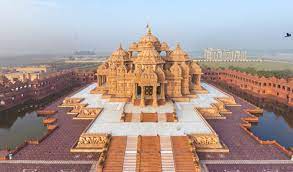 Akshardham Temple, also known as the Swaminarayan Akshardham Complex, is one of the most well-known temples in Delhi. It is a religious and cultural campus in Delhi, as well as one of the most popular locations to visit in east Delhi. The ancient Indian and Indian culture, faith, and architecture are on display in this compound. Tourists from all around the world will visit the temple to learn about India's mystic history. Dr. APJ Abdul Kalam inaugurated the shrine in 2005. It is one of the most sacred spots in Delhi to visit with your family.
The Lotus Temple is considered to be the most auspicious and peaceful location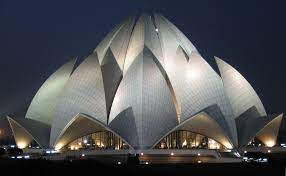 The Lotus Temple is a well-known tourist attraction in Delhi and a notable Indian icon that has drawn visitors from all over the world due to its structure and elegance. The temple's construction was completed in 1986. It looks like a lotus flower, but it's made of white. The Lotus Temple is available to everyone, regardless of caste or geography. The building is made up of 27 free-standing marble-coated petals that are arranged in three-petal clusters to form nine sides. If you just have one day in Delhi, the Lotus Temple is one of the greatest sites to go.
Waste to Wonder Park has been included in the list because it is one of the world's wonders and is unquestionably a masterpiece.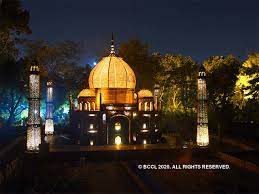 Pipes, copper sheets, scrap angles, and several other waste materials are used to build the Statue of Liberty, the Eiffel Tower, the Colosseum, and India's Taj Mahal, among other wonders. The park, which was designed to preserve the environment in mind, also employs solar and wind energy for nighttime illumination. Take advantage of the surreal environment and prepare your cameras for some captivating photos.
The Jantar Manter has undoubtedly witnessed several historical movements (Andolan).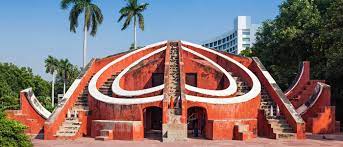 Among the five great Jantar Mantar built by Maharaja Jai Singh II of Jaipur, the one in Delhi enjoys a reputation comparable to that of the one in Jaipur. There are 13 architectural astronomy instruments in Delhi Jantar Mantar. It was built to assemble astronomical tables and anticipate the movement and timings of the sun, moon, and planets, and it is one of the most frequented tourist attractions in Delhi during the summer. The Observatory is located on Parliament Street in New Delhi, south of Connaught Circus, and has masonry-built astronomy equipment.
Jama Masjid is a spiritual location and one of the greatest places to listen to Sufi religious songs.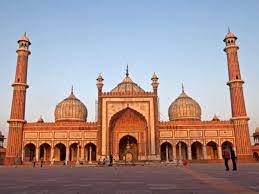 The inhabitants of Delhi hold the Masjid-i Jahan Numa in high regard and refer to it affectionately as the Jama Masjid of Delhi. It was erected between 1644 and 1656 by Mughal Emperor Shah Jahan and is one of India's biggest mosques. The mosque's construction cost roughly 1 million rupees at the time. The structure was inaugurated by an Imam from Bukhara when it was completed. Three massive gates and four towers guard the mosque. There are also two 40-meter-tall minarets made of red sandstone and marble tile.
Chandni Chowk, with its tiny alleyways, food, and wedding attire all in one spot, has been added to the list.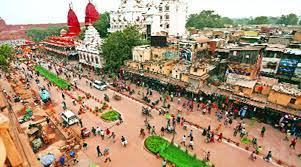 The Chandni Chowk, one of Delhi's oldest and biggest marketplaces, is known in English as Moonlight Square. This lively market, which sells everything from A to Z at the greatest prices, is a significant attraction in India. The ideal time to visit Delhi is from October to March if you want to go shopping in Chandni Chowk. One of the great sites to see in north Delhi is the Red Fort, which is part of the square. The memorial was compiled by the then Mughal emperor Shah Jahan in the 17th century, and its design was done by his daughter Jahanara.
Rashtrapati Bhawan, The Presidents house

The Rashtrapathi Bhavan in Delhi, originally known as the Viceroy's House. Officially, it is the residence of India's President. It is located on Rajpath's western end. The president's official residence, halls, guest rooms, and offices are all housed in the mansion or main structure. The majority of the 130-hectare President Estate is made up of massive gardens known as the Mughal Gardens, big open areas, housing for office employees and bodyguards, stables, and other structures.
The Delhi Durbar, which took place in December 1911, resolved to construct a home for the British Viceroy in New Delhi.
Sarojini Nagar Market, a place where youll find branded clothing at a cheap price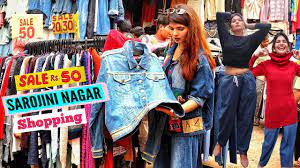 Sarojini Nagar is a well-known South West Delhi neighborhood and an unusual shopping destination where you may acquire hundreds of products for your pocket money. It is quite close to Safdarjung Airport and was previously known as Vinay Nagarand before being renamed, Sarojini Nagar. This is one of Delhi's most bustling markets for clothing, accessories, shoes, and textiles, among other things.
Even branded products will be sold at lower prices in the street-side stores. Garments of any color, size, and shape would be accessible here, but your negotiating power would be questioned.
In the short lane of Paranthe Wali Gali, you'll find a variety of paranthe.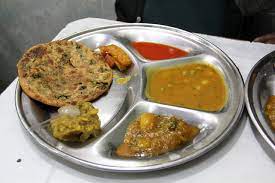 Paranthe Wali Gali is a tapering street in the Chandni Chowk region famed for its successive stores positioned one after the other selling paratha, a traditional Indian unleavened thin bread. The cuisine sold in Paranthe Wali Gali is purely vegetarian and is served in an old-fashioned vintage way with no onion or garlic.
This is because the shop's owner is a Brahmin, and the area has a large Jain population. Mix paratha, khoya parantha, rabri parantha, and parat parantha are among the items on the menu.
The Gurudwara Bangla Sahib is a place to achieve inner serenity.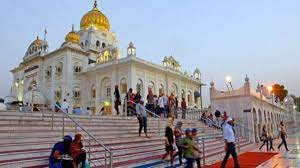 Gurudwara Bangla Sahib in Delhi is a well-known Sikh Gurudwara in India, noted for its connection to Guru Har Kishan, the eighth Sikh Guru. It began as a place of prayer for Sikhs, but it has now evolved into a major pilgrimage and tourist destination in Delhi. Sarovar is the name of a magnificent pool that is located within the complex. In 1783, Sikh General Sardar Bhagel Singh, who was directing the construction of nine other Sikh temples in Delhi at the time, built it as a minor temple.
The golden dome and towering flagpole of Gurudwara Bangla Sahib, which is located opposite Connaught Palace on Baba Kharak Singh Marg, make it visible from afar.
Connaught Place, nowhere to go so let's head to CP.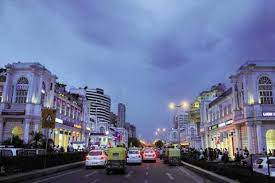 Connaught Place in Delhi, India's major financial, commercial, and economic district, has seen the creation of numerous businesses, marketplaces, buildings, hotels, and notable structures. You may discover amazing homestays in Delhi near Connaught Place if you want comfy rooms and beds, tasty meals, and contemporary and required utilities. It is known as CP and serves as the headquarters of numerous Indian companies. It is also one of Delhi's most popular tourist destinations.
Prince Arthur, the first Duke of Connaught and Strathearn, was the inspiration for the name. Its construction began in 1929 and was completed in 1933. It also houses the Rajiv Chowk metro station.
Lodhi Gardens, A wide range of Park where you shoot your TVCs, Photoshoots with historical essence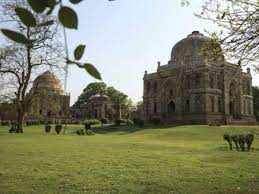 Lodhi Garden, a beautiful park that includes various architectural masterpieces from the 15th century, is a favorite decoration on the body of the city of Delhi. The garden was built during the period of the Lodhi dynasty, and it is situated between Khan Market and Safdarjung mausoleum. Mohammed Sha's Tomb, Sikandar Lodi's Tomb, Shisha Gumbad's Tomb, and Bara Gumbad's Tomb are all located inside the park. It is one of the nicest spots in north Delhi and is regarded as a particular area of preservation since it protects the remaining footprints of Sayyid monarchs.
Sayyidis and Lodhis were in charge of the park's architecture. The Yamuna River and the Tomb of Sikandar Lodi are connected by a historic watercourse.
Lajpat Nagar is a great place to try street food, explore ancient buildings, and shop for clothing and textiles.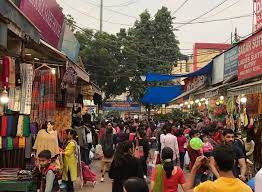 Lajpat Nagar is a residential and business area in the South Delhi district named after Lala Lajpat Rai, well known as the Lion of Punjab to Indians. Because of the enormous assortment of different things at incomparable prices, Lajpat Nagar Central Market gets a lot of people's attention right now. Lajpat Nagar is split into four sections: Lajpat Nagar 1, 2, 3, and 4, which contain housing complexes such as Amar Colony, Dayanand Colony, Double Storey, National Park, and Vikram Vihar. It is the greatest area to shop in Delhi. It is one of the top destinations in Delhi to see in a single day.
People flock to Lajpat Nagar's central market to buy textiles and other items.
Khan Market, costliest retail one in India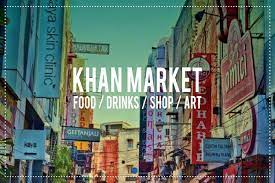 Khan Market, named after Khan Abdul Jabbar Khan, is an ancient market in Delhi that opened in 1951. The market was named India's most expensive retail bazaar. According to real estate company Cushman & Wakefield, it is also the most expensive retail high street in the world. It is a U-shaped, two-story market complex with 154 stores and 74 apartments. Sujan Singh Park, located near the market, is thought to be Delhi's first apartment development.
It was constructed in 1945. The first-floor apartments in the complex remained houses until the 1980s, while the middle lane was home to neighborhood grocery stores and middle-class retailers. Later, the real estate boom and the growing number of families made it possible.
Paharganj, one of Delhi's five principal marketplaces, and the only one outside the city's walls.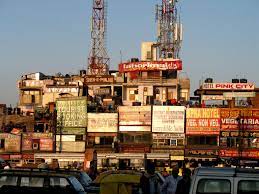 Paharganj is another well-known Central Delhi neighborhood. It is situated to the west of New Delhi Railway Station. It was called Shahganj or King's Ganj or Market Place during the Mughal Empire. Paharganj is one of the Central Delhi district's three administrative subdivisions. It promotes a diverse range of hotels, lodges, restaurants, dhabas, and stores. A large number of visitors from both domestic and foreign areas come here to spend time with the locals and to shop for bargains.