Simple Mehndi Designs For Feet
Many women apply mehndi not only in hands but also feet. Mehndi is designed on beautiful hands as much as it adorns the legs. So let us show you some of the Simple Mehndi Designs for Feet. In India, not only married women but, girls also love applying mehndi on their hands. Mehndi is now not just a part of the tradition it also applied for different looks. But here we are tellingsimple mehndi designs for feetwhich can make your look very unique and classy too.
Major Types of Mehndi Motifs
Mehndi has been the most traditional part of Indian ceremonies for a long time. Mehndi comes in various colour forms, such as red, green, dark red, black & nowadays, glitter mehndi have also been on the trail.
Indian Mehndi
Western Mehndi
Indo-western Mehndi
Moroccan Mehndi
Indo-Arabic Mehndi
Mughlai Mehndi
Coloured & Glittered Mehndi
How To Apply Mehndi?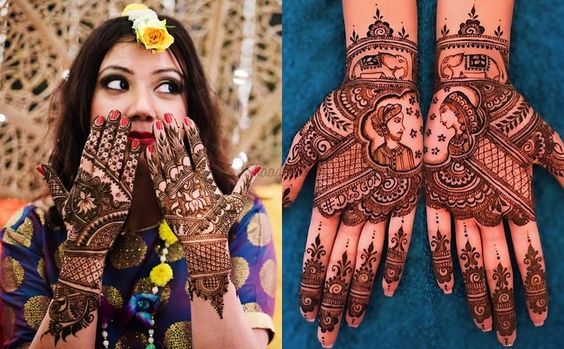 Here well you will learn and know how to apply Mehndi in the right way. Before applying Mehndi, pay attention to these steps:
Mix1 to 3 ml ofhenna oilin 10 gramsof henna powder. Do not use more oil than this quantity. Now your mehndi oil is ready.
Wash hands at least half an hour before applying mehndi. First, wipe your hands with a towel. Then wait until the hands dry entirely.
Do not apply any oil or cream on the palmsand feet before applying mehndi after drying your hands. Therefore, before applying mehndi, your hands and feet should be dry so that the colour of your mehndi remains thick & long-lasting.
Applying essential oil(mehndi oil) before applying henna, as it deepens & long lasts the colour of your mehndi.
If you wish to have a beautiful & dark then you will have to give it a little time. One reason for mehndi not being perfectly long-lasting is that we do not give it the right time. It is essential to be patient while applying mehndi so that the design comes out is classic & perfect.
Choose thebest mehndi designsand apply it accordingly or you can take the help of somebody who is a pro.
Mix lemon and sugar, make a syrup & apply it on your dried mehndi. It will help to deepen the colour of mehndi. Remember to apply a thick layer of this mixture of lemon and sugar on the dried mehndi and this will make the colour of the mehndi dark brown. (For more tips to dark your mehndi click here)
Now its time to give yourself a patience call &leave the mehndi for 8-9 hours. Try to apply mehndi at night.
Tip: After the henna dries up, wrap the foil in your hands. Foil paper not only makes the colour of mehndi darker & think but also it prevents dried mehndi from falling & creating a mess in your room.
Simple Mehndi Designs For Feet
Mehndi is designed on hands to make it look more beautiful as much as it adorns the legs. So let us show you some of the latest simple mehndi designs for feet.
Flower with leaves Simple Mehndi Design
The design is mounted in the central part, which is gorgeously decorated by flower design & leaves, traditionally combined with traditional tiny patterns. The combination of light and dark shadow gives this mehndi an artistic look.
Curved Leaves Bail Simple Mehndi Design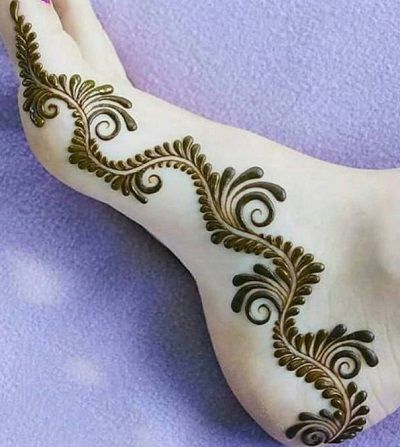 If you like the designs made in half-filled and the shape of the anklet, then look carefully at the mehndi design in this picture. In this type of mehndi design, the side toes are more focused & the rest of the foot has a simple design.
Three Rings Simple Mehndi Design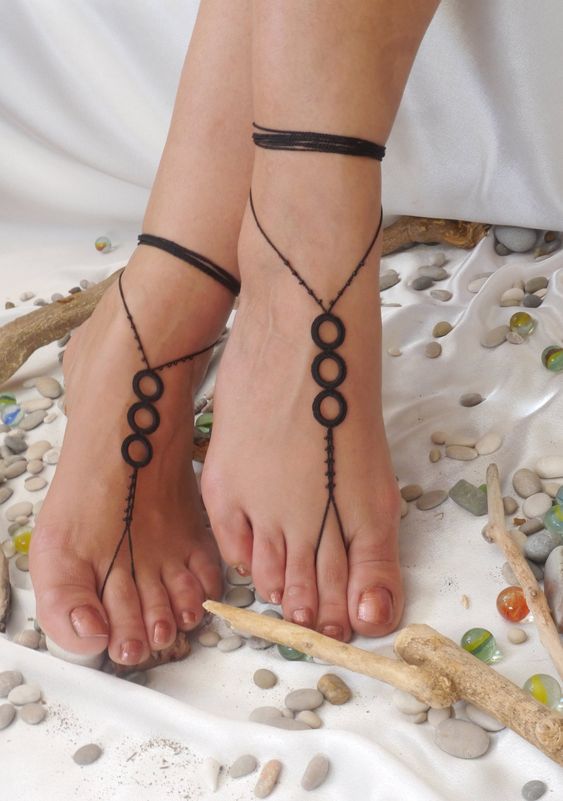 The round anklet is connected with three rings. It is done so beautifully, quick & clear. Its a ready to go simple mehndi feet design.
Leafy Anklet Simple Mehndi Design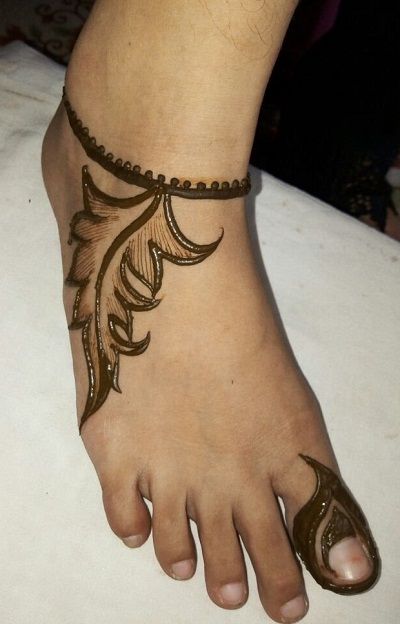 Curved leaves are on the ankle & a toe. Its a beautiful easy & simple ankle mehndi design for those who want it quick & simple.
Combination of Flower with Leaves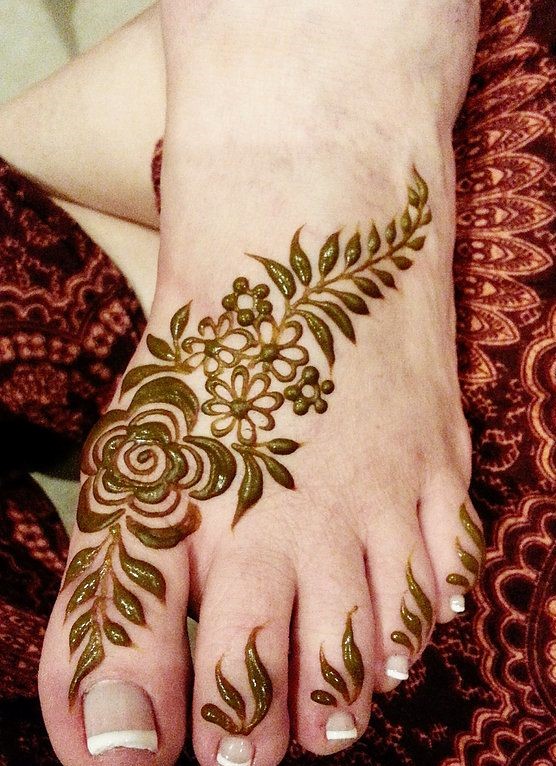 Leaves on the toes & a flower patched from the starting of the thumb look very nice, clear & pretty. This design is quite simple & quick.
Necklace Black Simple Mehndi Design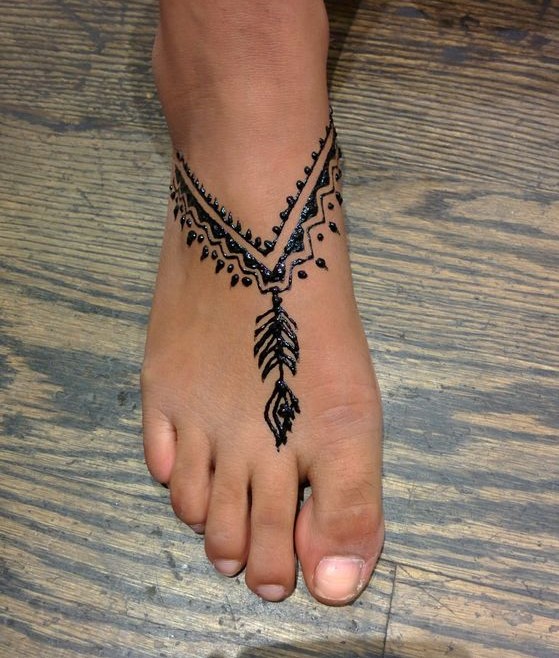 This design is specially made for you ankles. A very creative way of defining mehndi patterns is what this design has.
Center floral Simple Mehndi Design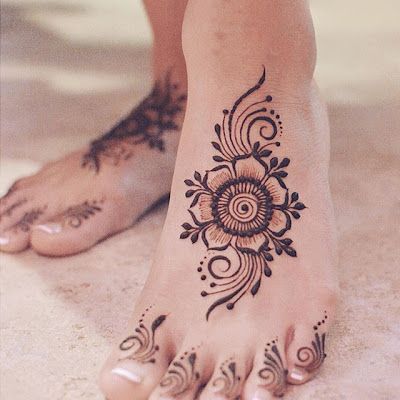 The formation of the pattern appears to be attached to the flower. Small motifs have been, used to decorate the inside & out.
Shaded Leave Simple Mehndi Design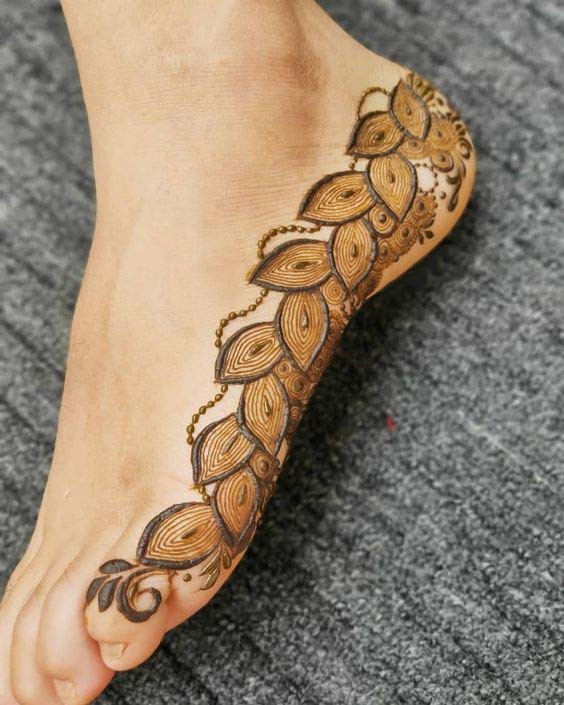 This is a beautiful shaded leaves design that gives you a unique look. The motif is really very quick & simple to make.
Mordern yet Simple Mehndi Design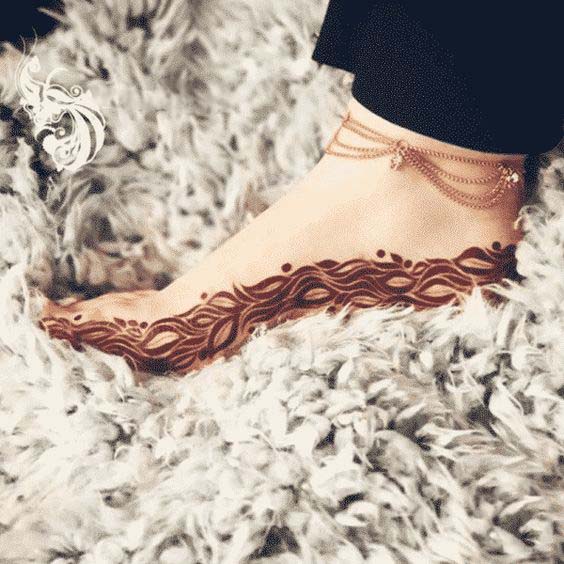 Are you searching for a unique design, then this design is specially made for you. In this design, we see beautiful floral designs starting from the foot to the toe.
Stars & Feathers Simple Mehndi Design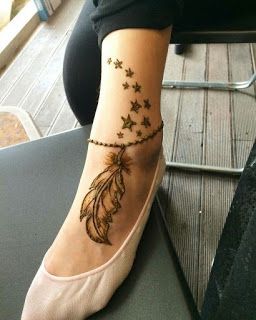 A very modern way of mehndi design it is. Looks cute with bellies and sandals. A perfect fit for western outfits.
Dotted & Leafy Bail Simple Mehndi Design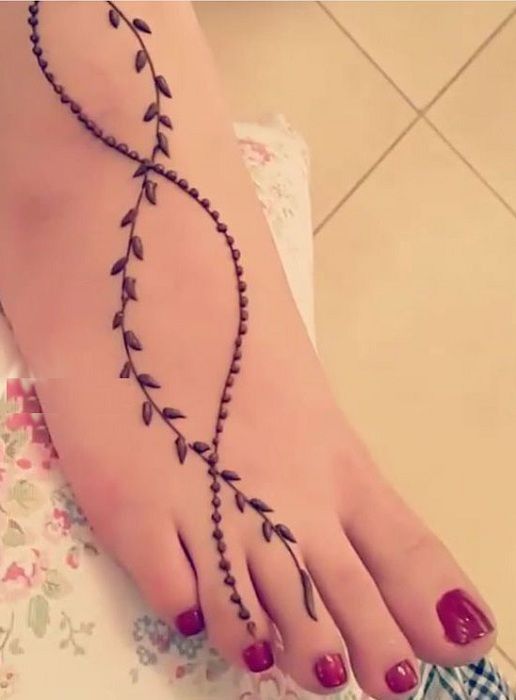 The simplest of all. It is one of the quickest dotted & leafy design in a bail form crossing each other. Very simple & quick mehndi design.
Flower with Bail Simple Mehndi Design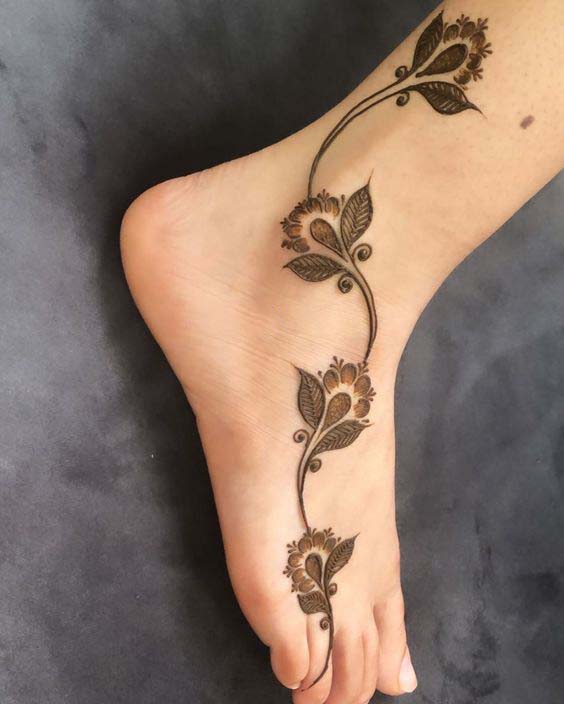 The beautiful flowers creating a patch on the side of the leg looks pretty amazing. Try it easy & wear a glittery heals to complete the look.
Simple Toes Mehndi Design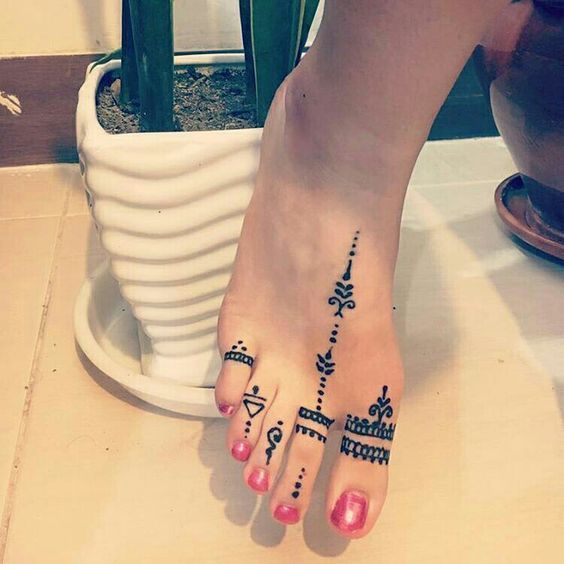 A modern yet simple feet mehndi design is for all the women who want to get a quick modern look.
Simple Mehndi Design For Your Heels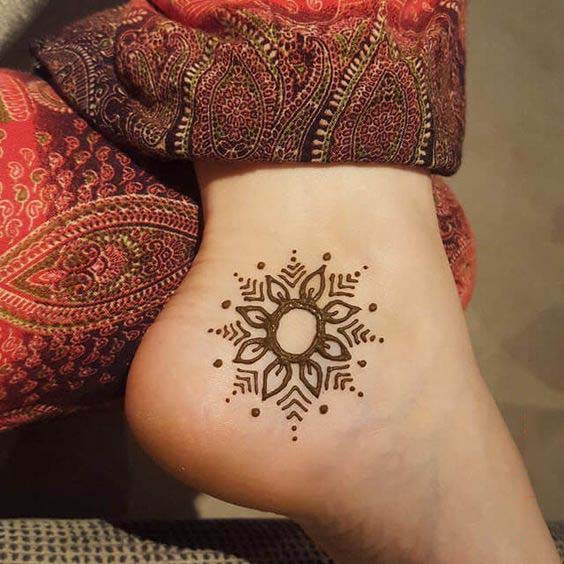 This design is meant to be applied, on the side part of the leg, but you can also make it on the center part of the leg, it will make the whole leg look beautiful.
Mandala Heels Simple Mehndi Design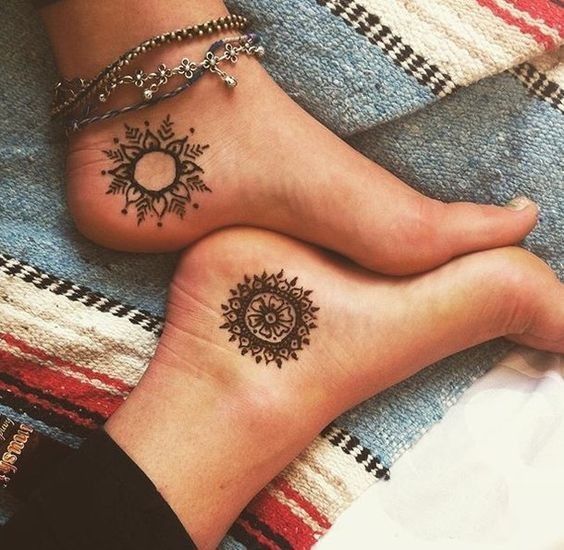 Tell us if this article Simple Mehndi Designs For Feet is helpful or not, you can give suggestions by commenting below. Also, share this share it with your friends on Social media.