Powerful Women Awards 2021 - The Crazy Tales
On the 8th of March 2021, The Crazy Tales, a premiere Content Media Company in Delhi/NCR, came up with the Powerful Women Awards 2021? at the Constitution Club of India. The main motive of the event as mentioned by the founders Manish Mishra and Amrita Kar was to give women honour & recognition, who have done exemplary work on their own. The main focus was to create a platform for them so that by this platform they encourage and empower more women. The Crazy Tales would also design an autobiography, which is the whole life journey of the awardees.
The event was Powered by Cloudnine hospitals, supported by IndianBraveHearts & executed by The Passion Events. All the awardees comprise renowned profiles such as doctors, business leaders, social activists, fashion influencers and more. We also had Fitness 365 days as our associate partner. The opening ceremony started with the lamp lighting with some of the most renowned guests. After this, a cultural programme was performed which mesmerised the event.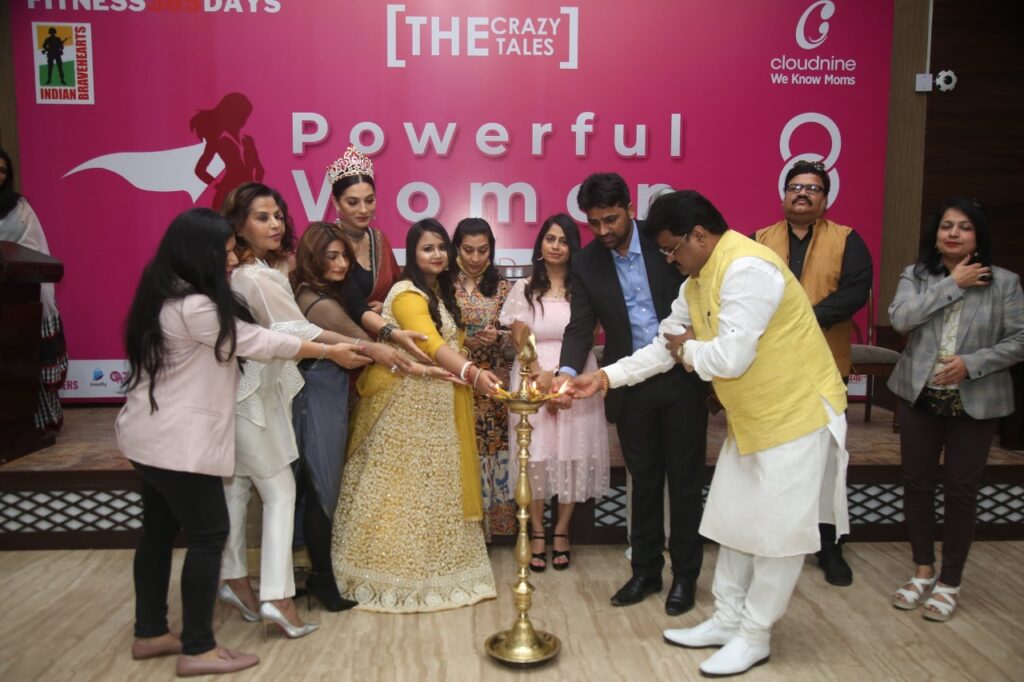 Since it's the 8th of March "The International Women's Day", the event had a power-packed audience. We had Dr Chetna Jain-Senior consultant of Obstetrics & Gynecology, Dr Sanjay Vazir-Director Cloudnine Hospital, Neeru Dawra - Dietician and Sakshi Khattar- founder of Fitness 365 days in the first panel where the discussion was more focused on work-life health and how to keep an equal balance between health & professional life.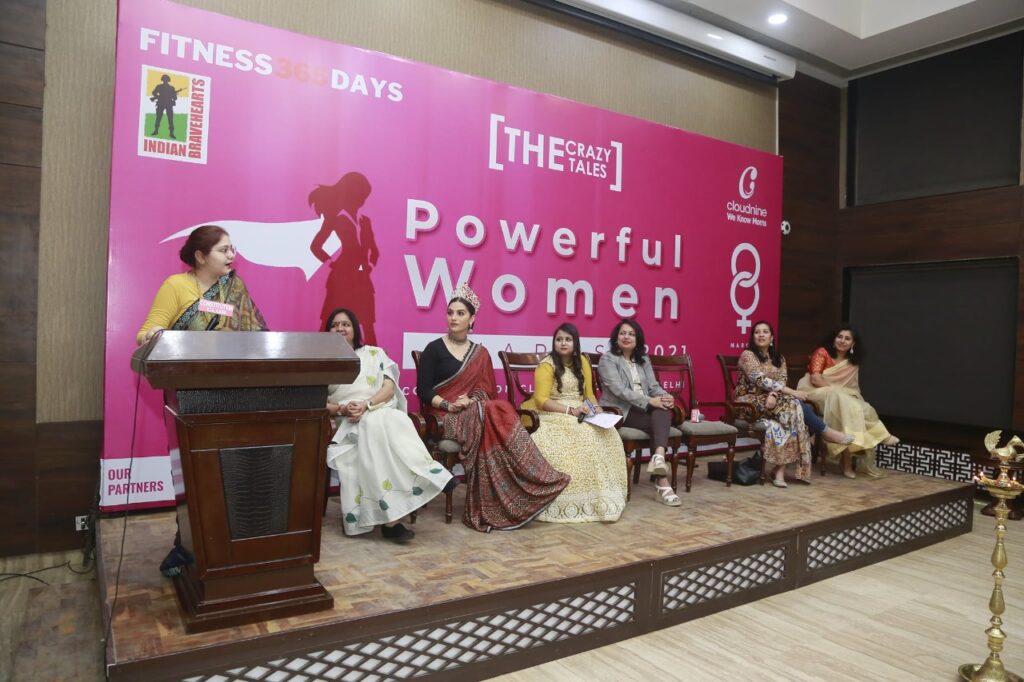 The event was also attended by some prominent & renowned personalities, some among them were Amanpreet Kaur- Joint Commissioner of Income Tax, Mr Vijay Kumar - OSD DSIDC, Jitendra Mani Tripathi- DCP Metro & RJ Divya - Radio City. All these prominent personalities felicitated the awardees from all over India. Jitendra Mani Tripathi- DCP Metro also encouraged women and honoured many awardees during the event.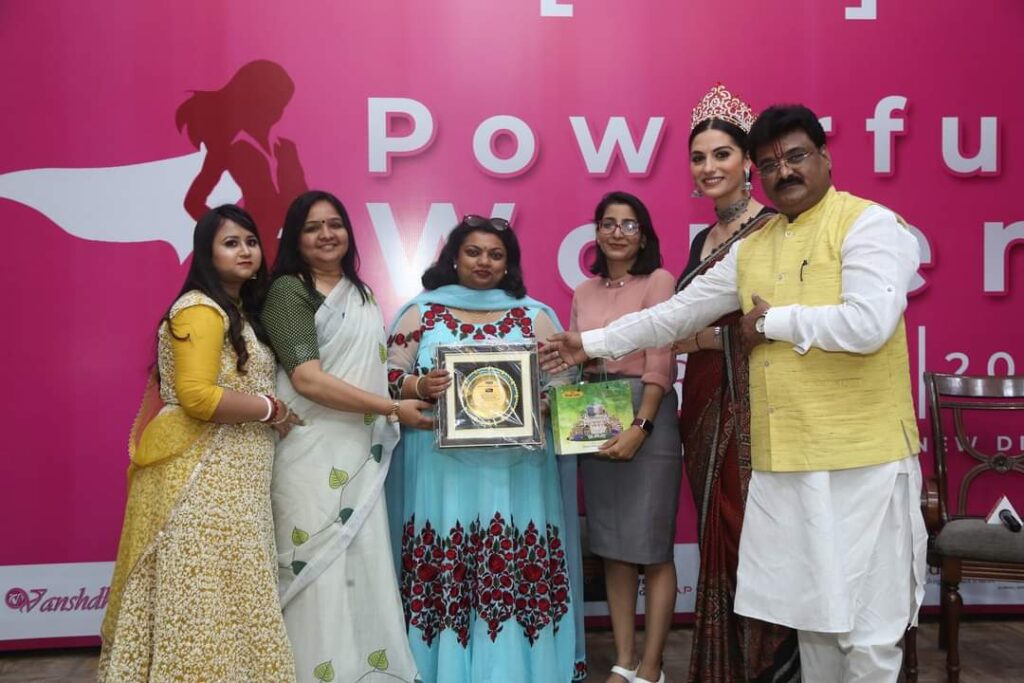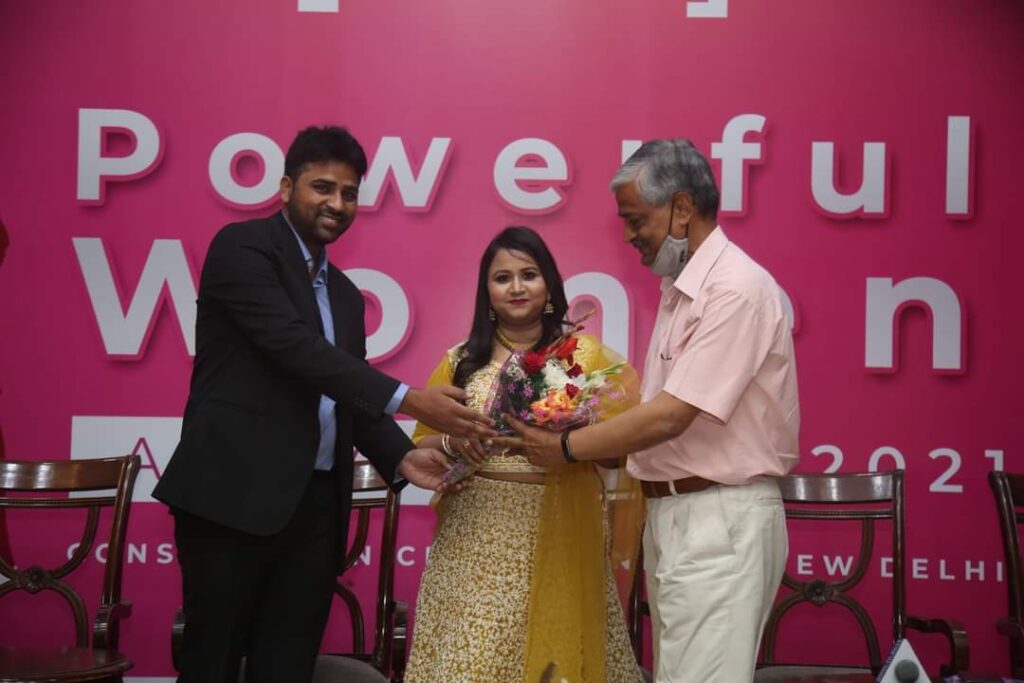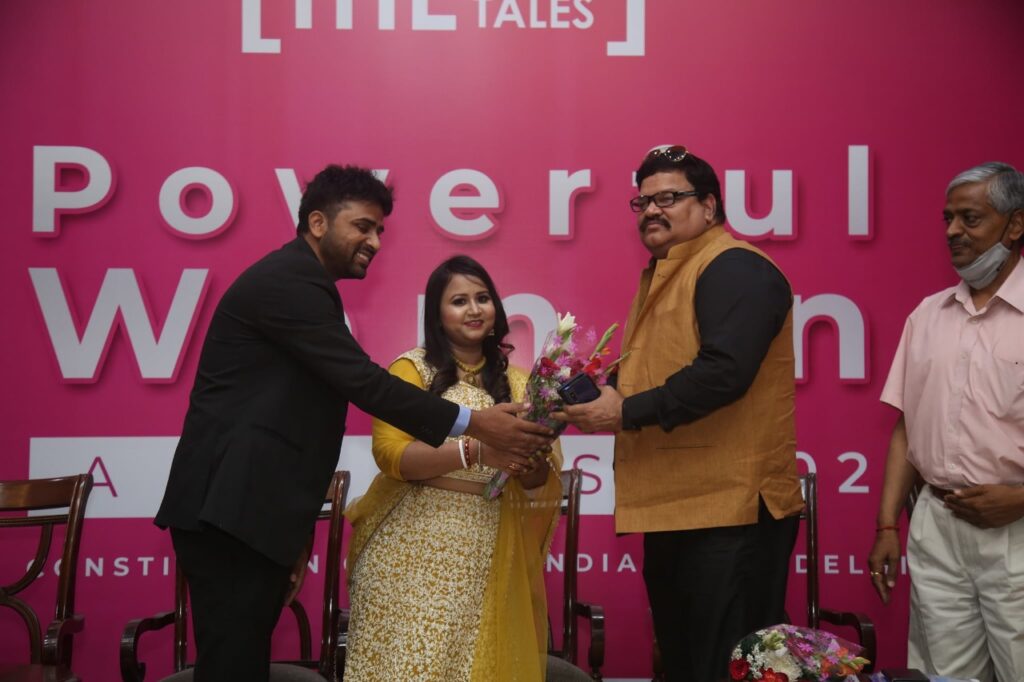 Some of the eminent awardees were Dr Anshu Arora - Best Academician & Organ Donation Activist, Manisha Joshi-Dynamic Personality, Tanya Chadha-The Lady with Fire, Prerna Awasthi-Best Poetess, Dt. Shilpa Nijwahan-Best Nutritionist, Rehana Ali-Social Activist, Tanya Jaswal-Social Activist, Anooja Bashir-Best Business Women, Megha Dahiya-Best Poet and Homemaker, Manmeet Kaur-Best Tech Savvy, Dr Vasima Khan-Best Nutrition & Wellness Expert, Poonam Soni-Best Junior School Principal, Deepika Udawat-Best Artist & Home Decor Expert. Nazia Zafar-Best Make-UP Artist, Supriti Garg-Best Content Creator Expert, Antara Verma-Best Parenting Coach, Sadhana Sharma-Best Programme Manager, Healthcare, Dr Indu Bansal-Best Cancer Expert, Pooja Srivastava-Best Sales Expert, Dt. Neeru Dawra-Best Dietician, Deepika Bellaney-Best Social Activist of the Year, Dr Tanu Goyal-Most Powerful Women Awards 2021, Dr Aakriti Sambyal-Best Creative Personality Award 2021, Dr Suruchi Sharma-Best Health Expert, Sara Khan-Best Entrepreneur, Vandana Sardana-Best Corporate Sales Expert, Nirupama Bagley-Bestseller Sports Author,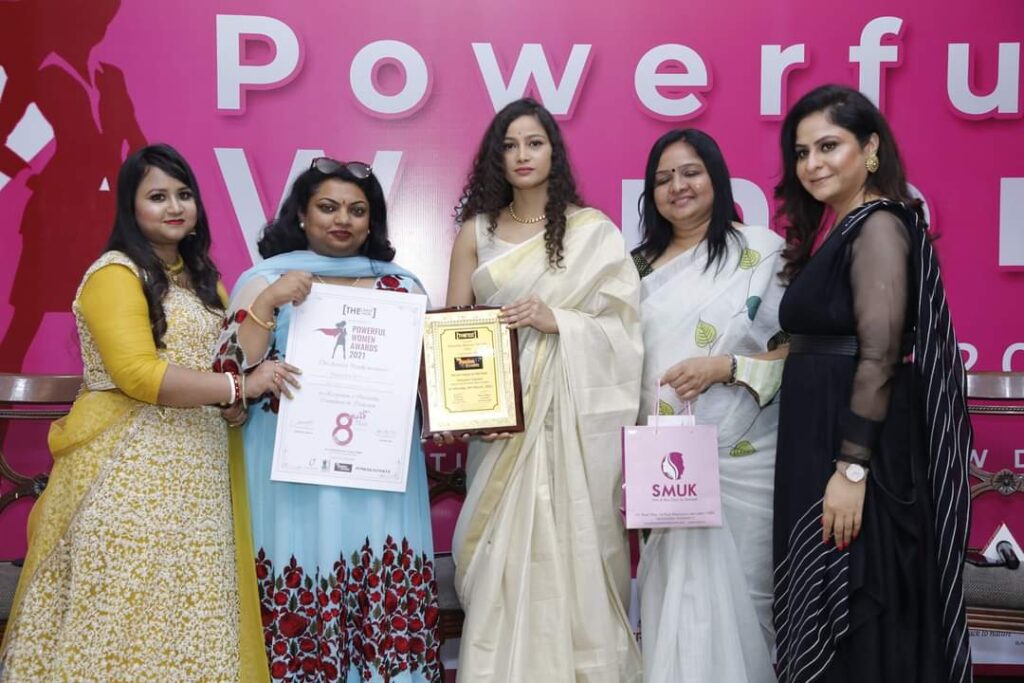 Dr Meghna Dewan Gopal-Best Lifestyle and Fitness Coach, Anupama Yadav Ghai-Best IPR Expert of the Year 2021, Parul Siddiqui-Best Entrepreneur, Devika Mehta-Best Digital Journalist, Ekta Vohra-Best Match Making Expert, Aishwarya Interiors-Best Interior Designing Brand, Payal Madan Arora-Best Fitness Entrepreneur,Usha Shahani-Best Dynamic Artist, Usha Vardhan Sharma-Best Educationist, Jyoti Chauhan-Leading Women in IPR,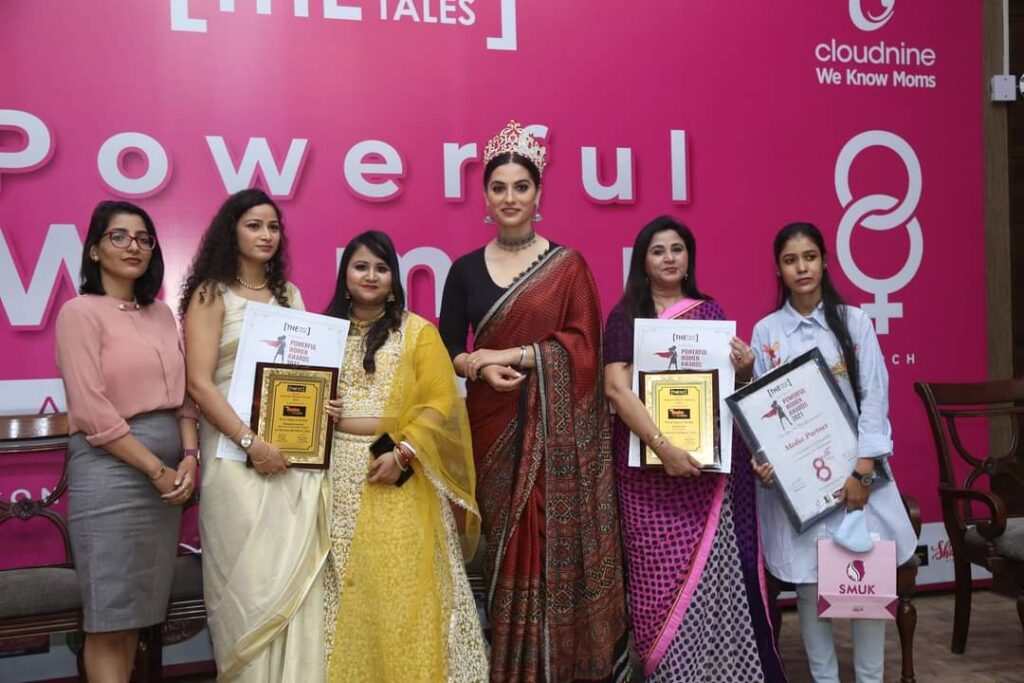 Ankita Srivastava-Best Legal Expert, Shipra Rathor-Young Artisan, Taran Deep-Dynamic Personality of the Year 2021, Azka Khan-Best Business Leader, Dr Zia Zehra Zaidi-Most Dynamic Personality, Sunaina Agarwal-Best Energy Healing Therapist, Dr Smriti Sharma-Best Lifestyle Disease Expert, Shaily Srivastava-Best Social Media Influencer, Dr Ramandeep Kaur-Best Contributor in Physiotherapy & Social Service, Shivangi Verma-Best Educator, Ranjita Yadav-Best Social Entrepreneur, Neha Bhateja-Best Young Researcher, Aparna Shrivastava-Best Educationist & Mentor, Amna Mirza-Best Fashion Influencer, Sunita Singh-Best Animal Activist, Rajni Yadav-Best Gymnast Coach, Vandana Anchalia-Best Prolific Writer, Ankita Prakash-Best Educationist, Pushpa Singh-Best Edupreneur, Sumedha Sodhi-Best Digital Marketer, Vibhuti Taneja-Best Fitness Expert, Leena Guha Roya-Social Activist and Jyoti Shrivastava-Social Activist.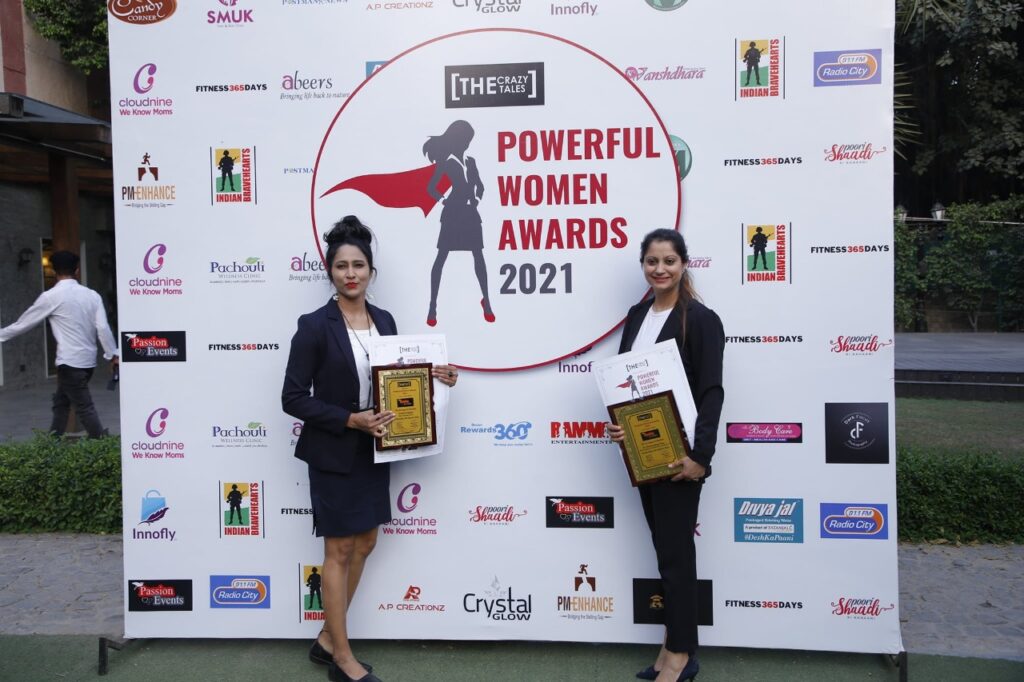 There was another panel discussion on Entrepreneurship and women empowerment. The Panel was attended by Aakriti Sambyal-Mrs Delhi NCR 2020, Neeru Dawra- Health Expert, Sara Khan- Entrepreneur, Parul Siddiqui- PM Enhance and Devika Mehta- Digiprenuer and Gunjan Gupta- counsellor.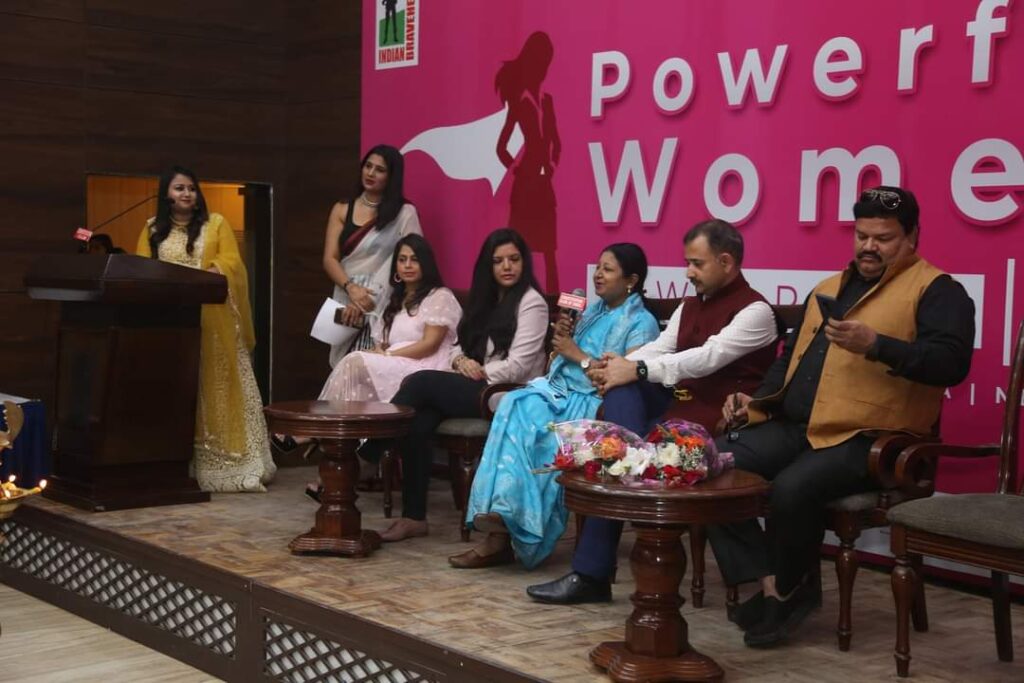 Fitness 365 and Indian Bravehearts were our main Associate Partners. Fitness 365 focus is to help you lose weight in a healthy way, without any side effects. And also help you decrease your medicines' intake if at all, and gradually take you off medicines.
Whereas, the Indian Bravehearts is a not-for-profit social organization (NGO) registered under The Indian Trusts Act 1882, and a proud initiative of an Army officer. The main focus is on the welfare, rehabilitation and well being of the Indian Bravehearts fraternity (all armed forces personnel under Min of Defence and Min of Home Affairs), both serving and retired, including the veterans, battle casualties, war widows, orphans and their families.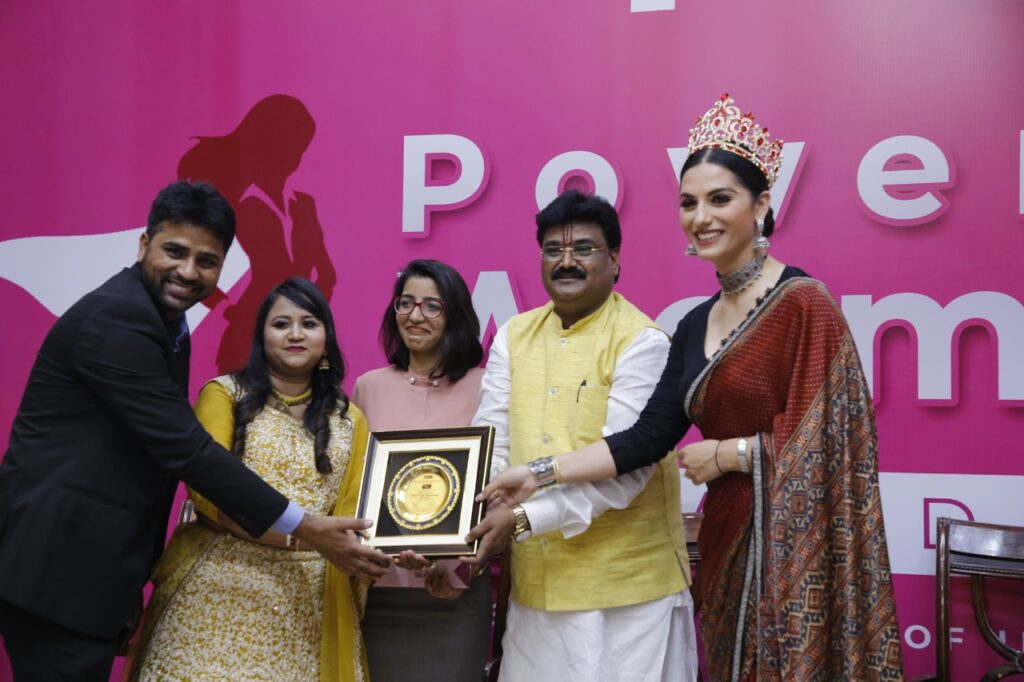 After that Sarah Khan owner of Jot Down Venture and Sakshi Khattar, founder of Fitness 365 days spoke about their own ventures and how they can help the women awardee become more empowered and also how they can receive more help from fitness 365 days.
The event also had a fashion walk by some eminent makeup artists with their models. All the makeup artists were from Geeta's Makeover Academy. The event was also supported by Cloudnine Hospitals and Shikha Sharma-Marketing Head also shared some of the insights of the hospital with the audience.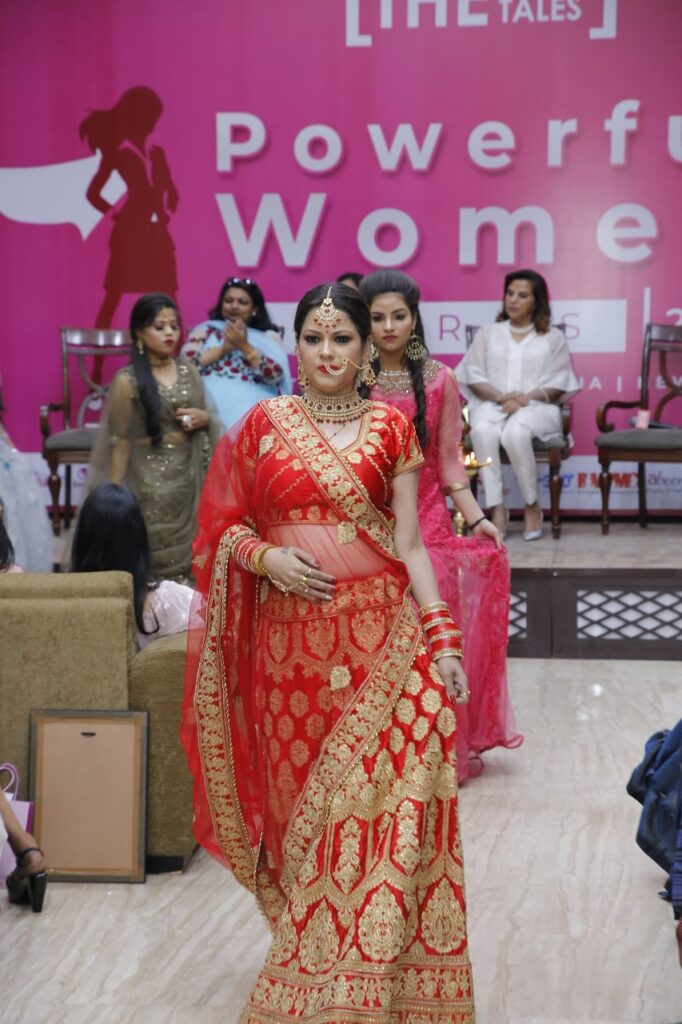 The event also had a 'Book Launch' - The Breaking Down- The Riverine Girl by Sarah Rawat. The stage was accompanied by Amanpreet Kaur(- Joint Commissioner of Income Tax), Gunjan Gupta, Rahul Shawel-Head Marketing Pachouli and RJ Divya - Radio City.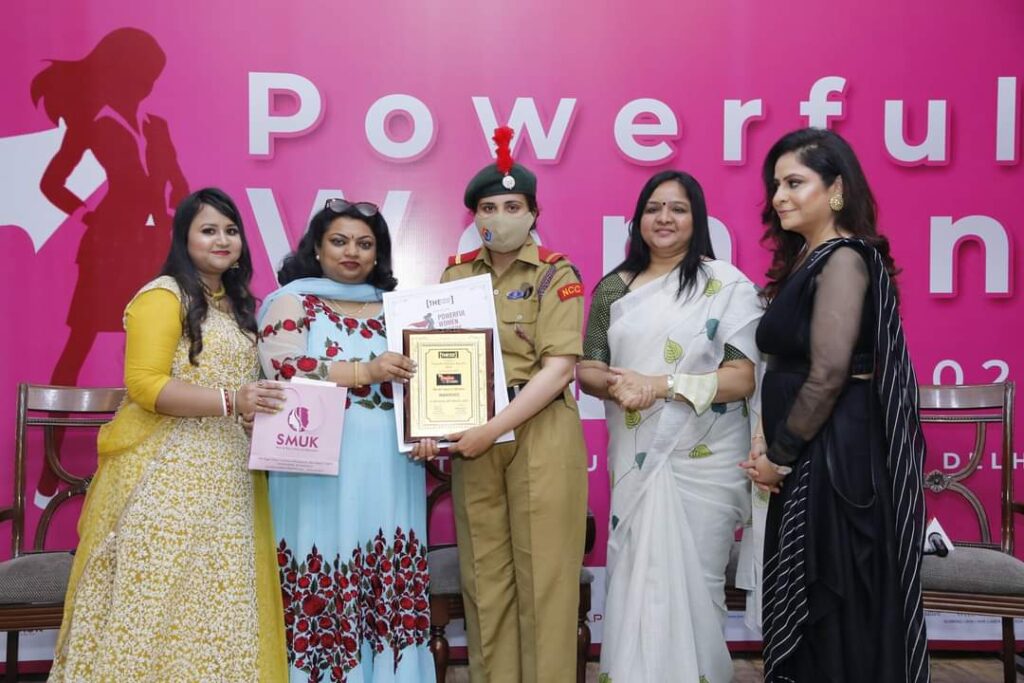 After the panel discussion, the Award ceremony started where almost 100 women in different categories from all over India were honoured and felicitated on stage with the "Powerful Women Award" trophy and certificates.
The event was also supported by Cloudnine Hospitals and the Health panel was attended by Dr Chetna Jain- Senior consultant of Obstetrics & Gynecology and Dr Sanjay Vazir, Director Cloudnine Hospital. Preeti Seth - Founder of the Pachouli group, Divya Sood - Founder of Bodycare and Devika Bhatia - founder of SMUK also supported the event.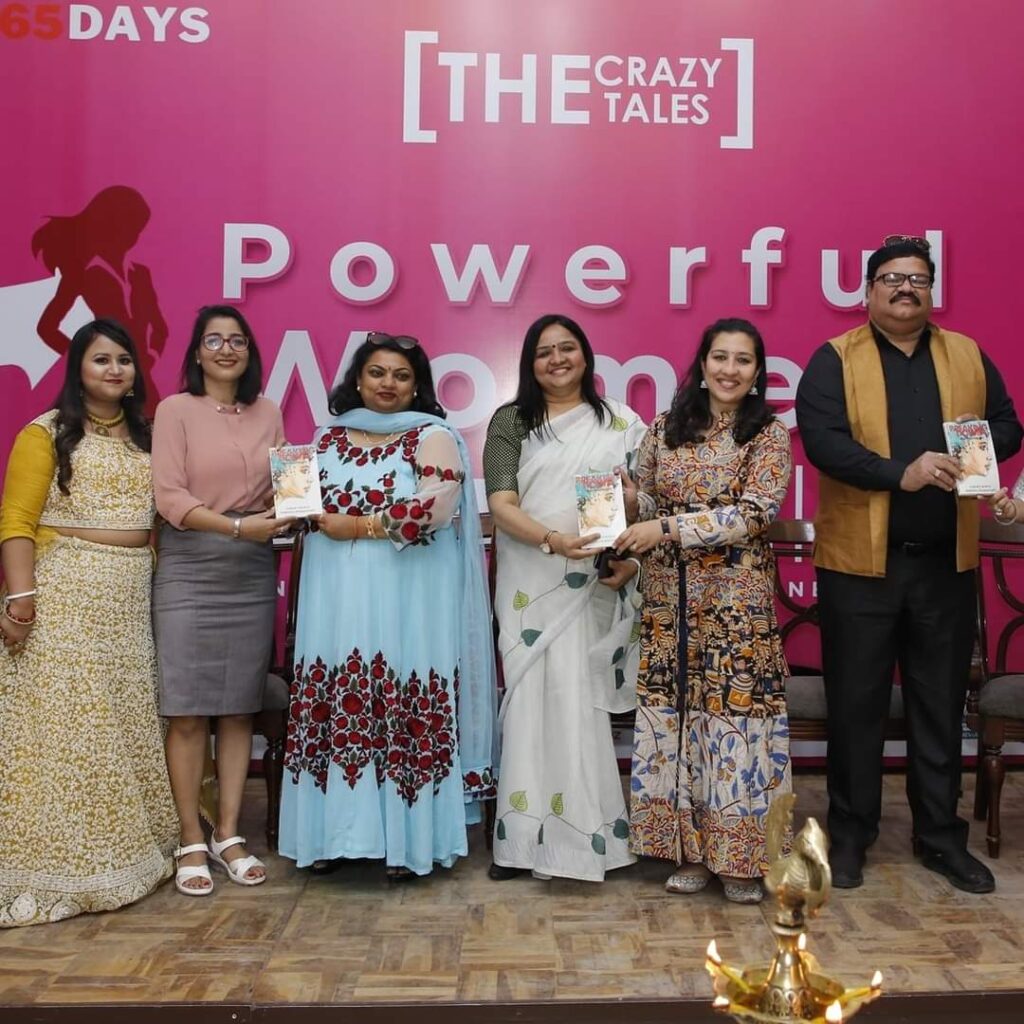 The Crazy Tales is known for providing a platform to many prominent women from all over India and they have also completed many events in the past. The event consisted of around 100 awardees from all over India. The Crazy Tales received nominations over 1500. The women comprised from the larger corporate world, academicians to research scientists, astrologers, image coach, life coach & some of the best social activists.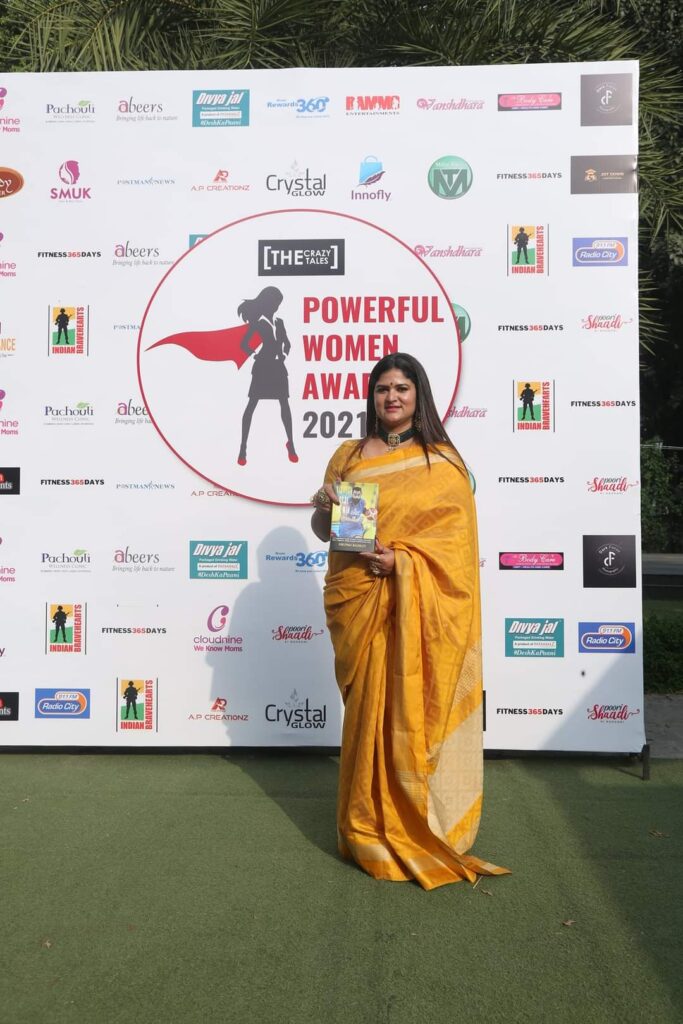 The event was hosted by Anchor, Rishika while Mrs Amrita moderated both the panel discussions. Lastly, the founder of The Crazy Tales, Manish Mishra had passed a message "that their main initiative is to empower more & more women. So they would be encouraging and creating a platform in the coming future.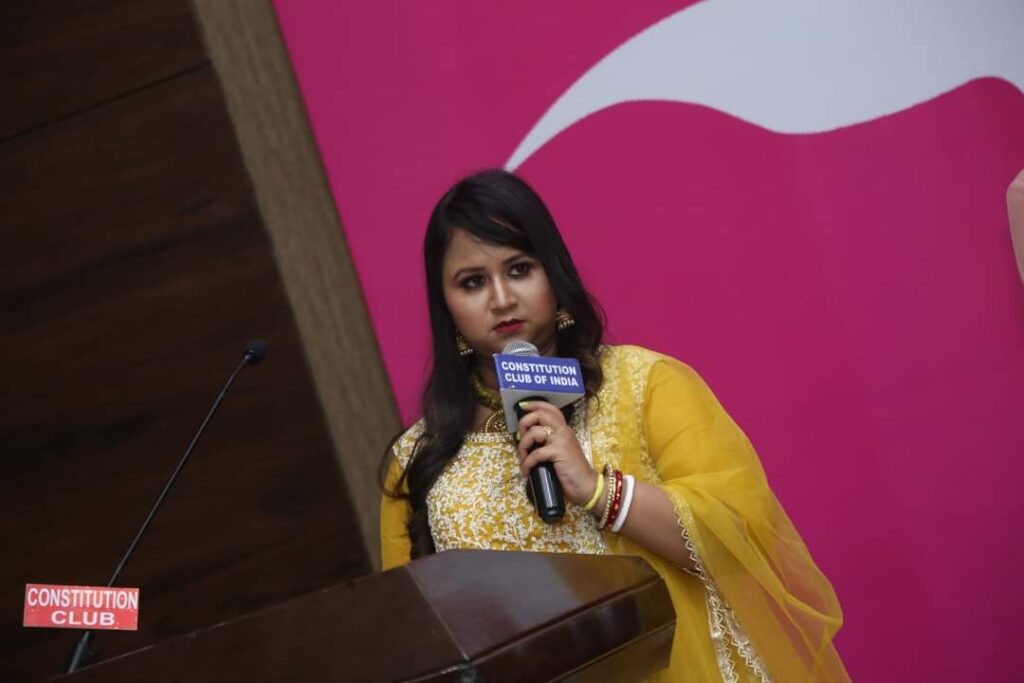 The Panellist along with all renowned awardees had passed a message that women dont need to be empowered, she just needs support. Lastly, The Crazy Tales, a content media company, who writes influential stories of people, would like to thank all the supporters, associate partners and media partners of the event for making it again a grand success.