Marvellous Temple Jewellery Pieces for Your Royal Bridal Look
Weddings are the most glorious celebrations of love, culture and abundance. The most important thing for a bride is her vanity, on her wedding day. So make sure that your vanity has the right pieces of jewellery. If you want to catch up something different in bridal jewellery, then here we have brought some unique and Royal pieces that will surely make your wedding day bloom!
Temple pieces of jewellery were usually used to embellish Gods & goddesses such as Lord Shiva, Goddess Lakshmi and various others. The temple jewellery is mostly worn by brides in South Indian weddings. The temple jewellery has its own charm & royalness and is handcrafted in a pure gold form and with some other metals consisting of precious gemstones such as diamonds, rubies & pearls. The jewellery is undeniably mesmerising with its beauty. Here are some marvellous temple jewellery pieces for your royal bridal look.
Temple jewellery pieces to bloom your wedding day
Necklaces
Beautiful neckpiece carved with Hindu Goddess, peacock & pearl embellishments.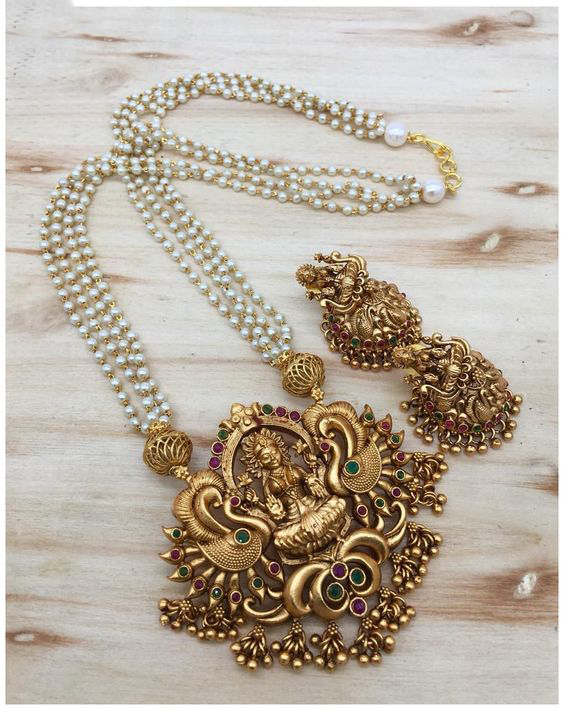 Traditional Lakshmi temple jewellery neckpiece paired with beautiful jhumkies.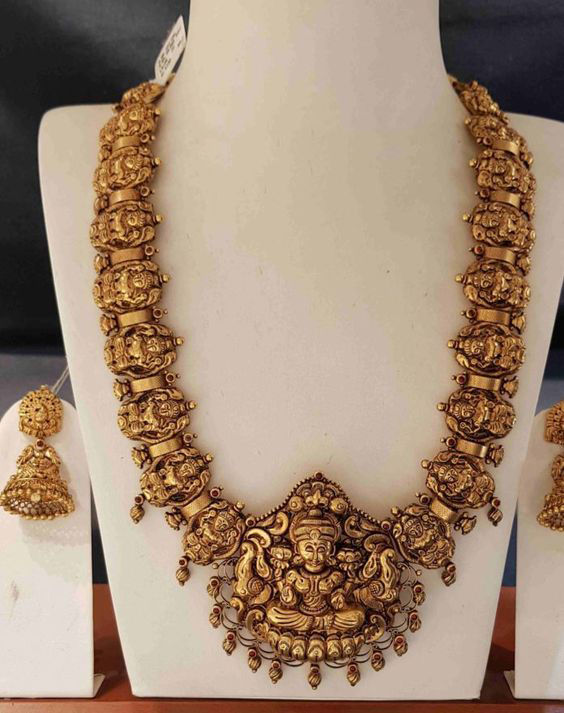 This is one of the most Royal jewellery designed with sunflower motif & bejewelled with a long chain-like kundans.
This a trendy style of temple choker neck set which has elephant motifs and Indian Doli designs on it with traditional embellishments.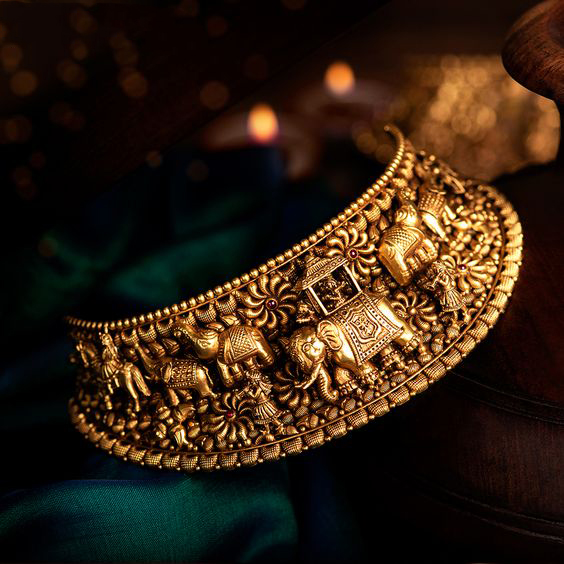 Beautiful dotted small balls motifs with Radha-Krishna theme on the jewellery gives an Indian Traditional temple touch and will give you a supreme look.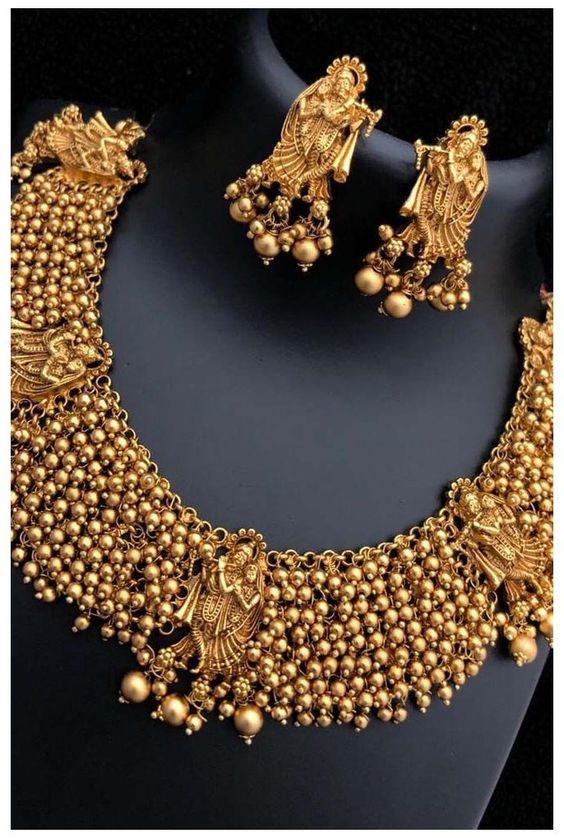 Earnings
It's a beautiful combination of gold, rubies and pearls. Engraved with peacock & flower motifs.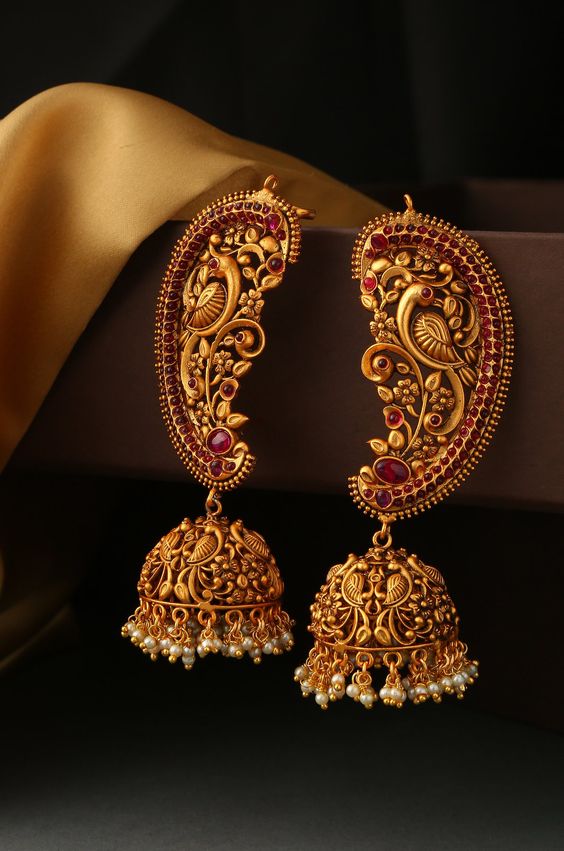 This temple jhumki is a divine Goddess Laksmi pattern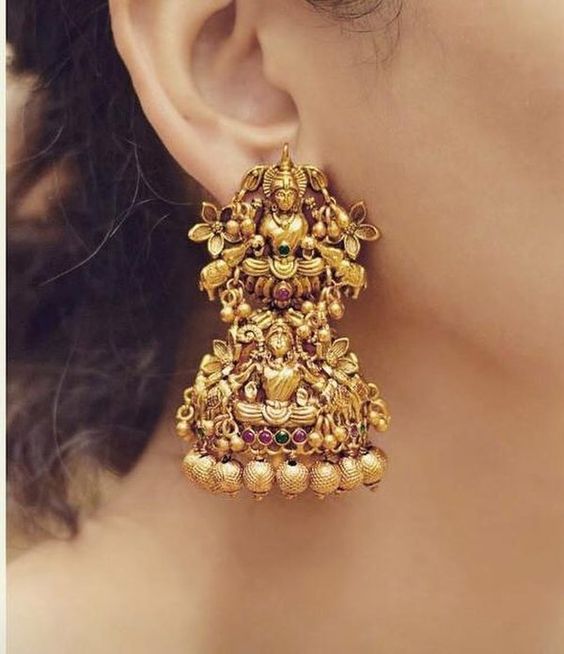 The jhumki is beautifully crafted with round tops like patterns above and an elephant motif in the middle following to the moti patterns below.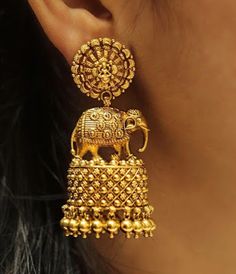 A divine Radha Krishna jhumki temple jewellery signifies the purity of love.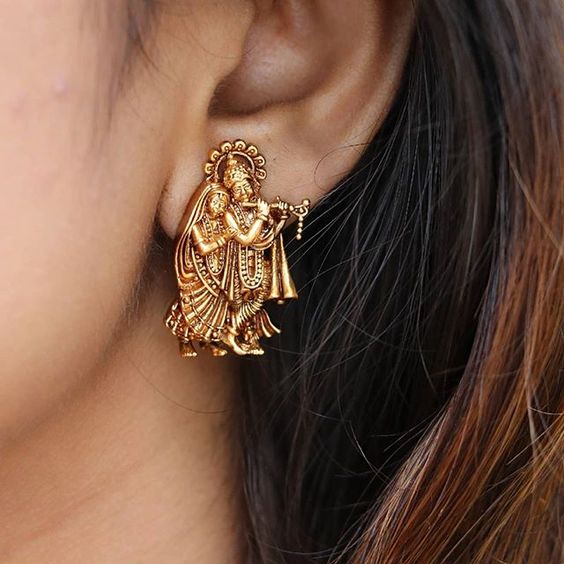 Kamarbandh
Goddess Lakshmi in the centre covered with beautiful flower motifs adjoining similar Swaroop of Goddess make this Kamarbandh Traditional & temple piece of jewellery.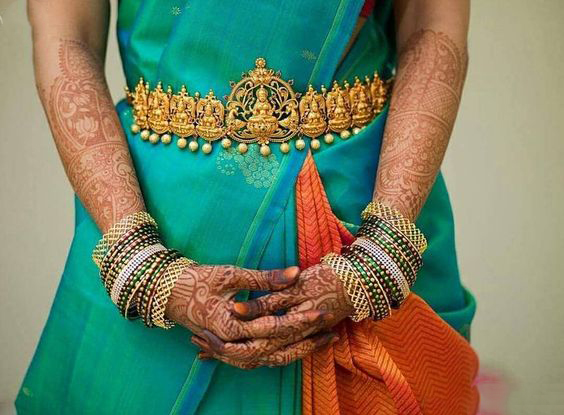 Ganesha motifs on the Kamarbandh with white pearls embrace the look.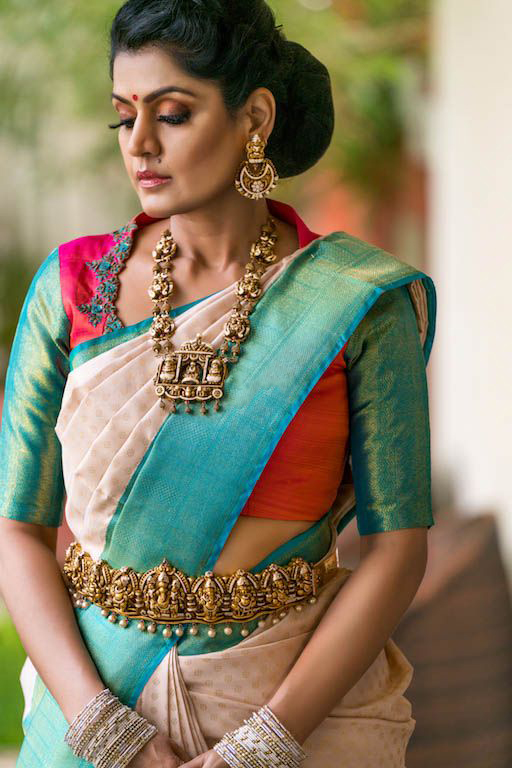 Silver with gold plated oddiyanam chiselled centrally with the goddess Gaja Lakshmi and with a peacock on sides, studded with a semi-precious stone.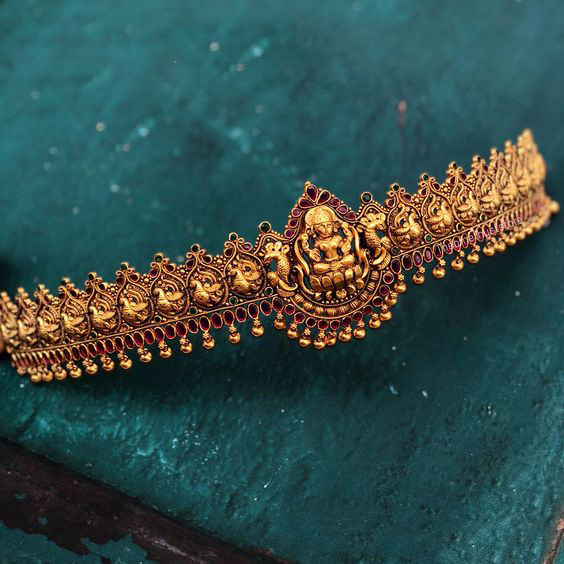 Bangles
Bangles are yet another staple jewels in a bride's wedding day look. So why not pair this beautiful bangle motif. It has pointer motifs on the sides and beautiful flowers in the centre.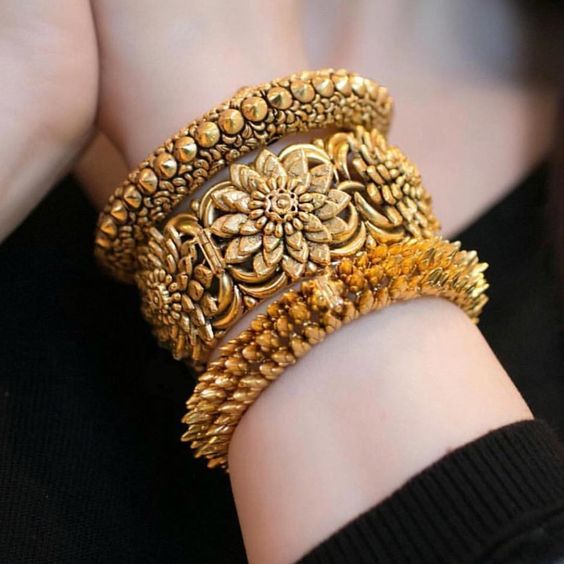 Deep Nakashi Peacock Kada Pair Bangles with red nags and rubies.
Jadas
Traditional temple jada design for your wedding day.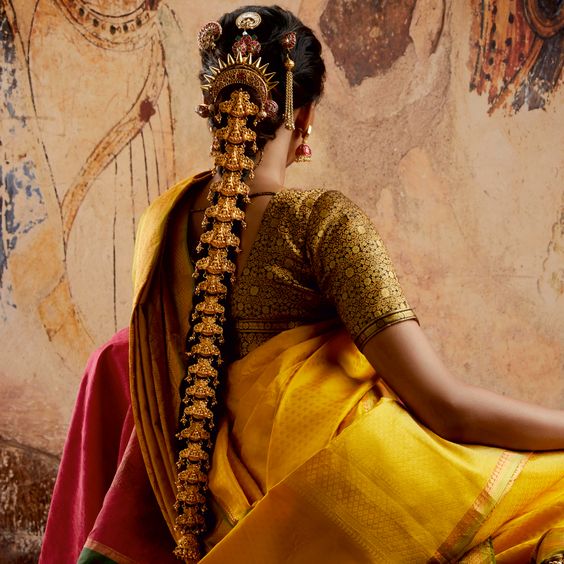 Long traditional Jada engraved with nagas and rubies, give a royal look which is best for a south Indian wedding.
Put together Gajra and gorgeous jada on your bun and make your wedding day special yet royal.
Maangteekas
It's a gorgeous matha Patti for the bride. It will give you a unique traditional look on your wedding day.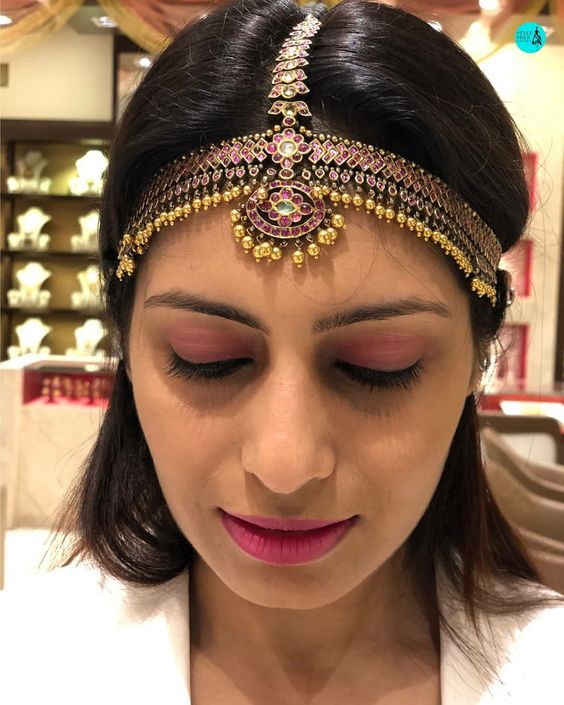 An alluring mathapattiwith green nugs.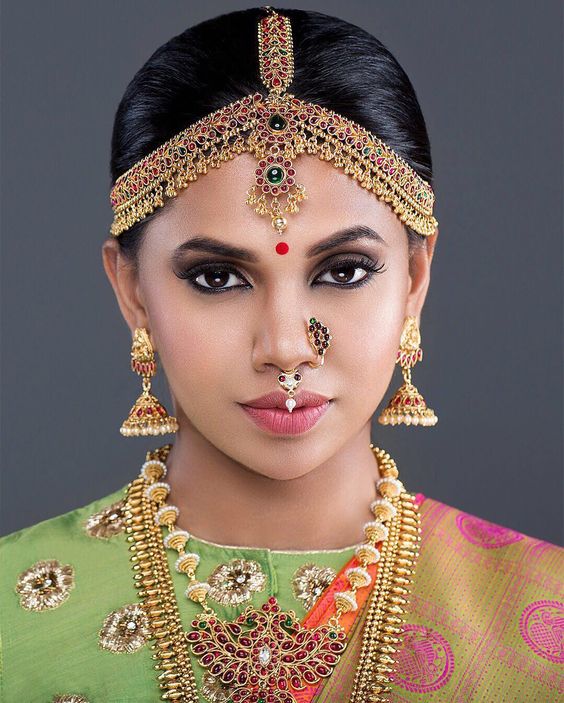 Bajubandh
It's a pretty bajubandh, created in a u-shape form with 3 pear strings hanging.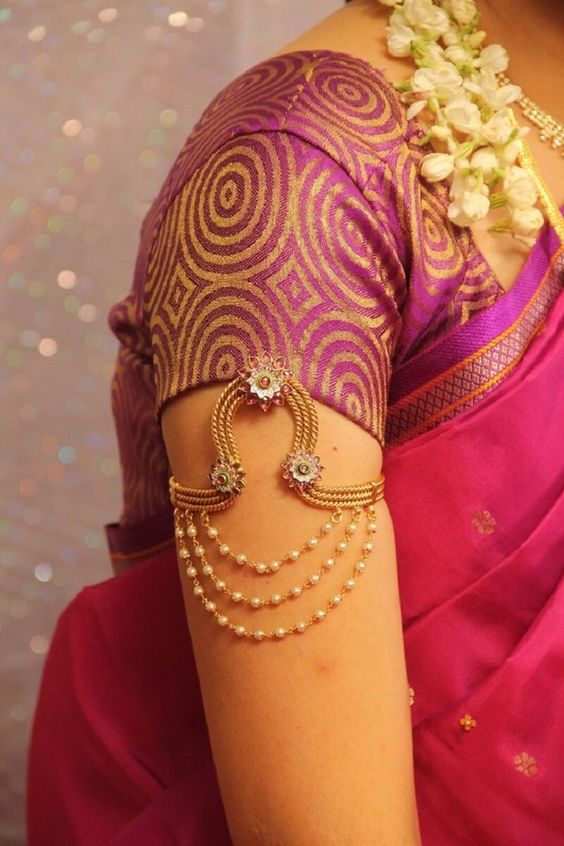 Formerly used to adorn the idols of gods and goddesses. This baseband is made with Meena varg gold. The centre states the goddess Lakshmi.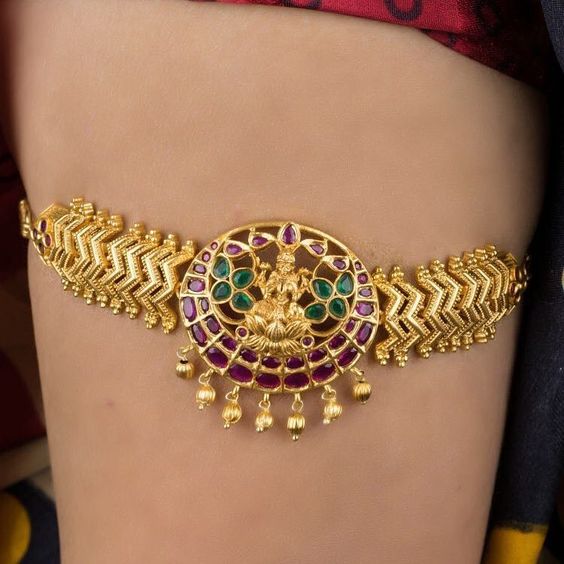 Rings
Combination of golden pearl, red Meena varg and traditional motifs, this ring is going to make you flaunt on your wedding day.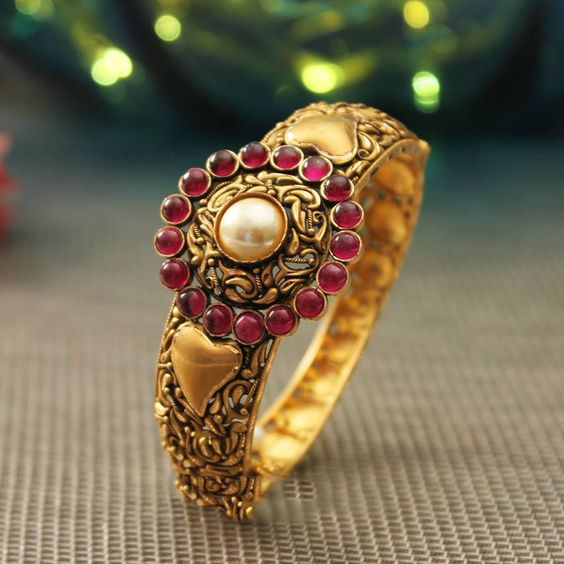 This is the most antique piece of jewellery with peacocks and rubies on its surface.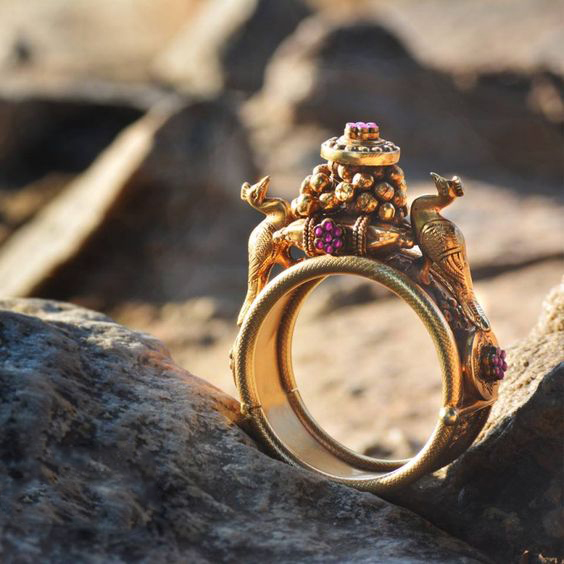 Hopefully, the articleMarvellous Temple Jewellery Pieces for Your Royal Bridal Looklisted above will make your experience easier. Do not forget to share this article with friends on Social Media.