Easy Mehndi Designs For Feet & Lots More!!
Mehndi is the most important part of the Indian Hindu culture. Women love the fragrance and dark colour of mehndi, especially girls. Whenever it comes to mehndi, we all remember its thick smells and deep red colour. Woman gets a chance to show beautiful mehndi dezines throughout festivals and wedding season. No matters what would be the festival or the occasion of the wedding, mehndi has become a kind of ritual else you can say it as mandatory. In this article, we have brought the Easy Mehndi Designs For Feet.
You May Also Like
Facts About Mehndi
Mehndi has originated in the Middle East and Northern Africa over 5,000 years ago. It has been, used for artistic, ritual and ceremonial use. There are many varieties and designs. Women usually apply mehndi designs to their hands and feet. Mehndi is popular among the women of the Indian subcontinent, Bangladesh, Pakistan, Nepal, the Maldives, Africa and the Middle East.
Mehndi is a powder form which is extracted, from a plant called Lawsonia inermis. The plant Lawsonia inermis is a plant also known as the henna tree. The Henna plant leaves are collected, dried, and crushed into a granular powder. This powder is used for different practices, to apply mehndi on hands, dye hair and also, for the ancient eastern art of mehndi.
Major Types of Mehndi Motifs
Mehndi has been the most traditional part of Indian ceremonies for a long time. Mehndi comes in various colour forms, such as red, green, dark red, black & nowadays, glitter mehndi have also been on the trail.
Indian Mehndi
Western Mehndi
Indo-western Mehndi
Moroccan Mehndi
Indo-Arabic Mehndi
Mughlai Mehndi
Colured & Glittered Mehndi
Indian Mehndi Motifs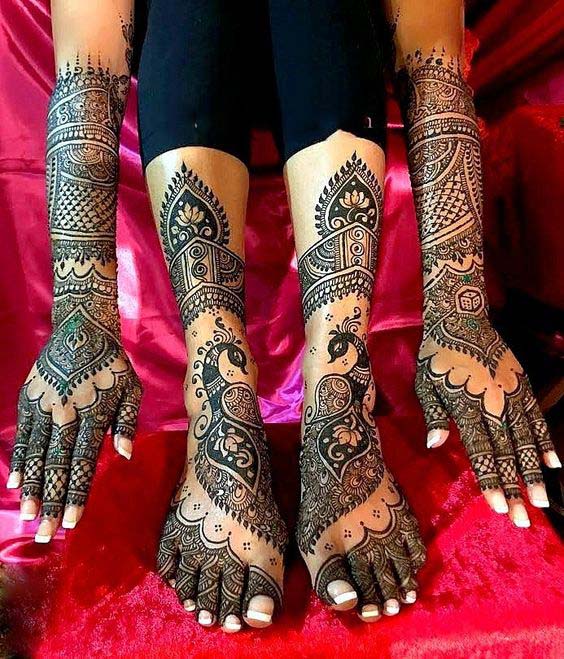 Indian mehndi designs are mostly in figures of Indian cultures. Such as beautiful flower patterns & bold strokes. Peacock, flower-leaves and unique curly, curved patterns are heavily used in Indian style mehndi designs.
Arabic Mehndi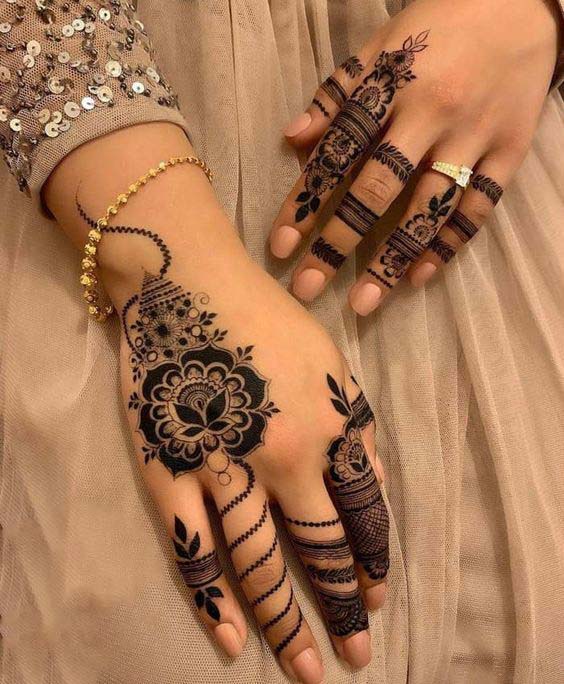 The outline of the design is thick like the Arabic style and the patterns and shapes of Indian designs, are filled in it.
Pakistani Mehndi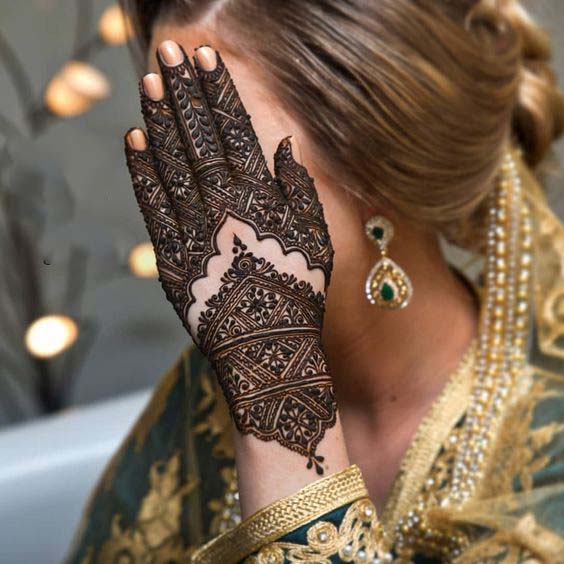 Pakistani Mehndi shows the balance of geometric shapes, flower-like shapes. Two types of henna are commonly used, in Pakistani henna.
Western Mehndi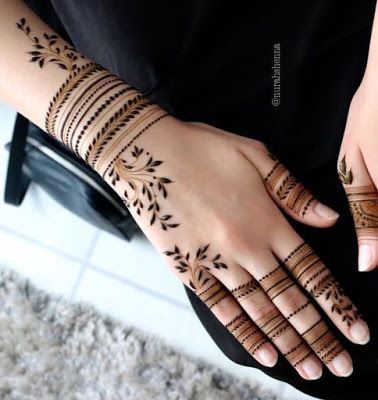 This type of mehndi design shows the confluence of Arabic and Indian styles. Like the Pakistani style, the outline of the design is thick like the Arabic style and the patterns and shapes of Indian design are filled in it.
Indo-western Mehndi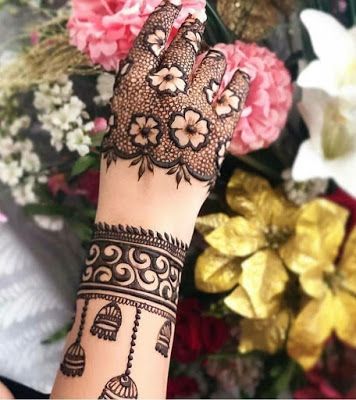 Indo western mehndi design is a combination of Indian Traditional pattern & a pinch of a western theme.
Moroccan Mehndi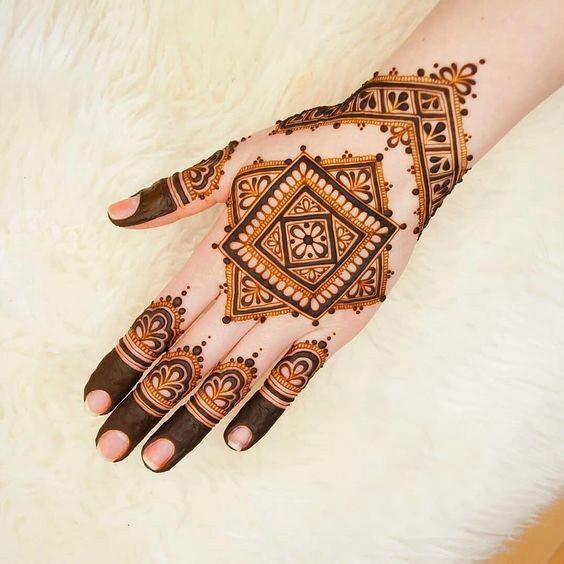 Moroccan mehndi design is prevalent in Middle East countries. The three styles mentioned above use flowers, leaves, curly shapes and curved lines. But in contrast, Moroccan mehndi design is quite geometric.
Indo-Arabic Mehndi
Combining of Indian & Arabic motifs together bring out a unique design that is known as 'Indo- Arabic Mehndi Design'
Mughlai Mehndi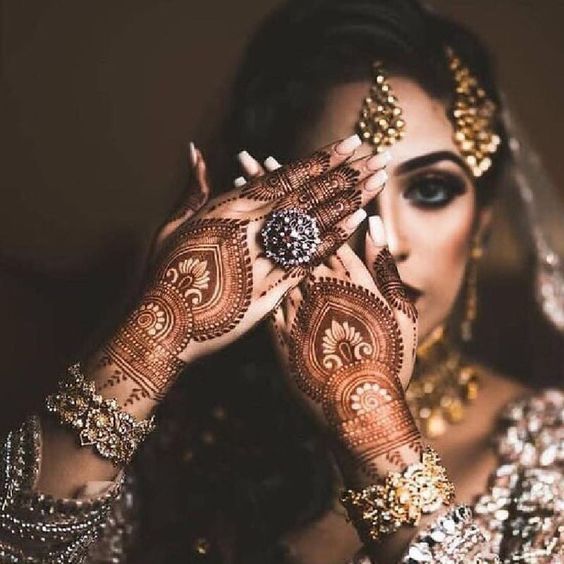 It is the oldest and traditional form of mehndi. In this type of design, delicate design is made in considerable detail above the fingers. Mughalai mehndi designs are not made beyond the wrist.
Colured & Glittered Mehndi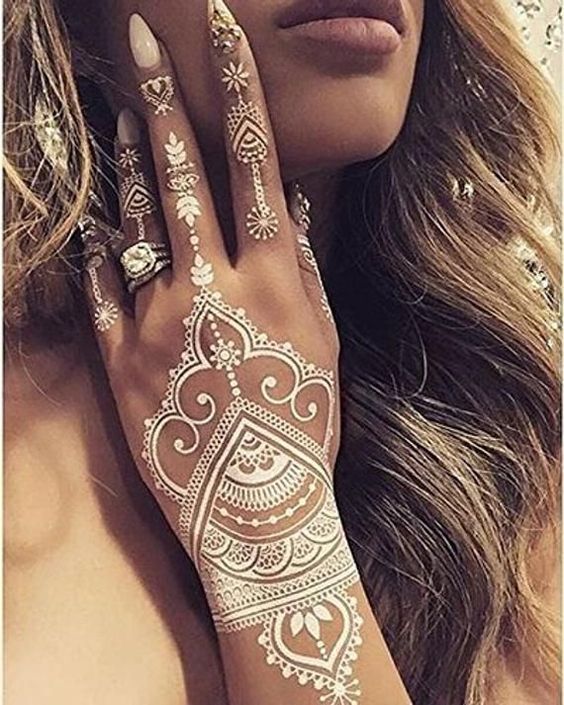 Nowadays, mehndi motifs have changed accordingly time. People have grabbed the changing western tradition. Now women are trying glittery mehndi designs on their hands & some of them trying coloured mehndi.
How To Apply Mehndi?
Here we'll you will learn and know how to apply Mehndi in the right way. Before applying Mehndi, pay attention to these steps:
Mix 1 to 3 ml of henna oil in 10 grams of henna powder. Do not use more oil than this quantity. Now your mehndi oil is ready.
Wash hands at least half an hour before applying mehndi. First, wipe your hands with a towel. Then wait until the hands dry entirely.
Do not apply any oil or cream on the palms and feet before applying mehndi after drying your hands. Therefore, before applying mehndi, your hands and feet should be dry so that the colour of your mehndi remains thick & long-lasting.
Applying essential oil(mehndi oil) before applying henna, as it deepens & long lasts the colour of your mehndi.
If you wish to have a beautiful & dark then you will have to give it a little time. One reason for mehndi not being perfectly long-lasting is that we do not give it the right time. It is essential to be patient while applying mehndi so that the design comes out is classic & perfect.
Choose the best mehndi designs and apply it accordingly or you can take the help of somebody who is a pro.
Mix lemon and sugar, make a syrup & apply it on your dried mehndi. It will help to deepen the colour of mehndi. Remember to apply a thick layer of this mixture of lemon and sugar on the dried mehndi and this will make the colour of the mehndi dark brown. (For more tips to dark your mehndi click here)
Now its time to give yourself a patience call & leave the mehndi for 8-9 hours. Try to apply mehndi at night.
Tip: After the henna dries up, wrap the foil in your hands. Foil paper not only makes the colour of mehndi darker & think but also it prevents dried mehndi from falling & creating a mess in your room.
How to Make Mehndi Oil?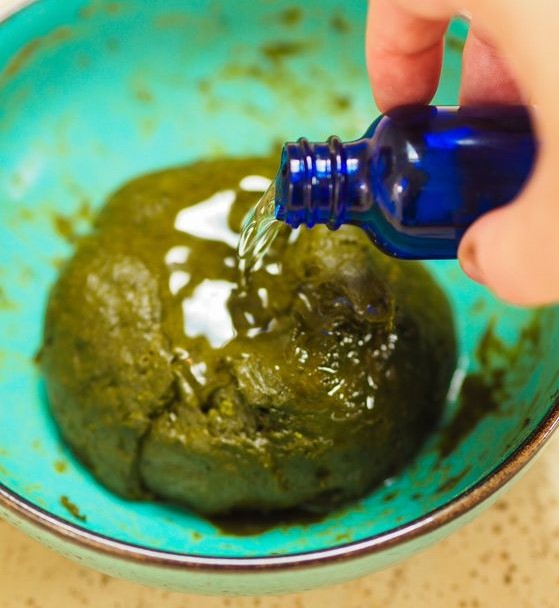 To make henna oil, first, grind the henna leaves and prepare a paste.
Add an adequate quantity of water. Do not use an excessive amount of water while grinding the leaves.
To make a paste easily, use only a few drops of water. After this, make round shaped balls with this mixture.
Now heat 500 ml coconut oil in a pan. Then pour the prepared balls from the henna paste into coconut oil. Boil the oil well.
When the oil changes colour, remove the pan from the heat. Let it cool down and strain the oil.
Henna oil is ready. Store it in an air-tight bottle.
| | |
| --- | --- |
| Henna Readymade Oil | SHOP NOW |
| RV Essential Pure Mehndi (Henna) Oil | Click here |
Easy Mehndi Designs For Feet
There is an immense craze among women for mehndi. There are many religious occasions & festivals during & after the month of Sawan, of which it is the custom to use mehndi. Someone likes a full hand mehndi design while others love to have a simple bell. If you are also among the women who love light & easy mehndi designs in hands & feet, then here we will show you a glimpse of some easy mehndi designs for feet.
Mandala Design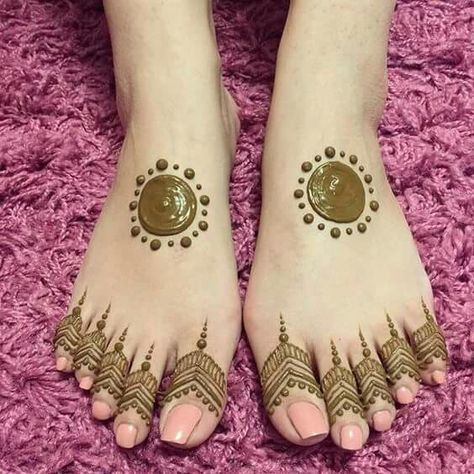 Whats the matter, we finally got to see the Mandala design. In this design, we see a large circular design, which is in the centre. The inside of these designs is filled with beautiful patterns. With the hanging design, you can give a great finish to your mehndi.
Easy Combination Mehndi Pattern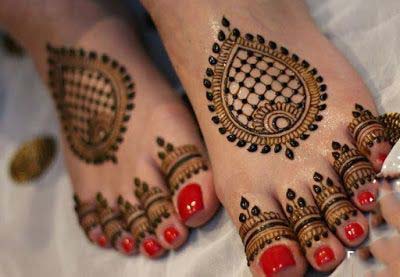 The design is mounted in the central part, which is gorgeously decorated by floral design & leaves, traditionally combined with traditional tiny patterns. The combination of light and dark shadow gives this mehndi an artistic look.
Easy Flower Mehndi for Heels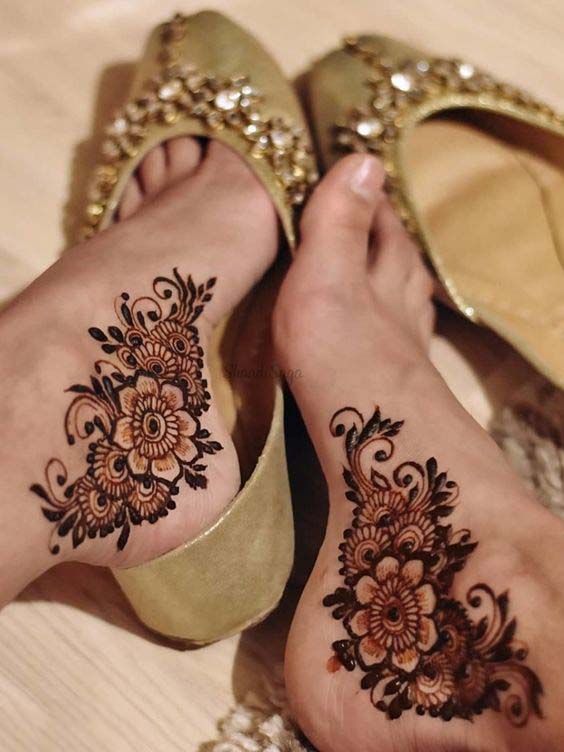 Jooti is footwear which is a tradition in India. So why not try this charming traditional Jooti design on your engagement. This is one of the easiest & quriky mendi deigns for feet.
Easy Flower Patch mehndi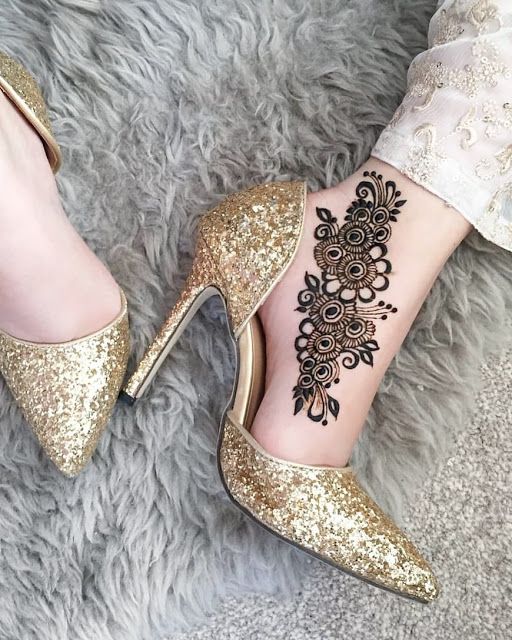 The beautiful flowers creating a patch on the side of the leg looks pretty amazing. Try it easy & wear a glittery heals to complete the look.
Floral & leaves Easy pattern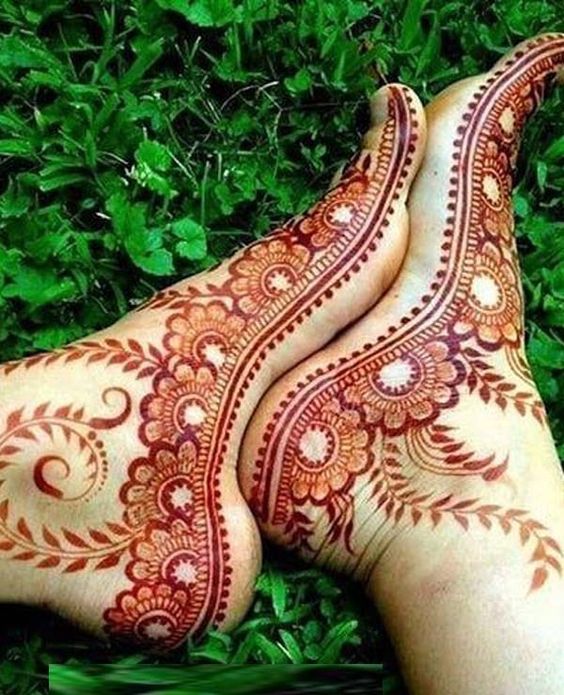 From one of the best design this beautiful ankle mehndi designs, we see the floral pattern as well as the composition of the leaves climbing upwards which symbolises a completely, different style of reflection.
Indo-Western anklet easy pattern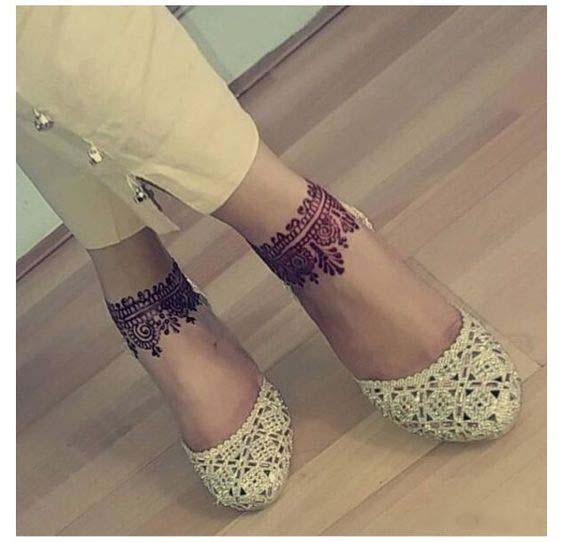 So finally we have found something that matches your western outfits. It's an Indo-western combination which is easy & best for you feet. So lets get ready with our cones and remember to cut a little on the face of your cone so that the mehndi comes out from the cone.
Anklet easy pattern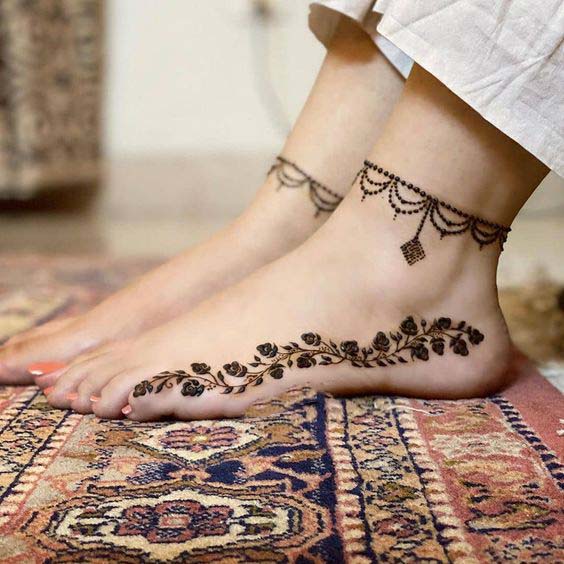 Tiny roses with small leaves made on the side of feet appears really cute. The anklet created round design which add beauty to the whole look.
The Floral Chained Pattern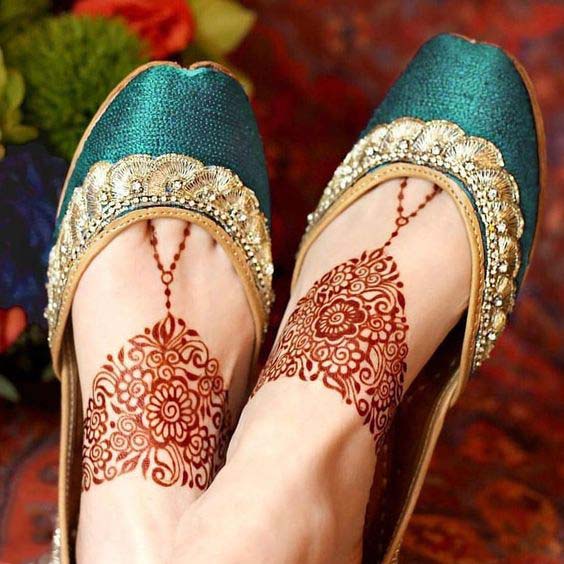 In this beautiful mehndi pattern, we see the chain of beautiful mehndi design from the middle toes to the upper portion of the leg meets a beautiful floral motifs. This is how we get pretty and attractive mehndi design.
Easy-peasy Sun Pattern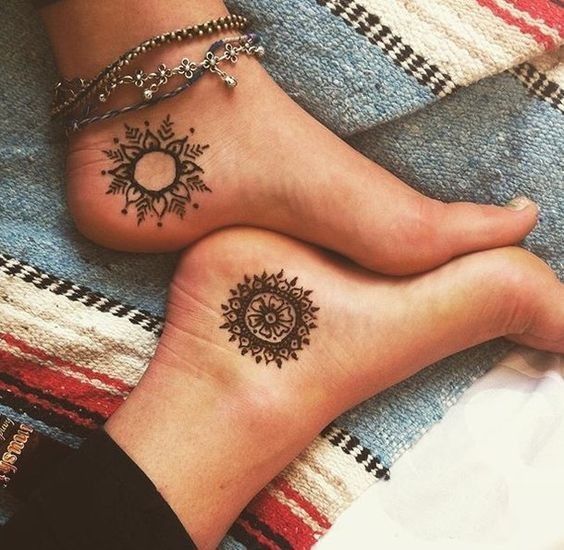 If you are confused & hurry then go for this easy peasy sun pattern mehndi.
Easy Net with Mandala patterns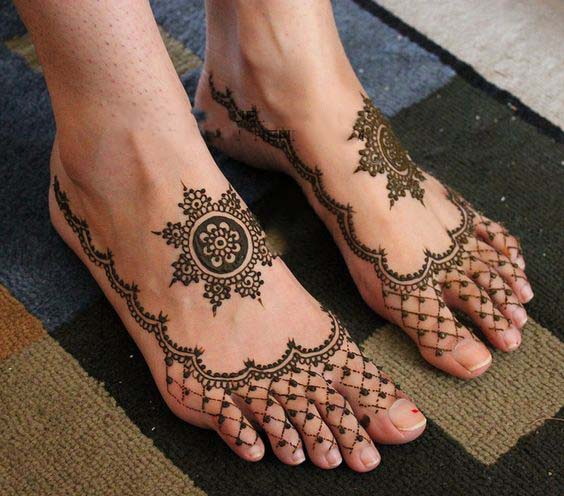 Created a mandala theme on the center while covering your toes with net motifs.
The easy Necklace pattern for feet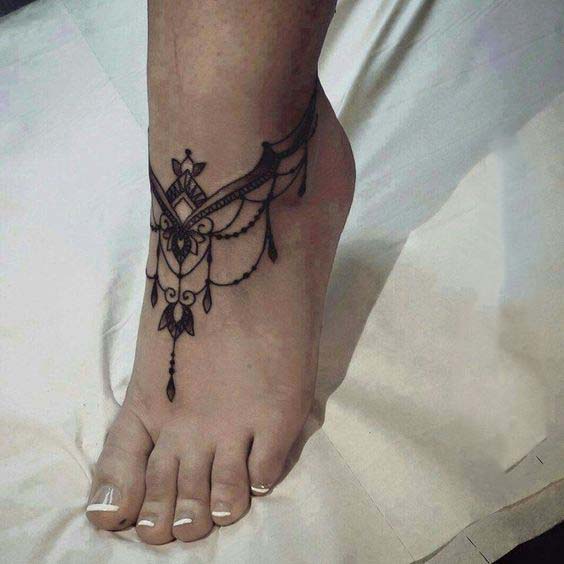 This design is specially made for your ankles. A very creative way of defining mehndi patterns is what this design has. The design is made in accordance with a necklace.
Tribal easy arrow Design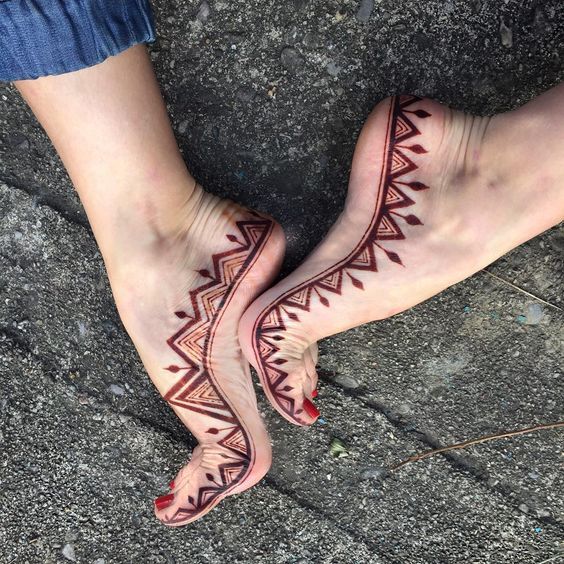 The tribe theme has taken over this mehndi motif. The design looks eye-cache & is convenient to make.
Tell us if this article "Easy Mehndi Designs For Feet & A Complete Guide To Mehndi is helpful or not, you can give suggestions by commenting below. Also, share this share it with your friends on Social media.