Best Rooftop Restaurants with a mesmerizing view in Delhi/NCR
July 16, 2021Ritu Pansy Best Rooftop Restaurants with a mesmerizing view in Delhi/NCR Searching for…
Best Rooftop Restaurants with a mesmerizing view in Delhi/NCR
Searching for the best Restaurants on the terrace with mesmerizing views in your city? Delhi the Capital is known for its hot summers and chilly winters, both of which necessitate a delectable meal inside the cool confines of cozy restaurants or air-conditioned homes. But then there are those perfect breezy afternoons, followed by a beautiful starry night.
Have you ever wondered how Delhi looked at night from a buildingas rooftop terrace? The Crazy Tales Here brings the list of rooftop restaurants in Delhi that not only serve delicious food but also have the best views in the city.
Sky Bar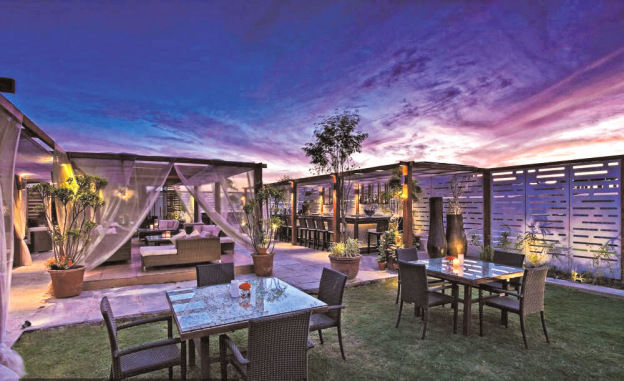 What do you do when youave finished all of your shopping a as if thatas even possible a and all you want to do now is sit back and relax while stuffing your face with fancy Asian food? You go to the shopping mallas terrace. Thatas how elegantly the Sky Bar expresses perfection.
Location: Vasant Kunj
QaBa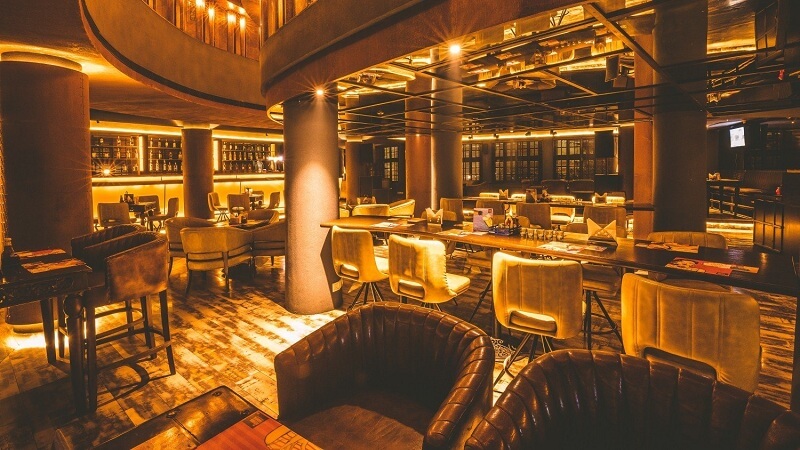 Qaba, another work of art in Connaught Place, is a brilliant blend of culinary and aesthetic abilities. The view from the terrace complements the elegance of the interiors. Qaba, which is known for its outdoor seating, offers a breathtaking view of Connaught Place in all its glory.
Location: Connaught Place
Olive Bar & Kitchen
Once upon a time, a man named the aQutub Minara after a beautiful brick minaret he built. We thank another man from the bottom of our hearts for building a restaurant with a view of this tall brick structure a few centuries later. Olive, tucked away in Mehraulias lush greenery, serves a wide range of cuisines and is the ideal spot to unwind on a winter afternoon.
Location: Mehrauli
Imperfecto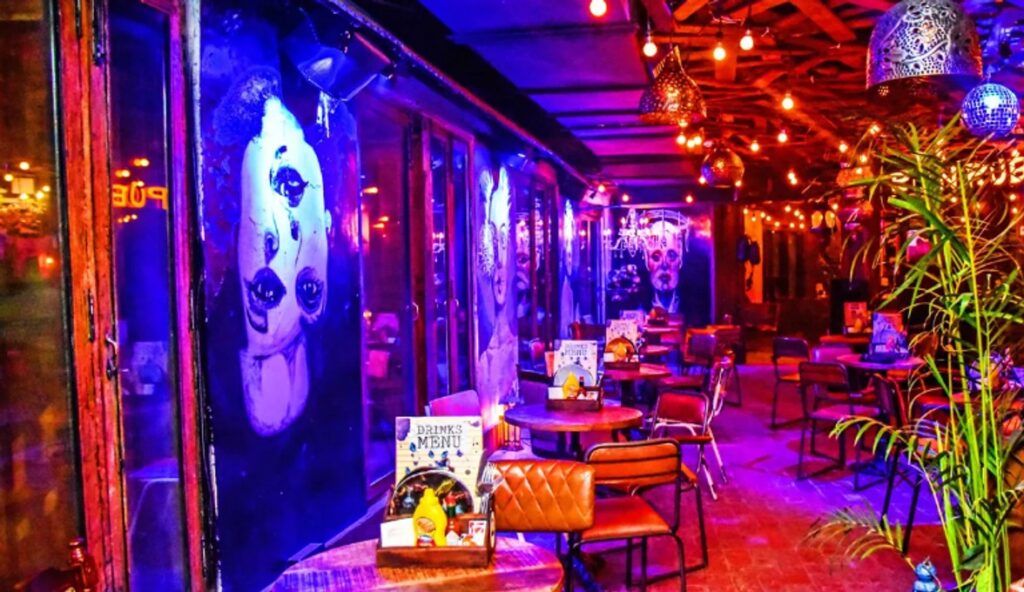 There is a view wherever there is a lake. This miniature version of Europe, perched above the bustling streets of Hauz Khas Village, is the perfect combination of delicious Italian, Spanish, and Mediterranean cuisine, excellent ambiance, and a breathtaking view.
Location: Hauz Khas Village
West View
After the Delhi Metro, of course, the West View is one of the best things that has happened to Delhi. A fine dining experience overlooking the Aravalli Ranges on a pleasant Delhi evening is too small a word. The West View is known for its live grill counter and extensive buffet spreads, in addition to its mushy romantic setting. Need we say more about a terrace
Location: ITC Maurya, Sardar Patel Marg
Warehouse CafA
What do you do when you canat decide what you want to eat? You take a look at the calendar. Iam not joking. The Warehouse CafAas menu is organized in a calendar-style format, with one dish for each day of the year. And donat judge a book by its cover; the food is every bit as good as it sounds. Youave got yourself two weeksa worth of selfies and profile pictures if you add in a panoramic view of Connaught Place and an exceptional atmosphere.
Location: Connaught Place
The Pot Belly Rooftop CafA
This place is a feast for the eyes and the stomach, with an explosion of soothing and fresh colors. The stark contrast between the cafeas bright pop interiors and the fine collection of Indian regional classics on the menu is what sets Pot Belly apart. This place is a hot favorite among experimental foodies, with a view as refreshing as the interiors.
Location: Shahpur Jat
BOA Village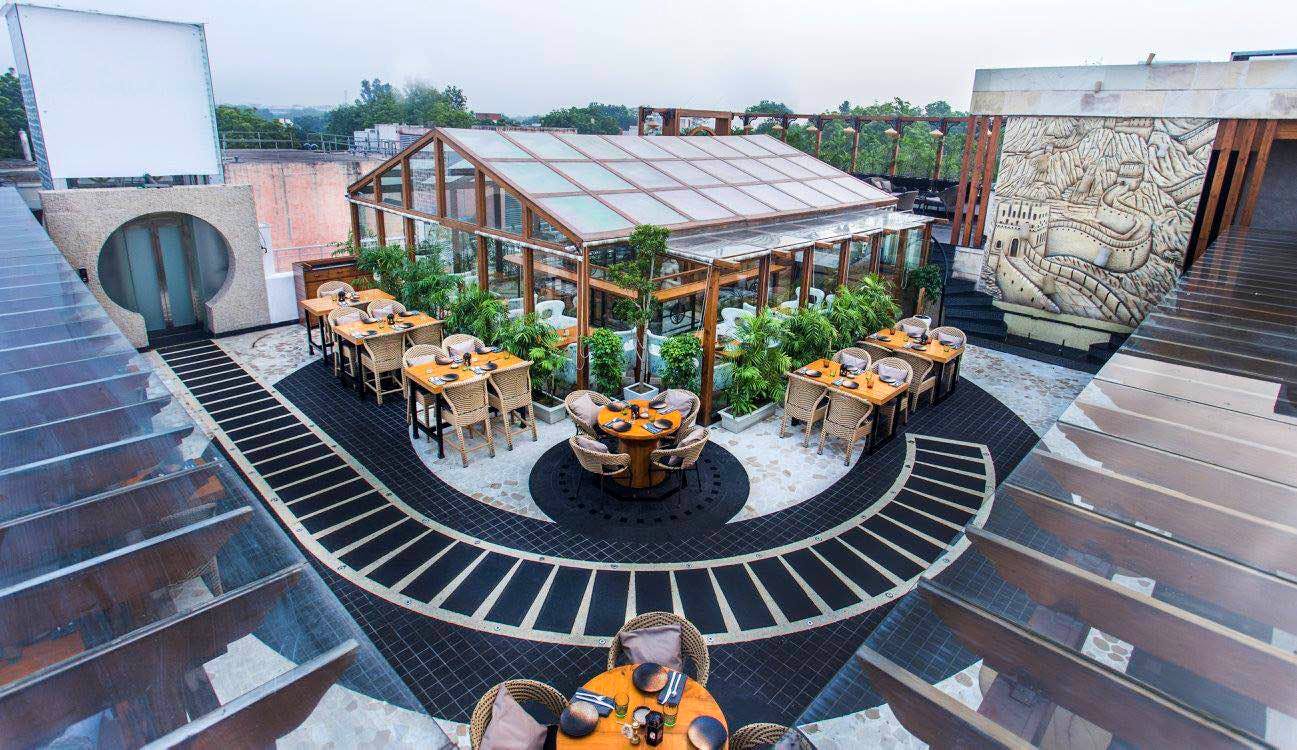 Weave been meaning to go see this Civil Lines beauty for a while but havenat gotten around to it. If youare near BOA Village, you must go just to sit under that transparent roof and eat their much-lauded momo pizza.
Location: BOA Village, Civil Lines, Delhi
0124 Bar Exchange a Open Terrace Brewery
This brewery is for you, Gurgaon residents when you canat get to one of Delhias covered rooftop restaurants. Try to make it to one of their epic karaoke nights and channel your inner Beyonce.
Location: Sector 50, Gurgaon
The Mellow Garden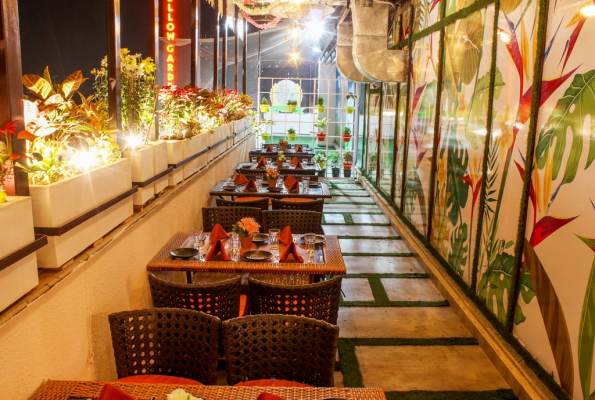 Weave been meaning to go see this Civil Lines beauty for a while but havenat gotten around to it. If youare near BOA Village, you must go just to sit under that transparent roof and eat their much-lauded momo pizza.
Location: Sector 49, Gurgaon
Lavaash By Saby
Only a few restaurants serve both Bengali and Armenian cuisines, but this one does both exceptionally well! They also have cute cushioned seating in a variety of colors, and youad be tempted to share multiple Instagram stories. On a clear day, you might even be able to see the Qutub Minar.
Location: Mehrauli, Gurgaon
Shalom/ Laid Back Cafe
Shalomas terrace, also known as S-Bar, has been renovated and renamed Laid Back Cafe. Walk-ins are welcome, but after 9 p.m., you may be asked to leave the table. Happy hour lasts until 7.45 p.m. (which is a blessing because the drinks are expensive), and on Saturdays, you get 1+1 all night. Now is the time to go, before word gets out!
Location: New Delhi
Lord of the Drinks:
Connaught Place is a surprising entrant, and it does not have the best crowds. When you add in the honking from the congested outer circle, itas easy to see how a terrace in CP could be blissful. A large bar occupies one corner, and walls separate the terrace from the din of the street outside, allowing you to enjoy your evening in peace. Lord of the Drinks is a great place to hang out with friends or family, but children are not permitted.
Location: G-72, First Floor, Outer Circle, Connaught Place, New Delhi
Town Hall:
Town Hall earns its place on this list as the only terrace worth itas salt in Khan Market. The sushi is excellent, the pizzas are acceptable, and the rest of the menu should be avoided. This is a great option for a drink with friends under the stars.
Location: 60-61, Near Dayal Opticals, Middle Circle Lane, Khan Market, New Delhi
We hope that you liked the information aboutBest Rooftop Restaurants with a mesmerizing view in Delhi/NCR. Now you can easily select the best Restaurants for parties/ lunch /dinners, etc and also for the best views. Do share this information with your family and friends.