Best Mehndi Designs of 2020
We have spotted the most, unique and best mehndi designs for all of you. As soon as the month of Sawan starts, women get very excited to get Mehndi done on their hands. In this month, there is a huge craze among women for mehndi. Someone likes a full hand mehndi design while someone likes a simple bell. On the other hold, if you are also thinking of applying mehndi, then we have brought the best mehndi design of 2020 for you. This design is also in trend, so let's have a look at the latest designs.
How To Apply Mehndi?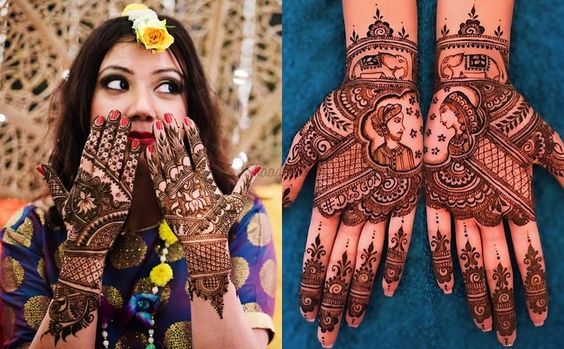 Before we talk about Arabic Mehndi Designs For Back hand. Here well you will learn and know how to apply Mehndi in the right way. Before applying Mehndi, pay attention to these steps:
Mix 1 to 3 ml of henna oil in 10 grams of henna powder. Do not use more oil than this quantity. Now your mehndi oil is ready.
Wash hands at least half an hour before applying mehndi. First, wipe your hands with a towel. Then wait until the hands dry entirely.
Do not apply any oil or cream on the palms and feet before applying mehndi after drying your hands. Therefore, before applying mehndi, your hands and feet should be dry so that the colour of your mehndi remains thick & long-lasting.
Applying essential oil(mehndi oil) before applying henna, as it deepens & long lasts the colour of your mehndi.
If you wish to have a beautiful & dark then you will have to give it a little time. One reason for mehndi not being perfectly long-lasting is that we do not give it the right time. It is essential to be patient while applying mehndi so that the design comes out is classic & perfect.
Choose the best mehndi designs and apply it accordingly or you can take the help of somebody who is a pro.
Mix lemon and sugar, make a syrup & apply it on your dried mehndi. It will help to deepen the colour of mehndi. Remember to apply a thick layer of this mixture of lemon and sugar on the dried mehndi and this will make the colour of the mehndi dark brown. (For more tips to dark your mehndi click here)
Now its time to give yourself a patience call & leave the mehndi for 8-9 hours. Try to apply mehndi at night.
Tip: After the henna dries up, wrap the foil in your hands. Foil paper not only makes the colour of mehndi darker & think but also it prevents dried mehndi from falling & creating a mess in your room.
Tips To Remove Henna from Your Skin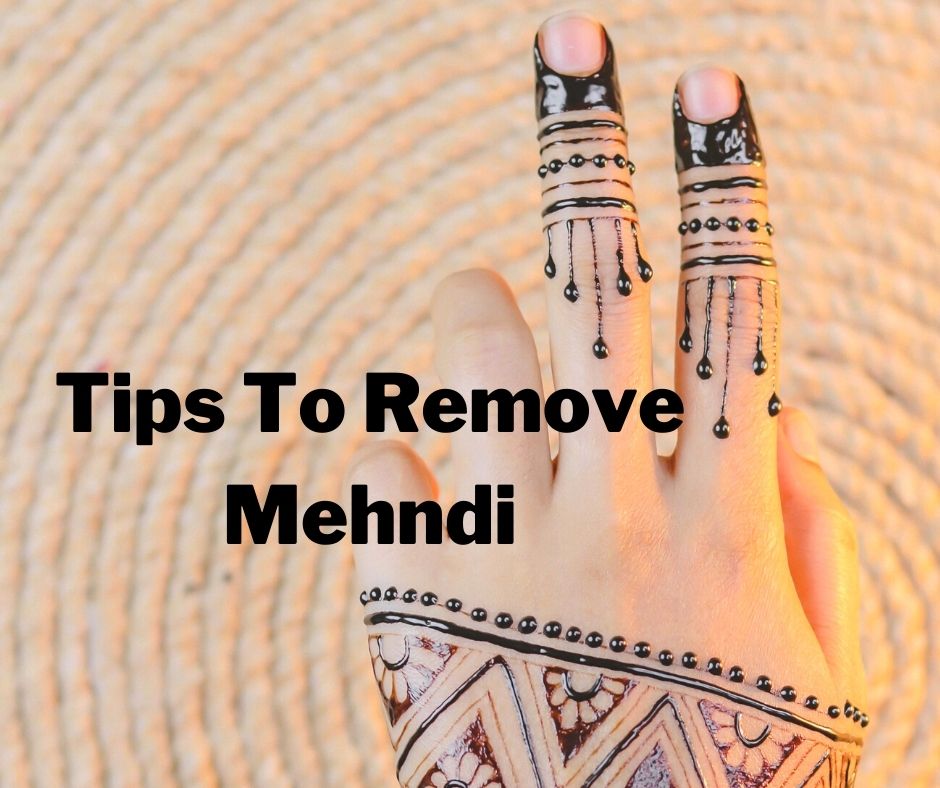 Saltwater soak
Salt is a very good cleanser. Put water in a bowl and dissolve a few spoons of salt in it. Now put your henna hands in this saltwater for 15-20 minutes. After that wash hands well.
Lemon
Lemon has bleaching properties. This is why lemon is a safe and suitable way of removing mehndi. Take a piece of lemon and rub it on your hands. By doing this daily, the mehndi will be removed from the hands in a few days.
Baking soda
Baking soda also has bleaching properties. Add a few drops of lemon juice to a spoonful of baking soda and mix well. After applying it for some time, leave it for 15 minutes and then wash hands with lukewarm water.
Shaded Indian Mehndi Theme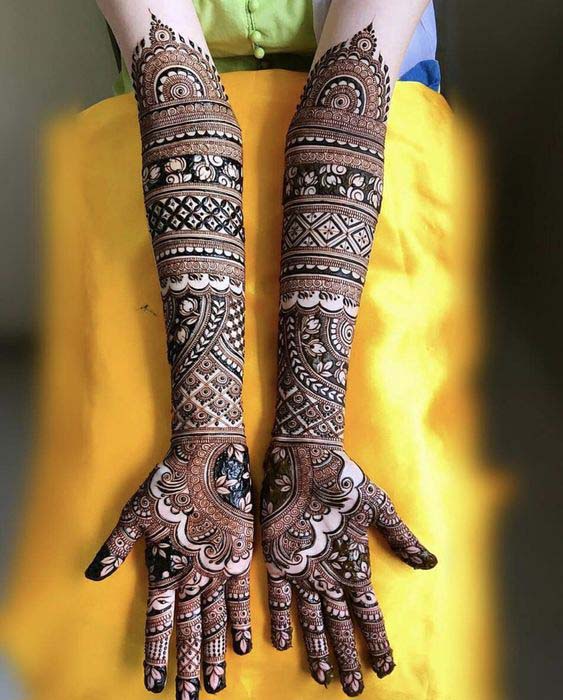 This mehndi design has beautiful Indian themes such as lotus, mango shaped patterns, dots, curves & shades, which create a royal traditional Indian mehndi look. This is the best theme for brides.
The Engagement Mehndi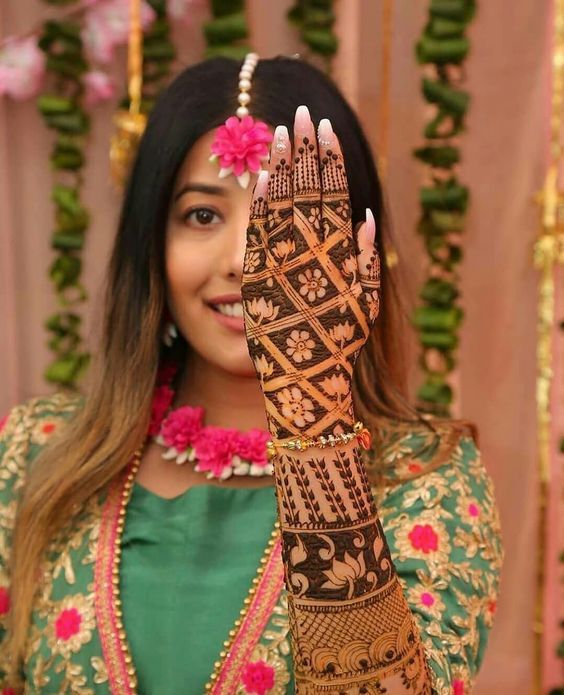 Are you confused about the design to carry on your engagement? Then just don't miss out our one of the best designs of all. A mixture of lotus & beautiful creative patterns & flowers.
Traditional Mehndi Theme
This full hand bridal mehndi design is created, with the most traditional henna patterns such as paisley, flowers, leaves and patterned lines, this full hand design has a special place in bridal, full mehndi.
Alta Style Mehndi Motif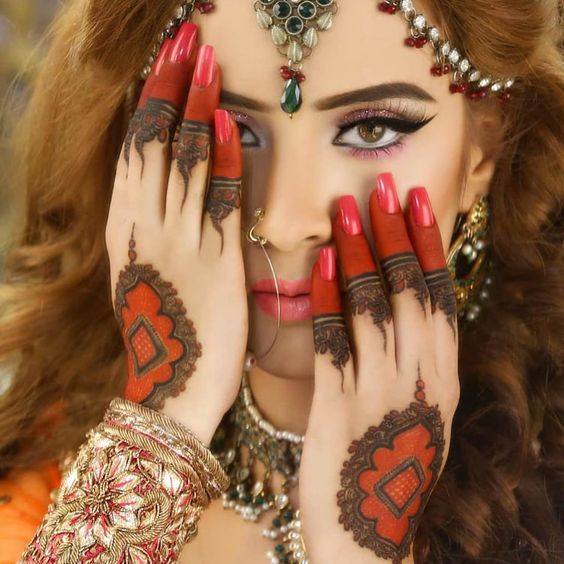 This mehndi design is made from the traditional Alta used mostly in Bangladesh and in the Eastern states of India like in West Bengal, Bihar, Rajasthan, and Odisha. Alta is a red dye that is applied to the hands and feet. You can create it using you mehndi keep in different colours such as red, black, and orange.
The Vibrant Lotus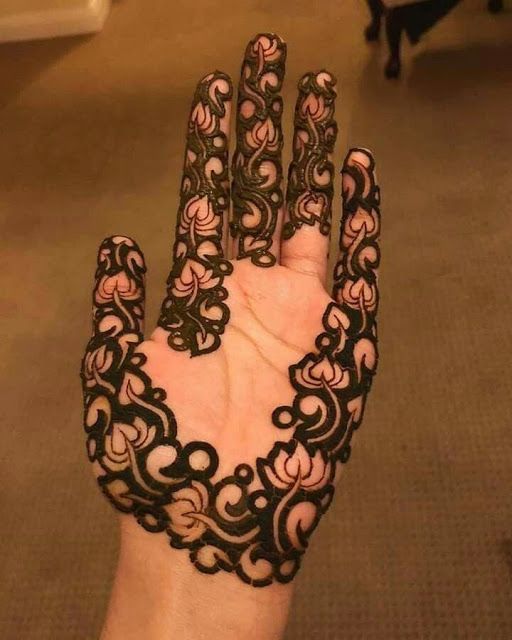 This one is a unique form of art. It is created in such a way that it highlights the dark areas of the lotus flower and also the bare parts of hands are glammed up.
Engrave the name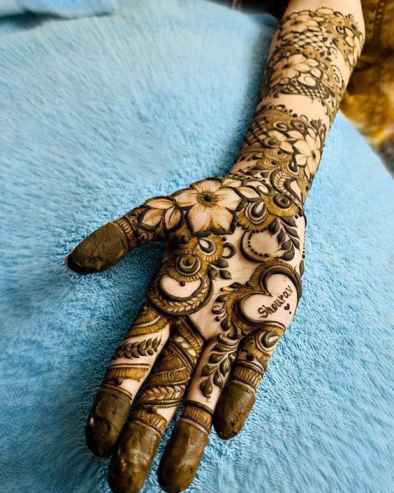 How about adding elements that you both will love in your mehndi design? Engraving your partner's name can be one of the most romantic parts of a wedding bride Mehndi. So if you are going to tie a knot, then this can be a nice trend for your wedding.
The Trending foot Mehndi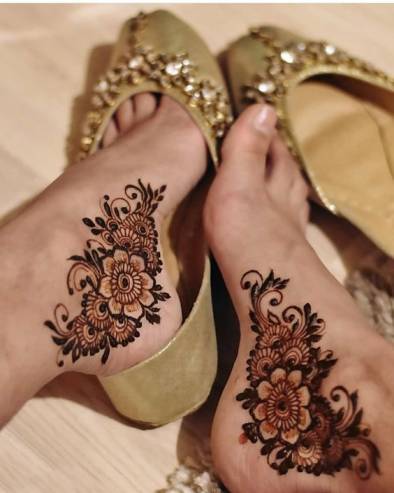 One of the latest trends is to apply a mehndi design that can cover all her legs. A leg mehndi trend can be a perfect 2020 choice. So you can pick up an orthographic design, that will cover your entire legs and will also heighten the beauty of your feet on the occasion of marriage.
The Jewelry Effect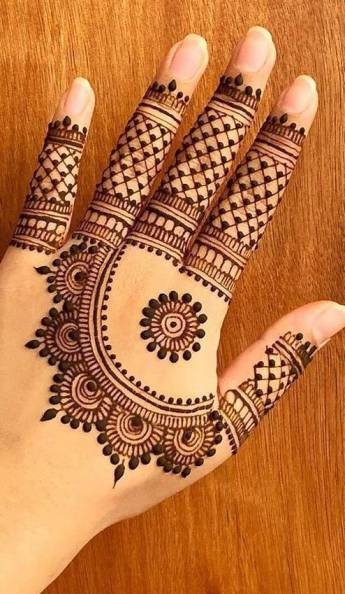 A jewelry design will work well, especially for engagement & wedding occasions. This design is beautifully applied in the fingers of the braid. While leaving space in the fingers and the left part of the palm. The design looks very classy with the dots & the page pattern.
Leafy Tail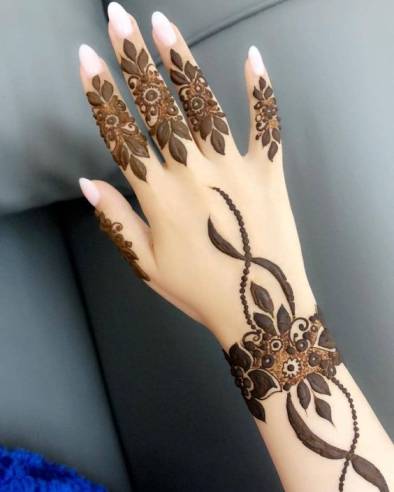 This design can be a perfect fit for all the sisters & friends of the bride.
This design is creative & simple. This chic and minimalist designs will take just 15 minutes to get it done from an experienced Mehndi artist.
Bride Portrait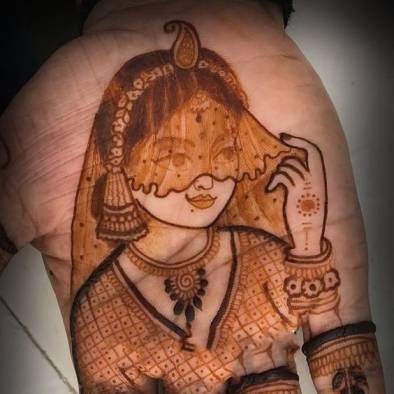 So, how about adding a portrait to your Mehndi design. Now this one is the most trending Mehndi creative especially made for the bride to be. Go for this lovely creativity in your wedding.
Pretty Girl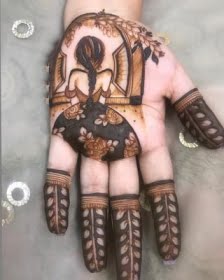 This design signifies the bride to be is waiting for his groom while sneaking out of the window. This design can be a good choice for the engagement day.
The Dancing couple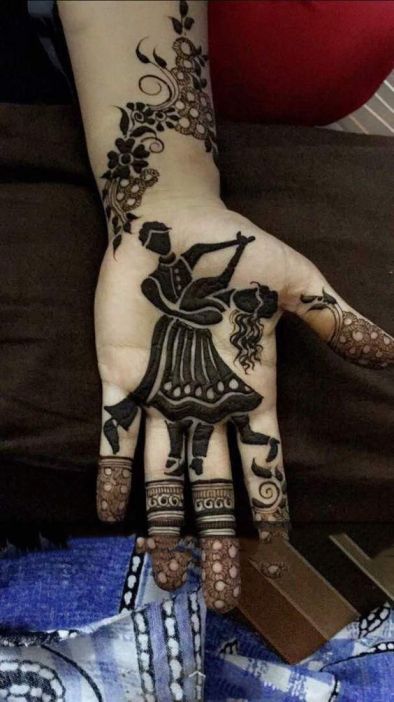 A dancing couple of Mehndi design can be a good, romantic Mehndi art for couples who loves dancing and romance. So why not go for this graceful design in your wedding.
Traditional & Beautiful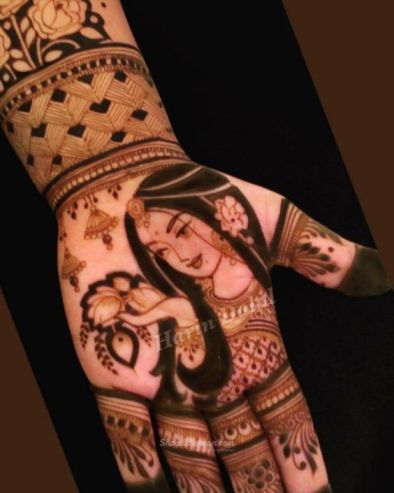 Now, this is a combination of traditional & portrait art. It shows beautiful flowers & pieces of Jewellery which is so mesmerizing to see. For these portraits designs, you have to get it done from a specialist.
The Traditional Couple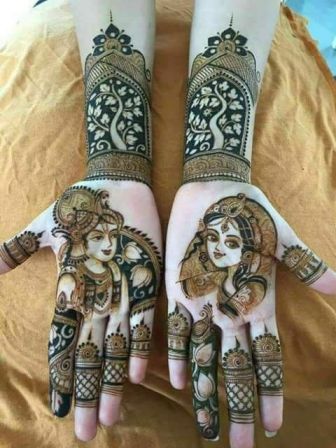 This mehndi design gives a traditional & old look to the bride & groom portrait. A very Indian classy style to show in your wedding or engagement day.
Peacock Design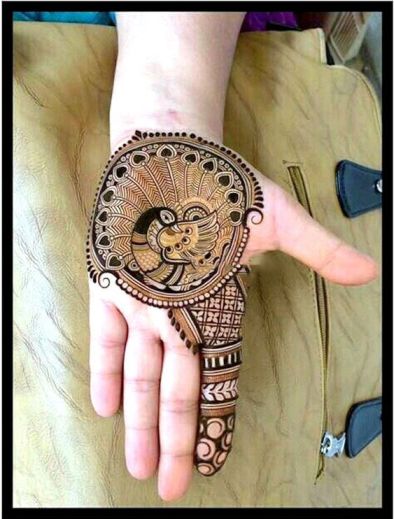 The beauty of peacock feathers is also, fetched in this design. This design can be incorporated into beautiful patterns. The grace in this design is truly remarkable and cannot be compared to any other design.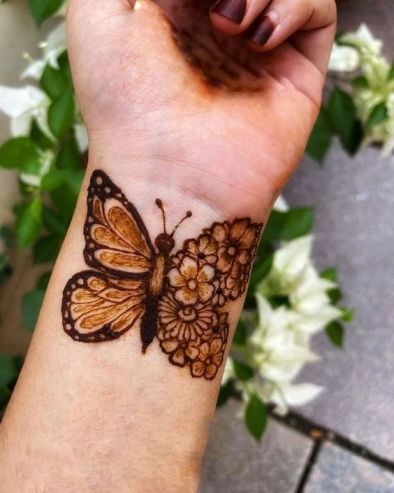 This is a floral and butterfly design for the wrist & ankle. Beautiful butterflies with a bold outline and thinner inline were given. This can also be tried with a different colour that matches the outfits.
Gloves Mehndi Art
This one is slightly different from other mehndi designs. This design is made, by creating a net glove which is originated, from a traditional way of wearing stockings.
FAQ
How do you take the design off?
The stain fades gradually as your skin exfoliates. There isfix we have mentioned above.

Can you add anything to the henna to make it darker?
Yes! We have remedies & hacks to make it darker.Click here

How long does the mehndi colour last on the skin?
The henna stain will last until the skin it dyes exfoliates. Stains can last from 1-4weeks depending on the area it is on, aftercare and how much the skin is exfoliated.


Where is Henna (Mehndi) applied?
Henna is traditionally applied, on the hands, feet & hairs.


How Long Does mehndi color Last?
The designs will last anywhere from 1-6 weeks.


Where Is Mehndi Available?
You can do it yourself or buy online else go to check festivals, fairs, tattoo shops, and salons.


Hopefully, the article Best Mehndi design of 2020 listed above will make your experience easier. For any query simply comment on the comment box.