Best Anti Ageing Eye Cream: Products, Use & More!!
The most sensitive skin of our face is under the eyes. That is why the skin around the eyes tends to look more wrinkled and old faster. Wrinkles & lines start appearing on the skin under the eyes. Therefore, to take special care of your skin, you should use the best anti-ageing under eye cream to prevent signs of ageing and to maintain skin tightness. There are lots of under eye creams in the market, but you have to decide which anti ageing cream will be a perfect choice for your skin.
Eye creams are made, to reduce & to eliminate signs of ageing such as wrinkles, fine lines, dark circles under the eyes and bags. But since people have different living habits, they have wrinkles or fine lines. So different people have distinctive problems, therefore, we have brought you some best anti ageing eye creams, each is having its special effects & qualities.
It is specially formulated for use at night, powered with accelerated retinol SA - that combines three powerful ingredients into a unique formula. This anti-ageing face cream helps hydrate and protect your skin while treating the signs of ageing. A fast-acting moisturizer suitable for women and men, it visibly fades the look of stubborn wrinkles. It also helps smooth fine lines and texture and brightens and evens skin tone.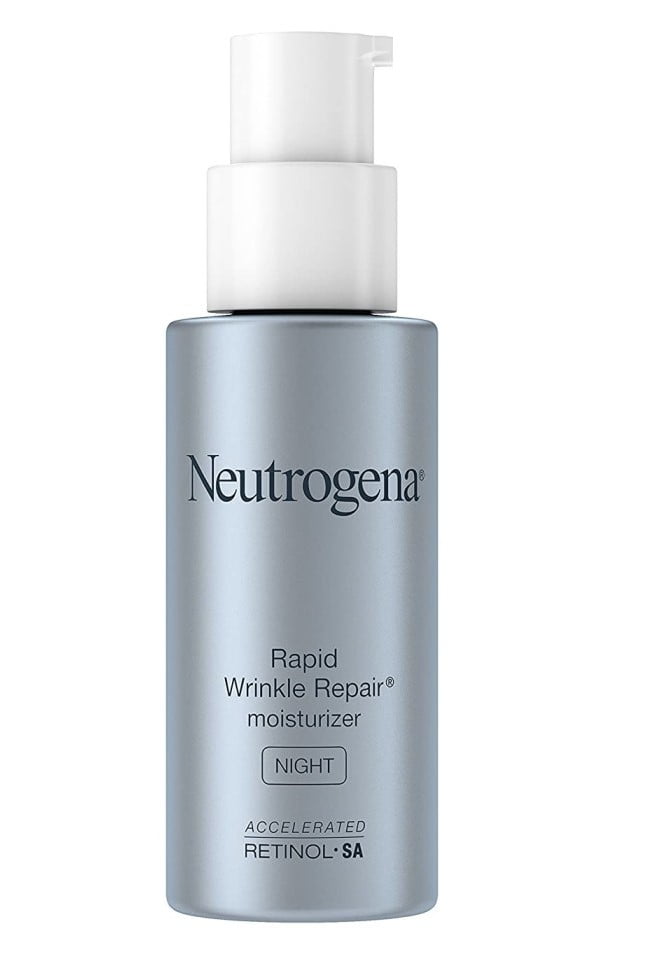 How to use:
Clean your eye area.
Now dab a small amount of under-eye cream and massage it all over.
Leave it for hours & let it work.
Dermatologically tested, dark circle eye cream is here to help you rejuvenate your eyes with the goodness of natural ingredients. Hawkweed and Daisy Extract help to target the appearance of dark shadows, for glowing eyes that look well-rested. It makes your eye look younger & wrinkled free.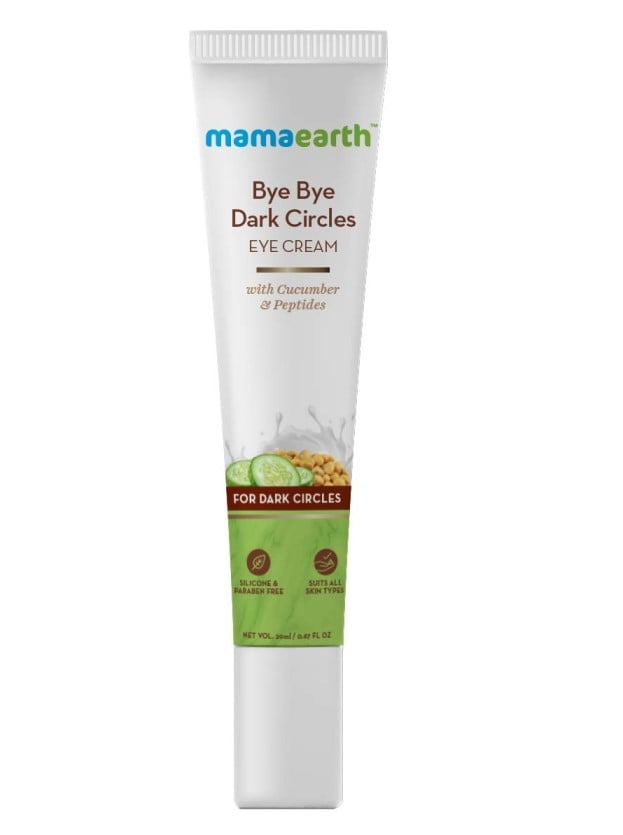 How to use:
Take a pea-sized amount of cream on your fingertip.
Apply dots under the eyes and massage in a circular motion.
Massage till the cream is completely absorbed.
This cream can help remove dead-eyed wrinkles, swelling and upper eye droop With strategic skincare strategies. Under Eye Cream delivers essential nutrients to improve the health of the under-eye area. It nourishes the skin with vitamins C and E. Anti-oxidant vitamins are necessary to prevent collagen degradation, which causes skin wrinkles.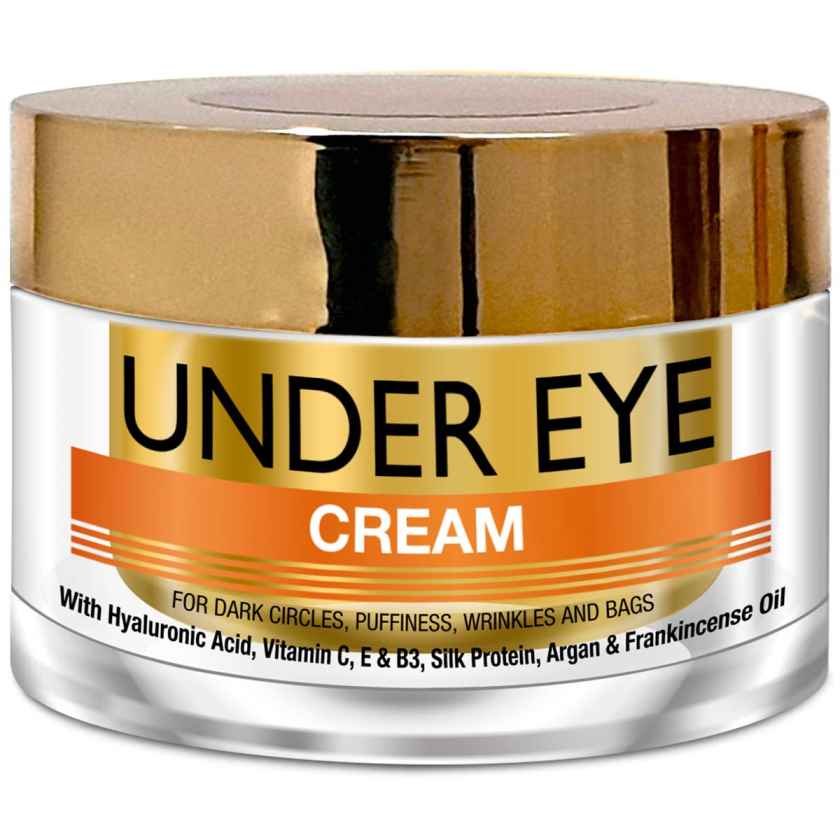 How to use:
Apply morning and evening on clean skin.
Massage around the eyes - under the eyes, outer corners, eyelids - until it is completely absorbed, avoid contact with eyes directly.
Himalayan organics hyaluronic acid anti-ageing cream combines pure hyaluronic acid with jojoba and apricot oils, to help improve the appearance of fine lines and wrinkles. It works by firming and smoothing skin while helping to fade the appearance of dark spots that usually appear as we age.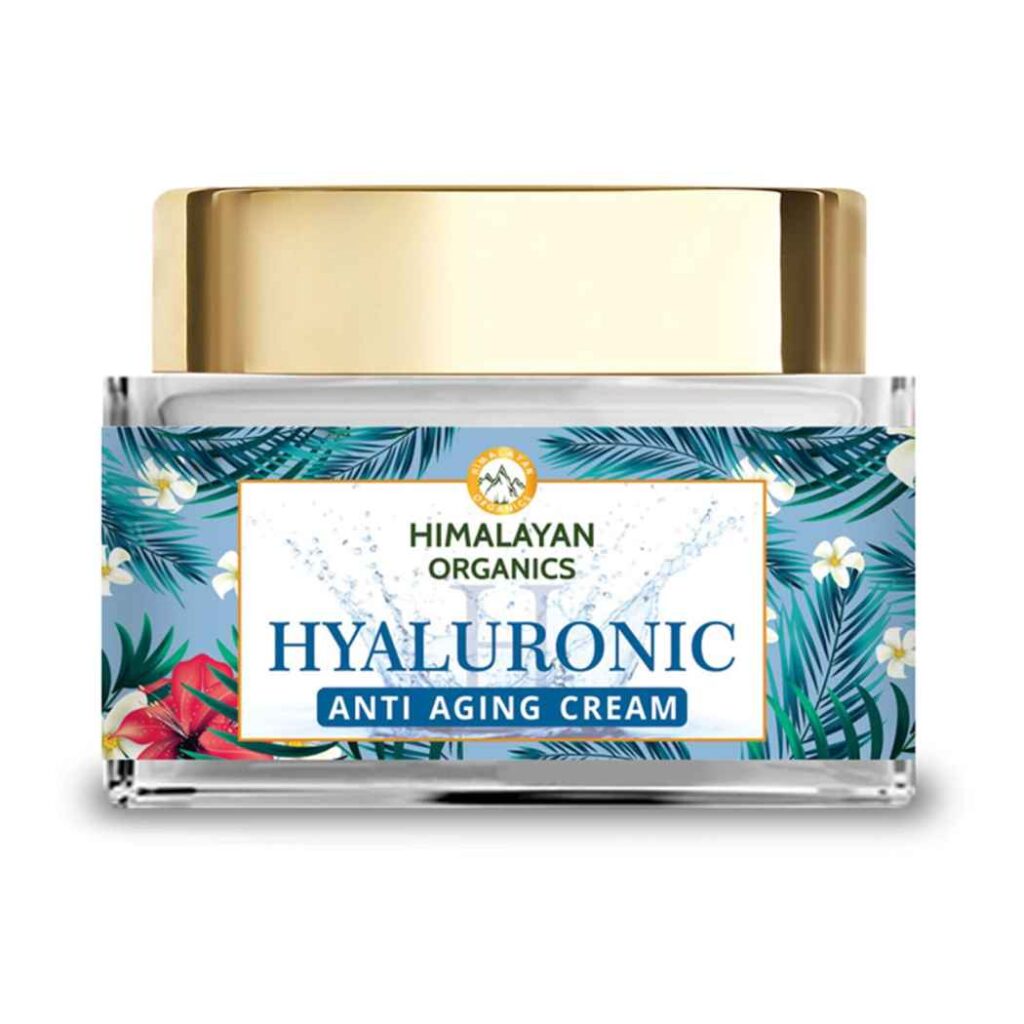 How to use:
Apply twice daily (am and pm).
Wash skin using a gentle cleanser and pat dry.
Apply cream to the skin in a thin layer and allow to dry.
You can apply it under sunscreen or makeup.
This luxurious, light cream helps to transform ageing skin by penetrating the skin surface and adding hyaluronic acid, a proven wrinkle fighter with pro-xylene. After use, the skin feels soft, smooth and hydrated for up to 24 hours - after one week, it visibly reduces wrinkles, firms and brightens the skin.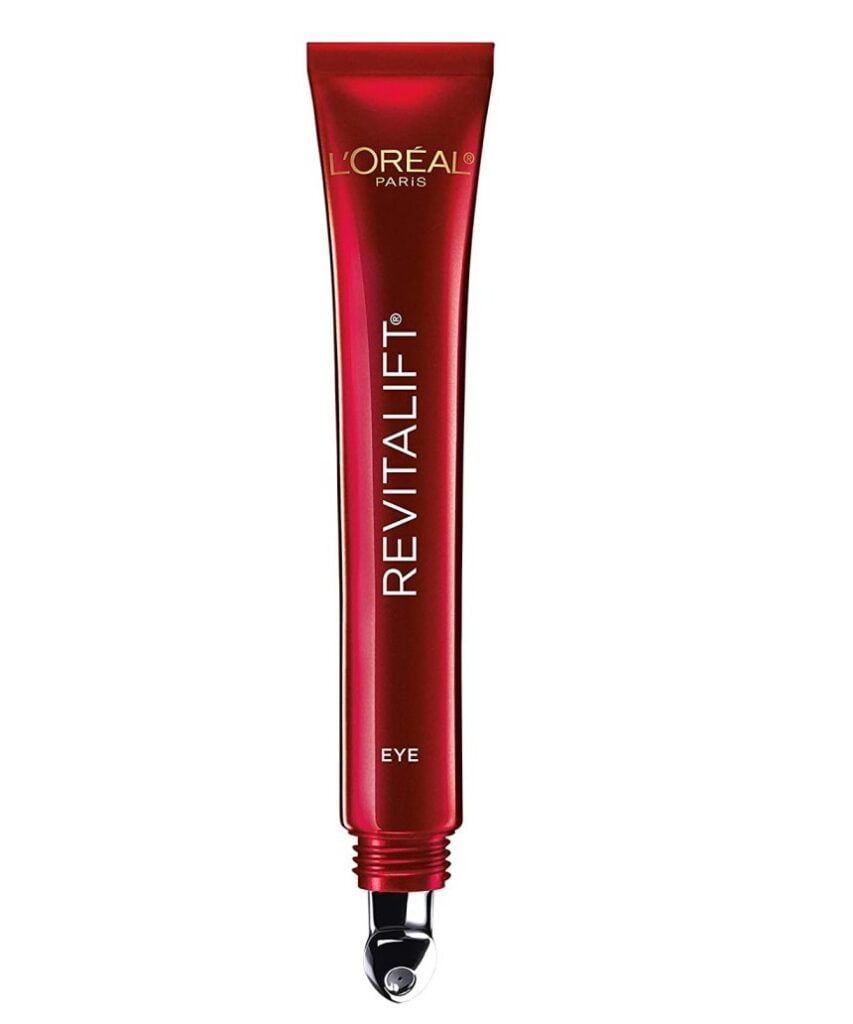 How to use:
Use a metal tip to massage gently around the eye area until thoroughly absorbed.
Apply every morning and evening.
Layer under makeup.
Himalaya Youth Eternity Under Eye Cream is rich in anti-ageing and anti-inflammatory properties which reduces wrinkles and fine lines, making the tender skin around your eyes, remarkably bright, healthy and youthful. Himalaya Youth Eternity Under Eye Cream gently nourishes and hydrates the sensitive skin under your eyes. It visibly reduces dark circles, wrinkles, and fine lines.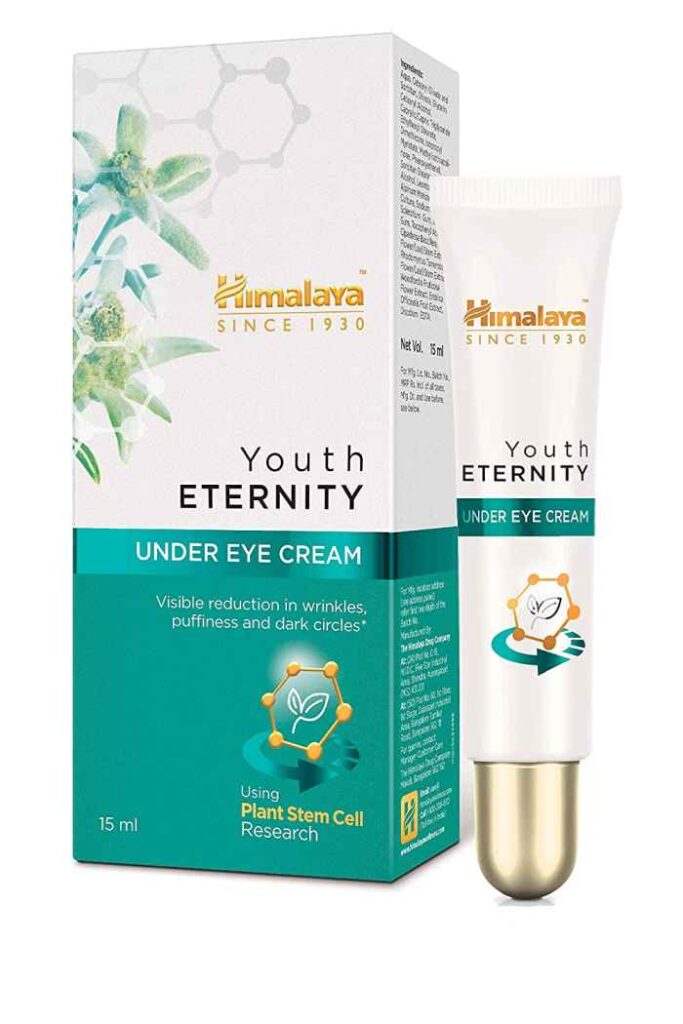 How to use:
Dab a few dots around the eye area.
Massage the cream in a circular motion until it is absorbed completely.
Apply once or twice a day for best results.
The vitamins, natural oils and bioactive compounds in the cream work in synergy, to improve the appearance of the area under the eye. By hydrating and nourishing the skin, it helps in reducing dullness and reduces fine lines and wrinkles. As a result, your skin will feel relaxed with a smooth, bright eye contour.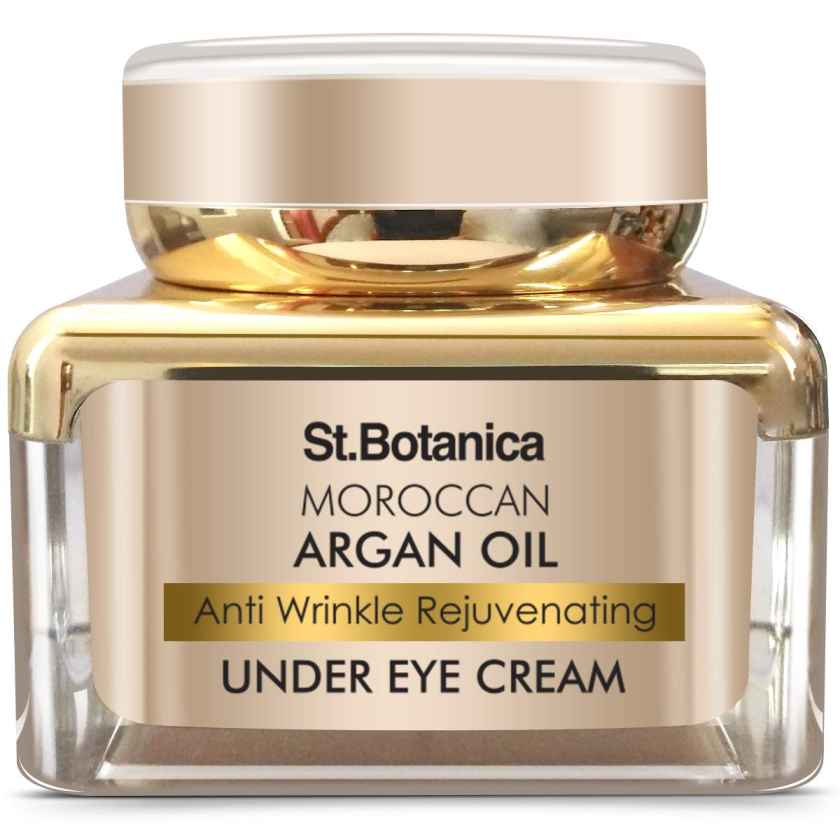 How to use:
Massage a small amount of eye cream under the eye until thoroughly absorbed.
Use twice daily, morning and night.
Under-eye problems are faced by normal, oily or sensitive skin of women and men, as it is a gel and not under the eye cream, it quickly absorbs into the skin. Is treats without irritation to the mouth around the affected area. It works well under makeup. Cannot be used, unlike cream. It can be used day or night. Vegan and cruelty-free.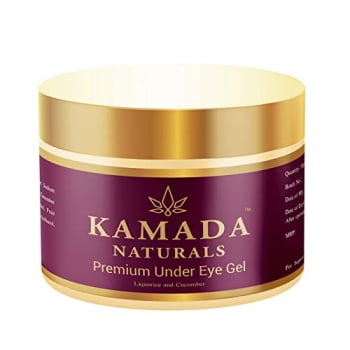 How to use:
Dot a few drops of the gel on the under-eye area.
Massage it in a clockwise direction using your forefinger.
For best results, massage daily at night for 2 minutes.
The cream minimizes dark circles & under-eye puffiness. It remarkably smoothes out fine lines, wrinkles, dry skin with moisture. Besides this, it provides a multiple benefit solution to help make your eyes look younger and revived. Smoothed out the appearance of fine lines and wrinkles.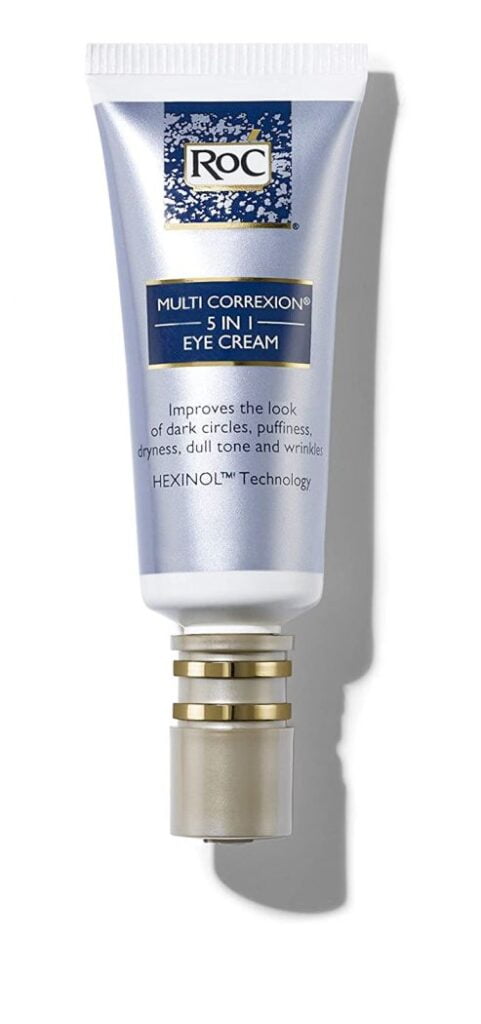 How to use:
Gently dab a small amount on the cleansed area around the eyes & smoothly massage.
Leave it for hours or overnight.
Irem Under Eye Cream is an innovative blend of proven action that helps reduce the appearance of dark circles, puffy eyes, wrinkles, unwanted skin tones and fine lines. It is enriched, with an innovative active galaxy, this product cleans capillary leaks and under strengthens the eye skin. It lightens the blackness around the area of ??the eyes.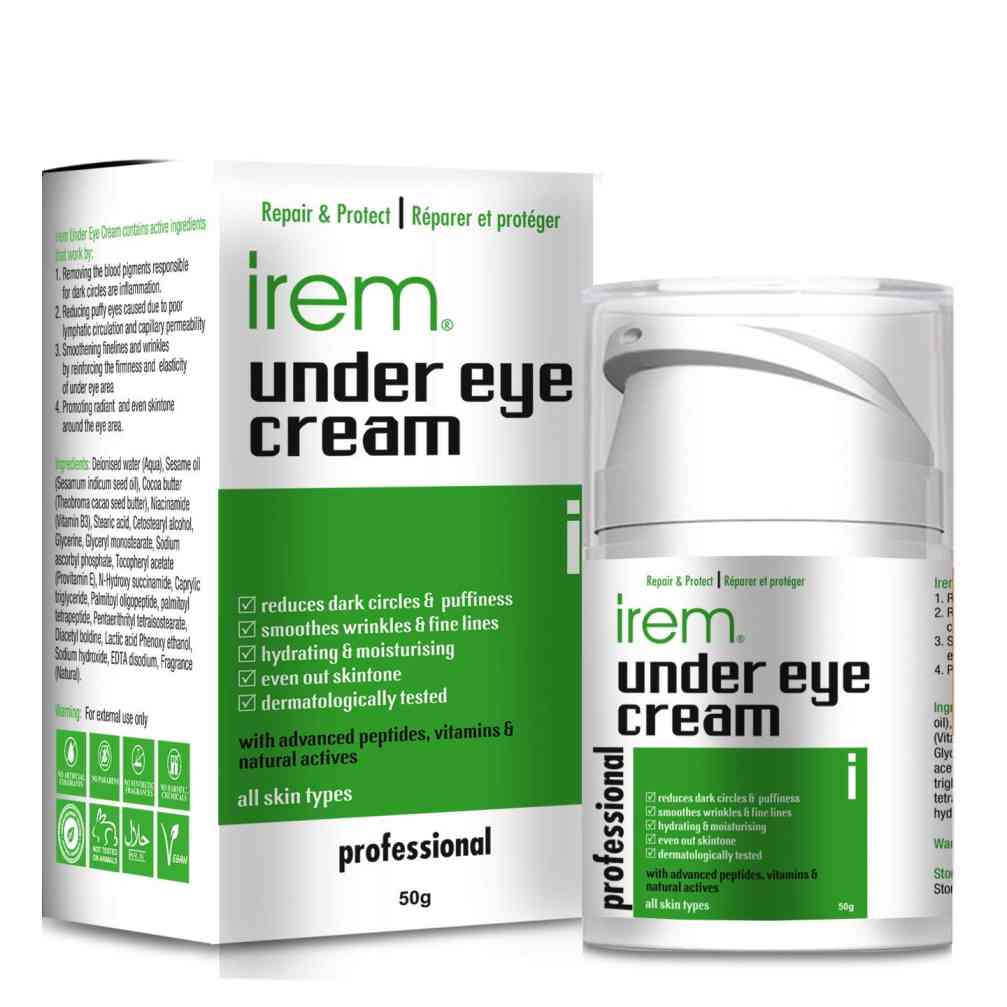 How to use:
Wash your face & eye area clean & dry.
Take a dot amount of anti-ageing cream on your fingertips.
Gently massage it around the eye area and leave it overnight.
This article is meant for an informational purpose, not for medicational advice. Tell us if this blog Best Anti-Ageing Eye Cream is helpful or not, you can give suggestions by commenting below. Also, share this share it with your friends on Social media.